Statistics
+8,374/mo
Increase in Organic Website Visitors Monthly
+3,302/mo
Increase in Ranking Keywords
+167/mo
Increase in Generate Leads Monthly
Who is Stroleny Law, P.A.?
Stroleny Law, P.A. is one of Miami's premier criminal defense law firms. Led by Mr. Stroleny, previous Miami-Dade State Attorney's Office assistant state attorney. Currently handling hundreds of cases yearly and actively growing his practice.
Challenges
Massive Site Migration
Upon coming on-board for SEO services Mr. Stroleny was splitting from his current business partner at the time. During the law firm split, Mr. Stroleny was able to maintain the ownership of the site content, however the domain had to be passed to his partner at the time. Considering the web property split, Mr. Stroleny was in a great need for a new website, branding and content/page migration from the old website to the newly developed one.
Brand New Domain
Due to the fact that the client did not hold the ownership of the previous domain name all of the website work had to be done on a brand new domain with DR of 0. The risks of losing website rankings during domain redirects are very high. Mainly because all of the established domain authority now needs to be transferred to a brand new domain. Plus, if a website is relatively large (100+ or more pages) by not executing the page redirects correctly the website will suffer severe rankings drops.
Highly Competitive Niche
Client's expectations were to achieve Top 3 positions on the map rankings and also Top 3 positions on the organic serps for the main money keywords: "criminal attorney miami", "dui attorney miami" and other related high-search volume terms. The challenge we were faced with was the highly saturated and competitive criminal defense market in Miami, FL. The average cost per click for above-mentioned keywords can vary between$25-$50+ dollars per click. In addition, our campaign launch had to be executed on a brand new domain.
Solution
Domain Migration & Content Expansion
Upon the website launch and page level redirects, the team had made the decision to expand the site's content and improve the website's architecture. Biggest change that made a significant improvement was creating content silos (authority and supporting pages) to ensure that Google could efficiently crawl his website and build strong E-A-T signals.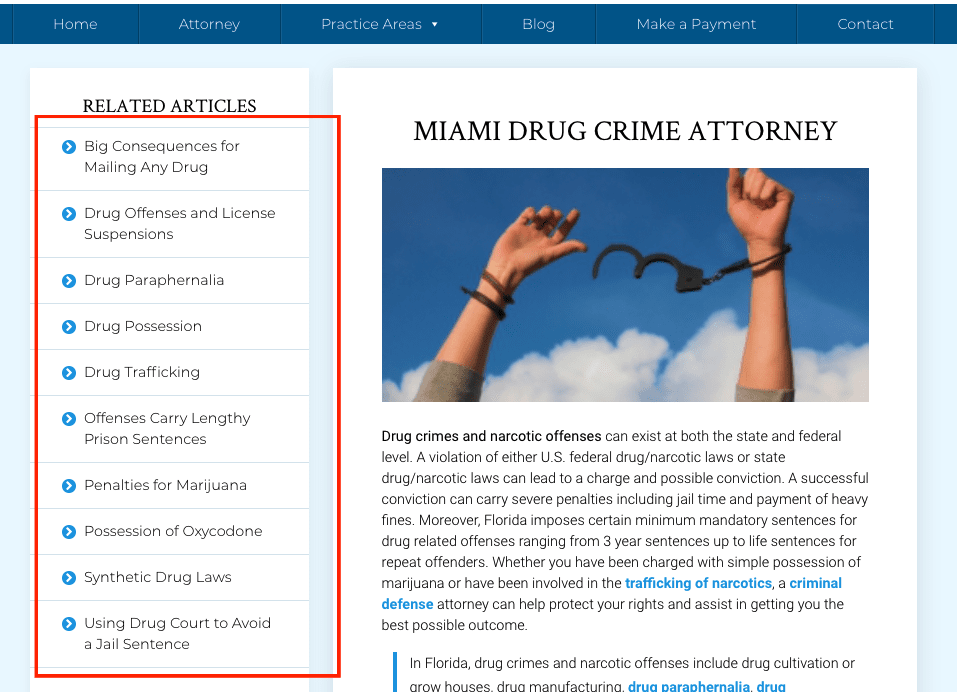 Google My Business
Throughout the campaign, we also heavily optimized his Google My Business profile, to increase the local reach for clients. We ensured that it was properly filled out with the right "money" keywords and business categories. We also used geo-tagged images to increase his authority and constantly posted google my business posts to send the local signals.
For more advanced strategies to increase the map rankings we developed a custom citation building strategy. Built citations were interlinked within GMB posts and cross-linked between profiles to improve the authority. All executed strategies produced great map ranking improvements.
Local Link Building
Last but not least, the team performed extensive link building campaigns targeting locally and contextual backlink opportunities. One of the executed tactics was interviews with local Miami business owners. Here's an example of backlink placement acquired from Voyagemiami.com (DR 76 – Local Miami Blog).
Link: http://voyagemia.com/interview/meet-julian-stroleny-stroleny-law-downtown-miami/
In result, between extensive content development, google my business profile optimization and local link building website saw drastic ranking improvements reaching client's goals to rank top-3 in organic search and in map listings. See the stats below on what performance metrics this came down to.
Looking to increase revenue from your website?
We are all about the highest ratings, but at the end of the day
our main priority is our clients' success and growth.
Get a FREE Proposal