SEO Services For Lawyers:

Guide (With 5 Best SEO Agencies)
Most law practices suffer from a low utilization rate. They don't have enough client work to fill their work day. Because hey referrals can only get you so far. Hiring resuls-driven law firm SEO services can fix this issue.
If you can get top search engine rankings without lifting a finger, well then why wouldn't you? It leaves you ample time to actually serve your clients.
In this article, you'll learn the kinds of lawyer SEO services, costs of hiring a SEO firm, and how to choose the right agency. Let's begin with the basics.
What is Law Firm Search Engine Optimization (SEO)?
Legal SEO is a digital marketing strategy to improve the rankings of a law firm's website. You want to appear at the top of search engine results for keywords related to your legal services (that your potential clients are searching).
Whether you're a family law firm, personal injury firm, or any other, your prospective clients today rely on Google. If they find your law firm's website ranking in organic search results or Google maps, they will dial your phone number. SEO can get you high-quality leads.
A holistic lawyer SEO strategy improves your online presence in Google organic search and local search on the maps.
You can either execute a SEO strategy yourself or hire SEO companies or consultants for the same. In the next section, let's look at the various kinds of services SEO experts offer.
Best Law Firm SEO Agencies in the US
Okay let's cut to the chase. Here are the best SEO services for attorneys you can hire:
Well, we might as well give ourselves a pat on the back and declare ourselves the "best law firm SEO company", but that's like wearing a T-shirt that says 'I'm awesome' – technically true, but a bit obnoxious, don't you think?
Let's just say we offer holistic SEO to lawyers that covers all the bases: content, links, and technical optimization. We have results across the most competitive markets and practice areas, including personal injury and criminal defense firms in metropolitan cities. Contact us for a custom audit by a lawyer SEO expert on our team.
For Google Business Profile Management: Whitespark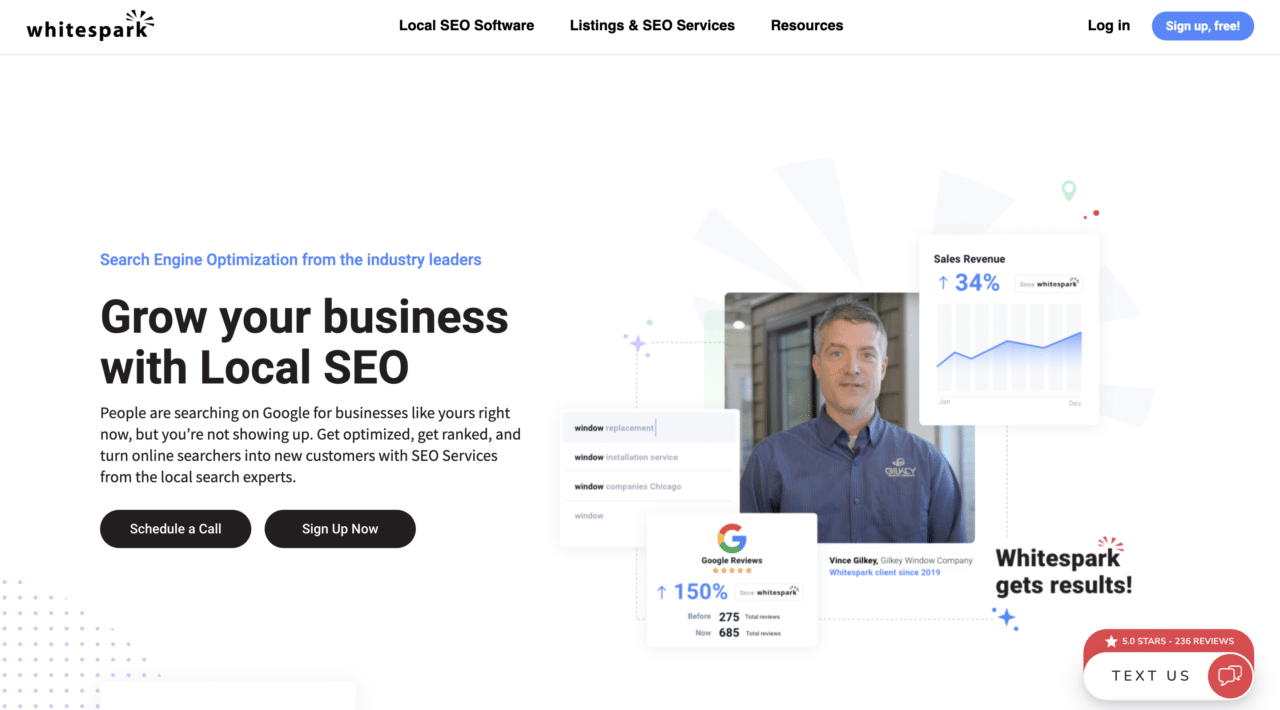 If you to only improve your local SEO efforts, you can consider Whitespark. They help you stand out in the local pack, get more of those online reviews from your customers, and just improve your Google Business Profile overall.
They also offer citation building and listing cleanup services you can consider on top of your SEO. These are one-time services and can improve your local presence significantly.
If you're only looking for help with on-site SEO content, the folks at Blue Seven Content are a smart bunch. They met us at a Legal Marketing Association recently and have worked with some reputable law firms across the US. They can create landing pages, practice area pages, blog posts, FAQ pages, press releases, and other legal copy for you. They claim to have some of the best legal writers in the business.
If you have an in-house content and SEO team, but want someone to only focus on building links, LinkBuilder can be a great partner. They can do the tedious outreach or leverage their existing publisher relationships to get your law firm some placements at high authority placements. They can be a good law firm SEO advisor besides building links to your target pages as well.
For High-End Law Firms: Rankings.io
When we talk legal SEO services, it's hard to miss these folks. They specialize in working with elite firms, especially personal injury, and have delivered great results. But you need a budget of at least $10,000 a month to work with them.
The company claims they treat their clients as partners and shares transparent reports on your performance — that you can access at any time. If you're looking for a super niche specialization, they are a decent choice. You just need to have a good sum of money.
Related: Rankings.io Review
While they don't call themselves an SEO company for lawyers, your firm needs to provide a stellar UX to rank well in SERPs. If you feel your design lacks a strong branding foundation and can use a revamp, then you can consider them. They have some cool websites in their portfolio.
From the next section, let's discuss the different types of attorney SEO services and kinds of agencies as well consultants you can consider for your firm.
Types of Law Firm SEO Services
Here are the most common services a law firm SEO company might offer. The first below would mean coverage of all the aspects of SEO, including on-page SEO, off-page SEO, technical SEO, local SEO, and SEO audits. The ones after that are for specific needs.
These services are made for optimizing a law firm's website to increase its chances of ranking on search engine results pages (SERPs). As a result of a highly-visible website, law firms enjoy business growth.
Here's what On The Map Marketing offers:
What Should Lawyers Look For in an SEO Agency?
Choosing the right agency for your law firm can be overwhelming, and most firms won't know where or how to start. I along with my colleague, Chintan, got together to discuss everything you need to know about law firm SEO services on our podcast:
Below are some important factors that can help you focus on what to look for in an agency.
Successful case studies from previous clients
An effective SEO agency should be able to show you results and successful campaigns from their previous clients. Without this, there is no way of telling if the agency can deliver what they say they can. If you're a personal injury lawyer in New York, ideally you want the agency to show results for your exact situation.
However, it could also work if the agency has worked in a metropolitan lawyer market as competitive as yours. So a case study of the agency delivering results for a criminal defense firm in Miami also proves efficacy of working in competitive markets.
Contracts should be clear
The contract should be clear and outline everything that will be implemented in your campaign. Methodologies, timelines, and the scope of your SEO project should be laid out to avoid any surprises.
Transparent reports
The agency should provide transparent and easy-to-understand reports that show your project's performance. They should send updates and communicate regularly regarding your project. It's also important that these reports state how many leads you generate every month from organic traffic.
Get a glimpse of their process
Is your agency on the good side of Google? SEO is ever evolving. So on your calls or emails with them, enquire how they build backlinks, get citations, and conduct keyword research. What kind of SEO tactics do they use? How do they keep up with Google's algorithms?
Also check the compliances and the quality checks that the law firm SEO agency you're contemplating on hiring has in place.
Expertise and skill sets of their team around lawyer marketing
Search engine marketing isn't limited to Google's organic search. You want your agency to ideally be able to help you with web design, pay-per-click (PPC) campaigns, or even social media if the need arises. They should be able to get your firm in local directories, to the top of Bing results (if that's where your prospective clients are), create top notch legal website content, etc.
While your agency need not have all of these skills, their team must be full-stack and be able to offer expertise beyond SEO (which may be needed).
Types of SEO Agencies for Law Firms
Agencies that offer SEO services are often one of the these two:
Niche SEO law firm agencies
Niche law firm SEO agencies focus solely on law firm marketing. They have have a lot of experience delivering results for your practice area.
However, such marketing agencies may hit the ceiling as you grow. They might not be able to help you scale when you decide to go into multiple locations.
Multi-industry SEO law firm agencies
SEO agencies that offer marketing services across different industries and verticals, like On The Map Marketing, offer a lot more experience and expertise. They should still have SEO marketing results to show for your practice area (we have a lot of them!)
Their additional benefit is that if you decide to scale your marketing efforts, they will have the resources and systems in place to grow with you!
How Should Law Firms Prepare to Work With a Law Firm SEO Agency?
Before hiring a law firm SEO service provider, you need to be prepared for a few things:
Know your current metrics
Familiarize yourself with basic SEO and digital marketing concepts, including analytics and metrics. Knowing how to measure results is essential so you understand future reports that your agency will present to you.
Here are some website statistics you need to have handy:
Average organic traffic per month from Google Search
Keywords your site is ranking for on the first page in SERPs
The keywords your Google My Business profile ranks for
Visitors that turn into leads and new clients every month
You can find or set up most of this data inside Google Analytics. If you're using an attorney client relationship management (CRM) software, it may also show you this data.
Know your ideal goals
When you know where you are in terms of your SEO ranking, you need to have a goal. This can be lead generation, getting more clients, website visits, or ranking in the top spot for a highly competitive keyword.
Be cautious of law firm SEO agencies that promise vanity metrics as results (such as more traffic). This is a common red flag and often indicative of an agency's desperate move to land a client.
How Much Should You Spend on Law Firm SEO Services?
You can expect to pay anywhere between $2k to $10k per month for working with a lawyer SEO agency. The exact cost of such a law firm SEO project depends on the competitiveness of your practice area and the current health of your law firm's website.
Remember that a low budget could be an impediment to getting results quicker. A higher monthly budget will mean more content, backlinks, and more hours put into the technical upkeep of your site by law firm SEO experts.
How Long Should You Expect Results From a Law Firm SEO Agency?
This would depend on three factors:
Current rankings
Resource allocation
Competitor aggressiveness (the volume of content and links they are pushing out)
Here's a calculated estimate assuming you're aiming for ranking in a highly competitive niche (such as metropolitan areas or personal injury):
Starting from 0 ranking: Could take multiple years (at a budget of over $5k per month)
Starting from rankings on pages 3-5: About a year to crack top spots
Starting from page 2 rankings: 4 to 6 months (or a bit more)
What Are Some Red Flags of a (Scammy) SEO Agency?
Some agencies don't have your best interest in mind and are simply out to make money. Here's what to watch out for:
Pricing that's too good to be true: If an agency is promising they will provide optimized quality content, build links, and rank you for a high-competition keyword in $100, it's probably a scam. They will end up cutting corners or using black hat techniques that will harm your site in the long-run.
Top ranking commitments: This is a marketing ploy to get law firms to sign up. Nobody can promise page one rankings as Google's algorithms keep evolving. Your best bet to land a top Google berth is working with a SEO agency that promises delivering a stellar user experience for your target audience.
Reports lacking lead generation results: If an agency report shows rankings & traffic, but doesn't report the phone calls and form submissions you get, their SEO work may be subpar. They are probably creating web pages focused on low intent keywords, thereby driving visitors that won't convert into your clients.
Local SEO campaigns without showing map rankings. You need to know your map rankings when you have a local SEO campaign because it's a measure of the campaign's effectiveness. An agency should be able to do this.
Final Thoughts
Working with a lawyer SEO agency is one of the best steps you can make towards building awareness and growing your clientele online. Entrusting your firm's marketing goals to experts allows you to focus more on the actual work of managing your firm and serving your clients.
We believe you should hire SEO companies that will execute one or all parts of SEO instead of going for lawyer SEO consulting that may just give suggestions.
We already shared a list of few of the best SEO services for law firms in this article. But hey, if you're short of time, get in touch with us.
We're experts in executing SEO for attorneys with a proof of efficacy across the most competitive lawyer markets in the country. Contact us today with your needs — we provide a free audit to firms we have a mutual fit with.