When to Fire Your SEO Agency (And How to Do it…)
You must protect your business at all costs. This means you must drop resources that are causing more harm than good to your company instantly. This includes the search engine optimization (SEO) agency you hired.
This post examines why you need to let go of your SEO company and how to relieve them of their duties properly. At the same time, you must find the right replacement that will help generate more website traffic and sales for your business.
5 Reasons to Fire Your SEO Company
Letting go of the SEO agency you're working with summarizes the reasons below.
Your SEO Campaign Hasn't Delivered Leads For a While
SEO's goal is to drive highly targeted traffic to your website. An agency does this by optimizing your site pages for relevant keywords to increase their chances of ranking on top of search engine results pages (SERPs).
From here, it mobilizes your organic traffic to fill out a form or call the phone number on your site, effectively turning them into leads. Not all traffic will convert into leads, of course, so generating as many website visitors as possible from search engines is important. If your SEO company can't do this, it has already failed you.
However, an agency can generate lots of organic traffic but still not convert them into leads. The reason is that they optimize your website pages for wrong keywords. As a result, visitors bounce away from your site because their intent for searching the keyword doesn't match your content.
This shows that, while the agency knows how to rank pages, it doesn't know how to run an SEO campaign that increases your bottom line.
A reputable SEO agency can determine keyword intent manually or by using tools like SEMrush that show the user intent of each search phrase.
You See Poor Quality Deliverables
If the SEO company cannot boost your site's organic traffic despite optimizing for low-hanging fruit keywords, it simply isn't creating content and generating links that Google wants.
Content that doesn't rank on Google has many grammatical errors and run-on sentences. You can see how well the content is written by running it on Grammarly. The tool also suggests synonyms and ways to write sentences tighter to help its users publish easier-to-read articles.
More importantly, the content must offer a logical structure for presenting ideas in compelling and interesting ways. This is something that only a solid content process can detect. Therefore, its team of writers must observe the best SEO content practices. The editor then goes through each piece of content with a fine-tooth comb to ensure that the quality is up to standards.
The same process must also apply to backlinks. The agency must build links from websites with high Domain Rating (refers to your site authority) and is attracting organic traffic. Most SEO tools like Ahrefs can help the agency identify good websites from bad ones.
Also, the company should build links that comply with Google guidelines. Link building tactics like guest blogging and broken link building allow your site to climb the organic search rankings slowly. And once it does reach the top of search engine rankings, expect it to stay there for a long time.
The same can't be said about link buying, private blog networks (PBNs), and other types of spammy backlinks. Ironically, your website will experience a sharp increase in traffic in the first few weeks. This is a big tell that the agency is using black hat techniques on your website. Eventually, Google will discover them and penalize your site on search results, causing a sudden traffic drop.
Lack of Project Management
Your chosen SEO agency should onboard you to its project management software for streamlining communication and processes. Here, its team members detail which established SEO best practices they're implementing and what results your site will achieve from them.
All correspondence also takes place in the project management tool, allowing you to document the agency's SEO process and progress in a single place. That means all communication outside the PM software doesn't count.
It's possible that some SEO companies don't use software and request clients to leave everything to them. To some extent, they've been successful with this setup and delivered the promised results.
But an agency without a solid project management system leaves room for miscommunication, missed deadlines, and not focusing on the most important tasks. The correspondence between you and the agency may shift to different platforms like email and chat. As a result, some important messages fall through the cracks.
Algorithmic Changes Have Taken a Toll on Your Rankings
SEO agencies should be aware of the fickle nature of search engine algorithms. They constantly update and change, which causes the page rankings to change as well.
Using tools like SEMrush Sensor and Algoroo, they can understand the impact the changes bring and prepare for them properly.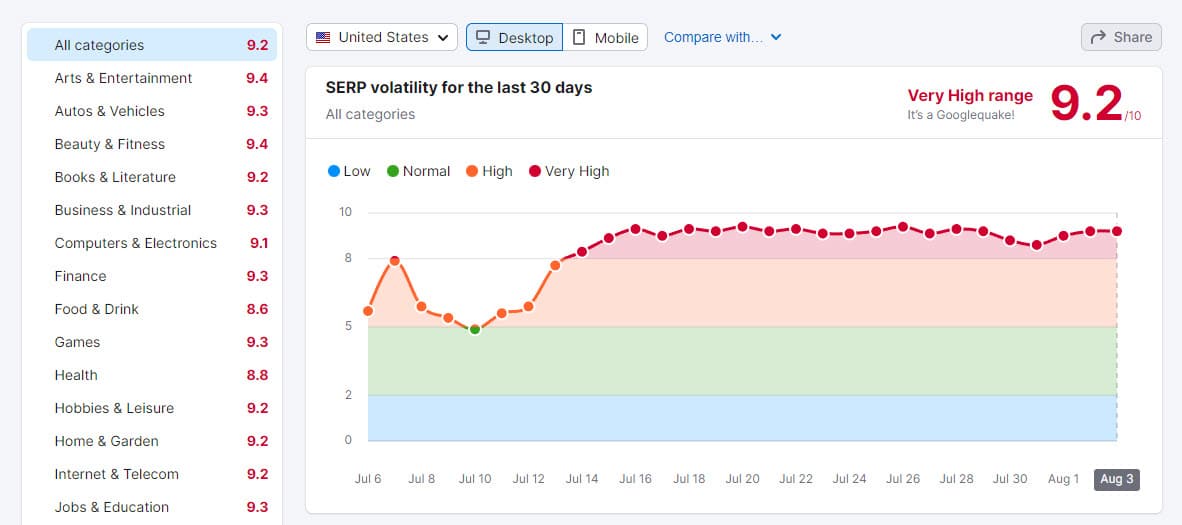 While most algorithm changes are surface-deep, some require agencies to pivot their strategies to prevent their clients from dropping their rankings. Examples include the May 2020 Core Update and the Helpful Content Update.
An SEO agency not in touch with the latest algorithm updates is a red flag. The same goes for those that refuse to change tactics because what they're doing is working. Ultimately, Google dictates what pages rank and don't. More importantly, algorithm changes can turn tactics that worked before not to work anymore, if not penalize your site. So, if they don't want to acknowledge this, it's time to acknowledge that the agency is not the right fit for you.
You Feel a Lack of Transparency
Effective SEO companies update you regarding their progress and what actual SEO practices they must implement to increase your site's organic traffic further. They should cover the latter in the reports it regularly sends you.
Just as important, reaching out to the agency for questions about SEO and input about their strategy should be a breeze. The agency should reply quickly with their answers or explanation of why something would work or not. Aside from the project management software, you should be able to contact them via phone, chat, or email.
An SEO agency that isn't transparent simply won't win your trust. There's no reason for you to continue working with a company that works behind closed doors and doesn't reply to you. After all, it is your business. You have the right to hear from the agency about the SEO campaign they're running for you.
How to Fire Your SEO Agency
If the SEO agency you hired is committing any of the above, you must consider firing them immediately.
First, read your contract with them for the notice period and what you'll get back after canceling their services. Some agencies like Scorpion take the website and design it for clients, among other things. That puts clients in a difficult situation because you'll either have to shell additional fees to cancel your contract or stick with them due to lack of funds.
Next, document the reasons for leaving the company. You can cite the above and show proof if necessary. This would be difficult if the agency doesn't provide you access to your website analytics. In this case, use SEO tools like Ahrefs to check your site's organic traffic and rankings as an alternative. It can also show your site's link profile that your SEO provider built.
From here, you can contact the agency and express your desire to leave them. Expect it to try and win you back by offering lower prices for its SEO services and better packages. Don't fall for this, as the reason why your site isn't performing well is frankly because of their lack of expertise, which your business sorely needs now.
After standing your ground, retrieve all the data it recorded for your business. That includes your website analytics, social media accounts, and others. Some agencies would just share with you the spreadsheet of the data gathered using Google Analytics and Google Search Console. While this is unfortunate, at least you have something to work with. Also, this proves that leaving them is the right decision.
What to Look For in Your New SEO Agency
After learning your lesson from the previous company, you must be mindful of choosing the agency that possesses these traits and abilities:
Their Initial Consultation Offers Valuable Insights – The best SEO agencies offer a website audit report. It should contain your site's current performance on search engines using relevant KPIs and suggestions for improving it. This gives you a clear idea of how to approach SEO on your site and does not leave you in the dark.
Proven Results and Past Clientele in Your Niche – They should show past client successes and case studies on their website. The latter should detail how the agencies approach the client website's SEO and the positive results their methods produced.
Have a Clear Plan and Established Processes – Their processes should be evident from their published case studies. But you need to talk to them in person via a call to see how they'd treat you as a client since not all websites require the same plan. The tactics they'll use on your site dictate their expertise and the kind of process they have.
Are Transparent and Responsive – A good SEO agency assigns an account manager who will beckon to your call and keep you posted on important updates and changes to your SEO campaign. The manager should also reply to your questions and is available on different platforms (email, call, or chat).
Treats You Like a Partner – Working with an SEO firm is more than a business transaction. You want an agency that takes time to learn more about your products and services and the people it works with. This enables them to get in touch with your company on a more personal level and become more invested in its success.
Let On The Map Marketing Take Over Your SEO
We at On The Map Marketing would like to throw our hat in the ring as your next SEO agency. After auditing your site and creating an SEO action plan, we assign a dedicated manager to oversee your SEO strategy and communicate its progress and results on time.
We have used this process on various accounts to great success. Our team even helped a client rebuild its website after working with an agency that took its site and recovered its search rankings. Sign up for our free marketing audit.
Article by Christopher Jan Benitez