11 Best Local Rank Trackers to Your Monitor Local Listings
If you're pursuing local search engine optimization, you know the pain of tracking your keyword rankings. Most businesses aren't even aware of their local search rankings in different localities — where their businesses appear on the map. That's where a local rank tracker tool comes into the picture.
It can share comprehensive local ranking data and report your current local search engine rankings without the hassle of logging into multiple platforms. Let's look at the top local rank trackers available today (our favorite is the first one!)
What is a Local Rank Tracker?
A local rank tracker is a tool to track your local search rankings and evaluate your local search performance. It allows you to monitor your positions in organic search results and Google Maps using specific filters such as countries, states, cities, and zip codes.
Such a rank tracking tool can greatly help small businesses that target local customers. 93% of consumers search for a local business through search engines. Moreover, nearly 70% of digital traffic comes from local and organic searches.
So the local pack is an important aspect of the SEO strategy of any local business.
Which is The Best Local Rank Tracker?
TrackRight is one of the most robust rank tracking software that can show important metrics such as organic rankings, CPC, leads, and conversions for your tracked keywords. It also sends email reports at your desired frequency to conveniently get an overview of your local marketing efforts.
What are The Top Benefits of Using Local Rank Tracking Software?
Here are the top benefits of using rank tracking software tools to monitor your presence in local search results:
Measure and iterate local marketing efforts
A tracker will give you detailed and accurate reports of your local SEO and other local marketing efforts. You can track rankings and iterate your strategy as needed.
Spot gaps and take proactive action
If your business targets multiple locations, your performance may differ across locations. A local rank tracker can assist you in taking smart steps to improve your website rankings for local keywords.
Monitor your competittion
Every local rank tracker has the basic ability to track local SEO, including finding potential keywords, on-page optimizations, and more. Some tools also have competitor analysis that comes in handy for you to see what your competitors are doing.
Now that we're through with the basics, here's the first local rank tracker that we recommend:
TrackRight is undoubtedly of the best local rank tracking tools with robust features. It will show you organic rankings, CPC, leads, and conversions for your tracked keywords. The data quality is super high, and our clients love reporting on their important business keywords via the tool.
It's our homegrown local SEO tool and offers great value for money. It's perfect for local business owners who want to monitor their rankings. Or for agencies that want to do multiple local campaigns without the hassle of logging into various platforms.
And hey, we send your daily email reports on your website's important keywords so that you don't have to log in to a different dashboard. Perform a local SEO audit with TrackRight right now.
SE Ranking is one of the most recommended tools to track rankings. There have been countless good reviews about SE ranking being an all-in-one SEO platform. It includes rank-tracking features and collaboration tools.
One of the leading features of SE Ranking is Keyword Position Checker. It allows you to monitor map results, videos, ad positions, etc. You can track keyword performance with up to 20 competitors and stay ahead of the curve.
Other features that can be helpful for you are white labeling, SERP features, and search engine rankings. You can use them to boost local SEO and improve rankings on search engine result pages.
Moreover, SE ranking offers flexible pricing. Its plans start from $23.52 per month, but you can customize the features you want to use and pay based on your choice. SE Ranking also offers a 14-day free trial.
Whitespark is well-known for tracking your local listings and rankings on search engines like Google and Bing. The local rank tracker lets you monitor local formats, including maps, advertisements, and local references.
One of its main features is the Local Citation Finder. It allows you to escalate the citing system and amplify your site ranking. It assists you in keeping a close check on your competitors and finding out their keywords.
Moreover, you can also try its Review Checker. It helps you manage reviews and identify your strength areas to improve them further. Whitespark gives you valuable insights to improve your local SEO and boost your site's local rank.
Whitespark has a variety of paid plans. The price starts at $25 per month, depending on how many key terms you want to track. It offers a 14-day free trial before purchasing the premium plan.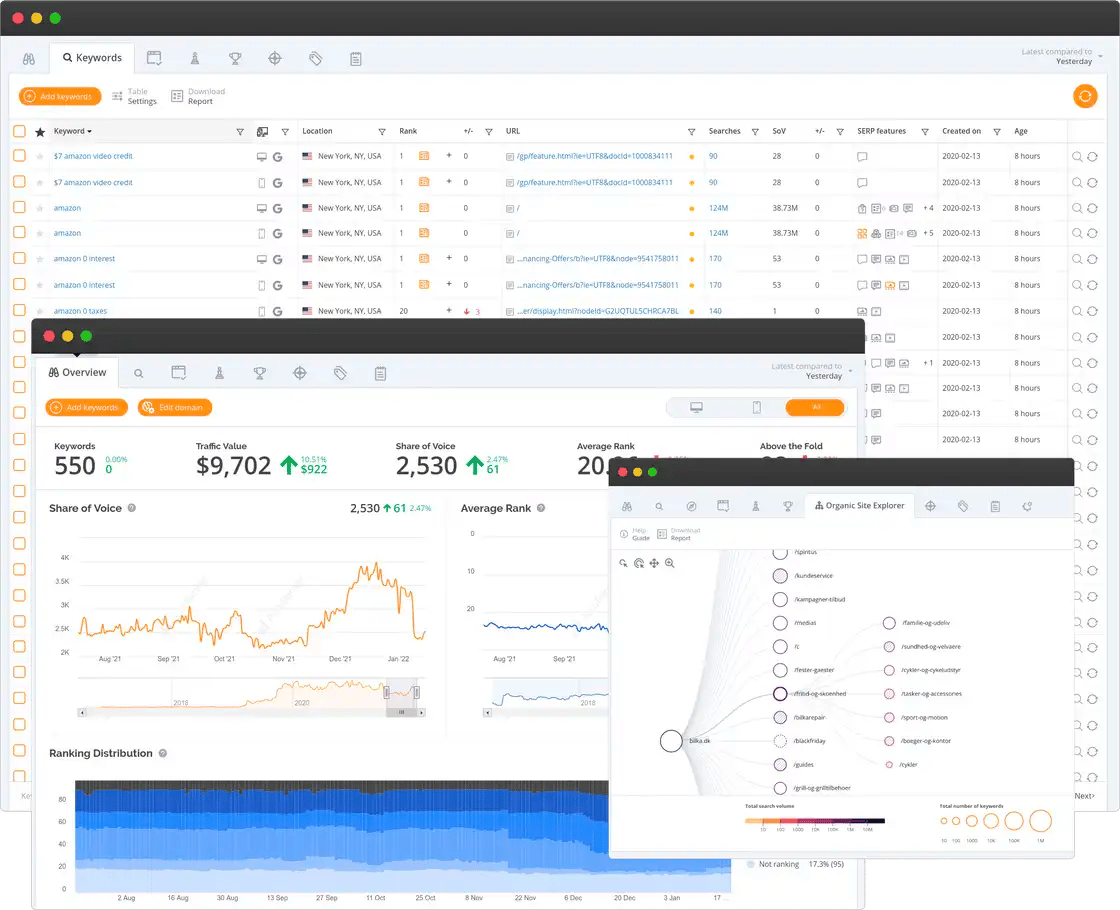 Another renowned local rank tracker is Accuranker. You may have heard about it everywhere, as it has generated countless good reviews. Accuranker even claims to be the fastest rank tracker in the world.
Along with its claim, Accuranker has many valuable features to help you boost local SEO. For instance, you can enjoy its organic site explorer to get a visual report of the keywords you use on your pages.
Accuranker also has aggregate SERP analysis to help you analyze particular SERP features like snippets, knowledge panels, etc. However, many states that Accuranker is more suitable for enterprises and agencies and challenging for beginners.
With a vast set of SEO features, Accuranker's plan rates are more on the pricier side. Its plans start from $99 monthly with an annual bill. Prices may change depending on the number of keywords you want to track. Accurankers also provides a 14-day free trial.
Nightwatch is well-known for generating incredibly reliable and accurate data, especially for analyzing local ranking.
It allows you to analyze local keyword performance in specific geographical areas. You only need to enter your zip code or location in the tracking settings to find the keywords you rank for.
It also tracks your ranking in local map results and major search engines. On top of that, you can also improve your marketing strategy using keyword research, reporting tools, and website auditing. It's great for rank-tracking, though not well known among local rank trackers.
With an incredible ability to analyze and boost local SEO, Nightwatch is one of the best trackers for businesses that aim for local customers. You can enjoy its features with paid plans that start from $32 per month (billed annually) with a 14-day free trial.
If you're looking for a local rank tracker that is easy to use, Mangools should be on your list. It has a simple interface yet can generate reliable data, making it easier for beginners to leverage the platform.
One of the top features of Mangools is SERPWatcher. Again, it's simple to use and generates easy-to-understand data. It allows beginners to spot gaps and monitor organic keyword positions on a daily basis.
Mangools will send you a notification whenever significant rank changes happen. It also has other useful features like SERPChecker, KWFinder, LinkMiner, and SiteProfiler. Even though it may not be as advanced as other platforms, Mangools is still a reliable local rank tracker.
Best of all, Mangools is among the most affordable rank trackers available on the market. Its paid plans start from $29,90 per month. You can also enjoy a 10-day free trial before purchasing the paid plan.
SEMRush is an all-in-one marketing tool that has received many good reviews from global users. With a vast option of SEO and marketing features, Semrush is suitable for enterprises, large teams, and professionals.
One of the main features of Semrush is position tracking. It allows you to track your site ranking on search engine result pages. You can also track your keywords' performances on multiple search engines.
Best of all, Semrush also enables users to see organic ranking changes. Thus, you can notice if the search engine algorithms may have changed. Moreover, you can get helpful insights to improve your SEO and outperform competitors.
Additionally, Semrush has more excellent features to level up your marketing efforts. It provides keyword research, competitor analysis, local SEO, on-page SEO auditing, link building, website monetization, and more.
Price-wise, Semrush is a high-end marketing tool. The paid plans start from $119.95 monthly, but you can enjoy a free trial before purchasing the full price.
If you're looking for advanced rank tracker tools, WebCEO can be an option. WebCRO doesn't only help you track your site's ranking but also your competitors. It has a wide selection of SEO tools suitable for agency levels.
Moreover, WebCEO helps you to do SEO audits and research keywords. You can get detailed information on variables like country, state, region, and city. It also allows you to find the ranking results of ads, images, videos, etc.
The tracking tool has a bunch of filters to help you generate comprehensive reports. WebCEO can also help you audit a site and get valuable insights to jack up its performance. In addition, it has a sitemap-generating tool for you to explore.
With excellent SEO and marketing features, WebCEO offers quite pricey plans. You need to pay $37 per month with an annual bill. Its monthly plans start from $99. Moreover, WebCEO doesn't provide a free plan.
As the name suggests, Ranktracker primarily aids you in monitoring your site rank for specific target keywords in search engine results. It provides basic site auditing features and keyword research tools.
The rank-tracking feature gives daily updates of your keyword ranks on mobile and desktop use. You can track keywords in country-specific search engines and see the average monthly volume of keywords performances.
Its local keyword ranking is also excellent to try. Local businesses or small to medium-sized enterprises can use Rank Tracker to escalate their marketing efforts.
It provides a 7-day free trial. The paid plans start from $59 monthly with location support and mobile index ability.
Pro Rank Trackers is among the most affordable options for local rank trackers. It enables you to track keywords for mobile and desktop devices separately. Moreover, you can do further tracking for Android and iOs devices.
Pro Rank Trackers provides keyword tracking across search engines, including Google, Yahoo, YouTube, and Amazon. Its mobile rank tracking is helpful for marketers or businesses running mobile marketing.
Most importantly, it has a freemium plan that allows you to examine up to 20 keywords with basic functionality. Pro Rank Trackers also offer white labeling reporting and scalable pricing. The paid plans start from $13.50 monthly.
A local rank tracker that fits businesses of all sizes is Wincher. It's a flexible tool to track SEO performance, spy on competitors, find new keywords, and get useful SEO insights. With a simple and intuitive interface, Wincher can quickly give you an overview of your site and keyword performance.
It has historical ranking data, which is rare for other rank-tracking tools. You can look back at your keyword performance from six months ago. You can find helpful insights to boost your keywords and site performance on search engines.
Wincher also has a feature that lets you get daily competitor ranking updates. It will send you notifications of significant changes regarding ranking positions. So you can stay alert all the time.
The integrated keyword research allows you to find potential keywords, identify search volume, estimate traffic volume, and more. With a vast option of valuable features, Wincher offers relatively affordable pricing. Its paid plans start from $25 monthly.
Final Thoughts
Whether you run a real estate agency, culinary business, or an explainer video company, reaching potential local customers is necessary. Optimizing local SEO is crucial to make your business discoverable through major and local search engines. And local rank tracking tools offer great convenience.
An excellent local rank tracker should have basic features to improve local SEO, including keyword rank tracking and visibility scoring to see the number of searches your location appears in SERPs.
It should also have multiple local elements, such as addresses and postal codes. Other features you should look for are device support, competitor ranking, rank history, reports, and alerts.
Each option above has basic features to help you track local SEO and improve it. Some are suitable for big companies, which will cost heftier. However, you can try cheaper options for smaller businesses.
Author: Andre Oentoro is the founder of Breadnbeyond, an award-winning explainer video production company. He helps businesses increase conversion rates, close more sales, and get positive ROI from explainer videos (in that order).