11 Simple Online Marketing Strategies for Small Businesses
It's hard to take a small business off the ground. Most small business owners are short of time. And struggle with generating leads and getting a steady stream of customers.
That's why we put together eleven proven online marketing strategies for small businesses. You can leverage them to improve your online presence and grow your business. Let's start with the basics of marketing.
What is Online Marketing?
Also known as digital marketing, online marketing is promoting your products and services using the internet and the web. It involves email newsletters, social media posts, and the like to reach your target audience, improve your brand awareness, and persuade your prospects to buy from you.
Types of Online Marketing
The web-based channels you use for your online marketing are broadly broken into multiple categories, such as:
Content marketing
Social media marketing
Pay Per Click (PPC) ads or paid advertising
Email marketing
Influencer marketing
Develop a Digital Marketing Strategy
Before starting your online marketing, you must have a marketing plan to understand your market share better. Without one, you may miss fully understanding the dynamics of it, such as customer behavior, competitors, what's working, or what you need to improve.
To develop a digital marketing strategy,
Start by identifying your target audience's demographic and other details using tools like Google Analytics, online surveys, and feedback requests.
Next, define your marketing goals and set objectives accordingly.
Evaluate your existing digital channels and analyze your current marketing performance.
Analyze your competitors.
Based on these details, decide which platforms you'll incorporate and what approach you'll take for creating your marketing strategy.
Optimize Your Google My Business Listing
If you want to attract your local traffic while improving your online visibility, optimize your Google My Business listing. To do so,
Start by completing your GMB account and including accurate information, such as your address and operating hours.
Incorporate relevant keywords to improve your Google search ranking.
Add high-quality photos that showcase your business.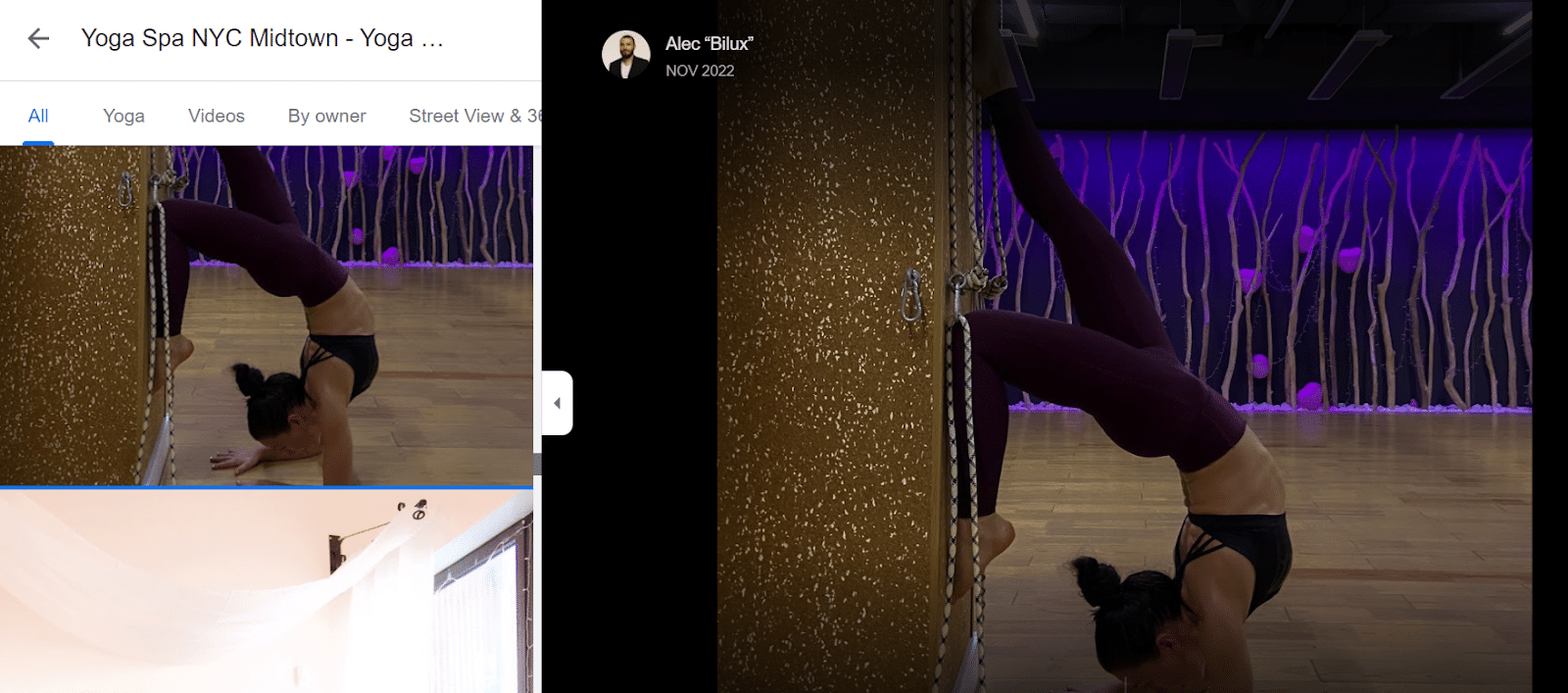 Respond to reviews to demonstrate your customer service skills and engage with your audience.
Allow your customers to call and message you.
Consider publishing local posts to keep your profile up to date.
Learn how to create local posts from Google.
Many merchants showcase their product catalog and information about their pricing, details, and photos to help customers better understand the products offered. If you fall in this category, consider doing that as well.
Go Local With Influencer Marketing
It's the era of influencers. Leveraging influencers to market products or services can be an effective strategy for local businesses. It can help you increase your reach and engagement in a small amount of time.
For instance, if a food blogger promotes a small restaurant or an influencer talks about Amazon products of a small e-commerce business, that review goes right in the news feed of hundreds, thousands, or even millions of people's walls at once.
But of course, it depends on the type of influencer you choose to market with—nano, micro, or macro influencers.
If this fascinates you, use your social media channels, influencer platforms, or hashtags to find the right influencer for your business.
Although, before you partner with an influencer, research and prioritize engagement over follower count. Plus, set clear expectations for the partnership to ensure a successful campaign.
Build a Mobile Responsive Website
The majority of people today use their mobile devices to surf the internet. So naturally, you build a highly functional responsive website that your prospects can easily navigate on their phones.
Another reason for creating a mobile-friendly website and improving your user experience is that Google and other search engines like Bing consider them a ranking factor.
By ensuring that the landing page your prospects land on and your overall website are mobile responsive, you can provide a positive user experience, improve your search engine ranking, and attract more potential customers to your business.
Start Local Search Engine Optimization (SEO)
Google sorts its search engine results into three categories: sponsored, local pack, and organic sections, with sponsored results being at the top—for the obvious reason someone paid for them.
Optimizing for local SEO can help you get more traffic to your premises even if you don't have a website. It's indeed the first tactic a small business owner uses when they start search engine marketing. As we discussed, you can claim and optimize your Google My Business account and collect customer reviews.
To optimize your website for local SEO, focus on local link-building by targeting authority websites in your region. Additionally, consider social listing to improve your local SEO results further.
Integrate Content Marketing in Your SEO Strategy
If you create high-quality, relevant content to address your audience's needs, concerns, and interests, you can build trust and loyalty among your prospects and customers. Plus, it helps you target relevant keywords super easily in just the right places.
Learning basic SEO skills can help you do it easily.
Moreover, it's one of the best ways for small businesses to compete against larger competitors with bigger advertising and PR budgets.
In a survey, SEMRush found that 74% of small business owners noticed that integrating content marketing proved successful for their businesses, while 21% of entrepreneurs found it impressive.
To get started with it, establish a content marketing strategy with clear objectives so you can measure success and make informed decisions for future content. Then:
Start podcasts, a Youtube channel, or a blog.
Use high-quality images, infographics, and other media on your website.
Post on social media consistently.
Create content for your customer sales funnel.
Invest in Pay-Per-Click (PPC) Ads
Pay-per-click (PPC) marketing is an effective way to target your ideal audience and increase your sales. The biggest reason it works is that it helps you reach the right people at the right time.
Since these ads appear to those actively searching for a particular product or service, those people are more likely to take action.
To achieve optimal results with your PPC ads:
Be as specific as you can with your targeted keywords.
Hire a professional copywriter to craft compelling ad copy.
Geo-target your ads if you're on a budget.
Make your call-to-action crystal clear and super concise.
If you're new to PPC, consider reading these AdWords tips when launching your campaign. Or hire a professional to avoid costly mistakes.
Pursue Social Media Marketing (Starting With One Platform…)
Despite some exceptions, almost every consumer uses at least one of the popular social media platforms. Leveraging their reach can make your marketing efforts count and directly impact your sales.
But when you start with social media marketing, choose the platform that will have a major impact. It'll keep you from being overwhelmed or making your social media management challenging.
For example, if you're a SaaS company targeting other small businesses, building an audience on LinkedIn could be more profitable than Instagram, Facebook, or TikTok. Similarly, a plumbing services company targeting a general audience would be better off with a social platform like Facebook.
The golden rule to be successful on social media is to be exceptionally responsive to your audience. It can encourage them to consider your brand while making a purchase.
Here are a few other tips for achieving social media success:
Be consistent.
Create a social media calendar to stay on track.
Analyze your existing data for a better understanding of what works.
Follow the latest trends and consider audience hijacking (collaborating with other influencers targeting your audience) to increase your reach.
Nurture Relationships with Email Marketing
If you want direct access to your prospects' inboxes, email marketing is the answer to your prayers.
The only catch here is that you first have to earn their permission.
Once you impress them enough to give you their email addresses, you can keep them engaged and informed about your brand and build and nurture relationships with them.
Here's how you can get started with it:
Choose the right email marketing platform that offers customization options and segmentation tools.
Build your email list. You can begin with it by

Collecting email addresses from business cards you have.
Adding sign-up options on your website.
Offering freebies or some sort of discount or coupon.
Once you have an email list, you can plan and execute your email campaigns to keep your audience engaged and loyal to your brand.
Take Customer Service Seriously
Retaining customers is cheaper than acquiring new customers. Because the people who have already bought from you or done business with you know your worth and have first-hand experience with your offerings.
On the other hand, to attract and engage prospects and convince them to buy from you instead of the competitors, you have to spend double the time and resources.
So, provide exceptional customer services to get more business from your existing customers. Some ways to do it are:
Hire a marketing agency or spend resources to strengthen your sales teams' customer services skills.
Be responsive to your customer's concerns.
Improve your customer interactions.
Make it easier for customers to provide feedback.
Monitor Your ROI from All Marketing Channels and Iterate
If you're clueless about how effective or incompetent your current marketing efforts are, you're pouring your money and resources down the drain.
Tracking your marketing results can help give amazing insights into what strategies are working and what you need to work on. So, yes, it's important to monitor your ROI from all marketing channels.
Some metrics you need to calculate to measure your ROI are conversion rate, cost per lead, click-through rate, and customer retention rate.
You can also use this formula to calculate your overall marketing ROI:
[(Number of leads X leads to customer rate X Average sales price) – Marketing cost]/100 x Marketing Cost
6 Free and Paid Digital Marketing Tools for Small Businesses
Trackright is a local SEO tool, which offers in-depth insights and reports, lead and keyword tracking, Google My Business account management, and other analytics required for local SEO.
The affordable tool can help businesses gain a competitive edge in their local market.
Google Analytics is a free Google tool that provides detailed reports on website traffic. It integrates with websites and offers a central location for ads and other traffic details. The tool can help businesses track their marketing efforts and adjust their strategies to meet their goals.
Trello is a project management tool that uses Kanban methodology. It can help businesses keep track of multiple projects, for instance, your social media marketing, content marketing, or other marketing campaigns.
With Trello, you can streamline your marketing efforts and improve their efficiency.
MailChimp is a marketing automation and email marketing tool enabling businesses to create and automate email campaigns.
The platform offers numerous features to help you optimize your email marketing efforts, including email segmentation and campaign analytics.
Ubersuggest is a comprehensive keyword research and SEO tool that can help you improve your online presence.
It enables you to analyze your competitors, perform SEO audits, and suggests how to optimize your website for SEO. Although they only offer three free searches, after that, you'll have to buy its monthly subscription.
RankMath is a WordPress SEO plugin that can help you optimize your content directly on your website. It analyzes your content and offers suggestions for improving it for higher search engine rankings. The tool is available in both free and paid versions.
Ready to Grow Your Business With Online Marketing?
Online marketing strategies can make achieving your business goals and reaching new customers attainable. However, they rely on the way you develop and execute them.
So, build personalized strategies that are individual to your business based on our marketing tips and work towards achieving your objectives consistently. If you're short of time, we can run a digital marketing campaign for your business. Contact us for a free marketing audit of your small business.
Sadaf Tanzeem is a B2B SaaS and Marketing writer. She collaborates with overwhelmed content marketers and business owners to take the burden of content development off your shoulders.