How Much Does Local SEO Cost in 2023: Local SEO Pricing
Local search engine optimization (SEO) can be a time-consuming process that requires a lot of effort and expertise. However, by skipping local SEO, you may miss out on highly qualified website traffic that you can easily turn into clients.
The solution to this problem is to hire an agency offering local SEO services. But before you do, you need to know the different local SEO elements and their respective costs. You also must
Know how much to budget for your local SEO efforts with help from an agency.
Thankfully, this article tackles all these and more to help your business rank on local search. Let's begin!
How Much Does Local SEO Cost?
The average hourly rates of local SEO services cost $128. The price varies depending on the service type you'll get from the company. Each SEO company also uses different SEO pricing models, which may include additional costs and retainer fees. They can impact the cost as well.
Is Local SEO Worth It: Do You Really Need it?
When done correctly, local SEO can increase your revenue and conversions.
This digital marketing tactic aims to attract more visitors to your online properties from search engines. Aside from your website, you can get your business listings to appear on search engine results pages (SERPs) when they type in your target keywords.
And the fact that they typed in your keyword to find your business means they are interested in what you're offering. So, when they click on your website or listing, there's a good chance they'll reach out for your services.
While local SEO is worth your time and effort, "needing" it is a different story. You'll find out later that businesses in various industries require different marketing strategies to succeed. Even executing a comprehensive local SEO plan may not yield the results you want for your business. We'll discuss this part once we reach your local business needs when preparing a local SEO budget.
Can You Do Local SEO Yourself?
Yes, you can develop and execute a local SEO strategy and campaign independently. But if you're not well-versed in local SEO, you need time to learn its concepts and principles first. This will help you understand how to build a campaign that produces your desired results.
Also, SEO in general isn't something you can set and forget. You need to keep refining your strategy based on its results to improve your search traffic. That means you'll have less time to work on other parts of your local business.
This is why most local businesses seek a local SEO expert for these tasks. While they could do local SEO themselves, they would rather delegate it to a dedicated person or agency. This allows them to focus on client concerns and other pressing matters in their business.
5 Common Elements of Local SEO Services
If you'll hire a local SEO consultant or company, know first the services they're offering. Local SEO involves various ranking factors to help your small business rank atop local search. Some agencies offer all of them while others specialize on only a handful. Below are the marketing services they provide that can impact your local SEO efforts:
1. Local SEO Audit
A local SEO audit assesses how your website ranks in search engine results for localized queries. It first identifies the local keywords your site is optimizing for and its local backlink profile. Once analyzed, the audit provides suggestions to improve your local rankings and generate more visitors.
The report may also include competitor analysis to compare your local SEO efforts with others in the same space. This helps you understand why you're not ranking on top of local SERPs and the steps you mus take to dominate it.
To generate these reports, run your site and competitors on audit tools like Screaming Frog. It shares with you information about the ranking factors above. It also analyzes your website on a technical SEO level to give you ideas on improving its crawlability to help search spiders index your pages faster.
Local SEO audit services range from automated to comprehensive and may cost from $84/year to $1,999/month.
2. Google Business Profile Optimization
Formerly known as Google My Business, Google Business Profile (GBP) allows local businesses to rank on the local pack. This section appears before Google SERPs and features three businesses most relevant to the search query.
To appear on the local pack, you need help from someone who offers GBP optimization. This agency observes best practices like accurately filling out the business information and using keywords in the correct elements on the profile. It will also collect positive customer reviews to help increase clicks on your business listings.
If you have multiple business locations, the company will create Google Business Profiles for each and follow the process above.
Finally, to help increase your GBP's performance, the agency will analyze its insights from the dashboard. It will then provide suggestions to get your business listing to appear on the local pack sooner than later.
3. Local Citation Building
Local citation refers to your business name, address, and phone number (NAP). It appears on your Google Business Profile so your target audience can reach out to you. But you want more people to find your contact details on other places aside from your GBP. To do this, you must build your local citations on online business directory sites like Yelp and Angi.
Creating a profile and entering your NAP across these sites helps inform search engines about your contact information. Aside from NAP, you could also enter your website link there to build local backlinks simultaneously.
Your profile on these sites may appear on local organic searches. At the same time, it helps confirm the NAP on your Google Business Profile, which helps increase its local pack rankings.
Companies price their local citation-building services per site starting at $3/site. They also submit your citations to data aggregators. They will take care of submitting your business citations to different online directories. The average price for each data aggregator costs $25.
4. Local Link Building
Backlinks remain a ranking factor even in local SEO. But unlike your standard link building, local link building requires more creativity on your end. This is because you need to get backlinks from websites based near your business location specifically.
For instance, you can get backlinks from local websites with resource pages. But they will only link to you if it provides relevant information to their intended audience. Another example is sponsorships in your area where you can get a link back from a non-profit organization's website in exchange for a donation for their cause.
You also need to analyze your local link profile to see the quality of location-specific links you've built over time. This lets you develop and execute a link acquisition strategy with the intent of increasing your business's online authority.
5. Local Content Marketing
Aside from optimizing your landing pages, you also must create informational content that provides value to your audience. Using Ahrefs, search for questions people ask about your keywords that include your location. You can find question keywords you can answer on your website as blog posts.
Expect some keywords you'll find here to have low search volume. Nonetheless, that shouldn't stop you from creating a page for them if it makes sense. In particular, the keywords should help your target audience who doesn't know your business exists to find you much easier.
Also, creating tons of quality content answering your potential customers' most common questions increases their trust in you. This allows you to not only increase your online presence but also convert visitors into customers.
Content marketing is an ongoing campaign ranging from $5,000 to $10,000 a month.
How Much Should Your Business Budget for Local SEO?
Doing all the local SEO elements is an uphill battle, especially if you don't know how to execute each correctly. That's why hiring someone with the experience of running successful local SEO campaigns is the way to go.
Obviously, you have to pay SEO freelancers and agencies for their services. So, you must ensure you generate more sales than the money you spend on their work. To help you decide how much to allot for your SEO budget, below are things you must consider:
Your Local Business Needs
Not all local businesses need to utilize the same marketing techniques. Some may need a combination of SEO, social media, and paid ads while others only need a few.
To decide whether to include SEO in your strategy, refer to your industry. For instance, local restaurants and those in the food service industry may need to tap more into other marketing avenues instead of SEO. On the other hand, businesses in the legal and home services industries will want to ramp up their SEO strategy.
From here, narrow down the tactics you will implement in your local SEO strategy. You may not have any need for GBP optimization, for example, if your business listing is already ranking on the local pack. Knowing the exact techniques to use enables you to maximize your SEO budget.
Your Current Local SEO Performance
Understanding how your online business performs in local SEO allows you to fill in the gaps regarding which tactics to use.
For starters, run a local SEO audit of your business. It'll tell which keywords you're ranking for and how much organic traffic you're getting from each. The report also shares with you why your site performs the way it is on local search based on its link profile, citations, and others.
While this service comes at a price in most cases, there are agencies like us at On The Map Marketing that offer a free marketing website audit. Reach out to us and give us 24 hours to run an SEO reporting on your site.
The Competitiveness in Your Niche
Look at how businesses similar to yours are doing their local SEO campaigns. This is normally included in the SEO audits agencies offer, but you can perform basic competitor analysis if you want to do due diligence.
To begin, search for local keywords you want to rank for and check your top competitors that appear on the local pack. Analyze their Google Business Profiles using GMB Everything to provide quick insights and hasten your research.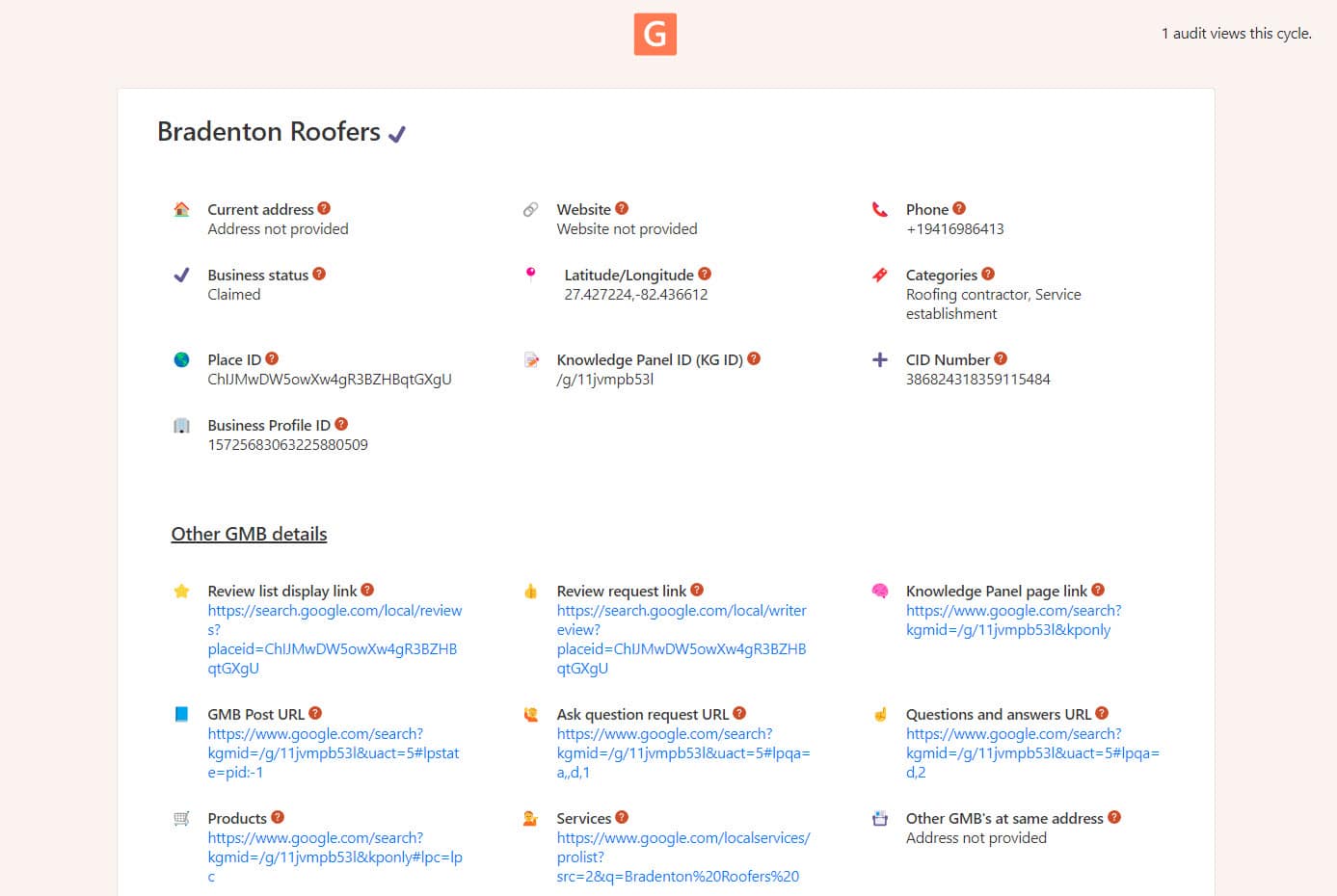 From here, visit their websites and check their website designs and usability. On the other hand, checking the on-page SEO of each site manually would be time-consuming. In this case, use SEOmator to give you a bird's eye view of the website's SEO metrics like performance and accessibility.
You can also use these tools to analyze your GBP and website and see how they compare against your competitors. From here, you can decide which local SEO services you need to catch up with them.
Number of Business Locations
Aside from creating Google Business Profiles specific to locations where your services are available, you should do the same for your website. Creating optimized pages with content unique to each location will help increase your chances of ranking on local search results.
Also, consider that you can't apply the same SEO tactics across all locations. Some may be more competitive than others, depending on the local businesses you're up against. At the same time, you need to manage the campaign for each location constantly. As the Google algorithm changes, so do the pages and listings ranking on local search. That means you must adapt to the changes so you can sustain or improve your keyword positions.
Given the work put into optimizing your website for your target locations, hiring a dedicated marketing agency for these tasks is in order.
Number of Products and Services You Sell
Ranking these pages on top of local SERPs requires intense keyword research to find the best terms to rank for each. You then must focus on content creation by crafting the product description and taking high-quality images for each.
You'll also have to deal with off-page SEO where you must build authoritative backlinks to rival–if not surpass–your competitors. You can start by identifying their best backlinks according to Domain Rating (DR) using Ahrefs. From here, find which page where the site links to your competitors and identify the method they used to acquire the links.
Hiring SEO professionals to help you here makes sense only if you have tons of products on sale in your local e-commerce site. Keep in mind that the cost of SEO for this task can get pretty high. But for small businesses offering a handful of services to their target audience, the investment wouldn't be as high.
Local SEO Packages at On The Map Marketing
How to Measure The ROI of Your Local SEO Strategy?
After launching your local SEO plan, find if your GBP appears on the local pack for your target keywords. Many factors affect your Google Maps ranking, but check your profile's analytics to know for sure. See how many people are interacting and engaging with your GBP.
Also, check your local keyword rankings for various locations using a tool like TrackRight. It has a geo-grid rank tracker to help you visualize your rankings in your different service areas. It also has a lead tracking feature to help you understand how many visitors your site attracted converted into leads.
[image]
Regarding visitors, you must quantify your keyword rankings by how much organic search traffic your website generated from the campaign. Check Google Search Console to see how your site performed over time. In particular, check the number of impressions and clicks your site pages received. You can even dig deeper on a page level so you can monitor specific site pages.
Also, consider checking your site's Google Analytics. While it tracks traffic from other sources like social media and direct traffic, it offers engagement metrics for the pages that received visitors. The tool shows how long they stayed on the page, how many conversions each page made, and the total revenue generated.
The data above helps you understand how your local SEO project impacts your bottom line and what you must do to generate more conversions from the organic search traffic you're currently receiving.
Should You Hire On The Map Marketing as Your Local SEO Agency?
We at On The Map Marketing offers local SEO services that are within your price range. From the initial SEO audit, our team identifies all the core issues preventing your site from ranking on top of local search results. They then develop a strategy that your local business needs to rank on the local pack and search results. To get started, sign up for our free marketing audit and get a report about your website.