SEO For Contractors: A Simple Guide
Frustrated by limited visibility despite investing countless hours, resources, and passion into your website?
You're not alone.
Let's begin by understanding what exactly contractor SEO is.
What is SEO for Contractors?
Contractor SEO refers to search engine optimization strategies and techniques specifically tailored to improve your online visibility and website rank in search engine results pages (SERPs).
How Can Contractor SEO Help Your Business: 3 Top Benefits
Using contractor SEO to optimize your website design and content, implement relevant keywords, and enhance user experience, you can attract more targeted organic traffic, increase brand awareness, and generate more leads. Plus, you get all of it at a very reasonable cost.
Improve Your Brand Awareness
SEO benefits you in a number of ways. It improves your website's online visibility and accessibility and enables more people to know about you and your brand.
When you optimize your website content, incorporating relevant keywords, search engines like Google associate your brand with those specific keywords. This connection, coupled with engaging content marketing efforts such as articles, podcasts, infographics, and videos drives website traffic and boosts your brand recognition.
The easier it is for users to find your website through SEO, the more your brand awareness will increase.
Get Leads and Conversions at a Fraction of Cost
The main job of SEO is to bring free organic traffic to your website, which eventually leads to conversions and new clients.
Targeting the right keywords, content optimization, and building higher credibility through higher search engine rankings can all help in getting better conversion rates and establishing sustainable long-term lead generation.
When you compare these conversions to outbound leads, you'll figure that they're carried out at a fraction of the cost of what you'd spend on PPC or social media ads.
The Best Long-Term ROI Among Digital Marketing Channels
SEO offers the best long-term ROI among digital marketing channels by delivering a return of around 275% for every $2.74 spent.
You can achieve this impressive ROI through organic search, where SEO generates genuine leads. The likelihood of a good conversion rate and maximum returns is higher when you target individuals seeking answers and showing genuine interest in your contracting business.
How to Start Contractor SEO
Create a Google Business Profile and Begin Local SEO
To get started with local SEO, claim and verify your Google My Business account and provide complete information of your business – including name, address, and phone number (NAP).
Your goal is to appear in the local search pack whenever someone in close proximity to your local business looks for a contracting company.
As per Google, the more popular your business is in the offline world, the easier it'll be for people to find you online. Encouraging your existing customers to leave reviews and responding to all of them can enhance your chances of ranking in the "near me" searches.
If you already have a GMB account, you can also use online platforms like Semrush's listing tool to assess your current presence on Google and make necessary improvements.
Build a User-Friendly Website
When you prioritize user experience, Google prioritizes you.
A user-friendly website is one that includes clear navigation, a responsive design that works for mobile devices, fast loading speed, and instantly available contact information like displaying your email and cell number to enable phone calls.
It reduces bounce rates, increases dwell time, and boosts engagement, leading to improved search engine rankings and visibility SEO and overall online success.
Conduct Keyword Research
When your target audience searches for a contractor or related services, they look for some specific search terms–for instance, residential remodeling, home services, roofing contractor, plumbing services, general contractors, or more.
So, it's simple math, to appear in their search results or the first page of Google, you have to rank for the keywords they're looking for.
Begin by making a list of relevant topics that your searchers are likely to look for such as home improvement, construction services, remodeling projects, or renovation tips. Then, brainstorm keyword phrases for each topic, like "home improvement ideas" or "kitchen remodeling contractors."
Expand your research by searching for related terms and using SEO tools. These SEO platforms can provide you with insights into keyword relevance, search volume, and difficulty level and help you prioritize the most impactful keywords to target.
Finally, before creating content tailored to those keywords, make sure that the chosen titles satisfy the user intent–for instance, The History of Construction Techniques is not a title your audience would be interested in.
Focus on On-Page SEO
On-page SEO is basically optimizing your web pages for the keywords you have researched in the previous step. It improves your search engine rankings and attracts targeted organic traffic.
To implement on-page SEO, incorporate relevant keywords in key places of your web pages such as title tags, subheads, URLs, anchor text, meta descriptions, alt text, and the first and last 100 words of blog content.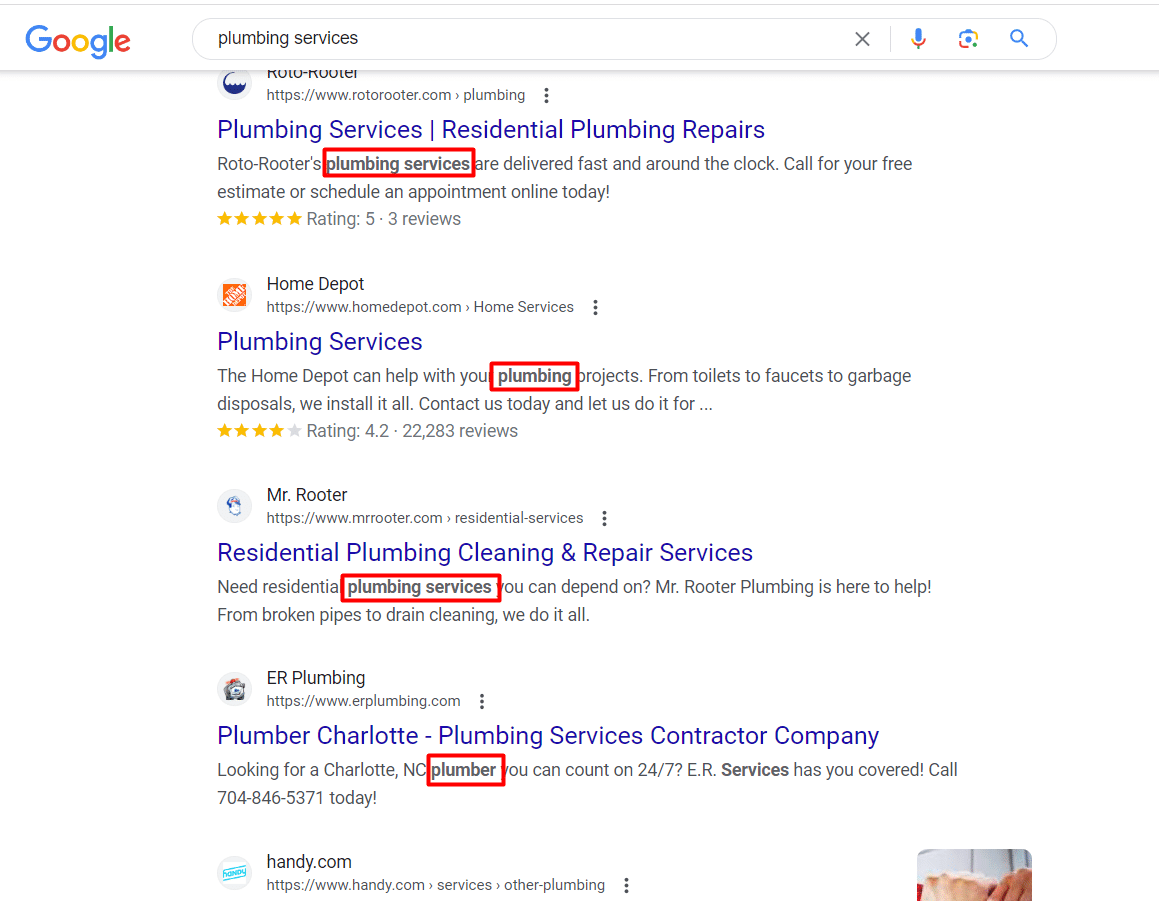 Plus, sprinkle them naturally throughout the content to ensure search engines understand the relevance of the page to user queries.
Start Link Building
Link-building can be a game changer for your SEO as it helps boost your website's visibility and authority. The high-quality backlinks from reputable sources drive traffic to your site and signal search engines that your website is reliable and valuable.
So, acquire backlinks from prominent industry players such as renowned home improvement blogs, local news outlets, trade organizations, community organizations, charities, and online directories such as Yelp or Superlawyers. It can immensely enhance your website's credibility.
Plus, collaborating with local suppliers, subcontractors, or partners and requesting backlinks from their websites can further strengthen your online presence.
Measure Your Performance and Iterate Your SEO Strategy
If you don't measure it, you can't find how close you are to achieving your business goals or if you're even heading in the right direction.
So, measure your progress and evaluate your SEO campaign. Start by knowing the numbers that matter and focus on key factors that Google considers for top rankings.
Tools like Semrush's Traffic Analytics or Ubbersuggest can help you measure the organic traffic and gain insights into domain performance.
You can monitor your keyword rankings by conducting Google searches. But what's more essential is to track conversion rate to know whether the potential customers are taking desired actions or not.
To monitor your engagement metrics like page visits, time on page, and behavior of visitors, you can use Google Analytics.
When these factors start moving towards SEO progress, check how you're improving your overall domain authority and credibility with new backlinks and SEO content.
Should You Hire Contractor SEO Services?
It depends on your needs and priorities.
If you need more time to provide amazing services to your customers instead of spending time learning SEO strategies and experimenting with them to generate leads, the short answer is yes. Opting for a contractor marketing agency will be a profitable choice.
An SEO agency can save you a tremendous amount of time and money to generate leads on auto-pilot. Because experts from an SEO company possess the knowledge and experience in generating leads and implementing strategies that ensure a consistent influx of prospects.
But if you're on a limited budget and willing to invest the time and effort to learn and implement SEO strategies yourself, you may consider handling it in-house.
What Does Contactor Search Engine Optimization Include?
The major practices and strategies contractor SEO encompasses to improve your online visibility include on-page SEO, technical or off-page SEO, and local SEO.
The majority of them are what we've already discussed such as keyword research and analysis, optimizing on-page elements, web speed and performance, GMB account for local search, building high-quality links, and ensuring mobile compatibility.
Besides that, you also need to address the technical aspects like site structure and URL optimization, SEO audits and reporting, and organic traffic monitoring.
Plus, staying updated with the algorithm changes and industry trends also plays a big part as you have to modify your marketing campaign with that.
How Does Contractor SEO Work at On The Map Marketing?
At On The Map Marketing, this is what our Contractor SEO process looks like:
Discovery Call: We'll explore your contractor objectives and project requirements to assess our fit before proceeding.
Contractor Marketing Audit: Next, we assess your contractor website's condition, to know existing challenges and potential areas for improvement.
A Custom Contractor SEO Strategy: Post evaluation, we'll offer you several contractor-focused SEO packages outlining the associated challenges, timeline, and expenses.
Onboarding and Scaling Your SEO: After establishing your profile, our SEO team implements the marketing strategy in 90-day intervals.
Ongoing reporting and analysis: Your project supervisor provides consistent updates, gathers feedback, and fine-tunes your project execution.
Our approach aims to provide your construction company with a customized and transparent process that helps drive organic traffic, boost conversions, and achieve your overall marketing objectives.