Digital Marketing Services
Dominate your market with DIGITAL marketing services that deliver!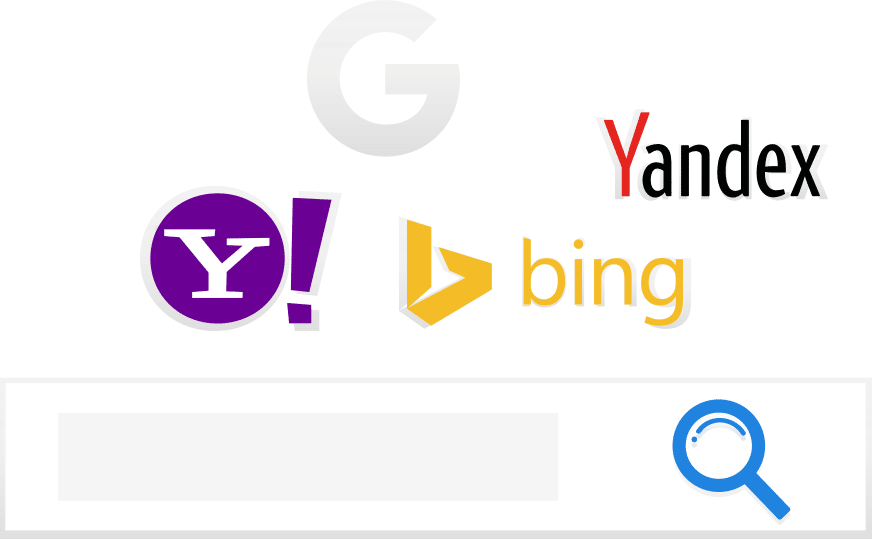 Search Engine Optimization
Search Engine Optimization (SEO) or utilizes meticulous keyword research to determine the most widely-searched terms. By incorporating these terms in content creation for your website, search engines like Google can connect you with potential clients in your geographic market who are searching for the goods or services that you provide. SEO marketing strategies include the creation of content, the development of backlinks (links on other sites that point to your website), and other best practices, the SEO services our digital marketing agency offers can help move you up through Google search results and enhance your brand awareness. Contact us today to discuss the digital marketing services that we offer.
If your business relies on a clientele who is in the area of your location or locations,
there's an important statistic that you should be aware of.
Over 80% of searches for local businesses result in a visit to the location within 24 hours. With that kind of conversion rate, you can't possibly afford to be left out of the search results. But in order to appear at the top of those coveted, first-page search engine results, you need superlative search engine marketing. Our multi-tiered approach to SEO & Google my business optimization, including targeting local audiences for your services or products, will ensure that we are taking a fine-tuned approach to your business and help bring meaningful and valuable traffic to your site.
Technical SEO
Technical SEO is an essential part of any marketing strategy. When a user enters a search term into a browser like Google, the browser sends search engine bots out over the internet.
What those bots uncover determines where it will ultimately rank your page for each respective user. Technical SEO focuses on making sure that these search engine bots can index and render your pages and that they can understand your content. This goes far beyond ensuring that you don't have dead links on your page. Because Google's algorithm is constantly changing, so are various aspects of technical SEO. Hiring a digital marketing agency, like On The Map Marketing, that can stay on top of your page's more technical aspects concerning search engine optimization is one of the best internet marketing decisions that you can make.
Web Design & Development
Sites like Squarespace and Wix might advertise that building a website is easy, but if you're serious about making your site stand out for the purpose of search engine optimization, or if you need custom options for your consumer base, you may need something a little more involved. Even the best digital marketing agency can only get marginal results with a non-customized templated website. If you're serious about maximizing the value of your SEO marketing dollars, you may need to discuss website marketing solutions with a full-service digital marketing agency. The award-winning design and development team at On The Map Marketing can not only build an esthetically pleasing website for your company, but it will also perform well from an SEO and online marketing standpoint.
Factors in a High-Performance Website
Your website needs to be fast, navigable, and filled with valuable content.
It should also include features like buttons to immediately connect with an account manager or representative for your company. It should offer services online that are available to potential customers. Any content, whether it's written copy, images, or videos, should be clean, vivid, and identifiable to search engines. Ultimately, your site should enhance the user experience (UX). On The Map Marketing will make sure that we focus on the user journey in order to maximize conversions and boost your quality score in the Google ecosystem. This is to ensure that we have taken every step to improve your rankings. These are just a few of the marketing solutions for a comprehensive digital marketing strategy that a digital marketing agency like On The Map Marketing can offer. To learn more about the specific services we can bring to your business and your digital marketing needs, contact us as soon as possible.
App Development
Web applications can be an important aspect of any digital marketing campaign. Apps can let your clients order your products or services, check on the status of in-progress orders, communicate your customer service, and oftentimes, promote your products on their own social media platforms. App development is a very specialized field in digital marketing and it requires a team of experienced engineers to make your app available for both Apple and Android users, and to make it fast, functional, and user friendly. Talk to an On The Map Marketing app developer about your ideas for an app.
Pay-Per-Click Advertising
Unlike search engine optimization (SEO), pay-per-click (PPC) guarantees that your site will be positioned at the top of a search engine results page, but at a cost. As the name implies, with a PPC campaign, you start an account on Google by pre-paying for clicks. You identify the search terms that you want to target in your geographic region. When someone in your area clicks on your ad, your PPC account is debited for whatever the charge is for that keyword. Google determines the charge based on the monthly volume of traffic that the search term receives.
At On The Map Marketing, we believe that the best digital marketing strategy incorporates all of the tools that are effective. In 2020, 40% of searches resulted in a selection of an organic result and 28% went to paid search results. While SEO would seem like the clear winner, few businesses would want to ignore the 28% of the market that pay-per-click reaches. As part of a comprehensive digital marketing strategy, On The Map Marketing frequently recommends a blend of SEO and pay-per-click to our digital marketing clients.
Content Marketing
There's an old adage in digital marketing: "Content is King." This certainly doesn't mean that it is the only point of focus for your digital marketing campaign, but it's also an area of internet marketing that can't be ignored. Content refers to the information on your website: written words, images, and videos. If you have strong content that's relevant to your page, users will come to your site to find answers and they will stay there. If not, they will bounce away and your ranking will be lowered. Moreover, during the content creation, if your page has keywords that target what users are looking for, it will help them locate your page. Images should be sharp, vivid, and relevant. Videos should be embedded in the page in a logical manner that doesn't interrupt the flow of the text, banners, or menus.
Content creation and content marketing are among the many SEO services that On The Map Marketing offers to our digital clients.
Social Media Marketing
Digital marketing agencies like On The Map Marketing are well aware of the pervasiveness of social media platforms like Facebook, Twitter, Instagram, TikTok, and many others in all aspects of our lives. From a marketing standpoint, we recommend a planned approach to social media management. That means developing a theme for your ads and posts, determining your social media budget, scheduling when your posts will have the most impact. Proper social media management should also include a way to monitor the number of engagements and leads that your social media campaigns are generating.
Digital Marketing Services and Expanding Your Business
It's been a well-established fact that digital marketing is one of the most cost-effective methods of advertising. One of the reasons for this modern-age phenomenon is the relatively small startup costs to launch a site and to begin filling it with marketing content.
But that sort of tepid approach to digital marketing usually meets with marginal results. By partnering with a marketing company you can develop a marketing strategy that is bound to get your site noticed. But that's not where the challenges end. All marketing campaigns should take a data-driven approach that includes conversion rate optimization. Your marketing dollars should not only deliver traffic to your website but also enhanced brand awareness and profits to your bottom line. Find out how our award-winning online marketing team can turn your investment into a competitive edge that delivers revenues and profits.
Whether you're the marketing manager for an enterprise, franchise, or the owner of a small business, you've undoubtedly seen the impact that digital marketing has had on your industry. At one time, having a company website was sufficient for most companies' business needs.
Today, the long-term success of any business hinges on a multi-tiered digital marketing campaign that employs data-driven marketing strategies. With well over a decade in the digital marketing industry, On The Map Marketing is one of the best digital marketing agencies in the country. Our digital marketing experts take a multi-phased approach to internet marketing, examining each business-client, their target audience, their geographic market, and their near and long-term goals. Our marketing specialists then custom-craft next-level campaigns that are designed to increase website traffic via search engines, and ultimately, to improve revenues.
The Best Digital Marketing Services
If you want to be successful in the world of digital marketing, it requires knowledge, flexibility, and patience. Few successful marketing campaigns are short-term endeavors. Your campaign should be built in stages, but that doesn't mean that you can only work on one aspect at a time. While our web development team is building or revamping your website, our content marketing team can begin seo audit services. Our team is fully versed in the marketing services that we sell and we are accustomed to accomplishing multiple phases of a project simultaneously.
Not only are the industries we serve diverse, but so is the expertise of our company. While our business boasts over a decade of experience in digital marketing, many of our team members have much more experience on their own. Whether you are having a website redesign, a comprehensive SEO campaign implemented, or any of the other services we offer, you can be confident that each team set out to accomplish your goals is doing so with a measured, proven approach. While we handle the world-class marketing output, you can focus on doing what you do best: providing your customers — both new and old — with the products and services that they have come to depend on you for.
Your One-Stop Digital Marketing Agency
Whether you are looking to improve your leads with a single digital marketing service, improve your website click through rate via custom wordpress development, or begin a multi-tiered marketing campaign, our full service digital marketing agency can accommodate your needs. With over twelve years in the digital marketing business, our multinational company has helped thousands of businesses achieve their marketing goals. Contact us today for a free initial consultation.
Frequently Asked Questions About Digital Marketing
As an international digital marketing services provider, we have contact with a wide array of clients in multiple industries. Here are some of the questions that we are frequently asked along with a few that we feel may be of interest to our present and future digital marketing clients.
What are "Digital Marketing Services"?
Digital marketing services is a catchall term to describe marketing via search engines, cell phones, email, social media, and video platforms. Some of the platforms include Google Ads, Shopify, YouTube, Facebook, Amazon, et cetera. To have a comprehensive digital media strategy, you need a full-service digital marketing agency, like On The Map Marketing.
What services do digital marketing agencies offer?
Not all digital marketing agencies offer the same services, but there are certain cornerstones of digital marketing: SEO, PPC, technical SEO, web development, app development, social media marketing, content marketing, and even email marketing.
How much do digital marketing services cost?
The cost of digital marketing services largely depends on the type of service and the volume of the campaign. Some services can be obtained for as little as a few hundred dollars, while others can be more expensive. By partnering with an experienced digital marketing firm, you can ensure that you will get the best value whatever your budget is.
What are the main factors that improve SEO?
SEO is part art and part science. While no digital marketing company knows exactly what's in the Google algorithms, which they frequently update, we are aware of what works and what doesn't. Here are some of the most significant factors in search engine optimization:
Content creation – is your content clean, readable, and relevant
Page speed – how fast the content on pages load
Navigability of your site
Bounce rate – the longer visitors remain on your webpage the better
Crawlability of your site – can search engine bots read the content on your page
Mobile device compatibility – your site performs well on mobile devices
Link Building – Your links work and refer users to high-authority sources Any effective digital marketing strategy will include a regular review of these factors and more. At On The Map Marketing, we use state-of-the-arts instruments to measure the performance of websites with regard to SEO. We also provide easy-to-understand performance reports to our clients so they can see the progress of their digital marketing endeavors.
Should I Use SEO or PPC Online Marketing?
There are few issues that are as hotly-contested in the world of internet marketing as SEO vs. PPC. While both relate to online marketing, particularly on Google, there are significant differences between the two approaches. Take a look below to get a better understanding of the nuances of each, and why you will benefit from working with a company like On The Map Marketing that prioritizes a holistic approach to digital marketing services and strategies. We will be happy to discuss the specific benefits to your business and your market in order to get a sense of how these approaches can specifically benefit you and drive new, meaningful traffic to your business website.
How do I build authority for my website?
Google and other search engines use the authority of a page to rank them in the search engine results. Pages gain authority in a number of ways. Search engines take into account factors like the amount of content on the site, the number of pages on the site, the authority of the links that are embedded in the content, the site's length of time in existence, the frequency that the content is updated, and many more variables. There is no single trick that will increase your site's authority — this will take a dedicated and coordinated effort to increase your rankings on the search engine results pages, generate new traffic using high-quality links in your authoritative content, and generally provide Google's users with a good experience each time they click into your site.
Is digital marketing easy?
Digital marketing is competitive, which means that all of the companies that use it are in competition. Because of that, digital marketing companies seek new solutions to give their clients an edge. Because of this frenetic pace, digital marketing could never be described as "easy." What is easy is partnering with a company like On The Map Marketing with extensive knowledge and experience in this area.
How do I know which digital marketing services I need for my business?
There is no one-size-fits-all digital marketing strategy for internet marketing. Some businesses have great existing sites, but they need a fully-developed SEO campaign to garner the benefits of digital marketing. Other clients have very little online presence or they've focused on social media marketing and haven't pursued other types of content marketing. Our representatives are experts at the marketing services we offer. Every campaign starts with a full evaluation of your business, your marketing practices, etc. We then make recommendations as to which digital marketing services you would benefit from. Too often, business owners overcomplicate their internal marketing efforts by trying to incorporate all strategies at once without a clear understanding of their benefits or the best practices for implementing them. On The Map Marketing has a number of teams that focus on specific strategies, meaning that you will benefit from the work of experts in every strategy we execute.