6 Essential KPIs for
Tracking SEO Results
Home » SEO for Lawyers » 6 Essential KPIs for Tracking SEO Results
If you want to expand your online presence, you need search engine optimization. But to effectively track and measure the success of your lawyer's SEO efforts, you need to monitor key SEO metrics regularly.
In this article, we'll explore some of the most important SEO metrics and how to track them to know your SEO performance and make data-driven decisions about your SEO strategy.
Let's dig in.
Table of Contents
What is SEO Tracking
SEO tracking is defining your SEO goals and choosing the right metrics to track based on what you aim to achieve. Finally, tracking these key performance indicators (KPIs) regularly to determine the performance of your SEO campaigns.
You can create easy-to-understand and manageable reports using a tool like Google studio to compile and create reports.
These reports help you understand how your strategy is performing. Plus, anyone on your team can look at these metrics to know the results of your SEO efforts.
How to Find If Your Attorney SEO Campaign is Working
To determine whether your SEO campaign is working, you need to track a few essential metrics. But before you begin tracking them, you must establish clear, measurable goals for your campaign. And these goals should align with your overall business objectives.
For instance, if your goal is to get more people to schedule a consultation call with you, specify the type of legal services or cases (keywords) they should be finding you for.
Besides, you need to set reasonable expectations for your campaign. Because, let's be realistic, SEO takes time. So, don't expect overnight success. Instead, you need to be patient and track your progress over time.
To monitor your SEO performance, a tool such as TrackRight can help you track your organic and map rankings for important keywords. It also shows your leads in terms of form submissions and phone calls. But you can also throw Google Analytics, Ahrefs, or SEMrush also into the mix.
Ultimnately you want to see a positive upward trending ranking movement for the keywords your law firm SEO campaign is targeting.
Next, let's discuss the six important SEO metrics you should track to improve your SEO efforts.
6 KPIs For Measuring Your SEO Success
Conversion: Revenue
The total number of website visitors taking the action you count as the final goal — for instance, booking a consultation call with you, inquiring about your legal services, or entering your email list, is called a conversion.
To track your conversions and ROI, you need to set up conversion tracking on your website using an SEO tool like Google Analytics, KISSMetrics, or SEMRush and consider your investment.
Then identify what pages you'll track, for instance, some specifically created landing pages. Based on the software you're using, set up your conversion goals. For example, to track conversions in Google Analytics, you can set up a goal by creating a new event via the user interface.
These goals include the number of clicks, form fills, consultation call bookings, or downloads.
Then, monitor them gradually.
Once you have the data, you can calculate the conversion rate by defining a period and dividing the total number of website or a particular landing page visitors for that specific time by the number of leads that converted.
Determining your SEO success will also give you insights into the returns on your initial investment.
Leads: Phone Calls and Form Submission
Besides conversions, you also need to know the number of new leads you're regularly encountering. After all, only then can you take measures to convert them.
If you're trying to generate leads via contact form submission, Google Analytics is a wonderful tool to help you figure out if that's working. All you have to do is to measure the form interaction in your GA account.
Once you've logged in, select your website → Go to the "Behavior" section → Click on "Site Content."
Look for the page containing your attorney contact form or other lead generation form. Then, check the website views and the number of people who started and submitted the form.
It'll give you an idea of how many people have visited that page and potentially filled out the form. The number of people who left in the middle of the form submission. And the ones that didn't take any action at all.
If you have set up goals in Google Analytics for your lead generation form, you can also check the number of goal completions to get an accurate count of the number of leads.
You can also use other website analytics tools such as Crazy Egg, Mouseflow, or TrackRight for analysis, conversion tracking, and user session recordings to track and improve lead generation on your attorney website.
Brand Impressions: Organic Traffic
All the web traffic you receive via unpaid sources is called organic traffic. It can come from search engines, referral domains, social media, or direct searches.
The most basic tool you can use to check your organic traffic is the one we've been discussing so far—Google Analytics.
Before you begin, ensure your website is appropriately configured with the tracking code you got from GA. Once done, you can navigate to the "Acquisition" section of your Google Analytics account and select "Overview" to view the traffic sources report.
Here, you can see how much traffic is coming from organic searches. Additionally, you can use filters and segments to analyze further and track specific organic traffic metrics such as landing pages, keyword rankings and performance, and user behavior.
SERP Brand Awareness: Keyword Rankings
The position of your website or webpage in search engine results pages (SERPs) for a particular keyword or search query is your keyword ranking.
The higher the ranking, the more visible your website is to users searching for that keyword.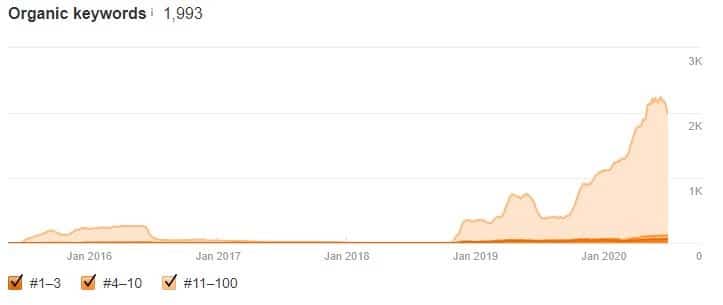 You can use two different methods to determine your keyword ranking. The first one is simple. Enter the keyword you've been trying to rank for in Google using a private browser to check your rank. Although, sometimes Google shows you the results that are best for you. So, you might not get a very accurate keyword ranking using this method.
The second method is to use Google Search Console.
To check your ranking in Google Search Console, go to the "Performance" report and select the desired period. The "Queries" table displays the keywords driving traffic to your site, and the "Position" column shows their average ranking.
You can filter and compare the data to track specific keywords and export it for analysis. This helps you understand your website's performance in search results and identify areas for improvement in your SEO strategy.
Local Presence: Map and Local Search Rankings
When people can find you for "near me" searches, for instance, the best personal injury attorney near me, you have a good local search ranking.
The basic way to determine your rank in the local pack is to search for the terms you're trying to rank for in a private browser and check the google search results. TrackRight is again a great tool for tracking your local rankings.
Brand Authority: Domain Rating
Your website's domain rating (DR) or domain authority (DA) is a metric that measures the overall strength and relevance of a website's domain in the eyes of Google.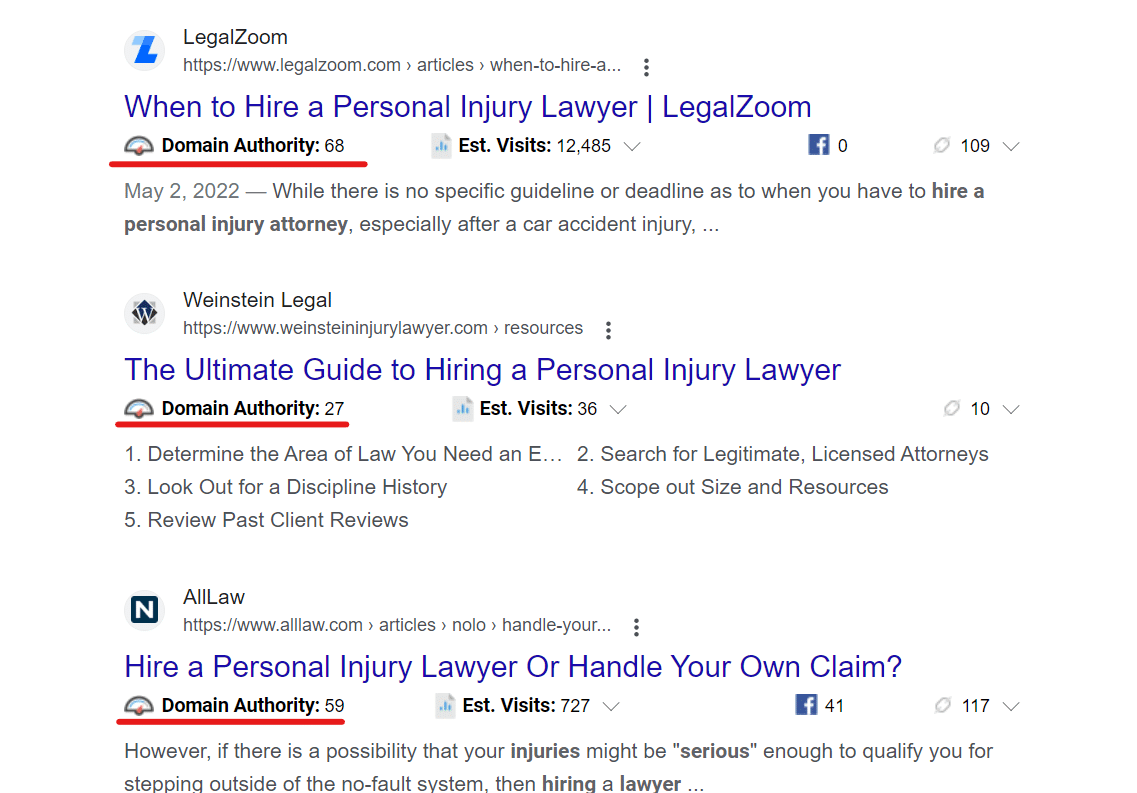 A higher DR or DA can help in getting better search engine rankings.
Checking your domain authority is fairly straightforward. You can do it using any free SEO tool like Moz or Ubbersuggest. All you have to do is enter your domain name. And it will give you a score or rating that reflects the strength and authority of your website's domain.
You can track changes in your domain authority over time and use this information to improve your SEO strategy and increase your website's visibility in search results.
Building high-quality backlinks is one of the best ways to grow your DA quickly.
3 SEO Tracking Tools
As we all know, Google Analytics is a free tool that you can use to track and analyze your web visitors' behavior, such as how many people are visiting your site, where they're coming from, and what pages they're looking at.
It can help you monitor your website's effectiveness and gain insight into how potential clients interact with it. Using this data, you can improve your website's content and user experience to attract and retain clients.
TrackRight is a powerful SEO tool designed to help you optimize your online presence.
It can help you with keyword tracking, competitor analysis, and on-page optimization recommendations to help you improve your search engine rankings and drive more organic search traffic to your website.
TrackRight is a handy tool that law firms use to monitor search performance, identify areas for improvement, and stay ahead of their competition.
Ahrefs is a great but expensive SEO tool for rank tracking and search visibility. You can use it for keyword research and get valuable insights into competitors' strategies, identify relevant keywords and backlinks, and track website performance over time.
Besides, it can also help you with technical SEO, optimize your website content, monitor your online reputation, and generate more organic traffic.
Use Tracking To Ensure Your Firm Gets a Positive ROI From SEO
To stay ahead of the competition and reach your target audience first, you must up your SEO game. But there's no way you can do it without regularly monitoring your search engine rankings, website traffic, and conversion rates.
When you measure SEO performance and keep up with the latest SEO trends and best practices, you ensure that your website remains relevant and effective for visitors.
So start tracking your SEO results, analyze the gaps, and make informed decisions to fill the gaps that improve your SEO performance over time.
SEO for Lawyers: (Step-by-Step) Law Firm SEO Guide