Link Building For Law Firms

: Ultimate Guide (with 8 Actionable Tactics)
Home » SEO for Lawyers » Link Building For Law Firms: Ultimate Guide (with 8 Actionable Tactics)
Search engine optimization (SEO) is one of the few marketing channels that offers compounding returns. However, to achieve such growth, you've to dip your toes in probably the trickiest aspect of law firm SEO: link building.
As an award-winning agency that provides law firm SEO, we're proud of the pace at which our team builds legitimate links that move the needle.
In this article, I'll share On The Map Marketing's "magic formula" of link building for law firms (with proven tactics you can implement yourself). Let's begin with understanding the basics of SEO for law firms. If you want the link-building ideas directly, you can jump to the first tactic.
Table of Contents
A quick primer on key link building concepts and metrics
Here are some aspects of link building you need to know about:
Domain rating
It's a proprietary metric developed by SEO software, Ahrefs. It's a logarithmic scale from 0 to 100 measuring the strength of a website's backlink profile. It's important to note that this is different from domain authority: a search engine ranking score based on a dozen factors by another SEO software, Moz. Also, none of these are official metrics by Google.
On The Map Marketing's original research found that the average DR of the best-ranking attorneys in Austin was 35. A domain rating (DR) between 30 to 50 for a law firm website is pretty neat!
Referring domains
The root websites that backlink to pages on your site are referring domains. As links from the same domain tend to have diminishing returns (and look unnatural), SEO campaigns for a lawyer website typically integrate building backlinks from different and unique domains.
Do-follow links
This is the default state of links that count as votes for the linked website by the linking website. They pass PageRank, are crawled by Google's search engine spiders, and influence search engine rankings.
Nofollow links
These are hyperlinks with a rel = "nofollow" tag. Using these on an external URL would mean you don't want Google to associate you with the linked site or crawl it. In 2019, Google announced changing its algorithm to consider these nofollow links as a "hint" for ranking purposes.
Anchor text
These are the clickable words that hyperlink one page to another. They help search engines get context on the subject of the linked page, so they are a ranking factor.
Black hat link building
Any shady link-building tactics that violate search engine guidelines fall under black hat SEO. Typically they utilize loopholes and aim to game the system to rank a site faster. Most such tactics generate low-quality and spammy links, so you should avoid them.
Link velocity
The pace at which backlinks are generated to your website over a specific period. Typically you may see weekly or monthly SEO reports with a measurement of new links built in either of these time frames.
Ahrefs has a "Best by links' growth" report that could help you calculate the link velocity. It shows the pages gaining links the fastest and the number of links they have generated over the last day, seven days, and thirty days. Here's an example of the links' growth for Onthemap.com:
Link-building campaign
Typically this involves executing a link-building tactic such as guest posting, link reclamation, and the like. The process consists of finding relevant prospects that could link to your site, finding their email or other contact information, and contacting them.
Frequently asked questions about link building for law firms
What is link-building for lawyers?

Incoming hyperlinks from other reputable websites in your niche. Google considers inbound links to your website from others as a recommendation — a vote of confidence — for you.

Why does your law firm need a link-building strategy?

As mentioned in our SEO statistics post, links are among the top three Google ranking factors. Furthermore, 95% of pages have zero backlinks (as found by an Ahrefs study of 11.8M search results). Investing in a smart link-building strategy will put you ahead of the competition.

How should you build links: quantity vs. quality?

Nothing matters more than high-quality links from relevant websites in your niche. Simultaneously a higher quantity of links from new referring domains also helps to increase your domain's authority. Ultimately, you want to build more backlinks — as many as your budget allows — without going into bad neighborhoods of spammy websites.

Can't you buy links and get rid of all this unsexy work?

Paid links or any kind of link schemes to manipulate PageRank violate Google's Webmaster guidelines. If you get caught by Google, it will result in a manual action. Adopting safer and proven link-building tactics hence makes more sense.

Is creating content important for link building?

Almost all link building today starts with a foundation of valuable cornerstone content. Great content also builds trust with readers and represents your brand authoritatively. However, you can also generate links through outreach, relationship building, running contests, and other strategies. Ultimately it depends on your business goals and SEO skill set.
Now that we understand the basics of links, here are eight link-building tactics you can implement on your SEO for law firms. Remember, a good link-building strategy will incorporate various tactics to diversify your link profile and make it look natural.
1. Create a profile on legal directories
Creating a profile on lawyer directories is one of the easiest ways to build backlinks for your attorney's website. They are also nice to bolster your overall link profile.
You may also consider a few paid directories as they have a barrier to free entry and could themselves be ranking for local keywords — providing your brand additional real estate on the first page.
If you want to review the performance of your citations, then you can add UTM parameters to your URL and add the campaign source to it. Something like:
https://www.YourLawFirmWebsite.com/cityname?utm_source=citation&utm_medium=referral
Now you can track the performance inside Google Analytics. You just need to search for "citation" inside the Source/Medium report.
Here are some directories where you can create a profile (besides Google My Business):
1. Justia
2. Avvo
3. HG.org
4. NOLO
5. Lawyers.com
6. SuperLawyers
Remember to use an accurate and consistent NAP + W (name, address, phone number + website) across all directories as it confirms to Google that you're a real business. It might also help your local SEO slightly.
There are two caveats when it comes to directory link building:
Links may be nofollow: Many of the above directory backlinks will not pass any authority to your site as they use the "nofollow" tag. However, listing on these directories makes for a decent citation as they might send you some referral traffic.
Also, Google considers the nofollow attribute as a "hint," so such backlinks still help you build a natural link profile.
They are typically low value: If it's easy to build a link from a specific website, it doesn't remain as valuable. So the above directory links are nice for gathering link-building momentum, but the link-building strategies below are more likely to move the needle.
2. Contribute as a guest author to industry publications
Do you have insights on how to grow a law firm? Or a strong data-backed opinion on a popular subject in the legal industry? Then high-value law blogs and websites may be interested in a guest post by you that will help fellow attorneys.
The SEO benefit in such a one-time guest column is that these websites typically offer a backlink or two to your website from your author bio. Occasionally links in the body of your article will also be permitted.
How to find these websites?
Some content websites may explicitly have a "write for us" page (with writing guidelines) visible in their global navigation. However, you can also find it on their contact pages, like in the case of attorneyatwork.com (DR=70):
Follow the instructions mentioned and submit your article via the suggested method (typically email or a form). You can always use content writing services to ghostwrite for you if you're short of time.
For instance, attorneyatwork.com likes articles at 800 words and writing on something that improves a lawyer's life:
You may not find a public "write for us" page for most websites. However, you can contact their editor if you've interesting ideas for their audience. You'll be welcome, especially if you have fresh and uncovered angles that could be valuable for their readers.
Besides lawyer publications, you can also target websites covering subjects related to your law practice, ones that publish about regional establishments, or even something related to your passion. As long as you can find relevant article angles that add value to a publication and tie it back to your law practice — guest posting will work nicely.
If you manage to contribute to relevant industry websites where your prospective clients hang out, forget links and SEO — you can find clients directly.
For example, divorce lawyers can share their expertise in a guest blog with readers of divorcemag.com (which accepts external bloggers and has an impressive DR of 71).
Wouldn't prospects who loved reading your article enquire about your services?
3. Become a "source" for other content creators
Don't have time to write a complete article?
Then your next best option is to contribute your opinions to another article that's in the making right now. Ecommerce freelance writer, Kaleigh Moore, recommends following writers and content folks writing about things related to your law practice. Then "jumping in" when they ask for help with their articles:
Writers may get a lot of responses. So responding early and sharing original insights are more likely to lend you a mention (and that backlink) from their article.
If you don't want to follow people publicly, you can create Twitter lists of journalists and content creators.
You can search for "#Journorequest" with a keyword relevant to your industry to proactively find source requests by journalists. Here are a couple of requests I found with a "personal injury" search:
Another smart strategy is proactively calling out journalists, saying you're available for help. Here a Texas-based attorney is proactively using the #Journorequest" and expressing availability for sharing opinions on injuries at the Astroworld Festival:
Newsjacking relevant events to your practice on Twitter in such a way could be extremely effective at earning media attention for your lawyer's website.
4. Share your expertise with journalists at HARO
If you're not active on social media, then you can consider signing up as a source at Help A Reporter Out (HARO). Journalists and content creators use the platform to look for quotes from subject matter experts for their articles.
Once you sign up, you can choose the lists of industries you want to receive source requests for under "Preferences":
Now you'll receive a daily HARO email daily for up to three a day with journalists sharing their questions for sources. Here's an example: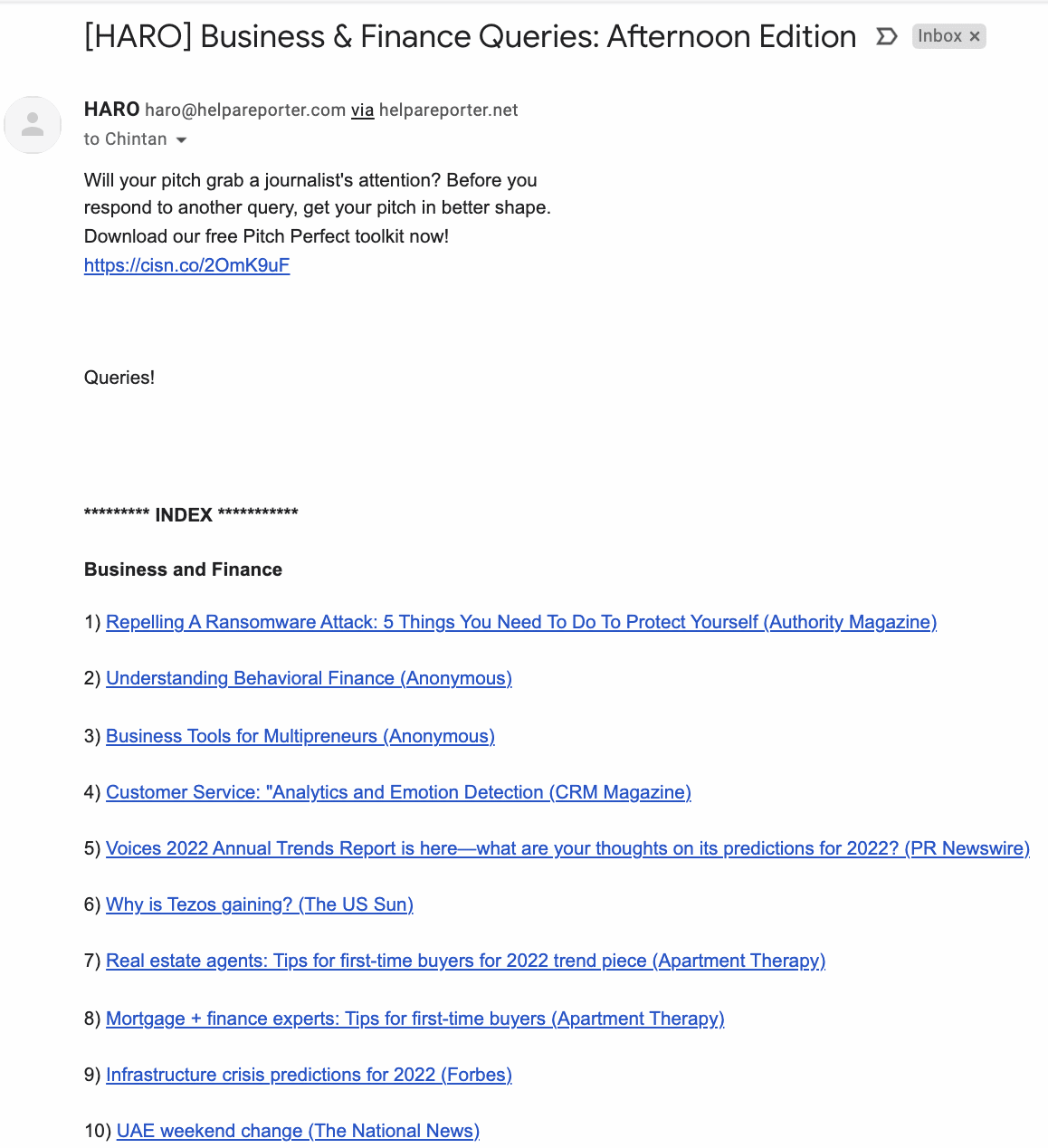 You want to get back as quickly as possible while sharing original insights for their articles. Don't forget to add a short bio, law firm's website, and other information the journalist has asked for in their request from you.
Don't expect journalists to reply to you if they don't go ahead with your quote. Sometimes they won't email you even if they quoted you in their piece. So a relatively foolproof way to find out your mentions is through the Ahrefs backlinks reports.
I had put up a HARO request for an article on Ecommerce trademarks for a publication called Foundr (DR = 77). I ended up quoting a bunch of trademark attorneys and legal experts in my post, and they got juicy mentions to their website for the knowledge they shared: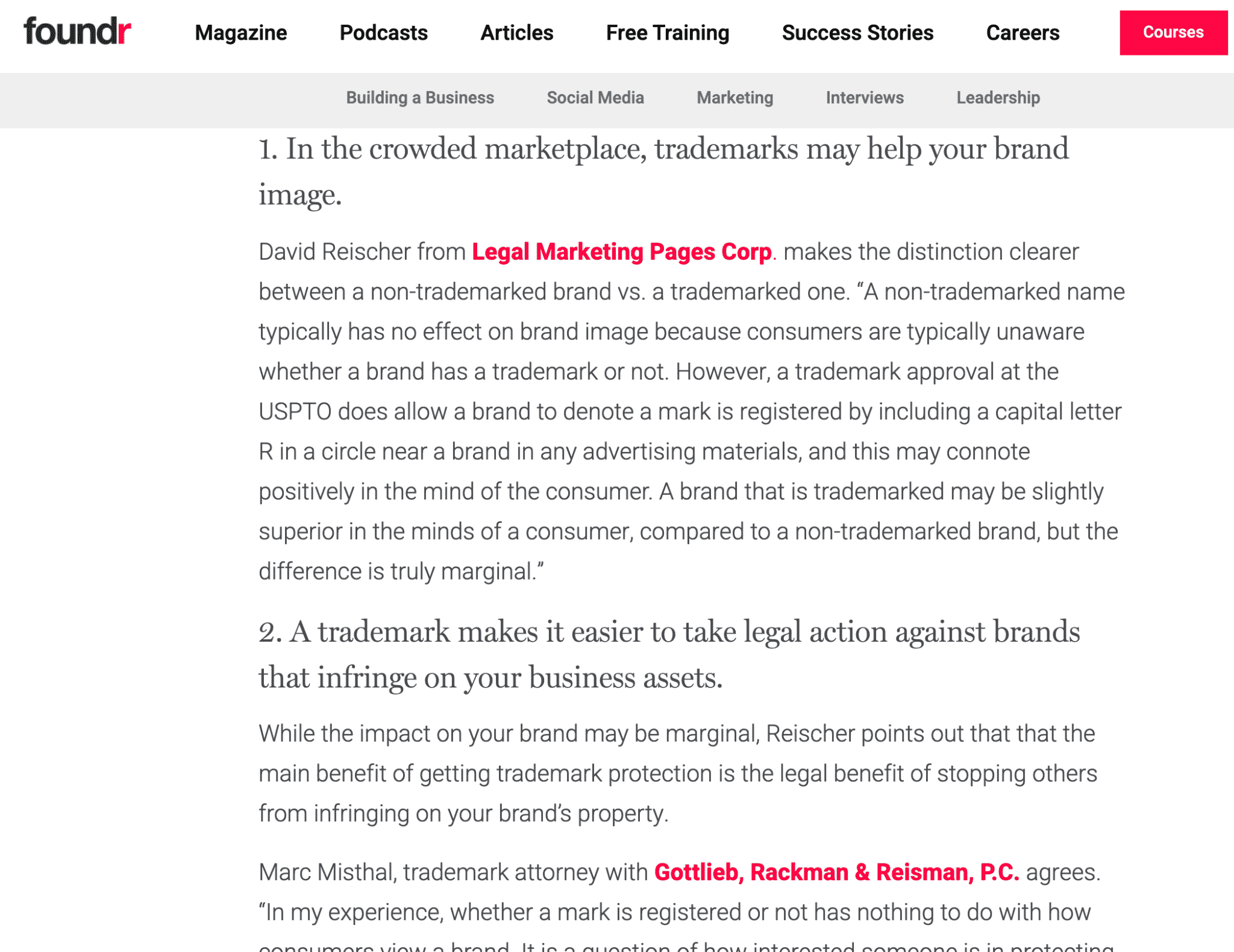 5. Create graphics and other quotable resources
Until now, the link-building tactics involved going to the writers to share your opinions.
How would you like to have these content folks come to you instead?
Content creators often look for sources of original and insightful information related to their writing subjects. If they can find such resources on your website in their research, they will use them in their article and give credit by linking to your website.
Going back to my Foundr article on Ecommerce trademarks (which I shared in the last tactic), I found a mini graphic on a law firm's website visually explaining the concept of naming.
Guess what I did?
I used the graphic and linked back to the law firm's page where it was present:
Any such info presented in a visually engaging way could make for a "linkable asset" for bloggers and content creators in your niche.
Similarly, you can also aid publishers by compiling a group of stats and facts relevant to your law discipline. For example, if you're a family lawyer, you can create an article covering statistics around marriage and divorce. Here's an attorney doing it:
Now look at the number of backlinks and referring domains this page has already attracted:
6. Get your law firms listed on your alma mater's website
Law schools typically have a dedicated alumni section on their websites. For starters, they may have a list of law businesses with their websites. You can submit your info here and request for inclusion. Additionally, there might be opportunities to contribute to the college blog by sharing your tips with graduating students or sponsoring events.
You can even become a part of committees and earn mentions from your law school's .edu website (which typically has a high domain rating). Here's an example mention of a University of Pittsburgh alumni who are a part of the "Young Alumni Committee," and they have a powerful juicy backlink to their law firm's website:
You can consider bestowing a scholarship for students from your university. For instance, The Richard Linn American Inn of Court offers a "Mark T. Banner Scholarship" for which they have a dedicated page on their website to explain its eligibility and share its other details:
As they act as an external "agency" offering a scholarship to law students across the country, their scholarship page already has over 50 referring domains (as per Ahrefs). These mentions are majorly from law schools:
Your link profile from such a scholarship page will vary. You can also explore other opportunities to contribute to your law school and snag a mention from their website.
7. Sponsor local events and strike strategic partnerships
Helping your local community through your legal expertise builds trust and brand awareness about your attorney business in your neighborhood. Further such events are promoted online and could help your law firm's website get mentions from event websites like Meetup.com, Eventbrite.com, and more.
For instance, here's a meetups group for startups & entrepreneurs:
They organized a bunch of events and got a nice DR 92 mention from their Meetups group page:
The same law firm above has also struck partnerships with the likes of "The Startup Station" and got a mention from their resources page:
What if there are limited physical events in your locality? Try to find opportunities to contribute to virtual events.
Here's a landing page of a partner webinar by a family law attorney conducted in association with Clio. They get a link from a highly relevant legal website, and their legal expertise is now available in a recorded webinar to anyone who wants to learn:
8. Invest in PR
Have you seen the kind of coverage Joe Exotic's attorney has had after the premiere of Tiger King season 2?
Ahrefs backlink report from November to December shows the huge media attention their website, floridajustice.com, has driven. They have mentions from the likes of NYtimes, MSN, Yahoo, Aljazeera, and many more:
Even if you can't be a part of a Netflix show, you can try your hand with a creative YouTube video commercial. Personal injury attorney, Jamie Casino, wrote and directed a super entertaining 2-minute commercial for Super Bowl:
It received tons of media coverage and got lots of links and new business for the attorney.
Another personal injury firm in the UK tried to change the negative perception around their industry by collaborating with a local newspaper:
The story was later picked up by the likes of the Financial Post.
PR involves experimentation, creativity, capital, and some luck. However, if one of your PR coups succeeds, you will earn brand recall value and recognition for your attorney business for a long time, besides backlinks.
Don't have the time for law firm link building? On The Map Marketing's link-building services can help
As per a 2021 Clio Legal Trends Report, the overall hourly rate for law firms stood at $284. For SEO agencies, the average rate stands at merely $134.66 (as per Ahrefs report).
SEO is a relatively low-value task for attorneys compared with handling cases. It makes business sense to outsource SEO — more so because law firms industry-wide are struggling with low utilization rates.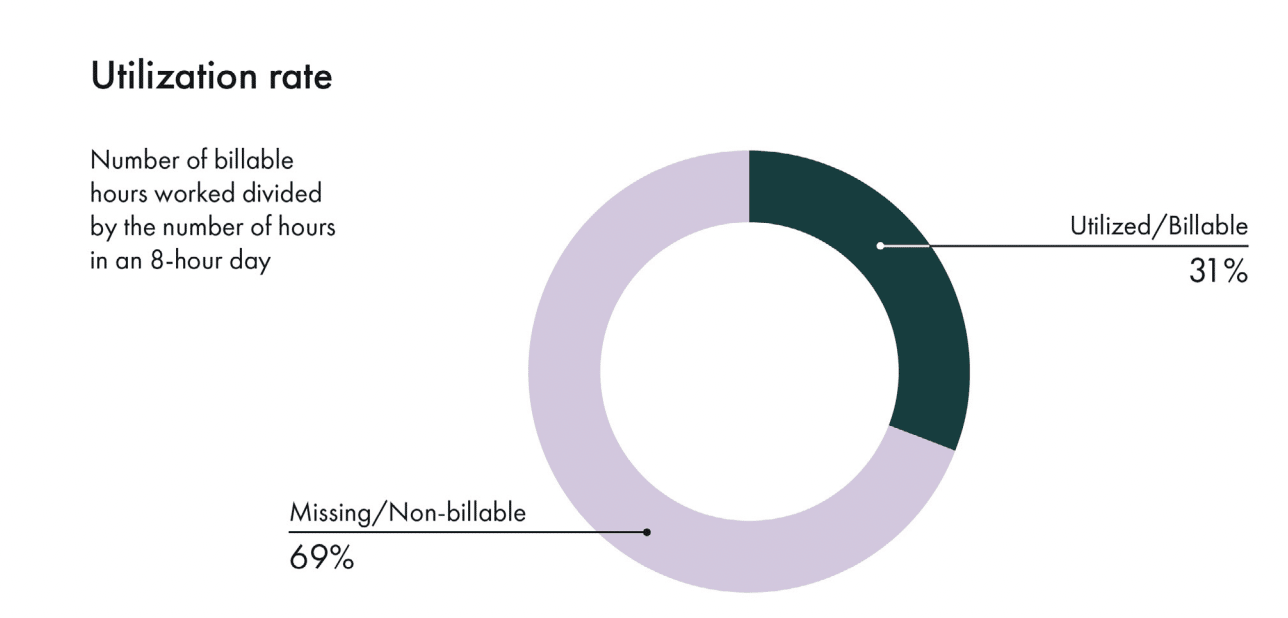 Let On The Map Marketing help you book more of your ideal clients and increase your utilization rate. Contact us for a free SEO audit, and we'll present a link-building strategy for your website to close your link gap with competitors.
Indeed, our SEO strategists have analyzed numerous law firm websites and found that they majorly miss out on backlinks in terms of quality and quantity.
So our law firm SEO services have cracked this code of building high-quality links at scale. It's our secret sauce, really.
Here's how Kevin Cook, SEM Product Owner at On The Map Marketing, puts it, "Our specialty is we have higher standards than most for quality sites. While most link-building teams either look at topical relevance or traffic/DR/DA metrics — we look at all of them.
"So we're happy to take a high authority clean site if it's not so topically relevant. We're also happy to take a more niche-specific site that might not fit those standard DR 30+ and organic traffic 1,000+ sites (if the site is topically relevant enough)."
He continues, "Also, our actual link planning is pretty detailed. We analyze top pages via a link gap analysis and look at do-follow vs. no-follow links when planning. Then, we get even more granular and analyze anchor text ratios to determine what anchor text we should be using."
Here's a sample backlink gap analysis and anchor text analysis Kevin's referring to:
If that looks impressive, let's explore what we can do for your particular website.
Final thoughts
Google continues to use the PageRank — a "quality ranking for each page" by evaluating the quality and quantity of links pointing to it — alongside other signals in its algorithm. Here's a tweet by Gary IIlyes that confirms the same:
So legal link-building remains super important to rank law firm websites. However, it's one of the most challenging parts of law firm SEO. Hopefully, the actionable tactics in this article will help you build valuable links.
Ultimately link building comes down to value exchange and striking mutually beneficial partnerships. If you can build some leverage and provide value to another website (or the individual who handles their publishing), links will come easily.
SEO for Lawyers: (Step-by-Step) Law Firm SEO Guide