Social media is a cornerstone law firm digital marketing tactic, or so do most attorneys feel at least. In the American Bar Association (ABA) tech report 2020, 81% of law firms said they maintain a presence on social media. Indeed 29% of these attorneys confirmed client retention due to their social media presence.
Given the organic reach on social media platforms is dismal, should you begin with social media advertising? Also, new social networks seem to emerge every day. How many of them should your firm focus on to generate interest for your legal services?
Today, you'll get answers to these questions and learn how to create an effective social media strategy. However, let's begin with a pertinent question that law firms ask us daily.
Table of Contents
Can social media marketing land new clients to attorneys?
As per the American Bar Association (ABA) Websites & Marketing 2021 survey, 77% of legal professionals use social media for career development and networking, followed by client development at 52%:
Andrew Garcia, an estate planning attorney, occasionally uses his personal Facebook to share valuable information related to his practice. He claims to have made millions in profits from his social media presence.
Mr. Garcia got the idea of using his personal profile for his attorney business when a former client offered him a referral, reaching out to him on Facebook. Here's an example tip he shared for his audience on his profile:
On the other hand, one of our clients — Mr. Julian Stroleny, a premier criminal defense attorney — thinks that social media does not work for criminal defense attorneys:
"For my particular industry, I don't believe in social media marketing. I know there are many consumer services where social media is everything, but I have a niche audience. I focus solely on SEO marketing for my business."
So you may land new clients through social media marketing — but it depends on your law discipline. If your target audience is hanging out on LinkedIn and seeking legal advice related to your practice, marketing on LinkedIn makes sense for you — else, it doesn't.
Once you have made up your mind to pursue social media marketing, here's:
How to start social marketing for your law firm?
Here's a step-by-step process to begin marketing your firm on social platforms.
Step #1: Create a social media policy for your law firm
Jacob Rooksby, the dean at Gonzaga University School of Law in Spokane, Washington, aptly describes why law firms need a policy:
"Everyone must realize that postings to 'public' accounts can reflect on the firm and its clients, even when profile pages indicate 'all views are my own; retweets do not imply endorsement.'"
So before you get into the nitty-gritty of creating content for your social platforms, make a social media policy. Such guidelines ensure appropriate behavior of employees posting on social channels on behalf of your firm. Also, your firm stays protected from any legal issues arising from an inappropriate post (shared accidentally).
Your policy document can also:
Lay down the brand tone and let your employees represent your brand accurately,
Ensure consistency in the type of content your firm's employees post,
Protect the confidentiality of your firm and clients.
So how can you create your social media policy?
First, read the 2022 ethics regulations of the American Bar Association. Then use this social media policy template by Jaffe PR to draft it. Don't forget to include a section about the usage of your employees' social accounts. Also, write in plain language, so everyone from the managing partner to your intern can understand it.
Step #2: Set your social media marketing goals
Map out S.M.A.R.T. (Specific, Measurable, Attainable, Relevant, and Timely) objectives for your social media efforts. It ensures they align with your overall marketing goals.
Some ways businesses leverage social media to their advantage are to:
Improve brand awareness,
Drive traffic to their website,
Retain existing customers,
Generate leads and even get new clients.
Below is a Sprout Social template with questions you can answer to set your social media goals.
From here, you need to set key performance indicators (KPI) to track your progress. For example, if your goal is to improve brand awareness, you can measure the frequency of your brand name's mention month-over-month with a social media monitoring tool like Hootsuite.
Here's a brilliant summary of the metrics your firm can rely on based on your social media goals:
Step #3: Plan a social media content strategy to meet the above goals
Once you know the expected outcomes you want from social media, here's how to create a content strategy around it.
Research your audience: The success of social media marketing efforts depends on understanding your niche and audience. That's how you can tailor your messaging, create relevant content, and launch better ad campaigns (if you decide to).
Conduct a competitor analysis: Find other law firms in your area of practice active on social media and analyze the kind of content they produce that gets a LOT of engagement. The idea is to try and replicate their success. So make notes on what kind of posts you would like to create.
Decide how and when you will post: According to Hootsuite research findings:
If you're marketing on Facebook, post 1-2 times per day.
For LinkedIn and Twitter, post 1-5 times per day.
Also, the best time to post overall on social media is at 10 am on Tuesday, Wednesday, and Thursday.
Use the above posting timings and frequency as starting points, but experiment to find what works for your law discipline and audience.
Create a social media content calendar: Once you understand the kind of content to create and how often you want to post, it's time to put things on a calendar. Here's a video tutorial on how you can use Asana to go about it:
With a calendar, you can ensure posting to multiple social media accounts with ease.
Integrate social media tools: To ensure the post goes live on exactly a particular date and time, use social media scheduling tools like Hootsuite, Buffer, or Social Sprout. Also, to create social media posts, feel free to create templates inside Canva.
Remember legal tools can streamline your social media marketing workflow and ensure you meet the deadlines on your calendar.
Step #4: Begin special media posting (and keep it interactive…)
Once everything's set up, respect the dates on your calendar to push posts live on social media. However, social media is a lot about spontaneity, so if there's a trending subject you feel compelled to talk about, then do it — while respecting the policy you created.
Further, social media is all about community and engagement. So:
Engage with your audience in the comments or respond to any private messages you receive.
Depending on your availability, consider a regular live streaming session to advise on legal issues your prospects face. Here's Mark Lane answering legal questions on a Facebook Live: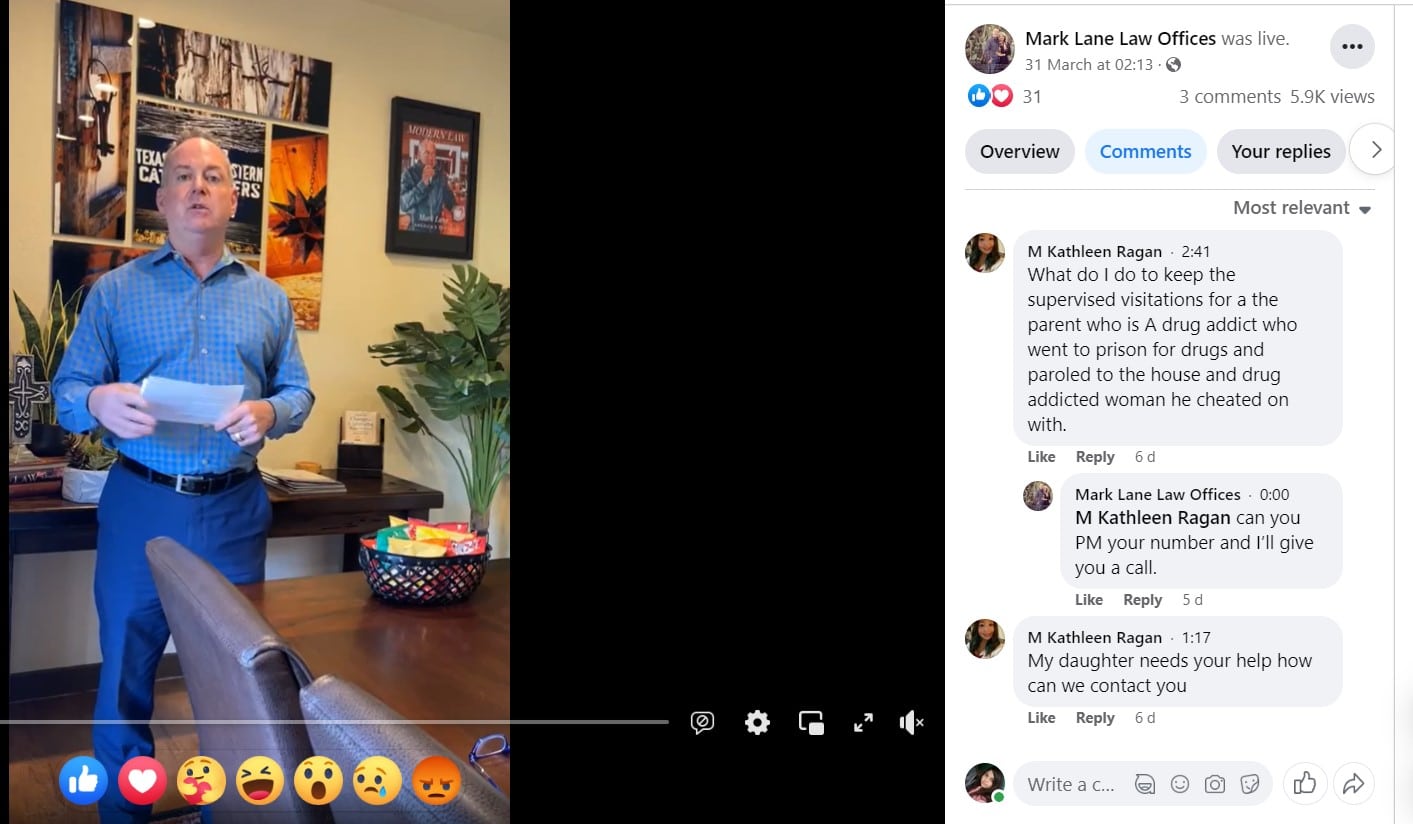 Create polls on pressing issues for your audience.
Include a CTA at the end of most posts. Invite your audience to share their thoughts on your post, ask them to visit your website, share your post with a friend (to whom it's relevant), or even contact you for a "free consultation."
Occasionally share a happy client's testimonial (with their backstory if they allow it). Here's one such example from Platta Law Firm on Twitter:
Step #5: Monitor your social media marketing results (and iterate…)
Once a few months have passed after implementing your strategy, it's time to analyze your content. Evaluate metrics related to your goals created in step two. Here are a few things you can consider:
Your audience growth rate in terms of increase in likes and followers. And the type of content your audience resonates with the most,
Number of free consultations or email sign ups generated from social media,
The number of visitors you got to your website.
If you're leveraging multiple social media channels, dissect the performance of each one by answering each of the above questions for it. You can also observe and analyze social media competitors and pit their audience growth against yours.
With the insights you derive from social media marketing analytics, iterate your strategy. Consider adding or subtracting platforms or even adding social media advertising to the mix.
Now that you know how to create and pursue social media marketing let's look at some actionable ways and examples to use the top three networks.
Three social media platforms that your law firm can try
As per the ABA 2021 survey we referred to earlier, social media is more prevalent among legal professionals than blogging. Also, the top three platforms they have a presence on are – LinkedIn, Facebook, and Twitter.
Below is how you can leverage these social media platforms for your law firm:
Facebook
Let's understand how this platform can work for law firms with the story of Jacob Sapochnik, an immigration attorney based in San Diego. He claimed to get 4-6 leads daily from his Facebook page as per a 2015 case study by Agorapulse.
(Note: Even though the attorney still has an active Facebook page, we can't ascertain the number of leads he's generating from it now.)
Jacob started using this social media platform to market his business in 2011 after noticing that people were interested in his comments on other blogs. He used his Facebook profile to share similar stories and insights. But he experimented with different content types to understand his audience's interests.
In December 2013, Facebook announced a drop in the organic reach on their platform, which further continued to decrease in the coming years. However, around 2013, Jacob started using Facebook ads to grow his following and reach more people.
So can Facebook work in 2022?
The Facebook algorithm relies on the factors below to determine the posts to show in its feed:
Who posted it
What is the type of content
The content with the most engagement
Moreover, they limit the reach of the content with hate speech, violence, nudity, and graphic content.
To get started with the platform, conduct research on your audience and understand their behavior. Consider creating a Facebook Group because their reach was prioritized over business pages in 2018.
Ultimately your organic efforts should focus on creating "stories that are meaningful and informative," as Facebook will prioritize that. Also, consider paid marketing — one of the most effective tactics to get clients on Facebook. Here's how to get started with them:
LinkedIn
If a potential client has to find out more information about you, they'll run a Google search and probably land on your LinkedIn profile. So the social network is an excellent platform for building credibility and authority instantly. You can indeed also pursue LinkedIn marketing to get leads organically.
In an official LinkedIn success story, Jason Frankelman — a family and employment-based immigration attorney — explains how he secured more clients via the platform:
"Nearly several dozen LinkedIn members that have viewed my content have turned into clients, along with countless others who have reached out to me based on my LinkedIn content."
Jason began Linkedin marketing by setting a goal to "allay the concerns of someone who is intimidated or confused by the U.S. immigration system so that they say, 'This article or video just helped me understand my situation. I like how Jason explained that and I think I'll reach out to him.'"
Based on that, he posted thought leadership long-form content to differentiate himself — in the form of articles and videos.
To understand his audience better, he used LinkedIn analytics to measure his performance. Here are some questions he tried to answer:
Which content was bringing results?
Who are the people viewing and engaging with his content?
What are their professions?
Where are they based?
According to Jason, his original analysis posts and videos about the latest immigration news drove most of the traffic to his website.
He created even more personalized content and iterated his marketing strategy based on his findings. Currently, he posts high-quality videos around his practice area and other kinds of posts about two to five times a month.
Remember, when people interact with your content, they visit your profile to learn more about you. So ensure your LinkedIn summary speaks directly to prospects and persuades them to consult you.
Below are some examples of attorney LinkedIn profiles for inspiration.
Andrew J. Garcia, an estate planning and family lawyer, discusses his audience's pain points and mentions who they help in his LinkedIn bio section.
Thomas J. Henry talks about his experience as a personal injury lawyer, describing who he helps and giving some evidence so that prospects can trust him.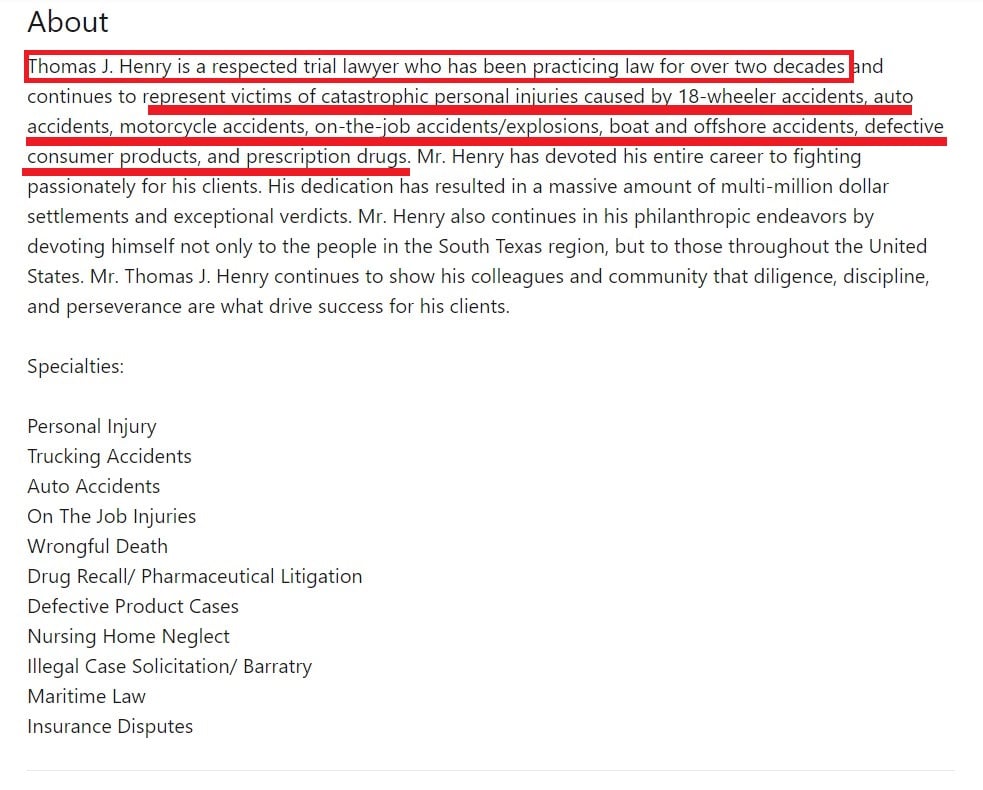 Twitter
According to the 2021 ABA report, only 37% of the attorney respondents used Twitter. One of the reasons for the low percentage of active legal professionals on Twitter is pseudo names.
Most attorneys avoid using their original names on Twitter to stay on the safe side, as per a 2022 Reuters news report.
Jenna Green, a Reuters journalist, reached out to several attorneys in private practice with over 10k Twitter followers. She asked them how their social media presence helps their business and other related things.
A corporate attorney with over 26K Twitter followers, Akiva Cohen admitted that he got a major corporate client directly from one of his Tweets.
He posts 5-9 times a day on Twitter, explaining legal issues in layman's language. He also retweets sharing his opinions on trending subjects — where he can share his expertise.
On the other hand, a criminal defense lawyer, Scott Greenfield, with over 19K followers, claims, "Twitter is not a serious place to get clients." He says that most people who reach out to him via the platform are either broke or have crazy ideas like suing the President for spying on them.
Most other lawyers shared a similar experience in the report. Solo appellate lawyer, Howard Bashman, admitted that Twitter is not a place to generate business.

Criminal defense lawyer Ron Filipkowski, with 333K Twitter followers, echoes similar sentiments:
"This platform has in no way benefited my practice. If anything, it has hurt it. Several people have posted anonymous reviews on my Google business page (who) have never been clients because they don't like something I did on Twitter."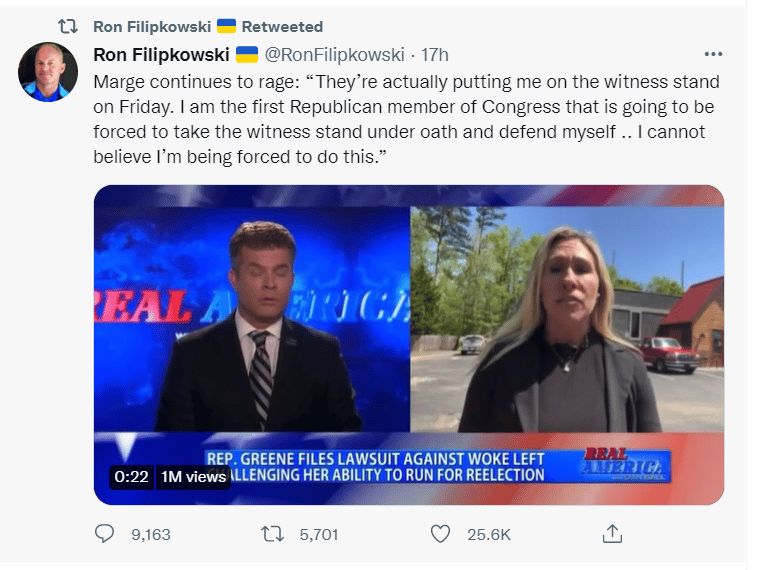 Ouch.
As a premier law firm SEO agency, On The Map Marketing, can share that such negative reviews won't help your attorney SEO — especially the local rankings.
However, it's not all bad. Hogan Lovells' appellate partner, Sean Marotta, shares how you can leverage the platform to increase your reach and popularity. "Twitter is where all the reporters are."
So it's an excellent place to meet content creators who may use your Tweet as a quote in their article. No wonder then that Twitter can help with legal link building — and your firm's SEO.
As the results from the platform are mixed, using it comes to your personal preference. If you like the microblogging platform, then experiment with it.
Final thoughts on social media for lawyers
Social media could be a viable marketing channel for attorneys to get the attention of prospective clients — depending on the practice area. If you observe a competitor currently leveraging Facebook, LinkedIn, or another platform — and getting attention from prospects — it's time for you to explore marketing on that social network.
Hopefully, the steps in the article will help you get started with social media marketing for your law firm. And if you help to run social media advertising for your law firm, you can contact On The Map Marketing.
Law Firm Digital Marketing in 2023: A Beginner's Guide