Juris Digital: Pricing, Features, and 2023 Review
If you want to establish your authority with your target audience as a law firm, consider hiring the Juris Digital team that has helped lawyers produce content that fully displays their expertise and knowledge.
But can it provide the same quality as its other digital marketing services? This post answers this question and discusses factors before hiring the agency for your marketing needs.
TL;DR
Juris Digital offers various online marketing services exclusively to law firms. Aside from SEO, PPC, and web design services, the agency can manage your local service ads to help you generate more online leads.
Experienced attorneys and legal professionals compose its legal content writing team. This means you don't have to double-check the content's details as they are legally accurate.
There's too much reliance on its content marketing service and not enough on its SEO and other services. Also, there was a time when the agency had internal problems causing disorganized systems and poor client campaign performance.
What is Juris Digital?
Juris Digital is a Denver-based full-service digital marketing agency specializing in legal marketing. Its team includes marketers, developers, and designers who can generate more leads for your legal practice and successfully turn them into clients.
Juris Digital Services Offered
Juris Digital doesn't offer long-term contracts for the services it offers to provide clients with greater flexibility should they decide to reallocate their marketing budget. That said, below are the agency's online marketing services designed to attract highly qualified leads to your site and turn them into clients.
Search Engine Optimization
Starting at $2,000 a month (per service location), Juris Digital's SEO services help you rank on top of search terms relevant to your legal practice on search engine results pages (SERPs). The agency researches keywords to optimize your Google Business Profile (GBP) and website and increase local and organic SEO rankings.
Website Design
Juris Digital provides law firms with fast-loading and efficient websites. The agency observes the best SEO practices without compromising appearance, optimizing client websites for search. The cost of its web design services ranges between $2,500 and $7,000, while the time needed to complete it takes between three weeks to six months.
Content Writing
Juris Digital only hires writers with at least two years of experience as attorneys. This ensures that the content you receive comes from first-hand experience and contains accurate legal information, among others. For $0.5/word ($250 for a 500-word blog post), Juris Digital can produce various legal content types for you, from informational articles to legal news recaps.

Local Services Ads
Local service ads (LSAs) are ads of lawyers screened and verified by Google that appear on top of SERPs. This gives them prime real estate, resulting in higher chances of getting clicked on. Juris Digital offers law firms this service by optimizing your LSA profile, maintaining your Google Screened status for a year, and assisting you in lead disputes for irrelevant leads.
Pay-Per-Click Ads
Juris Digital's Google Ads-certified team handles all aspects of PPC management. A specialist assigned to your campaign monitors the daily progress of your ads and makes any necessary adjustments and modifications. The team also provides monthly reports on essential campaign metrics, allowing you to comprehend what is effective and provide constructive feedback.
Juris Digital Ratings Across Directories
Most Juris Digital reviews are positive towards the law firm. Lawyerist gave it a 3.9/5 star rating. The site lauded how the agency focuses exclusively on legal marketing and lets clients take the website it creates. On the downside, Lawyerist was critical of Juris Digital's lack of focus on SEO and how it doesn't offer exclusivity to clients.
Juris Digital also scored 3.9/5 out of eight reviews from Clutch users. Those who wholeheartedly recommend the agency raved about how easy contacting it was for questions and updates. Two negative reviews noted the disorganization behind the scenes and its lack of proper systems.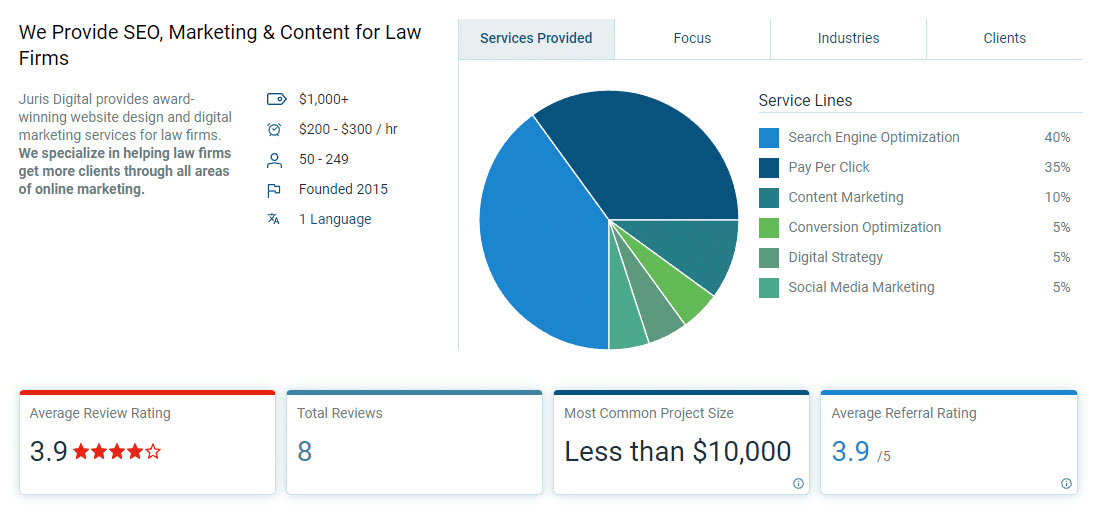 Finally, seven Trustpilot users gave the agency a 4.1/5. Those who wholeheartedly recommend Juris Digital praised the agency's commitment to client success and in-depth knowledge of running an effective digital marketing strategy. The two users who gave the company a 1/5 mentioned that Juris Digital was disorganized due to managers leaving during client campaigns.
Juris Digital Top Client Results
Attorney Michael Silva realized in 2020 that the digital marketing company he hired was getting his law firm nowhere. He ditched the company for Juris Digital, which then began creating a website with a design that captured his law firm's brand, Silva Injury Law. The agency also leveraged the firm's positive client testimonials to convince visitors to become Michael's clients.
From here, the agency optimized the law firm for its local search rankings by creating Google Business Profiles for all four offices. Juris Digital also observed the best SEO and content marketing practices to increase the site's organic search traffic. The result is an 85% increase in organic traffic and a 79% boost in contact form leads.
Also, in 2020, Juris Digital got Attorney John Massingill of Massingill Law as a client after being stuck in developmental hell with the digital marketing company he initially hired. After setting realistic goals for John and taking time to figure out what its brand is about, Juris Digital immediately launched a website that distinguishes the law firm from its competitors.
Juris Digital also ramped up its local search marketing efforts by optimizing its local search presence and ran Google Local Services ads. After nine months of diligently working on Massingill Law's online marketing campaigns, the agency grew organic traffic by 214.61%, contact form leads by 68%, and phone call leads by 136%.
On The Map Marketing Vs. Juris Digital
| Juris Digital | On The Map Marketing |
| --- | --- |
| Specializes in content marketing but not much for other types. Also, the agency has not produced great campaigns in the past few years–the last it did well for a client was in 2021. | Strikes a balance between having knowledge and expertise in all marketing strategies and tactics and constantly generating results for personal injury lawyers and firms. |
| May hit the ceiling as primarily a law firm marketing agency. It may not have the resources or knowledge to expand clients to multiple locations, practice areas, and other verticals. | Can provide alternative and out-of-the-box marketing solutions to law firms looking to stand out from their competitors. This is due to having successfully worked with clients from other verticals. |
| Has a history of disorganization and poor systems based on user reviews. Its account managers left clients in the middle of the campaign, resulting in its lousy performance. | Uses marketing processes and systems that enable the agency to develop and launch campaigns geared toward growth for various industries aside from legal. |
Juris Digital provides you with a professional and capable team to help craft tailored strategies for growing your client base and revenue. In particular, its legal content writing service helps establish authority with your target audience. But the limitations of its other services and as a law firm marketing agency could put your business at a disadvantage later on.
On The Map Marketing offers the same excellent quality for all its digital marketing services. Aside from publishing well-written content on your site, the agency can provide you with a professional website design and a high-performing paid ads campaign. Get a free marketing website audit from us so we can identify opportunities to work on your site.