Bankruptcy Attorney Marketing: 7 Tactics for 2023
Despite providing decent legal services, if you often wonder why leads don't naturally come to you, you might lack a solid marketing plan. It's hard to grow your law firm without marketing your services.
In this article, you'll learn the top bankruptcy law firm marketing tactics you can use today to generate more lawyer leads.
Let's dig in.
Build a Client-Centric Bankruptcy Law Firm Website
It's 2023. You can't expect anyone to look for something without searching for it on Google. Hence, before using any bankruptcy attorney marketing tactics, have a website that encourages your leads to take action, contact you, or request a case evaluation.
A client-centric attorney website is a perfect solution for it. It's built around your target audience's needs and wants. Here's what you need on your website to ensure it provides a smooth end-user experience.
High page loading speed
Clear call to action on every page
Smooth navigation
Improved readability
Clarity on your message and practice area
Attorney bios are readily available
High-quality visual media
More accessibility features
Mobile-friendly
Social proof within easy reach
Leverage Search Engine Optimization for Your Bankruptcy Firm
Despite how great your bankruptcy website is, it won't do any good for your business if your prospects can't find it. Hence, optimizing your website by leveraging SEO for lawyers is essential. Here's what you need to do to rank your bankruptcy website in search engines.
Target the Right Keywords
The right keywords help Google know what your website is about, and people learn more about you. Hence legal keyword research is essential.
Here's how you can get started with it.
Figure out the pain points of your target audience – search forums like Reddit and Quora or survey your prospects and current clients can help with this step.
Search those problems in Google and determine what top keywords cover them.
Make a list of all such keywords.
Run a quick search in an SEO tool like Ahrefs or Semrush to check each term's volume and keyword difficulty.
Target the keyword that's easier to rank with your current domain authority. If your domain authority is low, consider opting for the keywords with low keyword difficulty.
For example, one of your target audience's pain points is knowing how to protect their assets from debt collectors.
Now, you run a quick Google search on how to protect assets from debt collectors and analyze the results you get. From here, you get keywords like ways to protect your assets, how to protect your assets, asset protection strategies, protect your assets from lawsuits, and questions from the "people also ask" section.
Now you just have to determine the keyword difficulty and volume for each of the key phrases and target that particular keyword and create content on it.
On-Page SEO
To optimize your website for on-page SEO, all you have to do is use the type of keywords we discussed above in various locations. For instance, title tags, headers, sub-headers, URLs, image and video descriptions, and throughout the text.
Off-Page SEO
Technical SEO can be a bit challenging for you to do on your own. But you can build your SEO skills by following Google's webmaster guidelines. As your law firm grows, consider hiring a professional SEO expert or a legal digital marketing agency to do it for you.
Link Building
One way to improve your domain authority so you can rank for high keyword difficulty terms is to build legal backlinks. Here are some of the many ways to get you started.
Create content worth linking to, such as newsworthy content, covering current events, explaining new govt policies, creating industry stats, or posting survey results.
Contact the referring domains of your competitors to get backlinks.
Find broken links and get them replaced with your content.
Take Your Bankruptcy Law Firm to The Top of Local Search Results
The best audience to target for law firms is their local market. Let's figure out how to get them to discover your business.
Google My Business
One of the best practices to rank your law firm in the local pack is to have a fully optimized Google Business Profile.
So, the first step is to claim your GMB account if you still haven't and complete your profile. Make sure to verify your location, keep your opening hours accurate, and add your contact information, website, and all required information. Plus, try to get as many positive reviews as possible.
However, too many law firms are already listed on Google. How can you make this work for your business?
Well, here's how Google decides your rank in the local search results of your Google My Business account. You can optimize accordingly.
Relevance: Google understands your business by the information you feed it. The more relevant your GMB profile is to the searcher's query, the more chances you have to appear in the search results. So, make sure to add as many details as possible.
Dominance: People often don't specify the location while searching for a lawyer. In such cases, Google calculates the distance based on what it knows about the searcher's location and shows the results. So make sure you have entered the proper geography of your law firm.
Prominence: The third ranking factor is how well-known your business is offline (for instance, if you search for "the best sportswear shop near me," it'll probably show you your nearby Adidas store) or online.
We'll discuss how to get Google's attention online. The search engine receives this information from around the web—for instance, the number of links, articles, directory profiles, websites, videos, etc., are under your name. So, consider improving your online presence (more on this later).
Law Firm Directories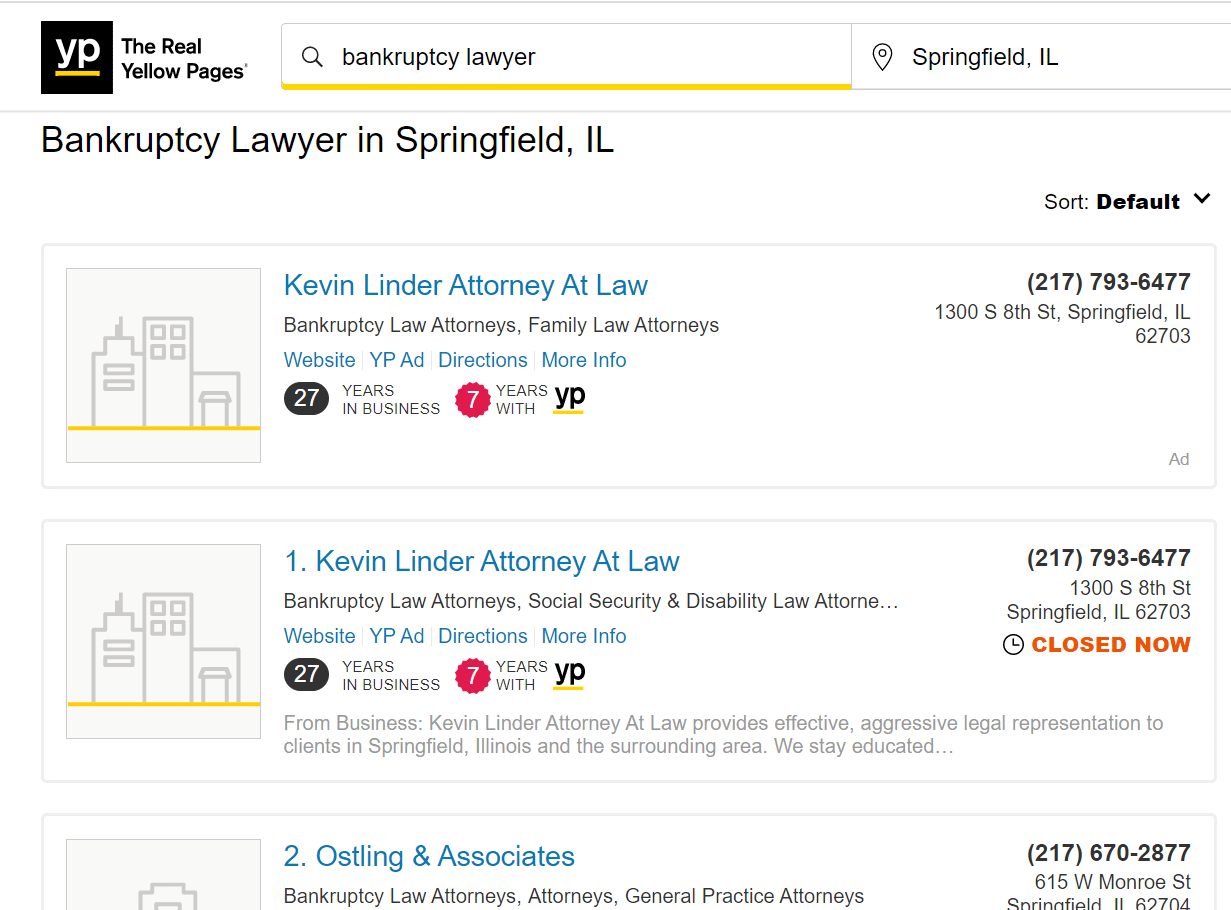 Apart from Google, people also search for bankruptcy lawyers on legal directories like Yelp, Yellow Pages, Nolo, Find Law, Legal Zoom, Justia, HR org, and more. Plus, it's common for these sites to show up in Google search results. Hence, it's worth listing your law firm on these legal directories.
The more major and local directories will have your legal profile, the more visibility you'll gain for your law firm.
Reviews
6.33% of law firms generate leads through online reviews. Additionally, most people treat them as personal recommendations. Social proof is non-negotiable and should be considered part of your marketing strategy.
Therefore, encourage your clients to leave positive reviews for your law firm. Some platforms that you can use to generate reviews are Google My Business, Facebook, Avvo, lawyers.com, and business bureau. You can use your local legal communities to get reviews.
Highlight Your Credibility and Results as a Bankruptcy Lawyer
If you positively impact someone's life, never hesitate to ask them for feedback that you can showcase on your website. Because besides online reviews, in-depth customer testimonials, case studies, and video endorsements are a great way to show your law firm's value to prospective clients.
You can also benefit from awards, media attention, and trust badges. They can reassure your authenticity and help you appear more reliable, especially for the people visiting your website for the first time. So, display the legal awards you've won, your trust badges from reputed organizations, and your accreditation on your website.
Quick Tip: Your home page and landing pages are some of the best places to show these credibility certificates.
Establish Yourself as an Expert on Bankruptcy Topics
If you want to become a well-known figure in your legal industry, gain the trust of your target audience, and attract leads instead of going after them, positioning yourself as an expert can be helpful. Plus, it's also one of Google's ranking factors for the local pack, as we discussed earlier.
One of the best ways to build trust with your audience is to build brand awareness through content marketing.
You can:
Write articles and blog posts related to your legal practice,
Answer FAQs that your target audience needs answers to,
Or create a separate resource page for all the educational content. For instance, in-depth guides explaining complex legal concepts.
Besides that, you can also cover news content or current events. They're more likely to help you secure quality backlinks or go viral.
Another way to increase your reach is to share video content. Besides long explanatory videos, YouTube shorts and Instagram reels are some of the best ways to show up in your target audience's news feed quickly.
You can also explore podcasts and webinars, but when you're just starting, it's best practice to focus on one to two things simultaneously to ensure consistency and avoid burnout.
However, if you want to increase your reach within a minimum time instead of experimenting with different types of content, you can consider hiring an expert legal digital marketing agency.
Own Your Industry – How to Position Yourself as an Expert – Professional Speaker Douglas Kruger
Start Social Media Marketing
Digital marketing for bankruptcy attorneys is incomplete without social media. Plus, for the exposure it provides, it's worth the investment of your time and money.
So, start by figuring out which social channel will work the best for you and start sharing relevant content. You may need to take some essential metrics into consideration, for instance, what time of the day and what days of the week you get the most engagement.
Always create content based on data and analytics to gain more traction.
Generate Qualified Leads and Bankruptcy Clients With PPC Campaigns
The finest way to target the right audience at the right time is by using Pay Per Click ads. Hire a law firm PPC agency if you need to run your account.
These advertisements display on the search engine results page when someone makes a query similar to your target keyword–for instance, bankruptcy attorney. You pay for that visit when someone clicks on the ad and lands on your website.
If your landing page is built right or you have a client-centric website, you have a high chance of converting these visitors into leads.
Final Thoughts
Bankruptcy law firms need a pipeline of high-quality leads to sustain their practice. And a sound lawyer digital marketing strategy can help you do the same.
Pick one channel where you can get potential clients — SEO for bankruptcy is quite an effective marketing strategy for a start. If you have the budget, run Google ads alongside it to get leads instantly for your bankruptcy services.
In a few months, analyze your performance, find the channel getting you new clients, and ditch the rest. to add more to the mix.
Sadaf Tanzeem is a B2B SaaS and Marketing writer. She collaborates with overwhelmed content marketers and business owners to take the burden of content development off your shoulders.