PPC for Lawyers
:
10 Proven Google Advertising Strategies
Home » Law Firm Digital Marketing » PPC for Lawyers: 10 Proven Strategies For Google Advertising Success
PPC for lawyers might not be a part of your law firm's marketing strategy, but it should be. Law firms and the legal industry can benefit from its ability to bring new clients and increase revenue when it is done with the right PPC management strategy.
Our client, personal injury law firm Nuñez Law, was able to achieve a 1053.33% jump in click-through rate, 5.61% increase in conversion rate and 17 more leads with their PPC campaign. If you want to get help with your law firm's PPC campaigns, you can reach us here.
In this comprehensive guide, we'll show you several law firm PPC strategies for running successful PPC campaigns that will strengthen your overall law firm's digital marketing strategy.
Table of Contents
What is PPC for lawyers?
Pay-per-click (PPC) is a method of digital advertising for businesses (including law firms) where they pay a certain amount (that they set) each time someone clicks their ads online.
PPC for lawyers is when law firms and lawyers use online advertising to promote their legal services. One of the most popular PPC advertising platforms is Google Ads (formerly Google Adwords).
The example below is a PPC ad that appears on top of the search engine result page when typing in "divorce lawyer San Diego".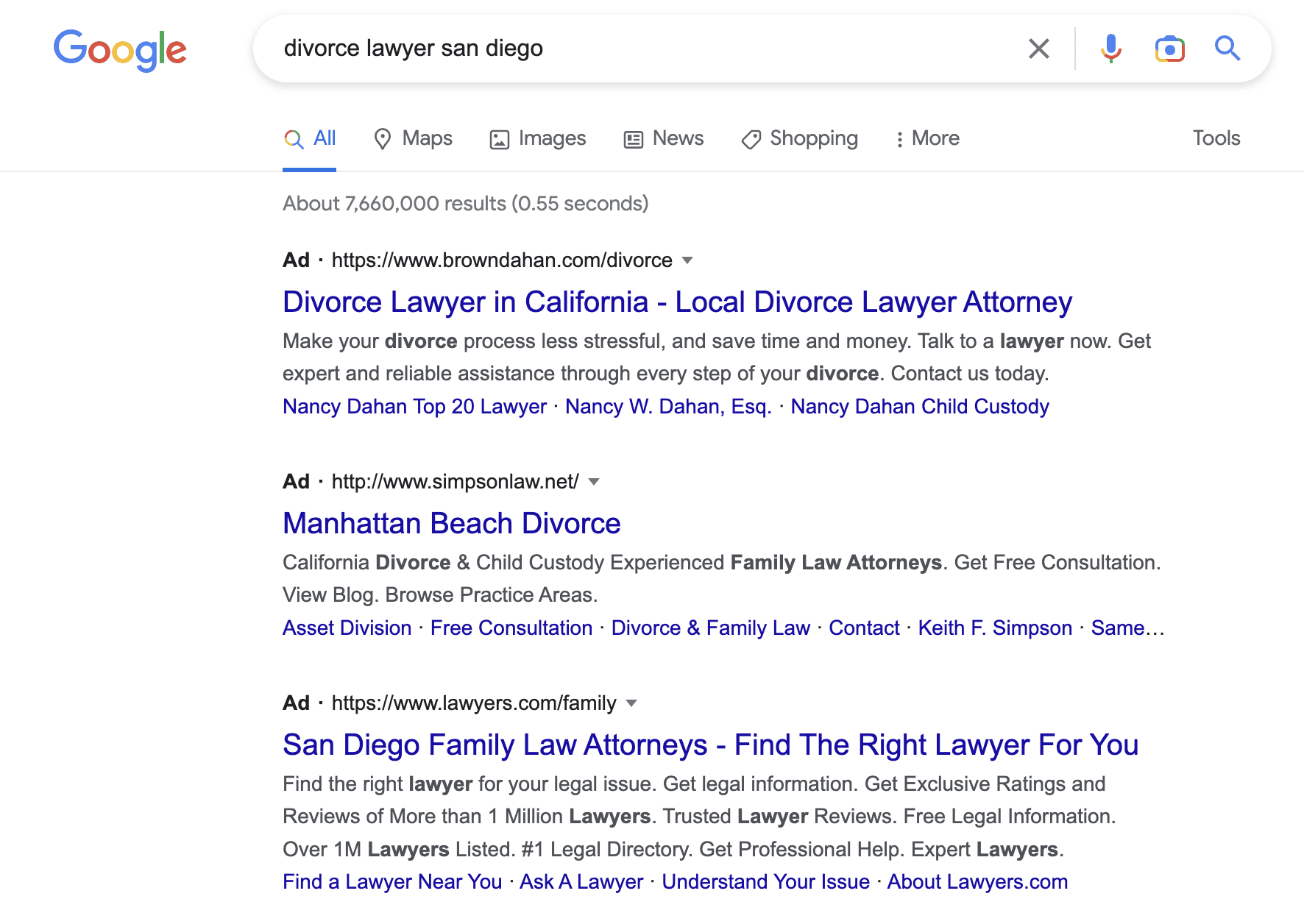 Google has a ranking algorithm that considers factors like ad quality, relevance, and bid to determine which search ads show up on the top spot.
When setting up PPC for lawyers on Google Ads, the ads appear on Google's Search and Display Networks, including Google's search engine and other platforms like YouTube (video ads) and Gmail.
Other social media platforms that offer pay per click PPC services are Facebook, Instagram, and LinkedIn.
Is PPC worth the investment?
Pay-per-click advertising will be worth the investment given that you are doing it right. Because of the many factors involved in implementing successful PPC campaigns, it is strongly recommended to hire a digital marketing agency that specializes in PPC marketing for law firms.
Here's an example of getting great results from running PPC campaigns on Google Ads for Nuñez Law.
From the table, we can see that Nuñez Law's mobile ads achieved a 5% conversion rate from 280 clicks to their website or landing page, each click costing $23.58.
This is only an example of what can be done with a winning PPC campaign and PPC management services for law firms. However, there are several factors that might affect your results, which includes ad's quality, ad relevance, and bid.
What's the difference between PPC and search engine optimization?
Pay-per-click advertising involves payment for every time a person clicks on an ad. It's a way for advertisers to show their ads on top of search engines' results pages without having to resort to search engine optimization (SEO). SEO, on the other hand, is a strategy to optimize a website so it shows organically in search engines (without running paid ads).
Common PPC terms
Here are some terminologies used in PPC advertising and what they will mean for your PPC campaigns.
Cost-per-click (CPC) – the amount an advertiser pays for each PPC ad clicked.
Click-through rate (CTR) – the number of times an ad was clicked vs. the number of times it was shown (Impressions).
Cost-per-acquisition (CPA) – the average cost of turning ad clicks into conversions.
Return on ad spend (ROAS) – ratio of amount of money gained (or lost) vs. the amount of money spent on PPC ads.
Quality score – how Google ranks ads based on several factors including keyword relevance.
Ad rank – a ranking that determines your ad's position in search engine results pages.
Exact match – an option for showing your ads only when the search query is an exact match to the keyword.
Broad match or broad keywords – your ad will show even with variations of a keyword.
Ad extensions – these are added information shown below your main PPC ad. It can be a "Call" button, pricing information, or a link to a landing page.
How much does PPC for lawyers cost?
There's no fixed amount for how much PPC campaigns cost, as it all depends on your bid and budget. In general, a single PPC ad can cost from as low as $5 to as high as $300 per click. This is because some law firm keywords, such as personal injury lawyers, are highly competitive and have higher CPCs.
You can use Google's Keyword Planner to see an estimated CPC. In the example below, we used the keywords "divorce lawyer chicago" and entered it in Google Keyword Planner to get more details as well as relevant keyword suggestions.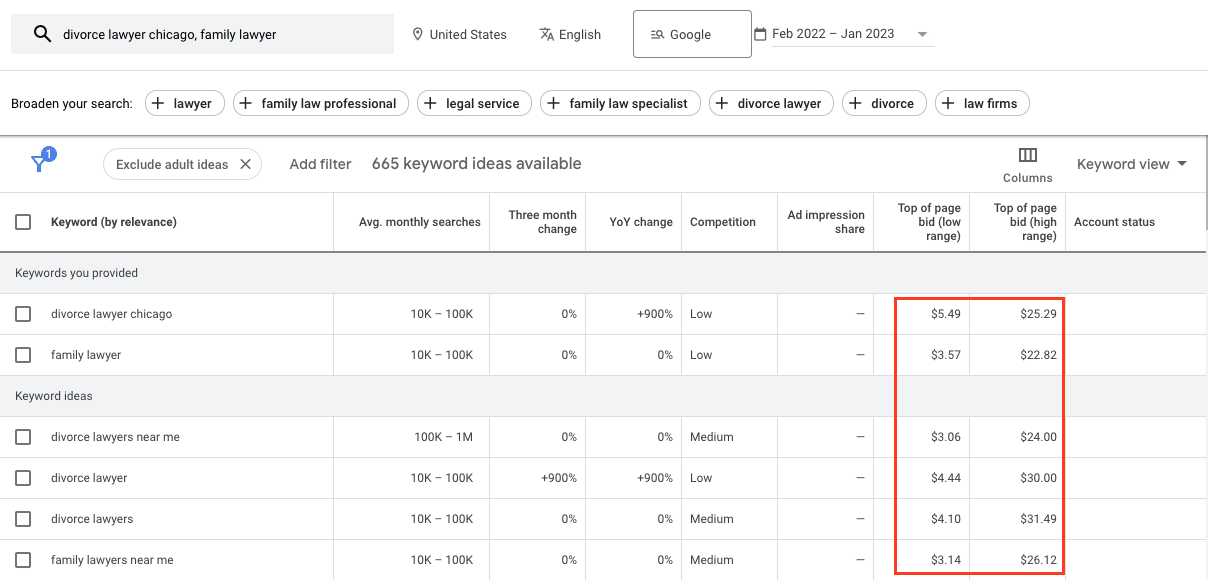 You'll then see the CPC for low and high range, depending on your bid and your competitors. Based on this information, you can set an initial PPC budget to create your law firm's first Google Ads campaign.
10 Proven Strategies for lawyer PPC
Getting great results from your PPC ad campaigns might not happen right away. Oftentimes, it requires trial and error, and a lot of experimentation. It also has a technical aspect, which makes it more challenging than other online marketing efforts.
Create a sound PPC marketing strategy
Before embarking on creating PPC ad campaigns for your law firm, you need to have a clear goal and a timeline of when you'll achieve them.
You can ask yourself the following questions while writing down your strategy for your law firm PPC campaigns.
What do I want to achieve with PPC ads?
Who is my target audience?
What one message do I want to promote about my law firm?
Which legal services am I going to advertise?
How much is my PPC budget?
How do I track performance and results?
Who do I work with?
These are just some of the many questions you may come up with when writing your PPC marketing strategy. Discuss this with your law firm's marketing team to make sure you are aligned with the goals you want to reach with your PPC campaigns.
Target the right keywords
Keyword research is the first step to discovering and selecting which targeted keywords you want to use in your PPC campaigns. A free tool like Google Keyword Planner can help you conduct keyword research for your PPC campaign.
You can type one specific keyword like "car accident lawyer" for a personal injury PPC campaign and let it generate more keyword ideas based on your initial keyword.
Choosing the right targeted keywords is crucial to a law firm PPC campaign. However, most law firms make the mistake of targeting the wrong keywords in their Google ad campaign, some of them with high CPCs. This is to be avoided when creating law firm PPC ads, especially in the beginning.
The screenshot below shows you ideal keywords with enough search volume, medium to low competition, and manageable CPCs.
A best practice for an effective PPC campaign is to use long-tail keywords, which means these are extremely specific keywords. You might get better conversions for your PPC campaigns with a keyword like "best divorce lawyer near me" than simply "divorce lawyers."
These keywords should also be incorporated into your ad copy as well as optimized in your landing pages. Always strive for targeting relevant keywords that match your legal services to increase your ad's quality and relevance score.
Create ads for your target audience
As a law firm offering different legal services, you need to consider a target audience for your PPC advertising campaigns. If you practice family law with several practice areas like divorce, child custody, and adoption, then you'll need to create separate ads for each of them.
Taking our client Nuñez Law as an example, they decided to create separate ads to target different audiences (truck accident and car accident) in their PPC campaigns.
This PPC advertising strategy for personal injury law firms can work for other practice areas. It can also be applied towards targeting the audience by location with your ads, which we'll talk about later in this article.
You can organize related PPC ads into an ad group, and name them according to how they are categorized.
Ad groups help you later on when you need to test or change specific keywords or other elements in your PPC ads.
Start with manual bidding
When you first set up your Google Ads account and create your law firm's PPC campaign, you'll be faced with several choices on how to bid. Google will recommend automatic bidding, but we recommend starting with manual bidding for your first PPC ad spend.
This is so that you have control over how much you pay for each ad click and prevent overspending your law firm PPC budget.
Remember that by adjusting your bid, you can get the same (or even better) PPC campaign performance with lower cost.
Aim for lower CPC for your PPC ads
After a few weeks of running your law firm's PPC campaigns, you'll need to monitor your ad's performance and decrease their CPCs. We recommend running your PPC campaign advertising for 2 weeks to 3 months to get enough data.
With the needed data, you can identify specific keywords in your law firm PPC ads that are not performing and either pause or lower their bids. Inversely, you'll need to increase your bids for high-performing PPC campaign ads.
It would also help to use negative keywords. Negative keywords are keywords you do not want to include in your law firm PPC campaign.
You can find this option appear on the left-hand pane when clicking on a campaign name in Google Ads.
When you exclude irrelevant keywords, you improve your ad's relevance and help lower its CPC.
Use location when targeting your audience
Google Ads have a feature that lets you create a targeted audience for your PPC marketing campaign based on your ideal client. When setting up a PPC ad, you can zero in on a location, or a number of locations, where you want your ads to be shown.
You can search for a city, town, or zip code and set the location as a target or exclusion.
Make sure you also choose these options for Exclusion settings.
By doing these, you ensure that you're targeting the relevant audience for your PPC ad.
Write compelling copy for your ads
Whether you're creating text or image ads for your law firm PPC advertising content, your ad copy should grab the attention of potential clients and compel them to click. If your law firm does not have the resource to write ad copy, consider hiring a content marketing agency for your PPC marketing campaigns.
The ad copy for Google ad campaigns is composed of the following:
Headline (at least 3)
Description (at least 2)
Ad extensions
Here's a guide from Google on how to write successful ads.
Make sure your landing page converts
Getting prospective clients to click on your PPC ad campaign is just half the work done. A successful law firm's PPC campaign should convert potential clients into new clients. This is why a conversion-focused landing page is key to revenue-generating ads for your law firm.
Your law firm's landing page should be a continuation of your PPC campaign ad and lead the potential clients to the next step.
Here's the home page of our client, Gray Injury, which takes advantage of a minimalist design and simple call-to-action. With a design like this, there's no confusion on what the visitor needs to do.
If you need guidance on creating law firm landing pages that convert, then it's best to get a law firm web design company, as they have the experience and expertise to bring you the best possible conversion rate from your landing pages.
Conduct A/B Tests on your PPC ad campaigns
A/B tests are mostly done with any digital marketing campaign, including web design and email marketing. For PPC advertising, running A/B tests is when two or more versions of ads run at the same time and their results are compared over time.
Google Ads has a guide on creating A/B tests using the "Create experiment" function. Follow these steps to run your own Google Ads experiment, whether it's targeting different landing pages, keywords, location, etc.
After a few weeks of running ads, you can check the results in your Experiments dashboard.
You'll get to see which ad resulted in a higher conversion rate, as well as other related stats that can influence your law firm PPC strategy.
Track your PPC advertising results
To know if your PPC advertising campaigns are generating revenue and paying clients for your law firm, you'll need a system to track and analyze ad performance.
If you're running Google Ads, the simplest way to track your PPC ad performance and ad spend is to connect your Google Ads account to Google Analytics. This allows you to see how your PPC campaigns are performing, with key metrics like CPC and CPA (cost-per-acquisition) as well as ROAS (return on ad spend) and conversion rate.
Depending on your data, you might need to improve your ads or adjust your bids to get better results.
Conclusion
Running successful PPC advertising campaigns for your law firm is not a simple task. You need time, resources, and patience to discover what strategy works when implementing PPC for lawyers. For most law firms, learning and maintaining pay-per-click ads can take a toll on client work and billable hours.
Law firms can instead focus on their utilization rate and leave the PPC marketing tasks to the pros. Hiring PPC management experts that have the experience in creating a successful PPC campaign would be the best option that is a win-win for everyone involved.
Law Firm Digital Marketing in 2023: A Beginner's Guide