Blogging for Lawyers:

4 Simple Steps to Start a Legal Blog
Home » Law Firm Digital Marketing » Blogging for lawyers: 4 simple steps to start a legal blog
Blogging for lawyers is an effective law firm digital marketing strategy to get more clients and retain existing ones. A successful blog answers the questions of your prospective clients, establishes your thought leadership, and gets more traffic to your law firm's website.
As per the 2021 American Bar Association report, 46% of respondents claimed to retain clients because of their blogs. Yet only 27% of law firms maintain a blog.
Table of Contents
So why is blogging not so prevalent in the legal industry?
One of the major challenges is that blogging requires you to push out fresh content consistently, and you may run out of writing ideas. Also, without a documented strategy, you'll fail to drive business results.
Today you'll learn how to address both of the above challenges and a step-by-step process to get traffic and high-quality leads from your legal blog. First, let's look at a quick summary of what starting a legal blog entails. Then learn the basics before diving into the specific steps.
How to start a legal blog for your law firm?
Generate content ideas around your law practice
Conduct keyword research (and create silos…)
Document your content strategy and build a content calendar
Choose a blogging platform
Publish and promote your content
Analyze your legal blogging efforts
If the above legal blogging steps seem like a LOT of work, you can outsource your content writing needs to On The Map Marketing. We published 2.1M words last year, creating content that ranks — and would love to help you!
What is legal blogging?
Legal blogging involves crafting helpful content around your law practice. It can contain commentary, news, and professional advice related to your practice area. Primarily, though, legal blogs educate and answer pertinent questions of prospects before they consult an attorney.
Why do lawyers need blogs?
Legal professionals can leverage blogging to build trust and authority in their practice area. It can also improve your site's SEO, get leads, and keep your current clients engaged with your legal brand.
As per the ABA 2021 report (we referred to earlier), 65% of law firms cite client development and career development as the top two reasons for blogging.
If you want to take the DIY legal blogging route, let's look at each of the above steps.
Step #1: Generate content ideas
Coming up with topics about your legal practice can be overwhelming at first. Here's a process you can use to generate content ideas for your legal blog:
Center your blog content around your legal practice areas
There's a writer's saying that goes, "Write what you know." It applies to blogging for lawyers. Focus on your legal expertise and cover different subject areas around it.
For instance, if you specialize in family law, your blog content should be about marriage, divorce, adoption, child custody, etc.
Here's an example of the Kirakosian law firm's blog (a personal injury attorney in Los Angeles). They publish content around legal issues concerning personal injury, car accidents, wrongful termination in California, etc.
Publishing blog posts regularly on a central topic helps your website rank for relevant keywords and variations. Here are rankings of the 2021 archive of the Kirakosian blog. Notice how they rank for close to 150 relevant keywords (which can lend them high-quality prospects):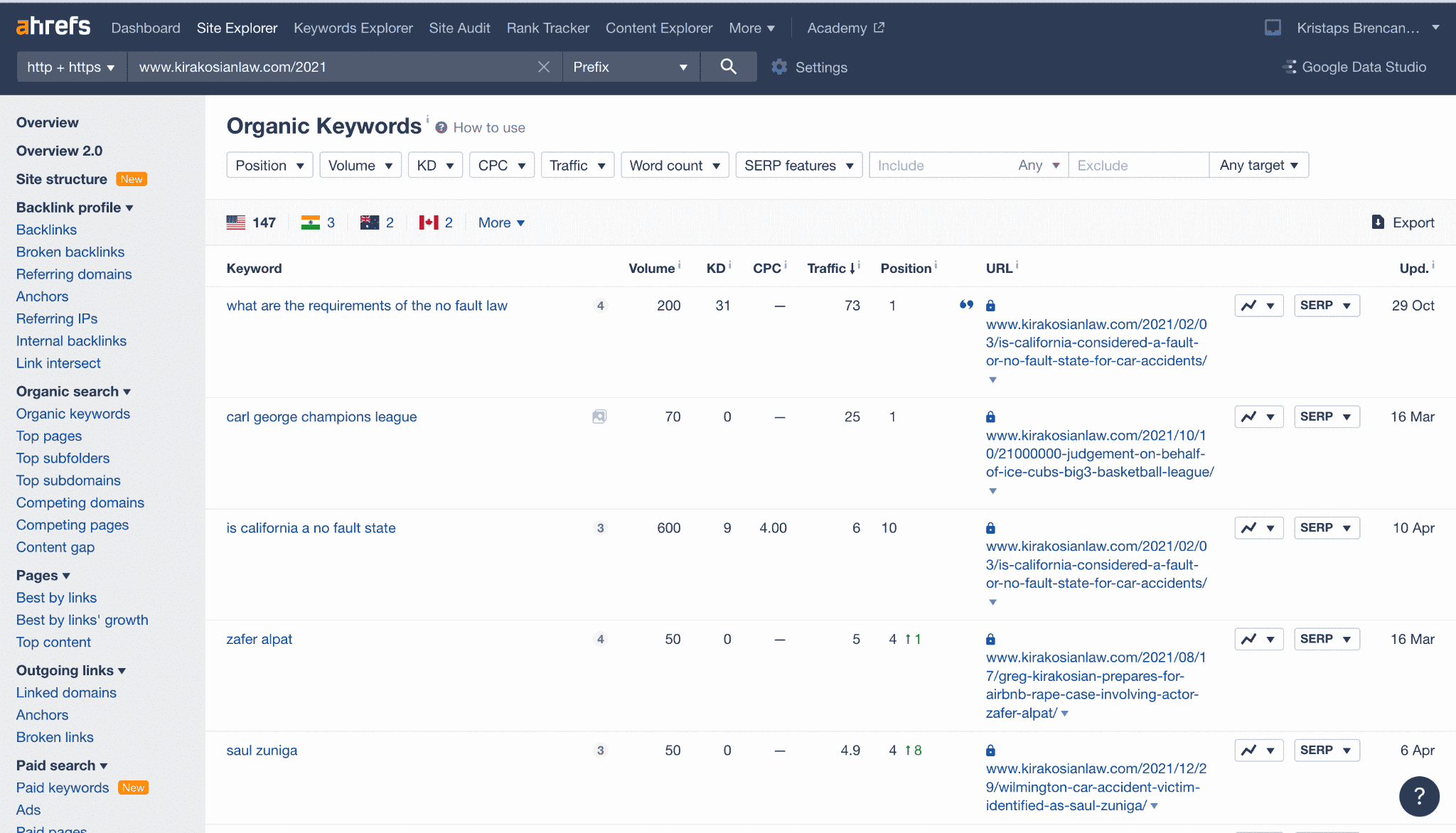 Also, answer the frequently asked questions about your legal services
The frequently asked questions (FAQ) section on your blog helps you find and answer the top questions of your prospective and existing clients. This calls for conducting audience research and identifying the pain points of your prospects. Then put such problems inside keyword tools and find relevant keywords (which we'll discuss in detail in the next section).
Grow and Convert call it pain point SEO, and the graph below illustrates the concept aptly:
Such a strategy increases the chance of your blog posts generating leads and conversions — by ranking for relevant keywords your ideal customers are asking in their buying journey.
A great way to begin your audience research is to revisit what your prospects tend to ask. Sometimes these are the obvious questions.
For a divorce lawyer, it could be, "How do I file for divorce?" By plugging such a query in Google, you can even find related questions searchers are asking in the "People also ask" section:
Step #2: Evaluate the SEO value of the above ideas through keyword research
Keyword research is part of the digital marketing strategy called search engine optimization (SEO). It involves identifying relevant keywords around your prospect's questions that you can target in your content and rank on search results pages. Once you have content ideas for your legal blog (through step one), evaluate the law firm SEO value of these blog posts.
Plug your content ideas in a keyword research tool
All of the content ideas you generate may not fit in the above model, but it's worth checking their long-term SEO value. Just plug them in a keyword research tool like Ahrefs and find if your competitors have worked on the subject. For instance, let's check the SEO potential of "how much does a divorce cost?"
Ahrefs shows the keyword has a traffic potential of 5.3k and a monthly volume of 6.3k. However, its keyword difficulty score (a metric dependent on the "authority" of your website based on your backlink profile) is 35 — rated as "hard."
A look at the search engine results page (SERP), though, shows a couple of divorce attorneys covering the subject. And they don't have a lot of authority as measured by the DR metric (denoting domain rating of a website):
Based on the above findings, you can consider targeting a long-tail local version of the keyword. For instance, "how much does a divorce cost in [your state's name]." It will have less competition and lend you more relevant readers — who could ultimately become your clients.
If you run into competitive subjects like the one above, consider targeting a long-tail version of the keyword. Google's autosuggest is a great place to find them.
Consider the pillar and cluster framework
The Pillar and Cluster framework calls for clubbing blog posts around related subtopics in a cluster, then creating a main "pillar" page targeting the main topic. The HubSpot video below illustrates the concept in detail:
Let's look at an example:
The pillar content for a legal blog would be an article about divorce. It will be a comprehensive article that covers the essential information about the process of filing for a divorce.
And the cluster content topics can be about the cost of divorce, fault vs. no-fault divorce, divorce settlement, answering a divorce petition, etc.
The Farzad & Ochoa law firm uses this framework on their site below:

A critical part of the pillar and cluster framework is that the cluster content links back to the pillar content and vice versa. This step is crucial to the effectiveness of the entire strategy.
We can further illustrate the pillar and cluster framework for this example like this:
Step #3: Document your content marketing strategy
A CoSchedule marketing trends report found that only 47% of marketers document their marketing plans. However, organized marketers are 674% more likely to achieve success.
Documenting your content marketing strategy keeps you accountable and aligns your content team's efforts — thereby making your content program — in this case, blogging — more effective. Here's how to go about it:
Create a content calendar
A content calendar organizes your upcoming blogging and overall content marketing efforts. Based on your team's needs and content strategy, it includes details of the type of content, topics, publishing date, the writer who'll create the content, and the like.
There are several tools to use for creating a content calendar.
Spreadsheets (what we use here at On The Map Marketing!)
Project management tools (Example: Asana, Trello, and Airtable)
Dedicated content calendar software (Example: CoSchedule, Contently, and Loomly)
If you have a content team, it makes sense to use dedicated project management or content software to visualize the progress of every content task. Whereas if you're running your blog alone, a spreadsheet will be sufficient.
Here's an example of a content calendar using a spreadsheet:

The calendar above includes six columns:
Month – The month your blog post is scheduled to be published
Day – The day your blog post will go live in the month
Headline – A tentative headline for your blog post
Keyword – The phrase you want to target with the post
Further, the highlighted row in yellow indicates that the content is the pillar content.
What kind of details does your content calendar need? Here are the questions that will help you find out:
What are your content marketing goals, and which marketing channels are you targeting?
Do you have a graphic designer to create images for your blog post? (Your project management software should include this step).
Are you planning to promote your legal blogs on social media? (You can track this also in your calendar).
You can use a project management tool like Trello to integrate other marketing aspects of your blogging strategy, such as social media promotion, editing, and graphic design. Every list could constitute a major content task, and a specific card could carry details of the content's owner, deadline and could carry discussions around it:
Pick a content promotion medium for every new content piece
Promoting your content is often the missing piece in most companies' content marketing. Your content calendar may not carry the granular details of the promotion. However, you need a process to distribute your newly published blog posts.
Below are a few examples of how law firms promote their blog posts. You can take inspiration, experiment, and find the tactics that deliver results for you.
Guest posting: It involves writing for another website or blog within your industry. A guest post aims to get exposure to the host blog's audience.
The example below is an author bio that appears at the end of a guest blog post. It talks about the author, Jeffery Landers, including a link to his website and podcast. When readers click on this link, Jeffery gets more traffic to his site —which can even help him get potential clients.
Email list: An email list is a group of people who subscribed to your newsletter — typically in exchange for receiving valuable information from you. Building an email list can provide a growing and long-term audience for your blog.
Below, Stowe Family Law — a law firm specializing in legal family procedures like divorce and separation — placed an opt-in button at the bottom of a blog post about the stages of the divorce process.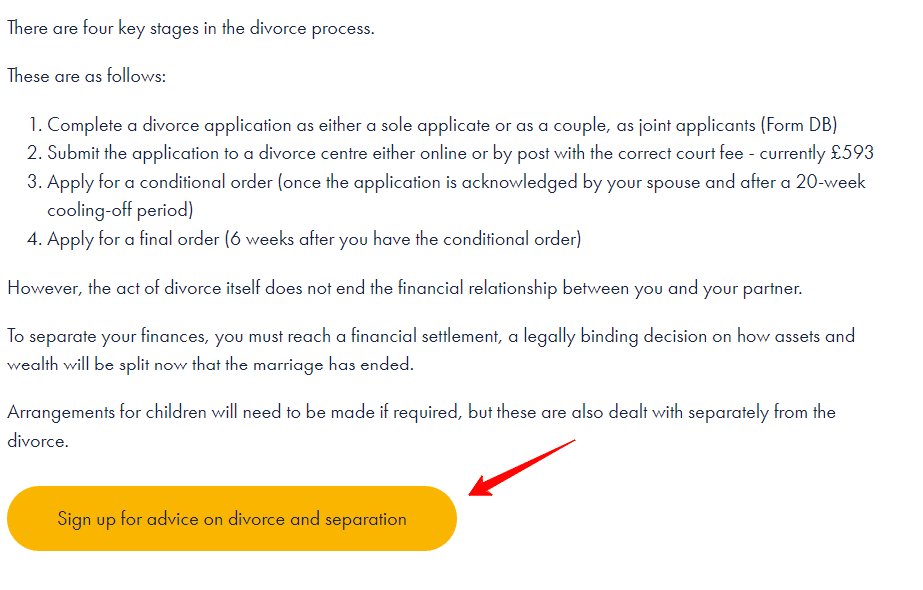 Clicking on the button above sends you to another page with the email sign up form below: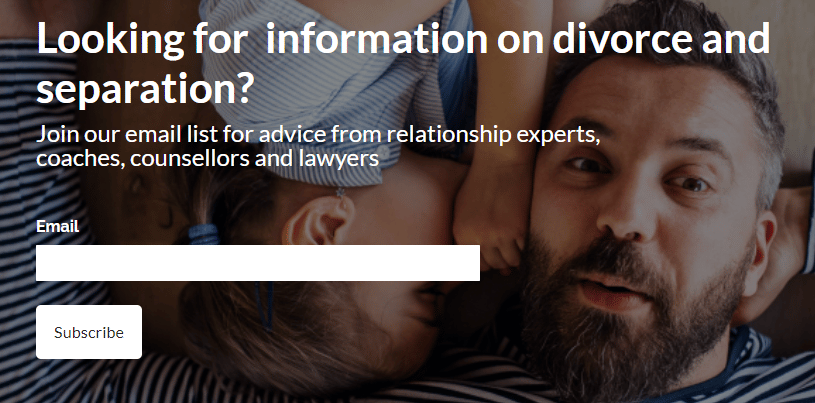 This demonstrates how to direct your reader to subscribe to your email list.
Readers that turn into email subscribers are valuable because they are more likely to remember your law firm — as you keep communicating and sending them free and helpful info. In turn, they are more likely to become your clients.
Social media: Having an active social media account, whether on Facebook, Twitter, or LinkedIn, could be valuable for distributing your blog posts. Below are examples of tactics you can leverage to promote on social media.
Link and image: The most common way of promoting a post on social is by sharing the link and including a graphic with it.
Epstein Lawyers, a law firm with multiple fields of expertise, including divorce and separation, uses this format on their Twitter page. A short description of the blog topic informs readers of what they can expect when reading the full blog.
These promotional posts tend to have low organic reach because social media platforms throttle organic reach for posts with links to external websites.
Infographic: This is a chart, diagram, or graphic that explains a specific topic.
Below, Ison Harrison, a Yorkshire firm offering personal and business legal services, created an infographic for a blog post on divorce. It makes for easy sharing on social media platforms like Twitter.
Creating graphics and videos can help you maximize the value you derive from your blog posts as you can push it out on a lot of other channels and even other relevant areas of your site.
The infographic above is also available on the law firm's "Our Services" page, encouraging the reader to call or email the firm if they need assistance with filing a divorce. You can occasionally even guest post on websites using such infographics.
Video or slideshow: Rather than just sharing a link to your blog post, you can also repurpose your blog as a video or slideshow while sharing on social media.
Below, Rubin Law, a law firm specializing in special needs legal and future planning, created a video explainer of disability qualifications to promote a blog post.
Such repurposed content can gather more social media engagement and even help generate more pageviews to your blog.
Step #4: Choose a blogging platform
A blogging platform is a software or service that enables you to publish content on the internet in the form of a blog. Some of them are free to use. But for a professional law firm, we highly recommend starting with paid hosting, renting a domain name, and blogging on your own website.
WordPress.com: WordPress.com is a free platform that's easy to set up and use. To get a free blog, create an account and select the "Free" option for your domain. This means your web address will look like yourblogname.wordpress.com.
If you want to use a custom domain like YourLawFirm'sName.com, you can upgrade to WordPress Pro for a monthly plan or purchase a domain from a domain registrar like Godaddy and connect it with WordPress. The second option is what we recommend — from the beginning of your blogging efforts.
Medium: Another free platform, starting a blog on Medium is as easy as connecting a Google or Facebook account. You can also sign up using email. After creating an account, you can now see a button on the left-hand panel to write your first post.
While you can repurpose content from your blog on Medium — especially if you cover broader legal implications around trending subjects — you should focus on starting a blog on your own website. WordPress is a great content management system (CMS) to manage the publishing process and even offers lots of plugins to extend the functionality of your website.
Step #5: Start writing and promoting your legal blogs
Once you've created your content calendar and set up your blogging platform, it's time to execute. Follow strict deadlines based on the dates on your content calendar. And follow your documented strategy as much as possible.
If you're a new legal blogger, here are some writing tips:
Four quick tips for writing engaging legal blog posts
1. Craft attention-grabbing headlines: Use CoSchedule's Headline Analyzer suggestions to create compelling headlines that catch your reader's attention.
2. Follow an outline: It should include relevant subtitles with the specific ideas you'll cover in each one.
3. Proofread and polish your writing: Spelling and grammar errors in your articles can make you look unprofessional. Use tools like Grammarly to fix mistakes that a naked eye might miss and hire a dedicated editor (if possible). Also, create writing guidelines to ensure your writers follow a consistent writing style in the long run.
4. Optimize your writing for your target keyword: Use an on page SEO tool like Surfer SEO to optimize your blog posts.
The Content Editor in Surfer SEO evaluates your content and provides suggested keywords to include in your content (based on the current top-performing content for the keyword). The suggested keywords appear on the right side of the page, along with guidelines for the number of words you can use, headings, images, and the like.
Below is an example Surfer report for the article you're reading. You also get an overall content score — getting to the green zone should be your goal.
Promote, promote, promote
For every new blog post that goes live, find previously published content pieces to link internally from it in a contextually relevant manner. Further, for the marketing channels you have decided to rely on in step three, put our marketing copy to promote your blog posts.
Step #6: Analyze your legal blogging efforts
You want to make sure that your blog posts are helping you reach your content strategy goals. Using Google Analytics, you can monitor your blog's performance by using metrics related to your chosen business goals.
Here's a video on how to set up Google Analytics (GA) for your website:
Depending on your blogging goals, you can rely on various metrics inside GA to measure your progress:
If you want to focus on brand awareness, relying on the month-over-month growth in pageviews could be a good start.
You can also consider having blog readers register for "free consultation" with you. If that's your goal, you can track the conversions you get and even assign a numerical value for the same.
Note that you may not get customers and leads in the first six months of legal blogging because your content hasn't started ranking. However, you can keep looking at early indicators that you're on the right path, such as uplift in organic rankings, links built, and jump in keywords indexed. An SEO tool like Ahrefs has great keyword tracking for the same.
Based on how your blogging efforts meet the above goals, you can iterate your content strategy. Instead of haphazard changes, consider working in three-month sprints and consider modifications only at the end of one cycle.
Bonus: Take inspiration from law firm blogs in your niche
You can gather more ideas for your legal blog from other law firms and lawyers within your specialty. Conduct basic competitor keyword research with a tool like Spyfu to see other blogs that are similar to yours.
Simply plug in your website's URL to get an overview report.
On the left-hand side, click "Competition":
You'll get a list of websites ranking for similar keywords as you. In the Shared Keywords section, you can also check for similar keywords your competitors are ranking on. Using this information, you can add more blog topics to your calendar to target competitor keywords.
Besides keywords, if there's a tactic through which they promote their blog posts or anything you love about their strategy — make it your own and implement it on your law firm's blog.
Blogging for lawyers: Final thoughts
A blog is an excellent platform for a lawyer to explain legal concepts and the intricacies of the legal system that prospective clients want to learn. It's also a great place to cover the latest legal developments related to your expertise.
When done strategically, a legal blog can establish your firm's reputation as an industry leader, get you clients, and even connect you with people who need your legal help.
So what are you waiting for? Create a content strategy, hire freelance legal writers, and craft your first blog post!

And hey, you can always outsource your legal content writing needs to On The Map Marketing if you need help from experts who deliver results!
Law Firm Digital Marketing in 2023: A Beginner's Guide