10 SEO Content Writing Tactics for Lawyers
Are you struggling with writing SEO-focused content for your law firm's website or blog? It doesn't have to be a complicated process. Here's how to have a simple, goal-focused approach for writing SEO content that reaches your audience and grows your firm.
What Is Legal Content Writing?
Legal content writing is creating high-quality, informational content about legal issues. This can be web page copy, blog posts, landing pages, articles, FAQ pages, and email. Often you'll optimize the content for search engines so that it drives long-term organic traffic.
Why Do Law Firms Need Content Writing?
Law firms need content writing to:
Establish authority – Writing regularly about legal concerns in your practice area proves your expertise to your audience.
Build trust – People trust lawyers who offer valuable and actionable legal advice.
Nurture client relationship – Sharing your legal expertise with your audience with your blog or website helps extend your relationships with past clients.
Great Legal Content Marketing Starts With Defining Your Target Audience
Here are some major steps when creating your legal content marketing plan.
Conduct Customer Research
Customer research is the first step in knowing what content strategy to take for your law firm. For instance, you will not target people looking for a divorce lawyer if you have a personal injury law firm.
You'll need to ensure that every piece of content you write reaches the appropriate audience. This is the purpose of customer research: to know your audience and how to reach them.
Here are some questions you'll need to know about your target audience:
Demographic (age, gender, location, employment, hobbies/interests)
What are their legal pain points that you can help with? (wrongful termination, divorce, criminal defense)
How do they search for information when it comes to hiring a lawyer?
What keywords do they use in search engines to look for a lawyer?
These questions will help you decide what content to create, where to publish, and how to optimize it so it shows up in search engine results pages (SERPs).
Create Customer Personas
After identifying your audience, you can further break them down into sub-groups. Having customer personas help you fine-tune your content to fit each type of audience.
For instance, although two people might be looking for a family law attorney, one might be because of divorce, while the other needs estate planning – two different aspects of family law.
Below is an example of a customer persona:
As a marketer, your goal is to create content keeping your customer persona in mind. You can then customize your marketing content to match each persona to the appropriate product or service.
How to Find Relevant Topics to Write About?
Before you start blog writing for your law firm's website, you need to plan legal topics to publish. You can take several steps to learn what to write about.
Use Keyword Research Tools
Keyword research is finding the exact words and phrases people use to find a business on search engines like Google. Some tools to use for keyword research are:
SEMRush Topic Research: The tool lets you enter a keyword and get content ideas.
In the example below, we used "personal injury lawyer" as a keyword and got these results:
Going into the personal injury attorney box provides the top headlines and questions found on the web:
Ahrefs' Keyword Explorer shows keyword difficulty, search volume, and traffic potential for any keyword you put in.
Using these tools gives you the advantage of knowing your audience based on historical and actual web data, so you can be confident that your content creation efforts get excellent results.
Answer Questions of Your Prospective Clients
Sometimes the best content ideas come from people who have questions about your practice area. You can get these pieces of information from several sources:
Customer data – Look at past clients' frequently asked questions and turn each answer into a piece of content.
Google Analytics – You can use Google Analytics to learn about your website's most viewed pages and find out visitor behavior when navigating your site.
Facebook Audience Insights – Facebook Audience Insights gives you data about prospective clients, such as their demographics, interests, and Facebook Pages they've liked.
Use the Pillar Cluster Content Model
The Pillar Cluster Model helps with your content creation and search engine optimization strategies. It breaks down topics from a general perspective to more detailed, specific subtopics. The overview content is called the pillar content, and the subtopics are called clusters.
Below is an example of what a family law content strategy might look like using this model:
By doing this, you are ensuring that:
Your content is optimized for SEO
You are building internal links
Your website visitors can easily find what they're looking for
You cover all possible topics
What Kind of Content Should Attorneys Create?
Once you've identified the content needs of your audience, the next thing to decide on is the types of content you will use.
Practice Area Pages
Practice area pages talk about your law practice in detail and how you can help new clients.
Here's an example of practice area pages for the personal injury website of one of our clients, Chadwick Meyers.
Clicking on "Brain Injury" brings up the Brain Injury page:
Practice pages help convince potential clients that you're the best in your legal practice, which persuades them to take action and possibly become new clients.
Legal Blog Posts
Blog posts can either be short-form or long-form written content published regularly and are created as a part of a business's digital marketing strategy. If your law firm lacks dedicated blog writers, you can hire a digital marketing agency specializing in content writing for lawyers.
Below is the blog page of one of our clients, Hipskind & McAninch, a personal injury law firm based in Illinois.
Blogging is one of the most effective ways to carry out your content marketing plan. It earns your audience's trust, establishes your expertise, boosts your SEO, and increases your website's domain authority.
YouTube Videos
More and more people are consuming videos than written content. Incorporating video marketing for lawyers into your marketing efforts is a smart choice.
Starting a YouTube channel for your law firm can help you diversify your content types and widen your audience reach.
You can record many video types, such as tutorials, explainers, and FAQs. Posting videos on YouTube helps with your SEO and making a deeper connection with your audience.
Divorce lawyer Terri Herron's YouTube channel is a prime example of using videos to build brand awareness and generate leads.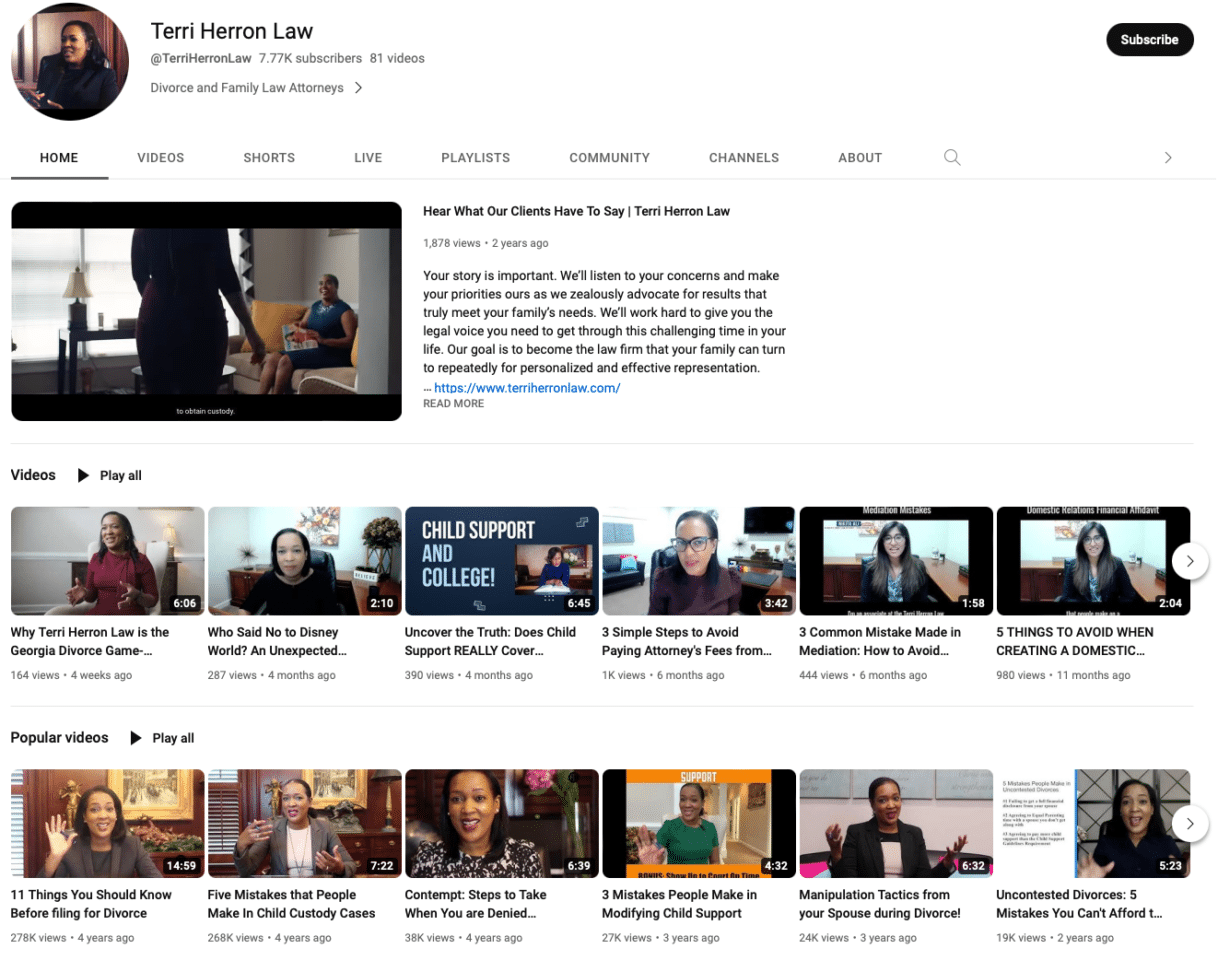 Create a Content Calendar to Maintain Publishing Consistency
A content calendar is important so you always have new content published regularly. You can use a simple calendar app to create your content calendar or use project management tools like Asana and Notion.
Either way, a content calendar helps you implement your content strategy daily, keeping you on track to meet your goals.
Content calendars can also include social media posts and anything you plan to publish online.
Here's an example of a content calendar made with a free template from Notion:
Optimize (Most) Website Content for Search Engines
Most potential clients start looking for lawyers using Google's search engine. It makes sense to optimize your content for Google's search algorithm to reap long-term benefits.
In a nutshell, content optimization means you:
Conduct keyword research
Create content to address people's queries
Optimize other elements of your content (headings, title tags, meta descriptions, etc.)
Using keyword research tools like SurferSEO and Ahrefs is crucial to gather this data. Without these tools, you won't have the needed information to identify the right keywords and use them in your content.
It would also help to study and check how Google ranks pages to understand how to further optimize and improve your content.
Promote Your Law Firm Content
It's not enough to publish content. You also have to promote it so it gets seen. Here are ways to make sure your content has an online presence.
Social Media Marketing
Promoting new content on your social media channels is part of your law firm's strong social media strategy. Make it a habit to share your latest article, blog post, or video on all your social media pages. You can even incorporate and schedule social media posts along with publishing your content.
People following you on social media will likely check out what you share, so don't miss the opportunity to get more views for your content.
Build Backlinks
Backlinks are one of the factors that tell Google your site can be trusted. When other reputable sites link back to your content, this high-quality backlink helps your site rank higher in search engine results pages (SERPs). This is why you need a link building strategy for your law firm.
There are several steps to take when implementing a link-building campaign, but it's well worth your time. The top page on Google has an average of 3.8x more backlinks than pages in the 2nd to 10th spots.
Measure Your Conversions From Your Efforts
Tracking and measuring the results of your content marketing campaigns is key to their success. You need to know which types of content resonate with your audience and which don't.
For this, you can use Google Analytics. Set up your Google Analytics account and connect it with your law firm's website to get started.
Your Analytics dashboard will then show you your website views and other important metrics like your top pages, engagement rate, conversion rate, and traffic source.
Focus on metrics that let you know about website visitor behavior and make your action plans according to the data gathered.
Keep "Refreshing" Your Existing Content
As in any industry, nothing is set in stone. Keep your content up-to-date for your law firm website to stay relevant. Take time to check all your past content and update them if necessary.
When conducting a content audit, you might want to look for the following:
Incomplete content – This can be anything you feel lacks depth and can use more information to be more valuable
Content that's not optimized – Sometimes, there are missed opportunities to add relevant keywords to a content
Irrelevant content – Any piece of content that is no longer applicable today needs an immediate refresh
By keeping your content fresh, you stay ahead of the competition and keep your audience engaged.
Consider Hiring a Legal Content Writer or an SEO Agency
Publishing content is one of the best marketing strategies to build a web presence and get new clients. However, content creation takes time and effort, which law firms rarely have. Most of the time, lawyers are so busy with their day-to-day tasks that writing content can take a back seat.
On The Map Marketing can help with legal content writing services so law firms can focus on serving their clients. Contact us today to get a quote.
Kim Barloso writes different types of content that helps businesses and brands establish their online presence. Before venturing into writing ten years ago, she was a communications trainer for customer support companies. These days, she keeps herself busy with writing and catching up on true crime documentaries.