To ensure a consistent cash flow, law firms need billable work rolling in from new clients every month. Let's take a look at establishing lead generation for lawyers processes so that your practice gets a reliable number of high-quality prospects every month.
As law firm marketing experts, we first hand see attorneys struggle at the lead generation game. Low utilization rate is an industry-wide problem. At 31% in 2021, lawyers continue to get distracted with non-billable work. Billable client work adds up to merely 2.5 hours in an 8-hour workday.
To get a consistent stream of high-quality legal leads, you need to map the buying journey of your prospective client (or a lead) from the first touchpoint to buying from you. Then build a lead generation process around it and consistently optimize the pipeline to smoothen the prospect's journey.
Table of Contents
Let's briefly look at the tactics of lead generation for lawyers and the frequently asked questions around attorney leads. Later, we'll cover each of these law firm marketing tips in detail.
How to Generate Leads for Your Law Firm
Develop a robust law firm website
Run PPC ads
Start law firm SEO for your firm
Offer free consultations
Get word of mouth rolling by providing stellar legal services
Conduct partner webinars
Try lead generation services
Frequently asked questions about lead generation for lawyers
What is a lead for lawyers?

A lead is any prospect who has expressed interest in your legal services. Typically it calls for this potential client to share their email or other personal contact information with you.

What is attorney lead generation?

It's the process to attract potential clients for law services. Typically it can involve various sources of driving high quality into your sales funnel, including targeted online advertising, search engine optimization, social media marketing, and the like.

How to create a lead generation process?

It's an iterative process that can involve the following steps:
Identify your ideal clients and the marketing channels they use, Invest in relevant digital marketing strategies to get exposure to potential clients, Your prospects engage on a marketing channel such as your website or social media, Your calls to action compel the prospect to take action (that's profitable for your law firm), You get in touch with them to add value (typically for free).
Once you've data on every customer's touchpoint, you can streamline the above process to improve your conversions.
Now that we've tackled the basics of lead generation let's look at five quick ways to scale it (including a bonus tip) and grow your law practice.
Invest in the development of your law firm's website
A website is equivalent to your law firm's online home, where a prospect will form first impressions about you. Clio Legal Trends 2021 report indicates significant spending on "marketing website and domain":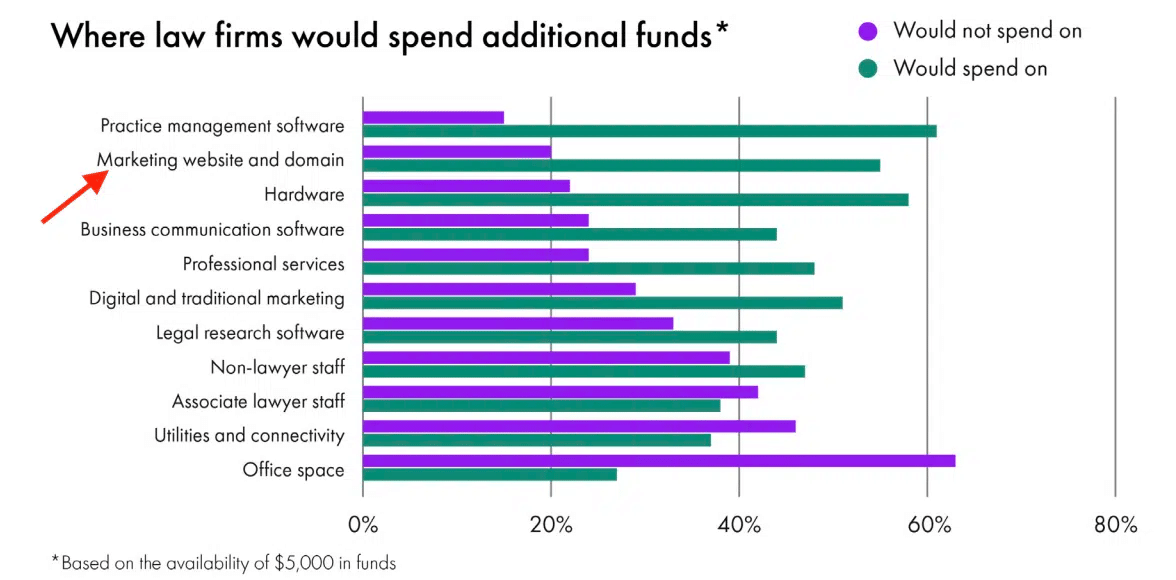 So if you feel the need to revamp the website design for your site, here are some tips:
Use a color scheme representing your brand: As soon as your website visitors land, they form perceptions about your law practice.
Your color palette has a huge role to play in these first impressions leading up to them clicking on the "get a consultation" button on your site, so choose a color scheme wisely. Huesnap is a decent tool to create your palette by uploading images or using the color wheel.
Make the site responsive: Given many visitors today will visit you from mobiles or tablets, it's important to use responsive themes that adapt to different screen sizes. If you're using WordPress as your content management system (CMS), it offers many premium themes that will work well across devices.
Ensure it's SEO-friendly: Your website's code and content should be optimized for search engines so that their crawlers can easily crawl your site and understand its content.
Again, WordPress offers out-of-the-box solutions in the form of plugins and themes for ensuring your website is loved by search engine bots. Choose your toolset wisely and ensure it's lean to ensure a fast-loading website.
Keep it interactive and engaging: Static websites will not appeal to your potential clients. You need interactive elements such as graphics, videos, and maybe even a quiz to keep the attention of your visitors.
As an agency providing premier law firm web design services, we've provided custom website development to many outdated websites. Improving your core web vital scores and engagement on the site (through redesign) not only can improve your rankings and traffic across the board — it can improve your lead generation as well!
Just one of our recent website redesign SEO projects, we improved the leads from 95 (in November and December):
To 141 in Jan and Feb:
Get instant traction with PPC advertising
Once you have a responsive website ready for your law firm, the quickest way to start lead generation is through online advertising. Google Ads are an instant ticket to the top of Google search results, bypassing — in some cases — millions of other websites competing for important keywords in your locality.
There's one major challenge of generating leads In the legal industry through Google's pay per click advertising, though — a high cost per click (CPC). You may need to pay even between $500 to $1000 for a click for super competitive keywords:
That's why our law firm PPC services are based on finding keywords with relatively less competition that still indicate prospects with a buying intent.
Here are some additional tips for PPC advertising for law firms:
Create custom landing pages: To improve your lead quality and conversion rates, you can create a custom landing page for every campaign that follows the promise you made in the ad.
Test and optimize your campaigns: Measure and analyze each step of the campaign, including the keywords, ads (copy and creative), the landing page design, CTR, CPC, and the like.
You can also append UTM parameters to your landing page's URL for a more granular understanding of the conversions. Here's Google's guide on them:
Start the search engine optimization flywheel for your law firm
Law firm SEO is one of the most lucrative lead generation tactics because its results compound with time. For one of our clients, Stroleny Law, we achieved a 4175% increase in monthly leads in 10 months:
Indeed in our decade of experience offering law firm SEO, we have delivered results via:
Getting your law firm's website to the top of organic search results just works. It lends you more of those high-quality leads looking for your legal services right now.
The only problem?
SEO can take six months or even more before you see those search engine rankings for your site pick up.
Here are some law firm SEO tips to get started:
Plug your site inside an SEO tool like Ahrefs and find your low-hanging fruit opportunities — the pages on your site that rank on page 2. For these pages, either content optimization, link building for law firms, or technical SEO improvements can push your website rankings to the first page.
Do you find multiple opportunities?
Then choose the keywords (or pages associated with them) related to your primary law practice area or primary business location.
If you want to invest more resources and time in SEO, conduct a thorough competitor analysis using tools such as Ahrefs and Google PageSpeed Insights. The goal is to find how you stack against the competition in terms of content, links, and overall website performance.
Find your website lacks a sufficient amount of quality content? Then conduct keyword research targeting prospective clients across the complete marketing funnel.
Top-ranking websites tend to have hubs of content around their practice areas. For instance, here's one of our clients:
Every page you write should also be optimized for its targeted keyword by studying the top spots on the search results page. Taking help from a tool like Surfer SEO can ensure stellar on page SEO. We do all of our optimizations based on its suggestions:
Is your website's authority relatively low? Then identify websites you can build links from through a backlink gap analysis. Here's an example of what it might look like:
If you find your website is slow and doesn't work well across devices, invest in an out-of-the-box solution like premium WordPress themes. However, you'll need to hire a website developer for advanced customizations.
Work on the aspects of your website related to SEO that remain underserved.
Offer a free consultation
Most of your website traffic won't buy from you on their first visit. Instead of letting your visitors bounce, you can build a relationship with them by adding value upfront.
How do you go about the same?
By showing them a free preview of your legal expertise through a free consultation. For instance, here's a car accident law firm in Los Angeles offering to "schedule free consultation":
And here's the information they are asking from a prospect for the same:
Given that you're asking for detailed info from the visitor, you'll get an understanding of the lead quality.
There's another way to give free value to your website visitors. It's by showing your legal expertise in an Ebook, webinar, checklist, or another similar "lead magnet." In exchange, typically, you can ask for the prospect's contact information, but that's not essential.
For instance, here's a personal injury law firm, Murphy & Prachthauser, that answers key questions of their prospective clients on how to prepare for a legal case after meeting an accident:
After getting this free and valuable help, the reader is more likely to contact Murphy & Prachthauser. Especially given that the firm places a regular call to action (CTA) for their free consultation throughout the Ebook, and at the end of it: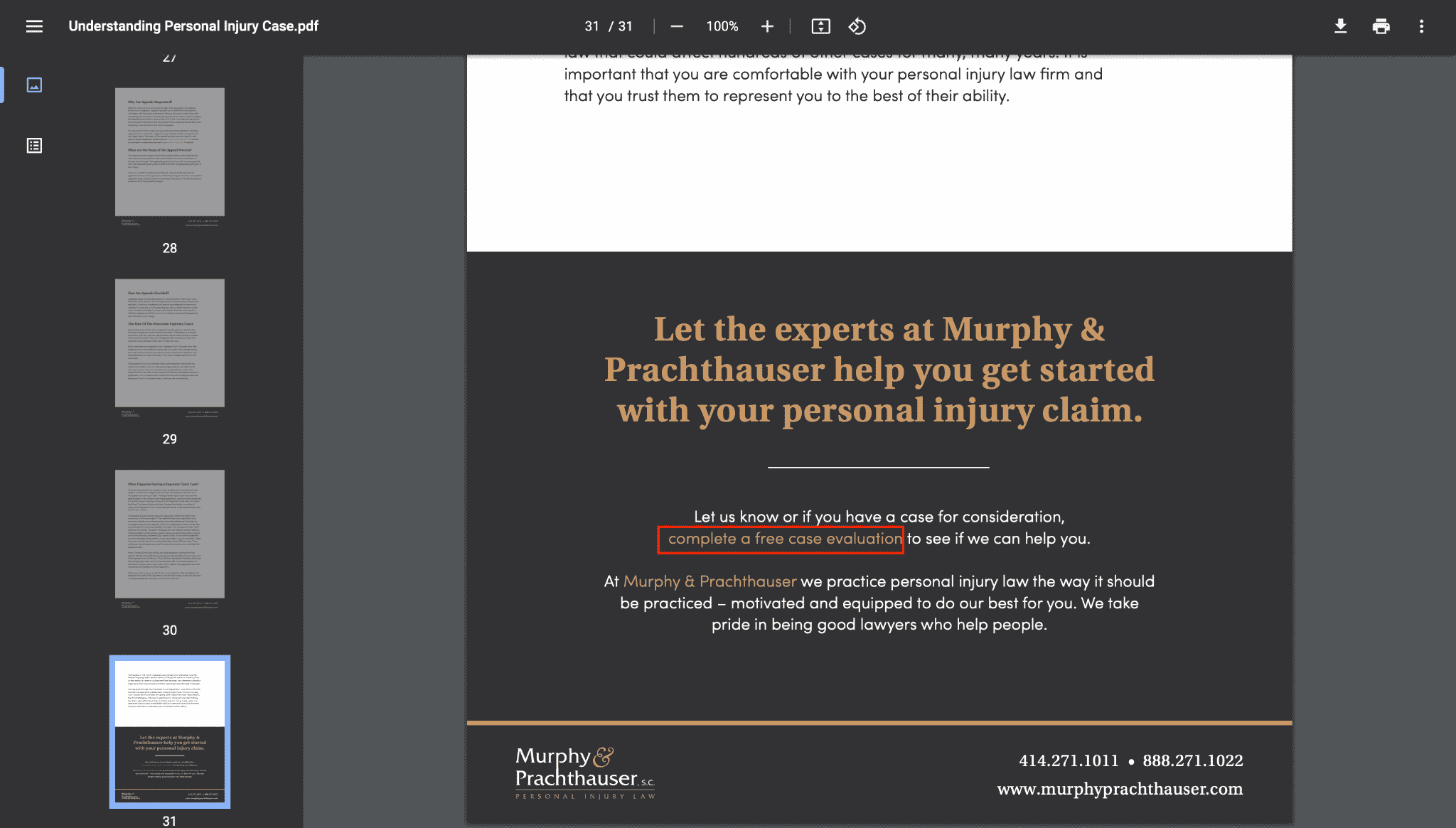 Now how do you generate leads through your free consultation?
Well, you can put up forms in the right sidebar of your blog.
You can create dedicated "free consultation" landing pages for your law practice and drive traffic to them via SEO and PPC. Depending on your law practice, social media may also get some traction. One of our law firm website design clients, Henningsen Injury Attorneys, PC, offer a free consultation on their homepage:
Provide stellar legal services and get word of mouth rolling for you
Nothing beats good old word-of-mouth marketing for service businesses. Indeed traditionally, attorneys have relied on building a reputation at the courthouse and referrals from existing clients for acquiring leads.
The best aspect of word of mouth?
Ones coming from your ideal clients will be super high quality.
For this lead generation tactic, you need to provide high-quality legal services. While this is a no-brainer, you might have a lot on their plate.
Marketing, design, and non-client activities can eat a significant amount of your time, thereby affecting your legal services.
So outsource all the activities that don't make business sense to invest your time in. The 2020 Websites & Marketing American Bar Association (ABA) report found that tasks related to site design (36%), search engine optimization (27%), and social media (24%) are likely to be handled by external marketing consultants (like On The Map Marketing).
Get more reviews to improve your presence in local search results
Lawyer reviews are the number one way prospective clients judge their quality of services. They are treated almost as "personal recommendations" by consumers.
​​
So once you've clients that have a positive experience with you (by providing stellar services), encourage them to leave a review on your Google Business Profile and other legal directories (where you have a presence). Online reviews are important for your local rankings and overall local SEO for attorneys.
Bonus: Share your legal knowledge on partner webinars
If you like speaking and leveraging event marketing, you can partner with organizations having similar audiences online to conduct webinars.
For example, Jared Correia (a family law firm owner) partnered with Clio, a legal software company, to conduct webinars. His legal expertise is now available in a recorded session which anyone can watch by submitting their contact information.
Besides getting a relevant backlink from Clio's landing page for the webinar's recording, the session builds Mr. Jared's brand. Expanding his network could generate lawyer leads for him.
In the next section, let's look at lead generation companies that can diversify your overall lead gen.
4 pay-per-lead generation services you can try
There are various kinds of lead generation companies in the market that you can try to bring in new cases for you. Some of them are known brands, others are directories, and the rest are obscure lead generation services providers.
Before you begin working with any, get clarity on if they provide "exclusive leads", else you'll end up competing with other law firms. Also, do your due diligence before moving forward with any of these. With that said, here are four companies you can try to get more leads directly.
1. Avvo
Claiming to make 650k contacts between potential clients and attorneys on their platform each month, Avvo offers advertising services you can try. It can help you appear at the top of lawyer directory pages, among other types of exposure. Here's how their pricing plans work:

2. Unbundled Attorney
If you offer limited scope legal services at a fixed fee (also known as unbundled legal services), then this pay-per-lead service is for you. They claim to provide real-time and exclusive leads directly to your inbox. No public pricing for their services is available.
But they take an educational approach in their marketing, which means their leads can have high conversion rates.
3. Google local service ads
If you want to reach prospects who tend to directly click on the first link they see when looking for legal help, then Google's local service ads (LSAs) may help.
If you're already investing in Google PPC ads, then you can allocate a small portion of your advertising budget to LSAs.
4. 4LegalLeads.com
The last lead generation service provider you can try that offers exclusive leads in real-time is 4LegalLeads. They even offer live call transfers besides delivering web leads. Their goal is to "connect people right in their moment of need", so attorneys in disciplines like personal injury have an added advantage of availing their services.
Their leads work on a rotation basis. So the first attorney in their queue receives the lead first, followed by the next, and so on. Their pricing is dependent on your law discipline, with "Auto Accidents" being $175 to $700 per lead and "civil lawsuit" being $20 per lead.
Final Thoughts
Law firms need a consistent and reliable pipeline of new leads for building a sustainable business. I have shown you a few online marketing tactics to kick off lawyer lead generation.
However, aim to streamline the multi step lead generation process generating consistent interest for your firm's services every month. Up next, read our article on personal injury leads, family law leads, or mass tort marketing for lawyers.
If all of this lead generation seems like a LOT of work, you can also hand it over to law firm marketing experts at On The Map Marketing.
Law Firm Digital Marketing in 2023: A Beginner's Guide