Best Technology Tools for Lawyers in 2023
In this digital age, you need to leverage technology and software designed to make lawyers' jobs easier. From doing legal research to onboarding law firm clients, legal software streamlines the process and saves you valuable time.
Let's look at the top legal tech tools and software in this article. Here's an overview of some that attorneys use every day.
What Legal Software Do Lawyers Use?
Lawyers use legal software that handles their day-to-day tasks, including managing clients, organizing and documenting client data around cases, researching court rulings, and processing client payments.
Managing a law firm and winning cases can not be possible without an efficient system in place and the help of productivity tools. This is why software and apps are instrumental to a law firm's service quality.
Here are some common lawyer tools used in most modern law firms today.
Law Practice Management Software
Legal case management software is an all-in-one solution for law firms to manage everything throughout the client journey, from client intake to billing and payment.
Clio
Clio is the leading software for managing law firms. It offers several pricing packages for solo, mid-size, and enterprise-level law firms, all with the needed features to streamline client experience and the case management process.
CosmoLex
CosmoLex is a CRM (Client Relationship Management) software made for law firms and lawyers. It focuses on growing a law firm's profits by saving time on day-to-day tasks. It also has a marketing feature that highlights outreach automation, which helps generate leads and increase revenue.
MyCase
MyCase is another legal practice management tool that lets law firms manage cases and clients with features that include client intake, case management, calendar, task management, e-signatures, online payments, and financial reports.
File Storage Tools
Law firms need a way to store legal documents and keep client information safe and secure. With cloud-based apps' increasing popularity, saving files on the cloud has become a common practice, even among legal professionals.
A free file storage option is Google Drive, but it does have a limited storage space of up to 15GB. Upgrading to a service called Google One increases storage capacity to 100GB.
Other file storage apps like Dropbox, Zoho Cloud, and iCloud provide free and paid options that suit your law firm's requirements.
Legal Research Tools
Legal research tools are vital to a lawyer's success in representing clients. These tools provide case law information, statuses, regulations, and secondary sources that are all needed for lawyers to do their job.
Westlaw
Westlaw is a collection of legal research tools that help lawyers and law firms cut down research time in half while providing related case information that boosts their case strategy. KeyCite, a citation feature, verifies whether a case, statute, regulation, or administrative decision has been invalidated.
FastCase
Fastcase has a notable library of case law, statutes, regulations, court rules, and legal forms. This tool provides law firms with powerful search capabilities, which include AI-driven algorithms that perform semantic search and citation analysis.
Ravel Law
Ravel Law provides a visual way of analyzing cases. In addition to a database of case law and court rulings, it offers unique services like Judge Analytics, which helps analyze judges' tendencies and ruling patterns.
Word Processors
Word Processors are essential tools for lawyers to create legal documents, including contracts. In addition to creating, editing, and formatting documents, word processors are required for printing physical copies of documents.
Microsoft Word/Microsoft 365
Microsoft Word is a part of the Microsoft 365 suite of apps often found on Windows computers. It's the go-to word processing tool for most legal professionals.
Google Docs
Google Docs is a basic word processor that is web-based, which means it stores and automatically saves files on the cloud, specifically Google Drive. It presents the advantage of updating the document and seeing changes in real time from any device.
Document Management Tools
Law firms need a system to store and organize all documents properly. Document management tools help lawyers easily file documents and find them when needed.
Clio Manage
Clio Legal Document Management tool is a feature of Clio's suite of legal management apps. This tool allows users to store unlimited files, search and find files in seconds, get e-signatures, and access files from anywhere on any device.
LexWorkplace
LexWorkplace provides cloud-based document management features with legal professionals in mind. In addition to organizing and collaborating on documents, LexWorkplace also allows email management and integration with Office 365, Adobe Acrobat, and Clio Manage.
iManage
iManage is a popular document management tool for lawyers. It helps law firms organize documents and emails by project, client, or legal matter.
Scanner Tools
Turning physical documents into digital copies is common in the legal profession, so scanners are essential for this task. Scanner apps installed in a smartphone with a camera are becoming a more efficient and modern alternative to physical scanners.
Scannable by Evernote
Scannable is a mobile app for iPhone and iPad to turn paper copies into high-quality scanned documents quickly. Scanned copies can be emailed or saved as PDF or JPG files.
CamScanner
CamScanner is available for Android, iOS, and the web and has basic and advanced scanning capabilities that fit the demands of managing legal documents and collaborating with partners and clients. CamScanner also offers text recognition, PDF file editing, and wireless printing.
e-Signature Tools
e-Signature tools allow law firms to get urgent documents signed in seconds. E-signatures help speed up legal processes and help law firms provide a great client experience.
DocuSign
DocuSign is a premium e-Signature app that goes beyond the basic features. In addition to intuitive and secure document signing, it also features dynamic document generation, collaboration with comments, and shared templates.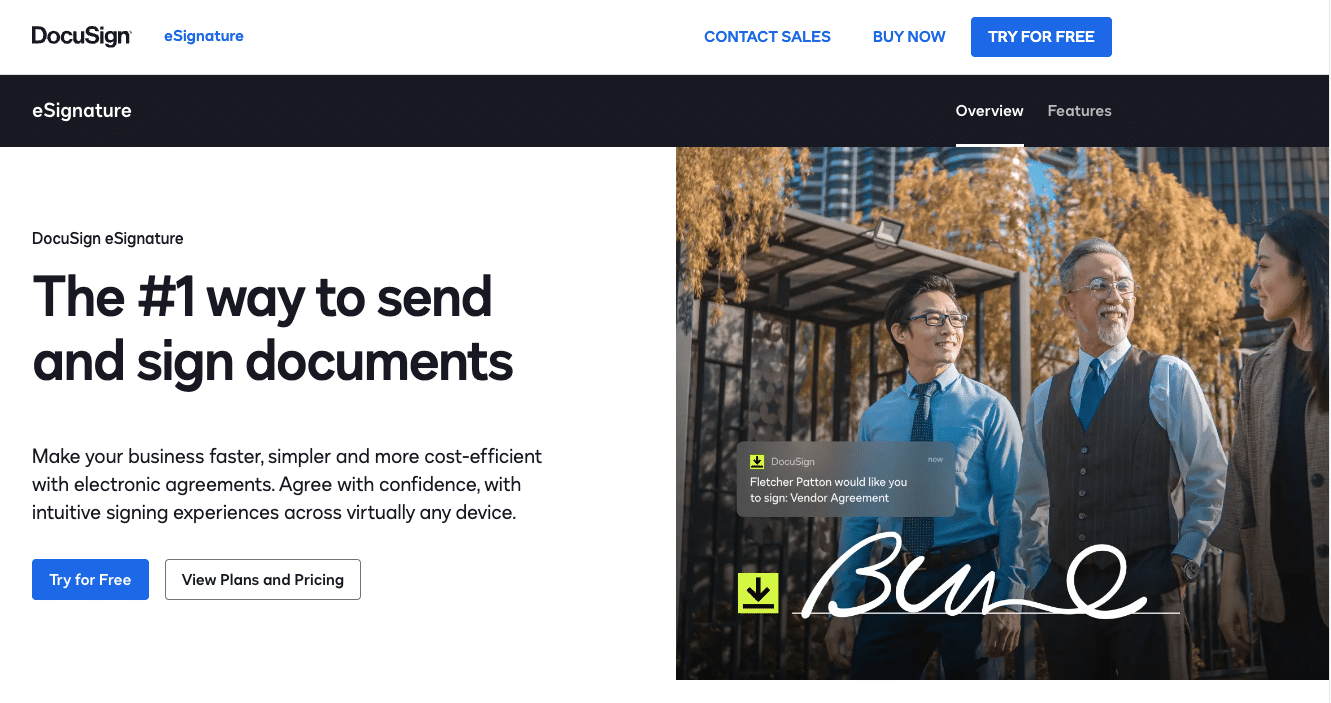 Adobe Acrobat
Adobe Acrobat's Fill & Sign feature allows getting e-signatures for documents using the free Adobe Acrobat version. A premium Adobe Sign subscription upgrades basic functions to creating and sharing templates, integrating with Microsoft 365, and protecting passwords.
DropboxSign
DropboxSign, formerly HelloSign, is another e-Signature tool that helps businesses close agreements. With this tool, users can embed e-Signatures in their website or app. It also has more advanced ways to collect signatures with a customizable signature editor, signer permissions, and email notifications once documents are signed.
VOIP Phone Provider
Voice over Internet Protocol (VOIP) technology enables calls between two parties using a broadband internet connection instead of an analog phone line. VOIP technology is a common communication tool used by the legal industry to provide customer service.
Vonage
Vonage is a popular VOIP phone provider that offers a wide suite of communication solutions, including video, voice, messaging (SMS, MMS, Facebook Messenger, Viber, and WhatsApp), and conversational AI (artificial intelligence) technology.
RingCentral
With flexible communication solutions, RingCentral allows client-facing businesses like law firms to maintain an open line of communication with clients on the channel of their choice. The service will enable users to use one phone number with automatic routing capability to serve clients according to their concerns.
GoToConnect
In addition to your law firm's communication with clients, GoToConnect tracks billable hours in phone calls, meetings, and messages. The app also integrates with Microsoft Teams, Clio, and LawGro.
Receptionist Service Tools
Receptionists are the front liners of law firms and can make or break the client experience. These days, virtual receptionists, albeit in digital form, serve the same purpose. Virtual receptionist services provide human-backed conversations to your clients in digital channels like websites and live chats.
Ruby Receptionists
Ruby's receptionists can take messages, screen, transfer calls, and confirm or cancel appointments for law firms. They also help website visitors stay engaged with live chat windows that provide answers to questions within 60 seconds.
LEXReception
LEXReception is a 24/7 call-answering service made specifically for law firms. This service provides intake scripts, outbound calls, and taking messages. Receptionists have significant legal experience and are trained to answer legal queries.
Billing Solution Tools
Making payment requests and getting paid should be a simple process for you and your clients. Billing solutions apps for law firms are vital to a satisfactory client experience.
Clio
Clio offers a time and billing solution as part of its legal management software. It allows law firms to time-track billable hours, track expenses, send invoices, and process payments within one central dashboard.
TimeSolv
TimeSolv is a user-friendly billing software with features built for solo lawyers to enterprise law firms. It includes time and expense tracking, batch invoicing, integration with Quickbooks or Xero, and financial reports.
Rocket Matter
Rocket Matter is a legal management software with time tracking and billing features. Similar to Clio and TimeSolv, it supports batch billing, automated billing, and recurring payments and syncing with accounting apps like Quickbooks.
e-Discovery Tools
Law firms need an efficient way to search a digital law library and analyze legal data. For this purpose, law firms use e-discovery tools. These apps are designed to help members of a legal team sort large volumes of data involving legal cases.
Relativity
Relativity is one of the most popular legal research tools that provide a safe and efficient way for legal professionals to search, analyze, and review documents. It uses AI capabilities for faster search, automated workflows, and a user-friendly interface.
Veritas
Veritas platform handles a vast database businesses use for e-discovery and compliance. In addition to data collection and search, it has a Legal Hold Management feature that ensures existing legal information is not deleted or changed. It also allows for data audits and compliance reports to provide law firms meet regulatory requirements.
Logikcull
Logikcull is a cloud-based e-discovery tool for legal services that automates the e-discovery process from end to end. It uses cutting-edge legal technology to cut search time, automatically categorizing data into predefined search filters.
Video Conferencing Software
Video conferencing software like Zoom, Legaler, and Google Chat, provides basic and advanced features for law firms to conduct video conference calls with clients and team members.
Most essential features needed for video conferencing include:
Real-time video meetings
Screen sharing
Meeting recording
Chat and instant messaging
Breakout rooms
Calendar integration
End-to-end encryption
Client Portal Tools
Client portal tools help give clients access to their cases. These apps, also called Customer Relationship Management (CRM) apps, enable law firms to provide new clients with a portal they can log into to get instant updates on their cases. Some popular CRM for lawyers include:
CRM business tools help law firms provide customer service to their clients by letting them view and collaborate on documents, send messages to their lawyers, track the status of their cases, and schedule appointments.
Generative AI Software Tools
Despite many fears, the use of generative AI software for lawyers and law firms is now ongoing. If law firms wish to stay relevant and ahead of the competition, there is an opportunity to leverage AI to provide quality legal services to clients. An example would be Casetext, an AI legal assistant app for legal professionals.
A recent survey revealed that more than half (51%) of lawyers participating believed that ChatGPT and generative AI apps should be used for legal work. There is also a growing conversation around AI among the legal community, signifying its emerging relevance in the industry.
When used with diligence and caution, AI and ChatGPT can improve your law firm's workflows and help you achieve growth while serving clients with efficiency.
Legal Marketing and Analytics Software
Tracking the performance of your law firm's digital marketing campaigns is key to getting better results. Analytics software like TrackRight, Ahrefs, Surfer, and Google Analytics can help you plan, track, and analyze your marketing efforts that are paying off.
Conclusion
With new tech revolutionizing everyday workflow, law firms need to keep up or get left behind. If you want your law firm to be efficient, client-focused, and future-proof, you must invest in legal management software that suits your law firm's needs.
Need help to grow your law firm? Contact us and share your goals. We offer a free audit for firms we have a mutual fit with.
Kim Barloso writes different types of content that helps businesses and brands establish their online presence. Before venturing into writing ten years ago, she was a communications trainer for customer support companies. These days, she keeps herself busy with writing and catching up on true crime documentaries.