Personal Injury Lead Generation: Guide (With Best Companies)
To run a successful law firm, you need a steady stream of high-quality personal injury leads. Whether you're just starting out or have an established injury firm, here's how to find the right prospects.
N.B. We do not sell personal injury leads, rather we help you establish your authority in the market, so you can generate qualified leads consistently.
What is a Qualified Personal Injury Lead?
A qualified personal injury lead is a potential client who has expressed interest in your legal representation for their personal injury claim.
These leads meet your specific criteria indicating your case's viability, and they often provide essential details, such as injury type, accident circumstances, and contact information, making them valuable prospects for your law firm.
How Much Do Personal Injury Leads Cost?
Depending on the provider, It typically varies from $100 to $350 or more per lead.
Factors that affect buying PI leads can be exclusivity–whether that lead is being shared with multiple law firms or just yours, geographical area, and lead type. For instance, a dog bite lead will be less valuable than a truck accident lead.
Personal Injury Lead Types
Let's explore the various types of personal injury leads.
Personal Injury Auto Accident Leads
These leads cater to attorneys representing injured individuals involved in car crashes. They offer a predictable business for lawyers because car wrecks are one of the most common injury claim types.
Personal Injury Boating Accident Leads
These leads pertain to accidents occurring in regions abundant with lakes or coastal areas.
Thousands of accidents, fatalities, and injuries occur often due to inexperienced operators, alcohol involvement, and lack of attention. Speed and control issues also contribute to accidents, making these leads relevant for personal injury attorneys.
Personal Injury Motorcycle Leads
These leads are prospects seeking legal representation after motorcycle accidents, which often involve unique injuries, particularly mild to severe head injuries.
Personal Injury Dog Bite Leads
These leads are the prospects who have suffered injuries from dog attacks. They involve legal theories like strict liability, holding certain dog breeds inherently dangerous, and dangerous propensity claims, imposing liability on owners aware of their dog's aggressive tendencies.
Personal Injury Slip and Fall Leads
These leads involve premises liability claims against negligent property owners for injuries caused due to poor maintenance.
Liability extends to commercial and residential owners to pay the medical expenses for potential damages, lost wages, and pain and suffering. State and federal laws may apply.
Personal Injury Wrongful Death Leads
These leads involve civil claims by family members for a person's death caused by others.
Such cases may arise from car accidents, medical malpractice, or defective products. You have to get claimants compensation for lost companionship, wages, and funeral expenses.
Personal Injury Intentional Tort Leads
These leads involve individuals intentionally harmed by another party.
These cases can be related to assault, fraud, or defamation, where you represent the victim to pursue civil liability against the perpetrator.
General Personal Injury Negligence Leads
These leads seek legal representation for injury claims resulting from negligence. These cases usually happen where a duty of care was breached, causing harm.
5 Best Personal Injury Lead Generation Companies
Here are the top-rated companies specializing in generating leads for personal injury cases.
On The Map Marketing
On The Map Marketing helps injury law firms generate leads via digital marketing. We've helped numerous personal injury attorneys establish a strong lead gen via SEO, PPC, etc.
Avvo
It's one of the largest websites in the legal industry that attracts 8 million monthly visitors by offering a free legal Q&A service, attorney directory, and lawyer reviews.
With over 650,000 monthly contacts between prospective clients and attorneys, you can get your profile listed here. The pricing starts from zero for a basic profile to premium plans up to $200/month.
Nolo
With over 100,000 visitors seeking legal information from Nolo, they attract potential clients from various practice areas.
Pricing varies by location, estimated between $20 to $100+ per lead for personal injury lawyers, depending on the extent of injuries.
Lawyers.com
With a vast database of over 1 million lawyer and law firm profiles, this platform serves as an extensive information center, encompassing Q&A for consumers and lawyer reviews.
Pricing for a premium profile listing on Lawyers.com is not publicly mentioned. But, as per an estimation, you can obtain personal injury leads from here also ranging from $20 to $100+ based on the severity of injuries.
FindLaw
They provide a range of marketing services for attorneys, profile listings, and leads. You can get a premium lawyer profile on FindLaw for $125/mo.
The cost per lead would be similar to what other lead gen companies offer.
Preparing Your Personal Injury Website Before Buying Leads
If you want a maximum return on your investment, this step is a must for you.
Have a Well-Established System to Measure Your Acquisition Expenses
Before launching a marketing campaign, you need to have a system in place to track your Return on Investment for your law firm's success.
Having separate phone numbers and landing pages for different companies' redirects can help you evaluate each lead generation source's effectiveness.You can track data like cases signed, cost per case, and overall ROI to make informed decisions and optimize your marketing efforts.
Have a Proper Lead Nurturing and Onboarding System in Place
When partnering with personal injury lead generation companies, you pay per lead rather than per new case.
That's why efficiently converting these leads becomes crucial to avoid wasting your investment.
For starters, make sure that your website is highly accessible and leads can find their way to the right information–testimonials, case studies, consultation forms, etc., within seconds.
Besides that, ask yourself do you respond promptly, persistently follow up, qualify leads effectively, and use persuasive salesmanship to secure clients? Because if not, lead buying may not be suitable.
Have a System in Place to Handle Substantial Lead Follow-Ups
Acquiring personal injury leads is a numbers game, where you might need around 10 leads to secure a single case.
So, make sure that you have adequate support staff for efficient follow-up, qualification, and engagement with leads. Although most leads won't convert, treating each one with potential is crucial to land any successful cases.
Be Open to Handling Diverse Case Types
Are you willing to take different types of claims including low-value ones? Because if your focus is solely on obtaining high-value serious injury or wrongful death cases, lead generation companies may not always meet your expectations.
While occasional high-value leads are possible, most leads tend to be moderate injury claims.
If you want to focus on a particular type or narrow range of leads, investing in your marketing to qualify them beforehand would be a better fit for you.
Check Your Geographical Market Size Before Investing
In California, Texas, Florida, or other such big cities personal injury lead competition is high, but case abundance is also significant. However, in smaller markets like Rhode Island or Wyoming, lead volume is low, and no lead generation company can ensure consistent, quality leads.
So, if your market is smaller, consider owning your lead generation sources than relying on external rentals.
6 Questions to Ask Personal Injury Lead Generation Provider
Knowing which questions to ask is crucial, as it helps you accurately gauge the value of personal injury leads these companies will provide. Here are some of the essential questions to include in your.evaluation process.
Are Your Personal Injury Leads for Attorneys Exclusive?
Knowing this is crucial because non-exclusive leads may result in multiple firms contacting the same lead, which may result in you potentially losing out on valuable cases.
How Do You Generate Personal Injury Leads?
Understanding how a marketing agency generates personal injury leads—via, digital advertising, content marketing, SEO, and partnerships—helps you assess their expertise and suitability for acquiring potential clients.
How Are Your Personal Injury Leads Delivered?
Clear communication on delivery methods helps you assess lead availability and response time.
Make sure they offer a prompt and efficient delivery so that you can timely follow up with prospects and increase your chances of securing cases.
What kind of personal injury leads do you offer?
You need to know what types of personal injury leads—auto accidents, medical malpractice, slip and fall, or more—they offer to ensure they align with your practice's specialization. That way, you receive relevant and valuable prospects for your law firm.
Which Injury Law Firms Have You Helped Before?
It's a no-brainer, you need to know their experience and track record.
This information helps you assess the agency's success in generating leads for similar practices as yours, ensuring they can deliver the right leads.
What Is the Average Conversion Rate for Your Personal Injury Leads?
It reflects the marketing agency's effectiveness in generating quality prospects.
A higher conversion rate indicates better lead quality, increasing the likelihood of acquiring valuable cases for lawyers and law firms.
Lead Generation Services For Lawyers Vs. Personal Injury Attorney Marketing
Which one should you go for?
There's no right or wrong answer to it. It totally depends on your needs. Let's do the pros and cons for each of them so you can choose the best method for yourself.
Pros of Lead Generation
Buying personal injury leads from a company yields quicker results compared to developing your marketing strategy.
If you buy from quality lead generation companies, they can provide you with higher lead volumes, especially in the initial stages of your practice.
Purchasing leads simplifies the decision-making process for you, unlike investing in branding and marketing efforts, where you'll need extensive stakeholder involvement.
Cons of Lead Generation
Most personal injury lead services charge for unqualified leads, resulting in you paying for a majority of bad leads.
Interacting with leads unfamiliar with your firm requires introducing your brand and value propositions from scratch. So, you might need solid results or invest in building your brand reputation to build trust with them in minimum time.
Buying leads offers limited revenue potential, unlike investing in marketing assets that provide lasting returns, where you'll benefit beyond individual clients.
Pros of Investing in Marketing
Investing in marketing provides long-term and residual value because you own the assets you generate.
When done effectively, it streamlines the client acquisition process for you, so you can easily convert leads in a short time.
Diversified marketing strategies lessen the dependency on a single lead source that minimizes the risk of limiting business opportunities for you.
Cons of Investing in Marketing
Marketing takes time; results aren't instant like buying leads. Because organic methods like SEO and content marketing require patience and investment.
As the face of your firm, providing insights and feedback to the marketing agency you choose, you'll need to actively participate in it.
The outcomes will not be fully predictable. Your marketing success depends on the strategic competence and execution quality of your marketing provider. So we can say, increased spending doesn't guarantee more business.
Paid vs. Organic Personal Injury Lead Generation Channels
Using paid channels, such as online advertising or lead buying can get you immediate results and targeted exposure. But you'll need a proper budget for it. While organic channels, like search engine optimization and content marketing, yield long-term benefits with higher trust levels. But they demand heavy time investment and effort.
The sweet spot would be a balanced approach, combining both strategies to ensure a steady stream of quality leads.
How To Get Quality Personal Injury Leads Via Personal Injury Digital Marketing
Knowing which method to go with, you should also be able to understand how it's done. We already talked about where you can buy leads directly. Let's see how you can generate them through your website.
Optimize Your Website For Lawyer SEO
Begin with having a lawyer website optimized for SEO. It's a strategic approach to generate leads, but obviously not as simple as adding a CTA button on your homepage and expecting results.
You'll need to drive traffic to your website using the right SEO methods–on-page SEO, off-page SEO, technical SEO, and local SEO. Plus, use optimized content on your website and have CTAs and forms in proper positions for better conversions.
Leverage PPC Ads
Pay Per Click ads drive instant traffic and leads to your website by paying for clicks on sponsored links on Google.
However, you'll need to ensure that you have proper URL tracking, segment campaigns, target relevant keywords for better blog topics, and pre-qualify visitors with ad copy to avoid junk leads and measure the performance of your ads.
Alternatively, for the best lawyer PPC strategies, take help from experts.
Publish and Promote Blog Posts Around Your Audience's Pain Points
It can build trust and attract relevant leads for your personal injury practice. This is the exact method that all the big companies we mentioned a while ago like Avvo, FindLaw, and Lawyers.com use to get the traffic and leads that they sell to you.
When you address your target audience's needs, it directly positions you as an authority in your field, driving quality leads to your practice areas. Here are some blog post topics you can consider.
Create a Holistic Content Marketing Strategy
To get proper results from the content you create whether that's for your blog, social posts, emails, or videos, you need a content marketing strategy. It ensures you have a clear direction and know the expected outcomes for successful lead generation.
Overall, it includes outlining audience determination, goal establishment, content audit, editorial plan, content creation, and continuous performance analysis.
Offer Free Consultations to Get More Personal Injury Cases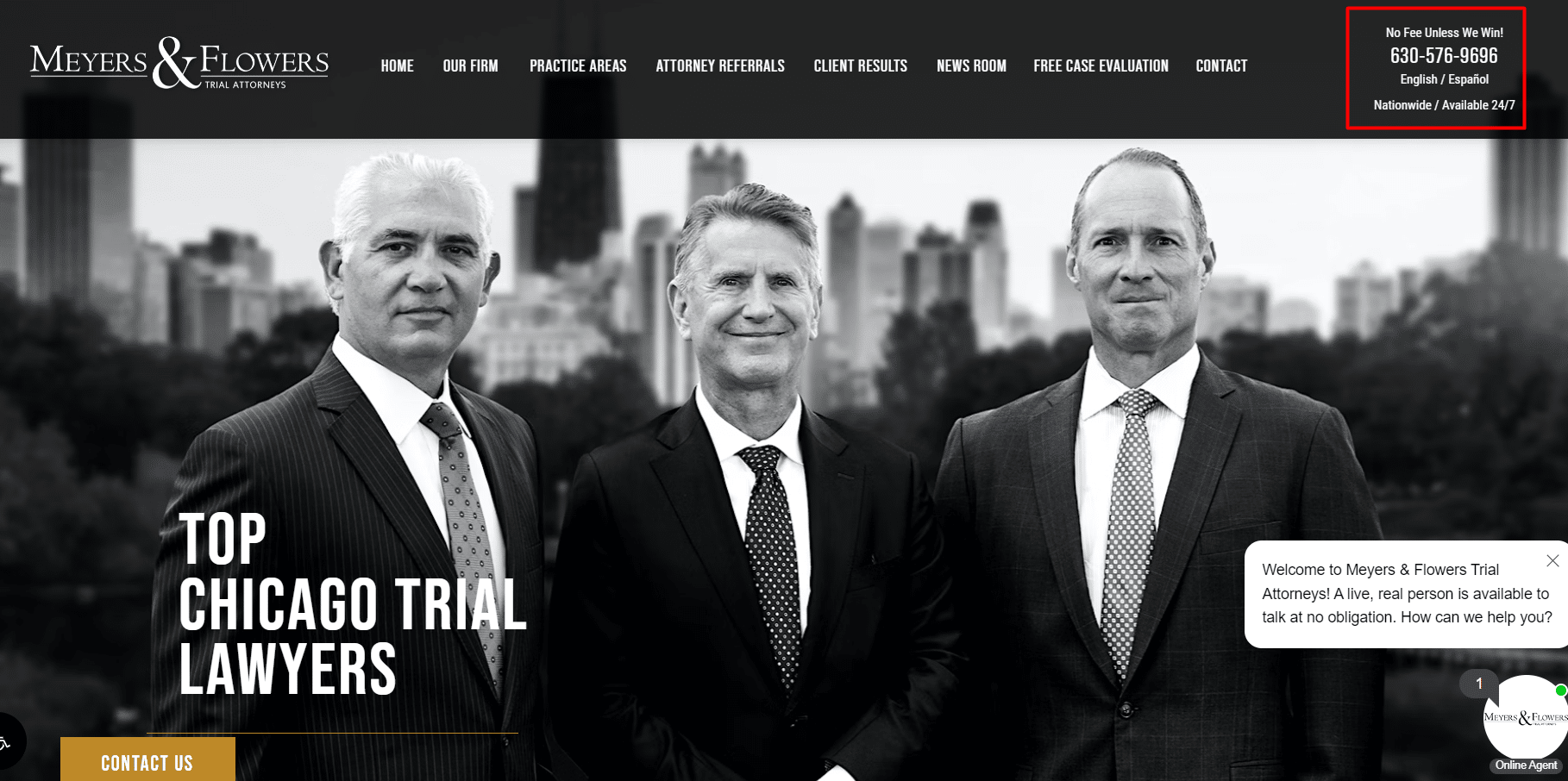 Offering free consultations can help you attract more personal injury cases.
Providing this service demonstrates your commitment to prospects, building trust and credibility. Plus, it allows you to establish a personal connection with them, understand their needs, and showcase your expertise.
It fosters a sense of comfort and confidence in them, increasing their likelihood of choosing your services over competitors.
Get More Customer Reviews to Generate Leads
Getting more customer reviews is also an effective lead generation approach, as online reviews heavily influence people's decisions.
To get these in place, you'll need to claim and update your profiles on business listings and directories like Google Business Profile, Avvo, Lawyers.com, or FindLaw. Plus, encourage your satisfied clients to share reviews there.
Formulate a Social Media Marketing Strategy to Attract Prospective Clients
I don't need to emphasize what power social media holds today.
Having a well-structured social media marketing plan can help you attract the attention of your prospects and boost your brand awareness.
But you don't need to have an online presence on every social platform. Begin by choosing the one your prospects use the most, optimize your profile on it, and schedule the posts that resonate with them strategically.
For better results, create clickable content, showcase your client reviews, and develop special landing pages for accurate campaign tracking. This comprehensive approach ensures effective lead generation and enables measuring social media-driven website traffic.
Hiring a Digital Marketing Agency
While you can tackle digital marketing for your lawyer website alone, experts can save you time and costs on trial and error. With their assistance, you can focus on providing exceptional services while generating qualified leads on autopilot.
So, let the professionals handle the intricacies of online marketing, ensuring effective strategies and consistent lead flow for your law practice.
Contact us today to get more leads for your personal injury law firms.
Sadaf Tanzeem is a B2B SaaS and Marketing writer. She collaborates with overwhelmed content marketers and business owners to take the burden of content development off your shoulders.