Website Redesign SEO: Checklist to Get +48.93% Leads
Redesigning or migrating a website is a complex endeavor.
Guess what can complicate it further?
A broken redesign SEO strategy.
If you fumble with any technical aspect such as internal linking, URL structure, speed, accessibility, and the like — your search rankings and traffic can drop overnight.
We've worked on multiple website redesign SEO projects with great success. Recently we conducted a massive website redirect of our website from OnTheMapMarketing.com to OnTheMap.com (punchier name, isn't it?)
From having our traffic fall below 5k organic visitors a month in August 2021:
Post website migration, in under a month, we've already touched 6.5 visitors per month:
We also did a site redesign for The Pendergrass Law Firm. Here's how their older website with an outdated design was faring in November 2020:
With the new website (for which they hired our law firm web design services (that use SEO-friendly custom templates), their keyword rankings, traffic, and leads have jumped up across the board:
If you're looking for a DIY website redesign/migration SEO checklist, this article has you covered. Let's begin with glancing at the checklist. Then we'll look at each item on our list one by one.
How to conduct a website redesign without losing SEO
Set performance benchmarks
Crawl and map your website
Backup live site and set up staging
Implement new site structure, fix broken links, and execute 301 redirects
Launch your website
Audit site for errors
Submit new site via Google Search Console
Assess search engine rankings
Plan your website redesign SEO process and set performance benchmarks
Website redesign and migrations happen around a goal related to branding, increasing organic traffic, improving your user experience, or a similar marketing initiative. Here are some questions you can answer for establishing your redesign goals:
Do you want the new website to be an SEO-friendly content management system (CMS) that offers better accessibility of your backend to your marketing team?
Do you want to add some interactive functionalities to your site to align with current consumer expectations?
Is the website refresh supposed to align your appearance closer to your brand?
Are you looking to improve your conversions while maintaining your current organic performance with the new design?
If you're simply migrating to a new domain, is the new address supposed to have a higher recall value?
Once you have clarity on your objectives, measure your current website's metrics relevant to your goals. It can include Core Web Vitals (CWV), user engagement signals such as average time on page and bounce rate, search rankings and overall organic traffic, existing search engine rankings and backlinks, average conversion rates, and the like.
From here, set up performance benchmarks and expectations post redesign. Assign a leader and team dedicated to carrying out the migration and redesign.
For On The Map Marketing's website migration, we had a competent team of Taylor Murchison, our former Head of SEO, and Janis Rubuls, our web development lead.
For our client, georgiatrialfirm.com, we've an updated "internal audit" to monitor their key metrics and overall SEO health:
Use a crawler to map all the pages of your website
Now it's time to take inventory of all the pages on your site. You can take help from your current sitemap as generated by an SEO plugin like Yoast SEO or RankMath (if you're using WordPress). Otherwise, Screaming Frog also allows you to crawl up to 500 pages for free.
Beyond crawling, pay attention to the information architecture. The way you're organizing content on your website is crucial to Google understanding your website's topical expertise and rankings its pages. Your URL structure, titles, internal links, meta description, and the like are going to affect your SEO performance.
For us, the URL map looked something like this before migration:
It's up to you to decide the metrics you want to track. We had quite an extensive list of metrics for every URL:

Like super comprehensive:

For The Pendergrass Law Firm, we relied on the extensive technical audit (which we keep tabs on).
Backup live site and set up a staging site
Before we begin our redesign and implement any significant changes to your site, it's important to take backups along the way.
Also, before overhauling your website, clone your website and make changes in a staging environment. We don't want your search engines to index an incomplete version of your site, do we?
Most popular hosting providers today will offer a simple option to create such a test site. The hosting provider for my website EliteContentMarketer, GreenGeeks, offers cPanel for site management and has Softaculous for installing open-source software like WordPress.
I can directly hover to "Softaculous Apps Installer" from the cPanel:
Then click on the "Create Staging" button":
To meet this screen where I can set up details of staging, including its directory and database name:
Ensure that you noindex your staging website so that search engines don't crawl and index this version of your site. As visible in the picture above, GreenGeeks offers a simple "Disable Search Engine Visibility" checkbox for this.
For our client, georgiatrialfirm.com, we created a development site (as visible in the QuickBase screenshot below). Our technical SEO director, Anete Lazdina, was spearheading the project, ensuring everything was fine from an SEO perspective before launching the site:
Implement new site structure, fix broken links, and execute 301 redirects
Migration and redesigning could be an opportunity for you to:
change your site's hierarchy and silo structure,
modify your internal linking to help your poorly ranking important pages,
merge pages that target similar keywords,
or even delete pages with zero SEO value (yep, you heard that right!)
other significant technical SEO changes.
If you're in doubt whether you should make a specific modification or not, Google's general advice is to "keep things controllable & trackable":
Remember that once you create a dev site, don't make website redesigns or changes to your existing website (that's live). Carry the changes to your website on the staging version first.
While migrating our site, we thought of making the URL structure cleaner. So our key SEO team members got to voting on how the URLs for different types of landing pages and other kinds of content could look like:
Based on this, our meticulous SEO director, Mr. Murchison, even color coded the URL structure changes we wanted to execute:
Next, our intelligent developer, Mr. Rubuls, implemented our new site structure. As we have a WordPress website, we could use a redirection plugin to make changes to your URLs conveniently:
And even add your relocated site:
Please make such changes to your URLs carefully. Use 301 redirects from old URLs to newer ones to ensure you don't lose link equity from valuable backlinks that your pages have earned. (Yep, 30x redirects don't lose PageRank anymore).
We want to avoid serving 404 errors to users and search engines for any web page — this is one of the most damaging aspects of a website redesign. So ensure you've correctly conducted redirects before you go live.
Launch your website
Your website redesign now needs to go live for users to experience it and search engines index and rank its content.
At On The Map Marketing, we've an extensive launch checklist to organize our efforts and ensure our client sites run smoothly. Our client, Georgiatrialfirm.com, for instance, had a 36-point checklist with details of every step documented inside Slite:
Only half of the checklist is visible in this screenshot!
Once everything is fine on your checklist, you can configure your domain on your hosting server. For our own site, Mr. Rubuls performed these changes from our hosting control panel on Plesk: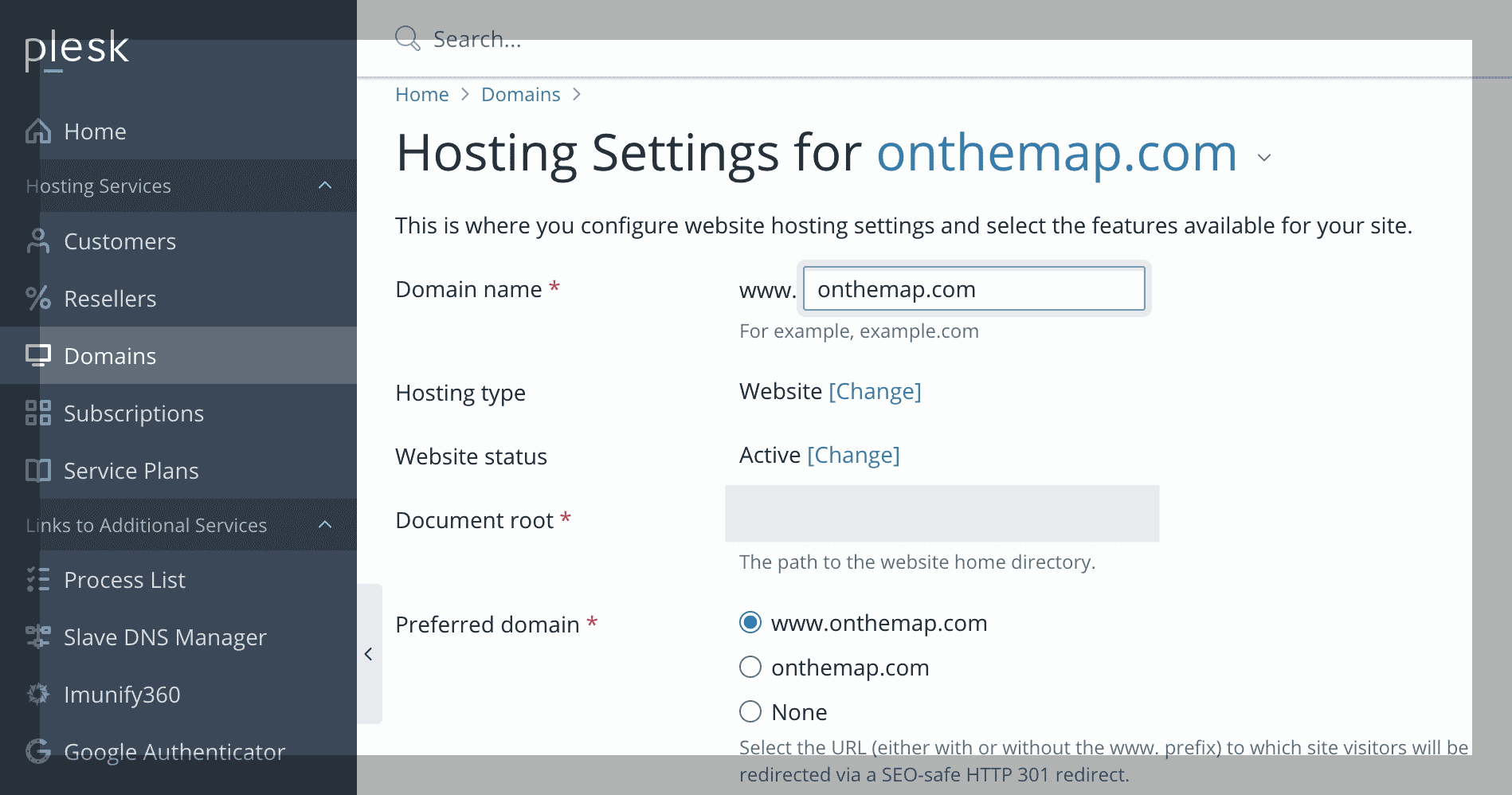 For my website hosted on GreenGeeks (and like for most web hosts), the Softaculous Apps Installer in has a "Push to Live" button for pushing the staging site live:
Once launched, check the website end-to-end manually and ask for help from internal team members. Also, ensure you've installed tracking for Google Analytics and other tools you use.
Remember, if you're unsure about any aspect of your SEO or design, it's better to push the date for going live than to perform damage control later. Recovering a website's ranking drops is damn hard work.
Audit new website to ensure everything runs smoothly
Whatever SEO considerations you pay attention to and invest time in avoiding common SEO errors: Your new redesigned website will have some bugs and will see a change in its organic performance.
The bigger the size of your site, the harder it is to avoid errors or ranking changes. So instead of aiming for perfection — avoid SEO catastrophes.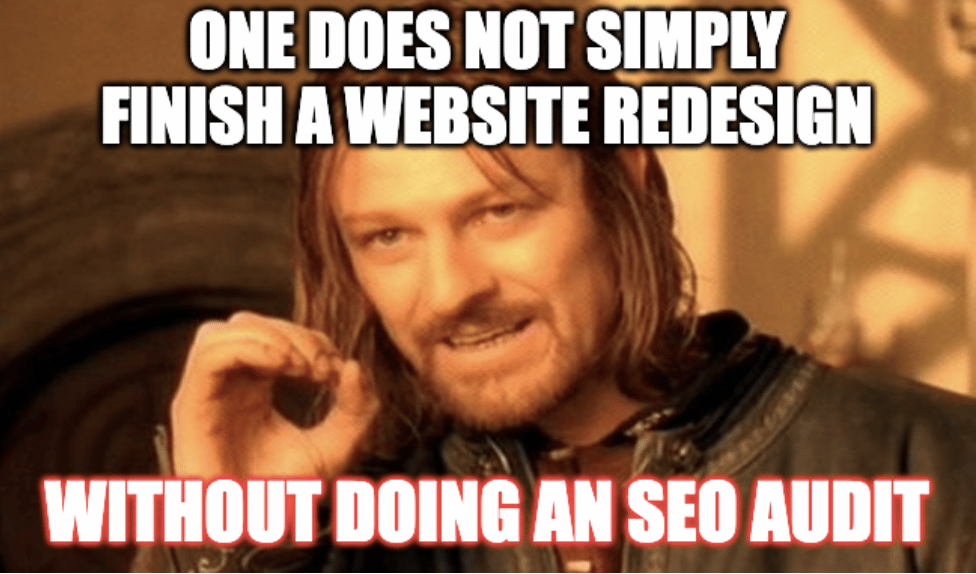 As soon as we launched, our SEO maestro, Mr. Murchison, conducted an SEO audit. Our team checked for abnormalities while browsing the new website. Then our diligent developer, Mr. Rubuls, painstakingly took stock of any errors, such as 404, bad page speed for some web pages, and the like.
(Optional) Submit new site via Google Search Console and verify it
If you've changed your domain address, you need to use the "Change of address" tool inside Google Search Console (formerly Google webmaster tools). This is not applicable if you're simply doing a website redesign. Here's how we used it:
Next, you can set up a new domain property for your new address and verify it.
When we launched our site, we had difficulties setting up server configurations. Our developer shares how we started indexing with "www" and without it.
He later fixed it with the understanding of how Google Search Console now aggregates data from all the versions of your site (and recommends verifying all four versions: HTTP, HTTPS, www, and non-www):
Resubmit XML sitemap
Happy with the redirects, new site structure, and how your live website looks like? Then it's time to resubmit an updated dynamic XML sitemap to Google and other search engines. This helps search engine crawlers smoothly navigate your website and understand the meaning behind your content (by getting context through its structure).
WordPress plugins, like RankMath and Yoast SEO, offer the functionality to generate a sitemap for a decent number of pages for free.
Watch out for jumps and drops in search engine rankings
Your website is live, and consumers are interacting with it. But how are search engines liking these changes? You'll start seeing results of your efforts via changes to your rankings and traffic — at least for your most important pages. Expect a few months of volatility before your performance stabilizes and hopefully has gone up (like us).
Keep an eye out for issues related to indexing, links, coverage, and the like that pop up inside Google Search Console. For instance, here's FAQ schema issue that our star developer quickly fixed: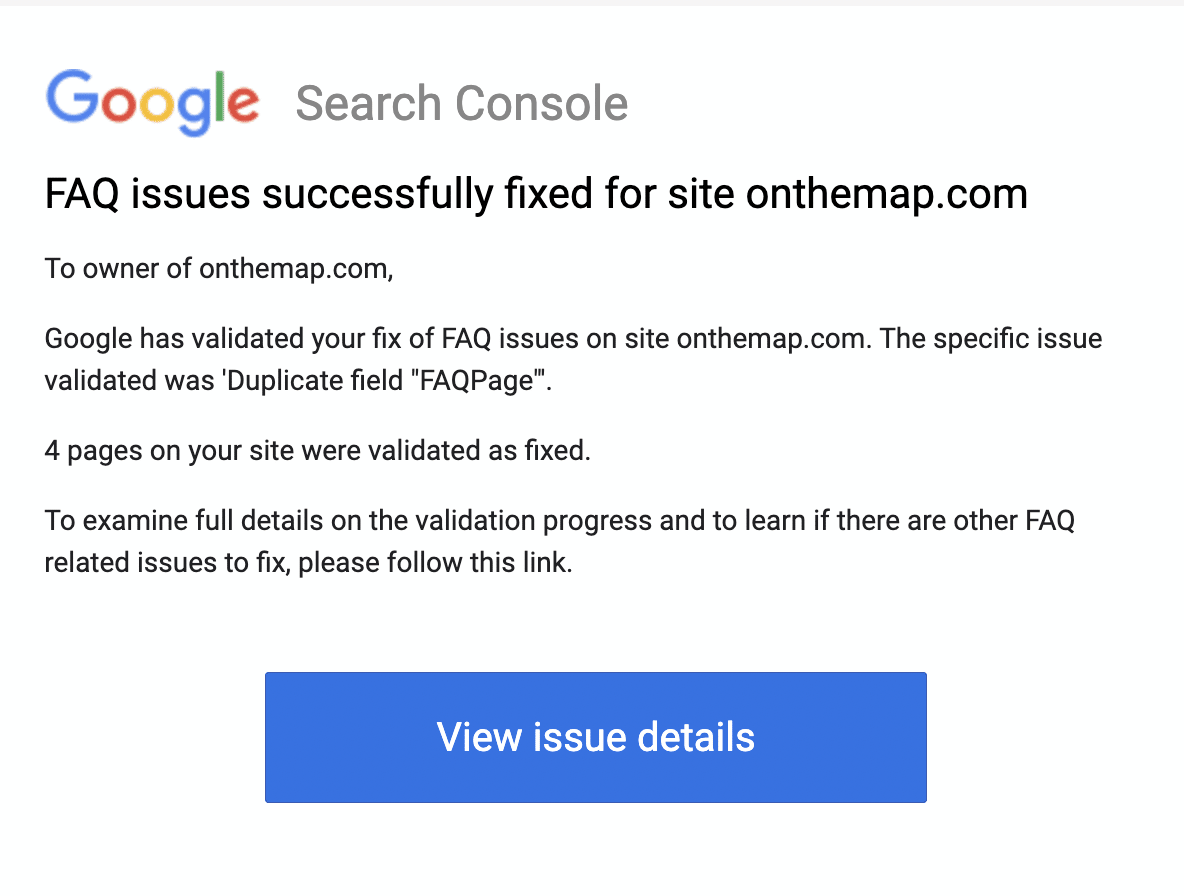 After 3-6 months, evaluate your website's performance against numbers before the redirect. How are your rankings, traffic, and conversions looking? These metrics will determine the success of your website redesign efforts.
For georgiatrialfirm.com, here's how their leads looked in the two months (November 2021 to December 2021) before their website redesign:
And here's how their leads jumped in the next two months (January 2021 to February 2021):
That's a jump in leads in two months by 48.94%!
Final thoughts
Website redesigns and migrations can improve your visitor's experience, keyword rankings, and conversion rates. However, if search engines view your new website's content and its user engagement signals in a significantly modified light — your search traffic can take a nosedive.
Hopefully, this article guided you to plan your redesign project with confidence keeping SEO in mind.
Do you find the website redesign process too risky and time-consuming? Then hire us. We're a digital marketing agency that keeps search engine optimization at the heart of every service, including website redesigns.
I'm the inbound marketing director at On The Map Marketing, taking care of content marketing and SEO for our website. Previously I have helped numerous SaaS businesses with content and got my own website to over 50k monthly visitors. I have written more than 500 articles on digital marketing, small businesses, sales, and related subjects, with my work appearing on the likes of Entrepreneur, Content Marketing Institute, WordStream, CoSchedule, and G2.