Google Ads for Personal Injury Lawyers
If you are running a digital marketing campaign for your personal injury law firm, you know that getting noticed online is not a walk in the park. Marketing methods like SEO and content marketing can take time before you see results.
Google Ads for personal injury lawyers can help give your law firm online visibility and boost your digital marketing efforts. With the right strategy, Google Ads can help you achieve your marketing goal in less time than most other marketing strategies.
What Are Google Ads for Personal Injury Attorneys?
Google Ads for personal injury lawyers are pay-per-click (PPC) ads that show up on top of Google's search engine results pages (SERPs). Lawyers (or advertisers) pay whenever someone clicks on the ad, hence the term pay-per-click.
Here's what a Google ad for a personal injury lawyer might look like:
A Google Ads campaign can help personal injury lawyers reach potential clients and grow their clientele.
Why Should Your Personal Injury Law Firm Consider PPC Ads?
PPC Ads for personal injury law firms can boost all other digital marketing campaigns like SEO and social media marketing. With the right execution, you can create Google ads that bring your firm new clients and high-quality leads within a relatively short time frame.
Hiring PPC or Google Ads experts specializing in law firms is the best option if you want to avoid mistakes and get the best results.
How Much Does Google Ads for Lawyers Cost?
Google Ads for lawyers average cost can range from $5 to $500 per click, depending on the specific keywords and their competition level. Personal injury is a competitive niche, so expect to see higher cost-per-click (CPC) when targeting some keywords with high competition and high search volume.
How to Create Your First Personal Injury Lawyer Ad
Running Google Ads for the first time might be overwhelming, as there are several steps in the process. Here's a simplified guide on how to create your first personal injury lawyer ad.
1. Create a Google Ads Account
If you don't have one yet, sign up for a Google Ads account. You can link it with an existing Gmail account that you want to use for your lawyer PPC ads.
Go to ads.google.com and click Start now.
2. Create Your First Campaign
After setting up your account, you'll be able to see your Google Ads Dashboard. Here, you can set up your first Google Ads campaign.
a. Choose a campaign objective
You want to choose "Create a campaign without guidance" for Campaign objective to give you all the options available to customize your ad.
Click Continue.
b. Select a campaign type
The campaign type refers to what kind of ads you're going to create. We recommend using Search if you want your ads to appear on top of Google's search engine results pages (SERPs).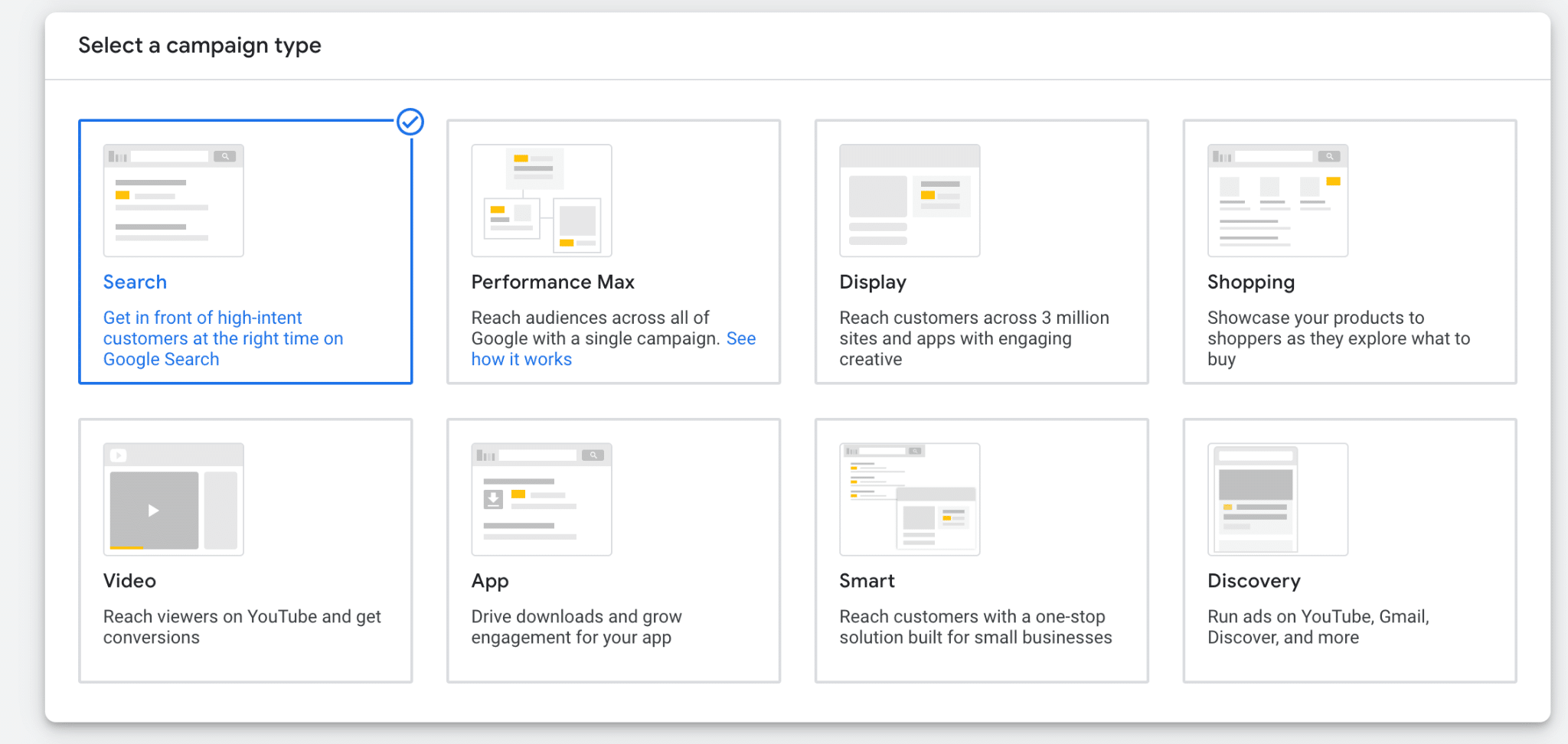 c. Select the results you want from the campaign
Specify what you want to happen when someone clicks on your ad. This can be a website visit, phone call, or app download.
If this is your first ad, we recommend pointing the ad to your law firm website.
d. Name your campaign
Give your campaign a name and click Continue.
3. Select a Bidding Strategy
This setting lets you decide what you want your ads to do: clicks, conversions, or impressions.
Clicks: If you want traffic to your personal injury website, you need to select Clicks. You'll be charged every time someone clicks on your ad.
Conversions: For more advanced campaigns where you want to track conversions, you can use Conversions.
Impressions: Impressions, or cost-per-thousand impressions (CPM), are great for brand awareness and letting people know about your legal services. You'll pay based on the number of times your ads are shown on the Google network.
Click Next after choosing your bid strategy.
4. Set Your Campaign Settings
a. Networks – This lets you choose which networks you want your ads to show:
The Google Search Network includes Google Search, while the Display Network includes YouTube. If you're not creating ads with images or video, then just go with Search Network.
b. Location – This allows you to target specific locations for your ad. You can also exclude certain places or include nearby ones.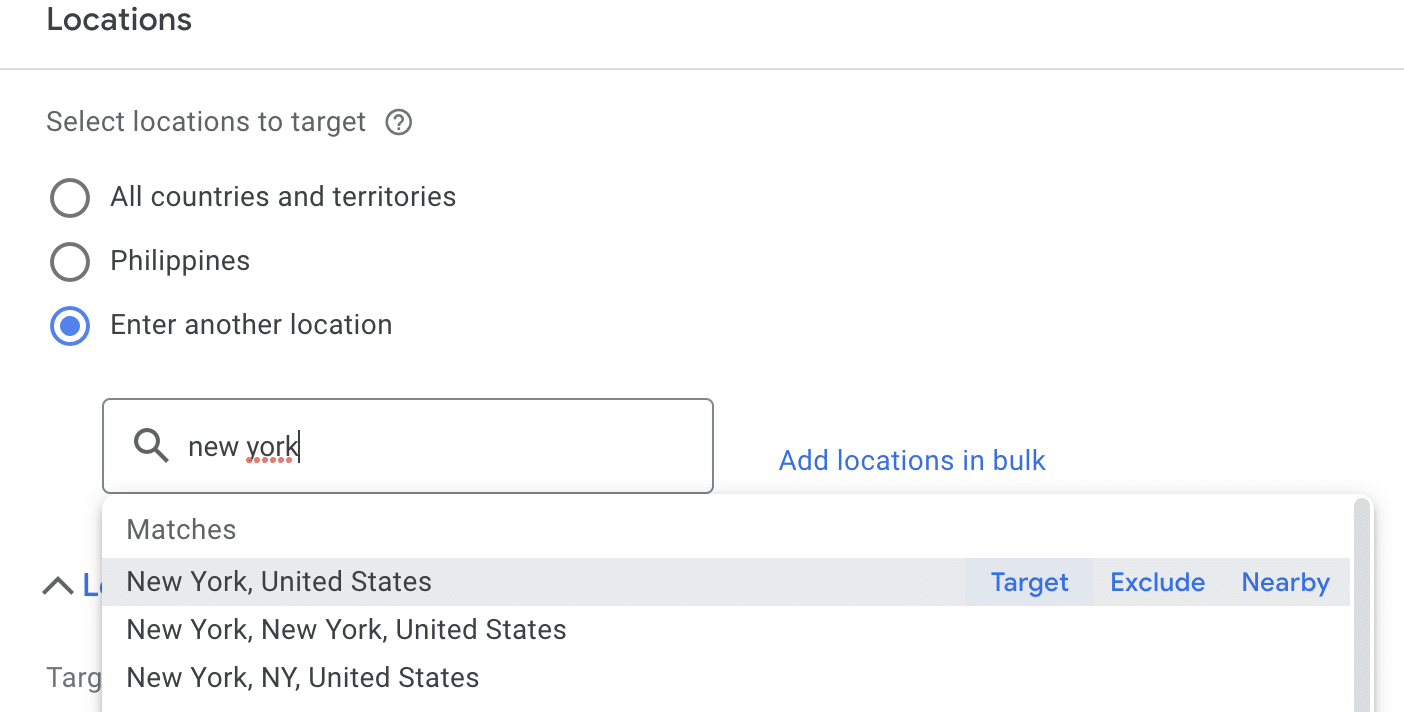 Make sure to select "Presence or interest" under the Target section.
c. Languages – Choose the languages that your target audience speaks
d. Audience segments
This section is where you can target your audience. You can choose from the following categories:
Detailed demographics (Parental status, Marital status, Education, Homeownership Status, Employment)
Affinity (Interests and habits)
In-market (What they are searching for online)
In the example below, the ad targets people employed in the Construction industry.
There are other options to use your customer's data for remarketing. This involves setting up conversion tracking, which will allow you to get customer data like website visits and link it with your Google Ads account.
e. Ad schedule
You can set a schedule for when your ads can run. If you're unsure, then you can let your ads run all day for the first few days. You can then track when your ads get the most clicks and adjust the schedule accordingly.
5. Enter Your Keywords
This section is where you add the search terms or keywords you are targeting for your ads. When people type these keywords in Google, your ads might be one of the ads that appear on top of the search results.
You'll need to create an ad group here to get started. Ad groups can be several ads that belong to the same product or service.
In the example below, the ad group was named "Car accident", which means the ad is targeting people who might need a car accident lawyer.
Pro Tip: Putting your keywords in brackets, for example: [car crash lawyer new york], activates Phrase match. Phrase match ensures an exact keyword match for ads to show. Not having them in brackets will use Broad match, which shows ads on keywords that are similar or closely related to the ones on your list.
6. Create Your Ad
Write your headlines, description, and links to your website or landing page. You are required to have three headlines and two descriptions. Make sure to include your keywords in these texts and write compelling headlines to get a great click-through rate (CTR).
Here, the ad used the headlines "Hire Car Accident Lawyers," "Free Consultation," and "20 Years of Experience".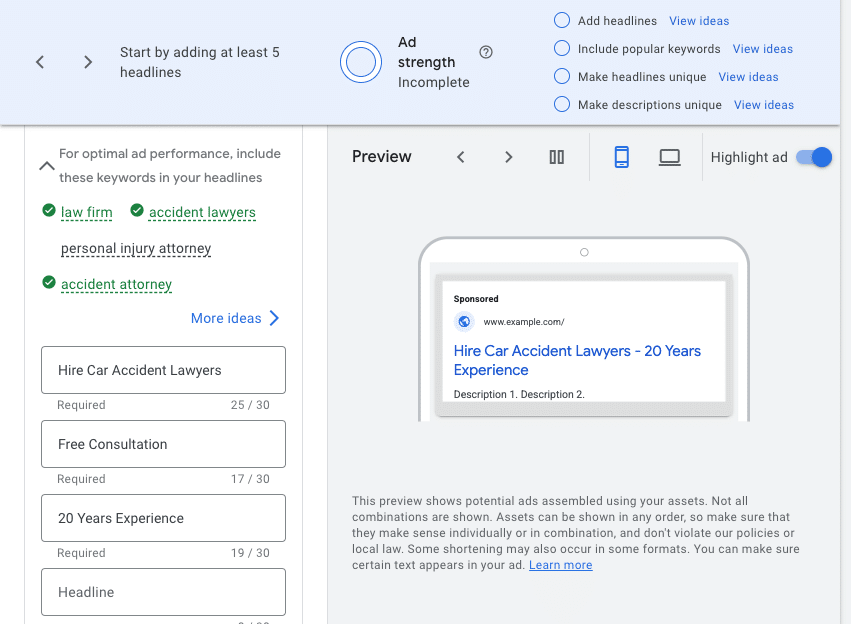 You can also include Sitelinks, which are text that links to specific landing pages or pages within your website. If you need to add more text after your descriptions, you can use Callout texts, which can be any additional information about your firm such as phone number and business hours.
Here's what that would look like:
7. Set a Budget
Google Ads will recommend a daily budget based on your campaign settings, but you can also set a custom budget here.
The budget limit is averaged, so some days you might go over the budget, and some days you might pay less than the daily average budget.
8. Review And Publish Your Campaign
To get expert help with Google Ads campaigns, bidding strategy, keyword, and audience targeting, you can hire a PPC agency for optimal results.
Best Practices for Running Effective Personal Injury Lawyer PPC Campaigns
Ready to run your own personal injury PPC campaign? Here are some best practices you need to follow.
Create Dedicated Landing Pages for Your Ads
To ensure that your ads have a good conversion rate, you'll need to create a landing page that focuses on compelling copywriting that turns clicks into conversions (whether it's booking an appointment or scheduling a call).
People looking for an accident attorney, for instance, would want to learn about ads that specifically talk about accidents and not work-related injuries.
You'll want your landing page to answer common questions the audience might have about your service. Adding testimonials on landing pages can also help with conversions.
Being able to target your audience using landing pages allow you to personalize the experience, which can help build trust that results in a conversion.
Set a Realistic Budget
Based on your marketing budget, decide how much you want to allocate to Google Ads. Because you're still in the early stages of running ads, setting a higher-than-recommended budget can help you get the best results and collect valuable data that will help with optimizing your ads in the future.
As you run ads and use your budget, you'll learn which ads perform well and which ads don't. This makes it easier for you to adjust your ad spend and get a better return on investment (ROI).
Optimize Your Ad Copy
Google Ads are given quality scores which determine their ad rank. Optimizing your ad's copy can help with its quality score. Make sure you're using personal injury keywords that are relevant to your ads and use them throughout your ad copy from headlines, descriptions, to callout texts.
Include a Compelling Call-to-Action in Your Ad
Don't forget to tell your audience what to do when reading your ad. Your call-to-action (CTA) should be clear and simple. Some examples are:
Click here to get a free consultation
Talk to a lawyer now
Get a free quote
You also need to ensure that your landing page is consistent with your call-to-action to give potential customers a seamless experience.
Experiment and Find the Best Time to Run Ads
Run several ads and change their schedules to see which ones perform the best. It's risky to assume that people only search for personal injury lawyers on certain days of the week.
Track your ad's click-through rate for each schedule to learn the best time to run your personal injury ads.
Create a Negative Keywords List
Negative keywords are keywords that are related to your ad's target keywords. Creating a negative keyword list will prevent your ads from being shown for related keywords (but are not relevant to your ads), keeping your ads cost-effective.
Negative keywords can be a competitor's name, or practice areas that might be related to your business, but not relevant to your ads.
When you have a negative keyword list, you can save irrelevant ad clicks (and wasted money), and increase your ad's performance and ROI.
Hire a Personal Injury PPC Expert
If you want to run PPC advertising for your personal injury law firm but don't have the time to do it yourself, you can hire PPC experts with specialized experience in law firms. This will save you time while getting the best value for your money.
On The Map Marketing offers proven results for its law firm PPC campaigns, including Google Ads. We have extensive experience in bringing high quality leads for lawyers in the personal injury niche.
With a highly competitive niche like personal injury, On The Map PPC experts focus on finding keywords with high buying intent and less competition.
With On The Map, you get PPC campaigns with:
Winning paid ads strategy
Transparent lead reporting
Custom ads per keyword
Custom landing pages
Ongoing campaign management
Learn more about our law firm PPC services.
Get Started With Google Ads Today!
Google Ads can help searchers find you faster online. Using online advertising helps you grow your personal injury clientele and boost your legal marketing efforts with the help of experienced PPC specialists.
Ready to run your first personal injury lawyer ad? Contact us to get started!
Kim Barloso writes different types of content that helps businesses and brands establish their online presence. Before venturing into writing ten years ago, she was a communications trainer for customer support companies. These days, she keeps herself busy with writing and catching up on true crime documentaries.