7 SEO Myths To Forget About in 2023
Search engines are the home for the majority of online experiences today. The king of them all — the almighty Google — uses algorithms that rely on thousands of ranking signals. So it keeps professionals speculating, and rumor mills busy professing SEO myths that could potentially kill your website's chance to rank.
You've probably heard some variation of: "SEO doesn't matter anymore", or that "keyword stuffing will lead you to the top of SERPs." However, as an award-winning digital marketing agency with decades of experience ranking our clients on the first page, we can tell you that's preposterous.
SEO is alive and kicking, but I want to address the most common SEO myths our team has heard from prospects and clients. If you want to see SEO success in 2023, you need to burst these and put your best foot forward.
Debunk these SEO myths in 2023
Bigger budgets will get higher rankings
More backlinks are alone sufficient
Getting a new website will hurt your SEO
Website design doesn't affect your SEO
A high bounce rate is bad
Bulk cold outreach works
Failing CWV scores is the end of SEO
Here goes the first one:
SEO Myth #1: It's impossible to beat competitors with bigger budgets than you…
Fernando Abello, head of sales intelligence at On The Map Marketing, often gets this query from prospects. "If my competitor is putting tens of thousands of dollars into SEO, how can your agency help me outcompete them in less than half their budget?"
Along similar lines, John Mueller, Search Advocate at Google, stated that small companies might have a hard time competing with larger ones — especially in competitive markets:
"From our point of view, it's definitely not the case that we're trying to focus on big websites or anything like that. But from a purely a practical point of view, obviously, if you're a small company and you're trying to compete with larger companies, then it's always going to be hard."
However, he goes on to say that smaller companies can win by focusing on their strengths and the weaknesses of their competitors. Here's his office hours video where he talks about these aspects:
Besides directly believing in words from the horse's mouth, research by independent brands into Google's ranking factors has never found the SEO budget as among them.
The most crucial aspect of any smart SEO strategy is effectively utilizing the marketing budget — not simply putting more money into it. As you can imagine, this begins with analyzing a website. The On The Map Marketing team prides itself on creating a custom SEO strategy for all clients (you can grab your free SEO audit here and get recommendations for your website).
When you work with us, we make data-backed recommendations for your budget – whether it's publishing new content, getting more links, or technical optimization of your site.
Below is one of the breakdowns we did for a prospect. These are purely based on where your website currently stands against the competition.
Now, if you want to accelerate your results from SEO, then putting a higher budget into your campaign is the way to go. However, instead of wasteful spending — it's about a strategic investment of resources into what your website lacks today.
SEO Myth #2: More backlinks is equivalent to higher Google rankings
Taylor Murchison, the Director of SEO at On The Map Marketing, has heard lots of weird stuff about SEO in his decades-long SEO career. "More links will lead to higher rankings" is among the top SEO myths he has heard repetitively.
Sure, Google still uses PageRank, its foundational ranking algorithm dependent on links. Generally, a more authoritative page (with more links) ranks better in SERPs. Indeed, a limited Backlinko study of 11.8M search results found that the #1 result tends to have 3.8 times more backlinks than results ranking between 2 to 10.
However, backlinks are not a panacea for all your SEO problems. For instance, look at our article targeting the keyword: local SEO for law firms. It ranks at the seventh spot (at the time of writing this post), but its link profile is weakest in the top 10 as per Ahrefs. Indeed we outrank pages with lots more referring domains and links: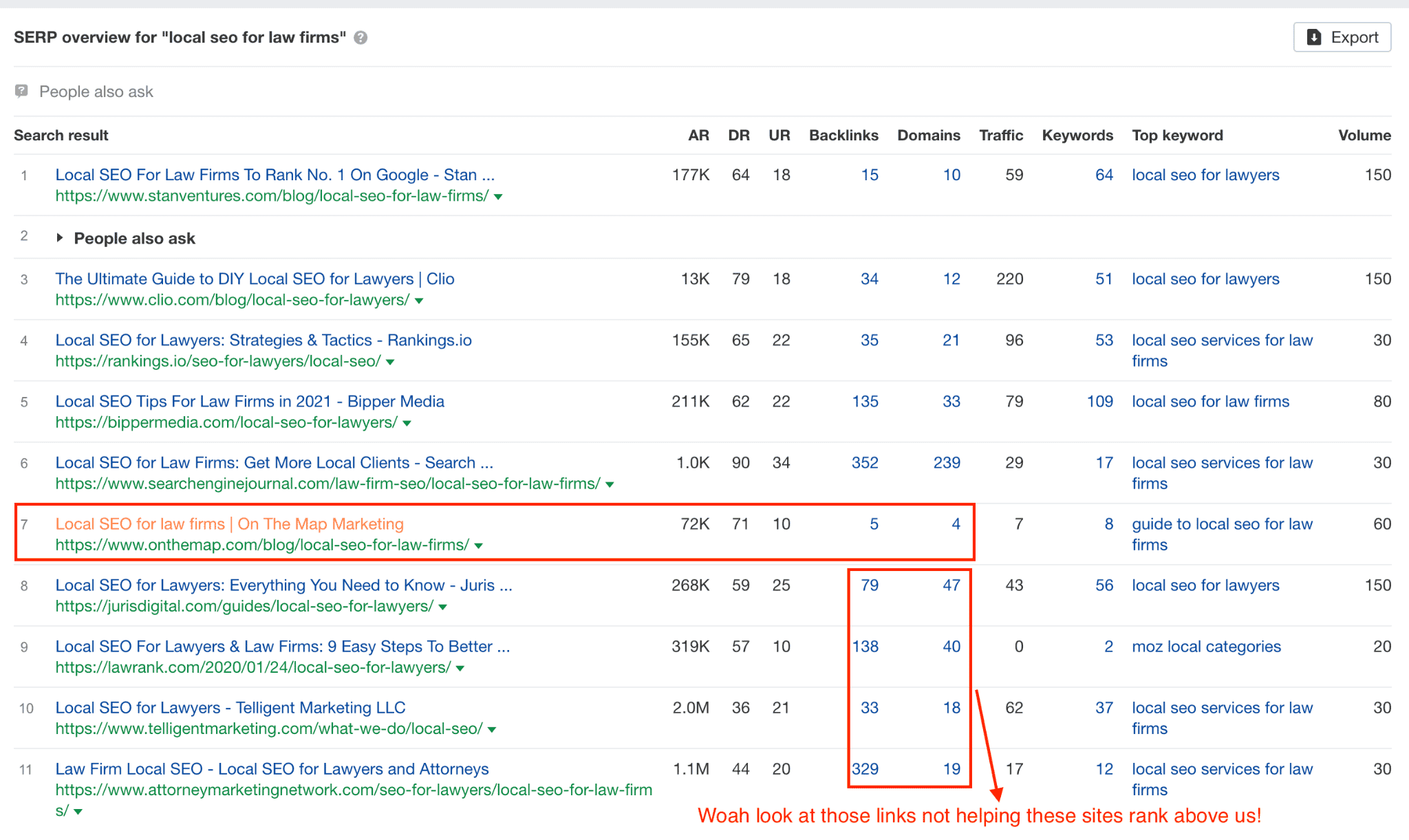 So as our technical SEO director Anete Lazdina puts it, "link building is not the only viable SEO strategy." She goes on to emphasize the importance of making your SEO campaigns "multifaceted." For instance, for your backlinks — their type, quality, anchor text, and relevance are also important.
That's why our link building services always begin a link gap analysis like the one below:
Your content, website responsiveness, page experience, and lots of other factors are also important for a site's ranking.
SEO Myth #3: Getting a new website will hurt your search engine optimization campaign
Sarah McMahon, our Head of Outbound Marketing, often pitches our marketing and design services to prospects. Among the most common concerns she has heard from folks with outdated websites, "a new website will hurt my SEO" is pretty common.
Sarah believes any website changes have to obey SEO best practices — and that is sufficient to ensure your website's organic performance isn't affected. "If your content is ranking for keywords, keep it as it is. The same goes for your URL structure, redirects, and backlinks," she affirms.
Indeed for one of our clients, Stroleny Law, we had to conduct a massive site migration while splitting his law firm. In our law firm SEO case study, we discuss how their monthly traffic increased by 3777% with a 4175% increase in leads.
Indeed for our own brand's website, we migrated our domain from OnTheMapMarketing.com to OnTheMap.com in December 2021. Look at how our traffic was falling at below 5k visitors per month back in August 2021: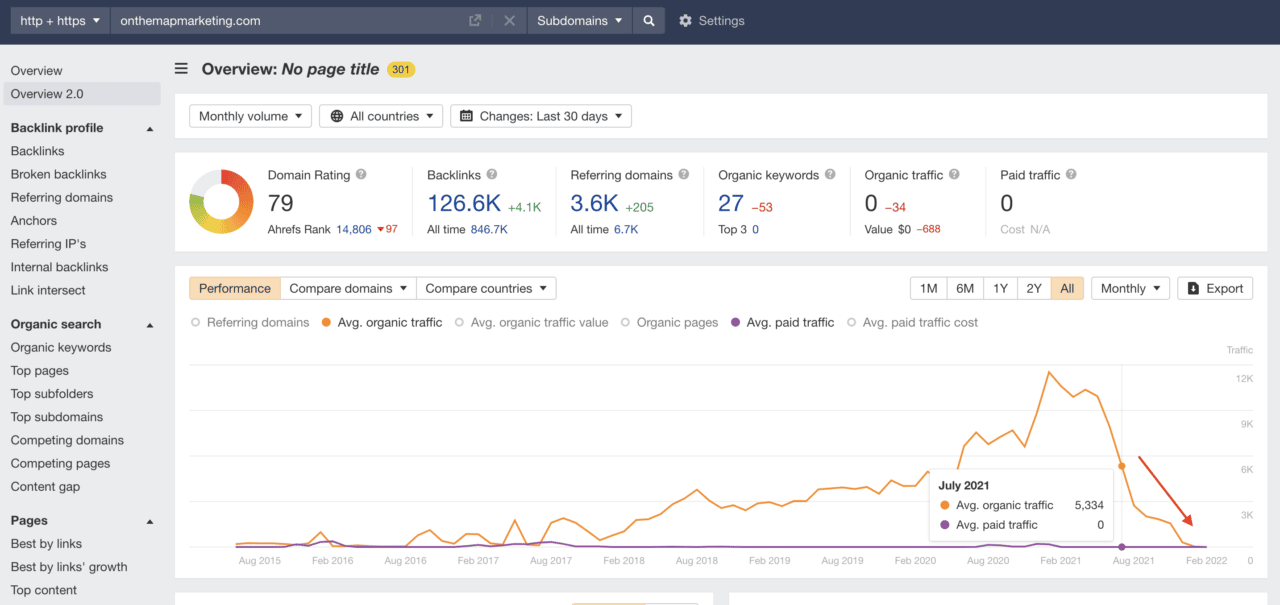 Below is the performance of our new website, onthemap.com (as of Feb 2022). We've been working on refreshing its content, internal linking, development fixes, and the like. Yet we're climbing back the organic search ladder:
SEO Myth #4: Website design doesn't affect SEO
A related website myth that Jonathan Okomo, our sales team lead, has heard a lot is that your website's design doesn't affect your SEO. Your site's appearance and how its features are coded pave the way for how users interact with it.
So what's important for a website's design from an SEO standpoint? Here are some pointers:
Your design needs to be responsive and work well across devices,
The content on your pages needs to be easily accessible and indexable for search engine bots,
The website should load fast,
Your overall layout should be easy on the eyes, using colors and typography that represent your brand accurately.
To take care of a modern web user's expectations and search engines simultaneously, we've built custom SEO-friendly templates. When we onboard new clients for our website design services, we create sites from scratch on top of these.
What happens to your SEO if you move across CMS, restructure your site, and make big sweeping changes to your site?
Well, your organic performance could get significantly affected as a result of this. So you should stagger massive changes, tracking each move along the way. Here's John Mueller's advice on such website revamps:
"…the main thing that I would watch out for when you're doing a revamp is to make sure:
That the URLs stay the same as much as possible so that you don't change the URL structure.
That the internal linking stays the same as much as possible.
That the content and the layout on the pages stay the same as much as possible.
And if those technical elements are essentially aligned then from our side the only thing that we see is that maybe the website is a little bit faster now because you're using a faster infrastructure."
Below is the SEO office hours video where John discusses the above:
Indeed, Mueller asserts that if all goes well, your website's organic performance could also have a "positive effect." As an agency that understands website redesign SEO and conducted successful migrations, we can vouch for the same, especially if you've outdated websites.
If you're considering a redesign, look for a service provider with case studies proving that they know their SEO besides design (like us!)
SEO Myth #5: A high bounce rate is bad for your search rankings
For starters, the bounce rate for a page is the percentage of visitors that don't interact with your website further after landing on it. They don't click on any link, drop a comment, subscribe to your email newsletter, or engage in any other way.
As per a RocketFuel study, the bounce rate for most websites falls between 26% to 70%. The author goes on to say that anything above 90% is usually a "bad sign."
So, how valid is a concern around having too high a bounce rate? Kevin Cook, our SEM product owner, has heard a fair share of SEO apprehensions while creating strategies for clients at OTM. He rates "high bounce rate being bad for your website rankings" among the top SEO myths he's heard.
Here's Kevin throwing light on why he believes so – "if a user doesn't engage with other pages on your site, it may lead to a high bounce rate. However, it means nothing in isolation, and it shouldn't worry you."
He further explains the importance of considering the "page's intent" for assessing your bounce rate. "Depending on your page type, a high bounce rate may be great. Why? Well, because they found all the information they needed on the current page — which leaves them satisfied with your content and website."
So like most things in SEO, the answer to the question, "what does a high bounce rate for a website represent?", is — "It depends."
Don't get me wrong. If you still feel your bounce rate has increased or decreased significantly, you should check your tracking setup.
Forget bounce rate being a ranking factor. You can still optimize your website for better user engagement by:
Improving your site speed,
Making your copy succinct and engaging,
Adding relevant internal links,
And just enhance your overall user experience.
SEO Myth #6: Bulk cold outreach with "quick question" subject lines can still power your link building
Link building is hard work, and outreach folks execute the tricky SEO task of jumping into webmasters' inboxes requesting link placements.
So does bulk outreach work?
Well, Mārtiņš Straume, our outreach director, learned the hard way that "the only responses we get from such generalized campaigns are guest post farms."
I'm not surprised. Below are a few cute cold emails I received from link builders with one of the most overused subject lines in email's history, "quick question." I delete all of these and overlook the content of such emails straightaway.
That's why Straume has started focusing all of our efforts on personalized outreach campaigns — no more bulk emailing.
So how can you begin personalization?
Martins has found that something as simple as using the website's name you're pitching to can increase the number of replies you see:
Using videos, being more casual and personal, and making your subject line and email's message more relevant to the receiver can also improve your outreach success.
SEO Myth #7: Not passing Core Web Vitals (CWV) will result in your website not ranking
If search engine algorithms weren't already complex enough, Google rolled out the page experience update last year, introducing the following signals:
So what would failing the CWV mean for your website?
Well, Janis Rubuls, our web dev lead, says one of the top SEO myths he's heard lately is "failure in passing the CWV will result in your website not ranking."
That is false. The CWV benchmark metrics are harsh. So while good CWV scores could help your site rankings, the rest of the factors like stellar on page SEO, links, and the like still count. A limited Moz 2021 study confirmed the same:
Indeed depending on your niche, a successful SEO strategy could begin with keyword research, identifying relevant keywords. Then write blog posts around them and rely on content marketing and social media marketing to build your domain authority. That alone can drive organic traffic to your site.
However, in competitive niches where everybody is doing stellar on page SEO and has lots of high quality links, CWV and performance metrics would matter more. Along those lines, Kaspars Milberg, our CTO, rates "page speed doesn't matter at all" as one of the top SEO myths he's heard.
So CWV may not hurt your organic rankings right now, but their importance may increase over time. If you've the resources and budget to move beyond content, links, and standard SEO stuff, then working on CWV will make sense for you.
Final Thoughts
Ultimately there are no blanket solutions that will always work to improve your search engine rankings. You've got to see where you stand, analyze your competition, research the top-ranking search results for the keywords you target, and create a holistic SEO strategy. When in doubt, remember that what's good for the user and your customer will be good for SEO.
I hope you abandon the SEO myths I shared in this article and relentlessly focus on serving your website visitors in 2023.
I'm the inbound marketing director at On The Map Marketing, taking care of content marketing and SEO for our website. Previously I have helped numerous SaaS businesses with content and got my own website to over 50k monthly visitors. I have written more than 500 articles on digital marketing, small businesses, sales, and related subjects, with my work appearing on the likes of Entrepreneur, Content Marketing Institute, WordStream, CoSchedule, and G2.