47 SEO Statistics for 2023 (Updated and Verified)
Do you want to get more organic search traffic? Curious how the search engine optimization landscape looks in 2023?
In this article, we've compiled a list of the most up-to-date search engine optimization (SEO) statistics. They will not only establish the effectiveness of SEO and the kind of impact it can have on your bottom line — you'll walk with data-backed insights to evolve your SEO strategy.
Without further ado, here are the SEO statistics you need to know:
SEO Statistics (Editor's Choice)
68% of online experiences begin with a search engine
95% of pages have zero backlinks
The #1 result is 10x more likely to get a click compared to the 10th
The average page's age that ranks on the first page is 2+ years
Google makes for 93.87% of the mobile search engine market
Related: SEO Pricing
Search engine optimization overview
Let's get this show off the road with some general search engine statistics, then understand the rubrics of Google search results, rankings, and the like. First, three interesting SEO facts:
1. Content and links are among the three most important ranking signals used by Google.
2. Google is by far the biggest traffic referrer on the web at 66% (data is from June 2019 courtesy of SparkToro):
3. A 2019 BrightEdge report found that 68% of online experiences begin with a search engine.
First page of Google statistics: Backlinks, keywords, word count, and more…
Now let's look at some other key Google search statistics. As per a Backlinko study of 11.8M Google search results:
4. 95% of all the pages have zero backlinks. But the #1 results have an average of 3.8 times more backlinks than the results that rank 2-10.
5. The average URL rating (a metric on a 100-point scale used by Ahrefs, an SEO tool) of a first page Google result was 11.2.
6. The average word count of pages on the first page of Google results in 2020 was 1,447 words. Long-form content also tends to generate more backlinks than shorter blog posts.
7. The average time on site for a Google first page result is 2.5 minutes. No wonder pages with higher time on site tend to rank higher.
8. URLs on the first page of Google results are about 66 characters long. But shorter lengths do better than longer ones. For instance, URLs that rank at the #1 position are 9.2 characters shorter than URLs in the #10 positions.
Google CTR statistics
Another 2019 Backlinko study of 5M Google Search Results found that:
9. The #1 Google's organic search result has an average click-through rate (CTR) of 31.7%, and this result is 10x more likely to get a click compared to the tenth result.
Here's a visual breakdown of the CTR by position:
10. Moving up a spot in search results can increase your CTR by 30.8%.
11. Only 0.78% of Google search engine users clicked on something from the second page.
12. Pages with URLs that contain a keyword have a 45% higher CTR.
However, following all the above best practices might not be sufficient to get you a high CTR.
Why?
It's in an important trend that Rand Fishkin from SparkToro highlights:
13. Two-thirds of Google searches ended up without a click in 2020: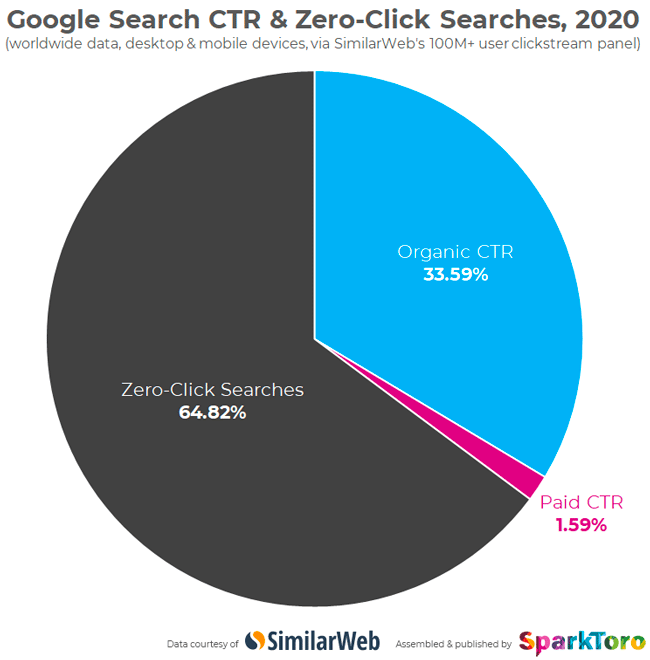 Title tag and meta description statistics
As per Backlinko's 5 Million Google search results study from 2019:
14. Title tags between 15-40 characters have an 8.6% higher CTR than lengthier ones.
15. Further tags that:
contain a question had a 14.1% higher CTR than those that don't,
containing "power words" had a 13.9% lower CTR,
while titles with emotional sentiments had a 7% higher CTR.
Next, let's look at meta descriptions that Google tends to rewrite these days. A 2020 Ahrefs study on meta descriptions found that:
16. Only 74.98% of top-ranking pages have a meta description — which is a missed opportunity given they factor into search rankings.
17. Google rewrites meta descriptions 62.78% of the time.
18. Google is 65.62% more likely to rewrite meta descriptions for long-tail keywords over fat-headed ones.
19. Even if your meta descriptions are within stipulated limits, it doesn't mean they are less probable to be rewritten.
How long does it take a page to rank?
The Ahrefs "How long does it take to rank" study conducted on 2M pages in 2017 found that:
20. The average age of a page that ranks on the first page is 2+ years. Those ranking #1 are, on average, almost 3 years old.
21. Only 22% of pages that rank in the top 10 are ones created within the same year:
So don't mind the extra time it takes for link building. Those backlinks also come in handy to build your domain rating (DR) — an Ahrefs metric (on a scale of 0 to 100) used to measure a website's authority.
The next SEO stat shows the importance of DR:
22. The newly published pages from high DR websites (>=80) get a better shot at ranking quicker on the first page than low DR sites (<30).
SEO industry statistics
Up next, let's look at the value of SEO services and the overall market:
23. As of October 2021, Google has a search engine market share of 87.56% in the United States. Bing follows with a market share of 6.34%. (Statcounter, 2021)
That's why when you see anything related to SEO, it's majorly about optimizing your website for Google.
24. BrightEdge report (we referred to earlier in the third stat) claims that B2B and technology companies generated 52.7% and 58.8% of their revenue, respectively, from SEO in 2019.
25. Research and Markets SEO Services Global Market Report found that the global SEO services market is expected to reach $103.24 billion in 2025 at a compound annual growth rate of 20%:
26. The Asia Pacific and North America were the largest regions in the global SEO services market, accounting for 33% and 32% of the market in 2020, respectively.
27. Over half of the SEO agencies (in a 2019 survey by Ahrefs) command over $100 per hour. The average rate stands at $134.66 per hour.
28. A price of a backlink costs between $100 ad $1,500 or more, as per siegemedia.
Local SEO statistics
Consumers use search engines to find local businesses and service providers more so now than ever (e.g. miami seo services). Here are relevant stats to establish the importance of local search:
29. Nearly 1/3rd of online consumers in the US in 2019 used the internet to find local businesses daily. Of these, 16% did so several times a week. (Statista, 2021)
30. Another 2020 report by BrightLocal found that 93% of consumers searched online for a local business. The increase over the years is sharp:
The above BrightLocal study also found that:
31.a. 81% of consumers read online reviews for local businesses in 2019, which increased to 87% by 2020.
31.b. 31% of consumers say they read more reviews in 2020 because of Covid-19, while 34% read fewer.
32. US consumers who've written a review for a local business have risen from 66% in 2019 to 72% in 2020.
33. A Think With Google 2016 study reveals that 28% of searches for something nearby result in a purchase.
Mobile SEO statistics
As of November 2021, mobile accounts for 55.42% of the market share compared with 44.58% for desktop. No wonder Google has moved to mobile-first indexing, and mobile SEO has become super important. Here are some statistics for putting some context on mobile searches:
34.a. Google is the most popular mobile app — making up for 93.87% of the mobile search engine market in the US in October 2021 (as per Statcounter):
34.b. As of Q1 of 2021, mobile users accounted for 59% of organic search engine visits. This number grew to 61% by Q2, as per Statista.
35. 75% of smartphone users expected immediate information when using their smartphones as per a 2019 Think With Google research review.
36. "Where to buy" + "near me" mobile queries have grown by 200% from April 2016–March 2017 vs. April 2018–March 2019 (as per Think With Google data).
Of course, most of these local searches are happening on Google Maps: the fourth most popular US Smartphone App (as of March 2019 as per eMarketer).
So: find relevant keywords with local intent, write high-quality content, and build off-site citations to get your mobile SEO off the ground.
37. On mobile, users are less likely to click top-ranked listings than desktop as per a seoClarity 2021 CTR study.
So ranking on lower positions on mobile could actually get your site more organic traffic — holy smokes!
The above study also has other interesting insights on mobile searches:
38. Mobile search results gain 85.8% more impressions than results on a desktop.
But impressions don't equal clicks.
39. The SparkToro study we referred to earlier shared that zero-click searches stand at 77.22% on mobile (based on worldwide data via SimilarWeb's 100+ user clickstream panel).
​
This means for the majority of search queries — you're now losing website traffic to Google's Knowledge Panel, paid search ads, and the like.
Next, let's talk page speed. Ensuring a fast-loading website on mobile devices could be challenging if you use visuals and rich elements in your content.
But:
40. If your page load time goes from 1 second to 3 seconds, the probability of a user bouncing off increases by 32% (as per 2018 Google data).
Video SEO statistics
YouTube videos in search engine results pages (SERPs) have become increasingly common for certain keywords as consumers love watching video content.
40. 55% of shoppers reported using online videos while actually shopping in-store (as per a Think With Google research review from 2019).
So which website works the best for uploading your videos?
41. YouTube videos appear higher in the top 10 positions than any other source as per a 2020 study by Perficient:
42. Further, YouTube videos are majorly found in carousels — a prominent search feature that appears at the top and is the most likely to get clicks.
Compare this to non-YouTube videos:
They appear in the carousel only 21% of the time.
It's not surprising either, given Google owns YouTube and wants to show more ads to users on its own properties.
SEMRush conducted a study from 15,000 keywords in their Google Keywords Database that triggered a featured video result. Here are their insights to help you get higher YouTube rankings:​​
43. 3-5 minute long YouTube videos may be the sweet spot for making it to the top 10 search results.
But don't use this length as a blanket rule — it's merely a guideline.
Statistics about voice search, featured snippets, and more…
Let's conclude our search engine optimization stats with a few remaining elements. Adobe's 2019 survey of 400 business decision-makers found that 94% of brands already invest in voice technology. Here are more intriguing voice search statistics:
44. Backlinko's voice SEO study (of 10k Google Home search results from 2018) found that:
70.4% of Google Home result pages are secured with HTTPS,
Typical voice search answers are only 29 words in length,
And 40.7% of voice search results came from a featured snippet.
45. A 2019 survey of 1000 US adults by Adobe found that 44% of respondents use voice technology in some form daily:

Covering 46.1 million keywords on mobile and 160 million keywords on desktop, a SEMRush 2020 study on featured snippets found that:
They appeared at the top organic search results spot 99% of the time.
Here are more interesting insights:
46. Around 19% of keywords in Google now have a featured snippet, and 7.3% of SERPs even have double featured snippets.
47. To give your content the best chance to rank in snippets:
write 1100+ words,
use structured data,
have about 14 heading tags (H1, H2, and H3),
put 8 images (with alt tags).
Frequently asked questions about SEO
Does SEO work for small businesses?

Yes. You need to answer your target audience's pertinent questions that they are searching for and get votes for your site (by building backlinks). Those two aspects increase your chances of ranking in the top 10 results — even over corporations' websites — and drive new customers for your small business.

How much should small businesses spend on SEO?

Personalized local SEO services by a results-driven and experienced agency (like On The Map Marketing) could start anywhere between $3k to $5k per month. The actual number will depend on your goals and the competition in your niche.

Is SEO important for every business?

68% of online experiences begin with a search. So SEO can drive brand awareness and new customers for your business. Further, it's one of the few marketing channels whose results compound with time, so seriously consider leveraging search for your business.

Google deploys multiple hundreds of ranking factors to evaluate the quality of a page. On top of it, they keep making minor — and sometimes even huge — changes to their algorithm. Optimizing your website is hence a time-consuming and effortful process.
Final thoughts
SEO is one of the most important components of digital marketing. As a business owner, there's nothing like having your website appear for a relevant search and getting leads through it.
Hopefully, the SEO statistics in this article will help you iterate your SEO strategy and inform the direction of your SEO efforts for 2022. Up next, check out our list of local SEO statistics or these SEO myths you should forget.
I'm the inbound marketing director at On The Map Marketing, taking care of content marketing and SEO for our website. Previously I have helped numerous SaaS businesses with content and got my own website to over 50k monthly visitors. I have written more than 500 articles on digital marketing, small businesses, sales, and related subjects, with my work appearing on the likes of Entrepreneur, Content Marketing Institute, WordStream, CoSchedule, and G2.