Legal Portraits for Attorneys: Best Practices and Examples
Having attorney portraits in your law firm website, social media, and other digital platforms can help you make a connection with your audience. Your prospective clients might feel at ease when seeing lawyer portraits that look professional and personable.
Here's a comprehensive guide on how to take a great legal portrait that lets your personality shine and win over new clients.
Why You Need A Legal Portrait
Your face is an important part of your law firm's brand and digital marketing strategy as a whole. In addition to this, here are the primary reasons why you need professional headshots.
Branding – Portraiture, like a logo, is a big part of a business's branding. It's what makes you stand out from the competition and win over new clients.
Building audience trust – When people see professional photos of legal professionals behind a law firm, it assures them that they are looking at a legitimate firm, with highly competent lawyers who are capable of helping them with their legal concerns.
Proof of legitimacy – In the digital world, consumers are prone to fraud and deceitful business practices. Putting photos of you and other lawyers in your firm can serve as proof that your firm is legitimate and can be trusted.
Search engine optimization (SEO) – Images can improve your website's SEO.
Accessibility – Images like attorney portraits can help people with cognitive and learning disabilities.
How Much Do Attorney Portraits Cost: Headshot Pricing
Portrait photography costs can have a wide range, from $200 to $5000, but with a huge difference in quality. Pricing for attorney portraits would depend on several factors, including quantity, photography location, and length of the shoot.
If you have the resources, it's highly recommended to invest in high quality professional portraits to ensure your photos look great on your website and other online profiles.
On The Map offers the following pricing for attorney portraits and headshots. We offer two options that suit your preference, whether you're looking to build your first law firm website with impressive headshots or just want to update your existing site with better portraits.
Elements of a Great Lawyer Portrait
Professional – Your legal portrait should be taken by an experienced and talented photographer. All aspects from equipment, location, lighting, and post-editing should be top-notch as to get high-quality photos.
Natural – To successfully produce a modern portrait photo, you should look relaxed and authentic, not forced or stiff. Some practice in being comfortable in front of a camera should help (which we'll discuss later).
On Brand – Your entire look, from your clothes to your pose, should be aligned with your law firm's brand and message.
5 Best Lawyer Portrait Examples in 2023
We've looked up some photos and headshots of lawyers to help give you ideas for your own photos. These portrait collections define on-brand, professional shots that grab people's attention and make a great first impression.
Kasowitz
New York-based firm Kasowitz has several slideshows on its homepage with excellent lawyer portraits. Taken in black and white, the photos exude confidence and expertise.
Fasken
Canadian firm Fasken's photography team succeeded in making all lawyer portraits look consistently great, making sure to capture each person's personality.
Boughton Law
From partners to associates, each team member of Boughton Law looked professional, warm, and authentic in their photos. A consistent black and white look as well as minimalist background helped in creating a cohesive digital album for the firm's About Us page.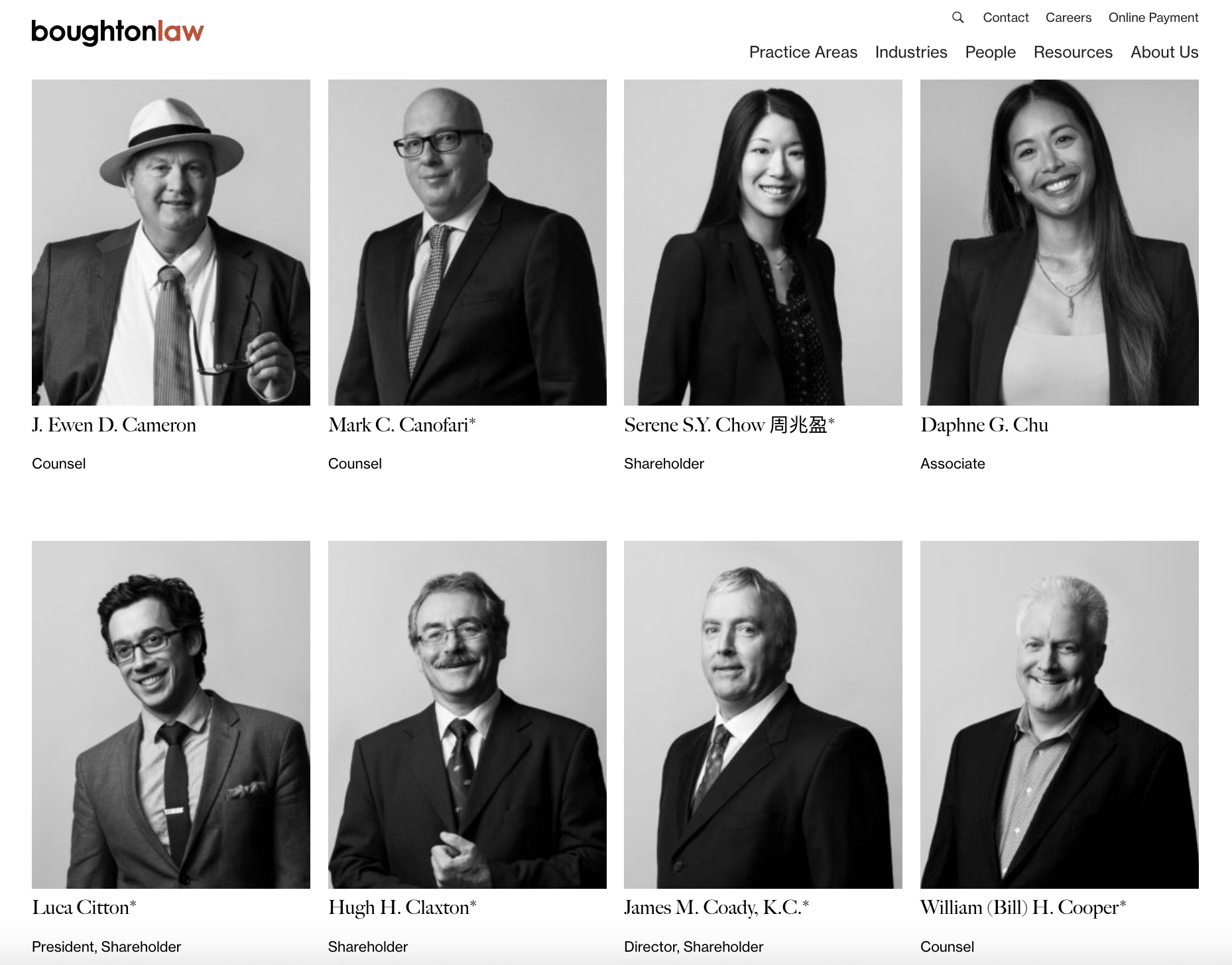 Latham & Watkins
For their People page, Latham & Watkins featured each partner and firm employee in the best possible light. The combination of natural lighting in a corporate setting was just right to achieve a casual yet professional feel.
Lenczner Slaght
Lenczner Slaght made a unique choice to be more creative with their attorney headshots. Using round borders and animations when the mouse hovers over a photo, it's quite a memorable page for lawyer portraits.
Frequently Asked Questions About Business Portraits
Getting your headshot taken for branding and social media profiles requires preparation. Here are some frequently asked questions about how to take attorney portraits that look great:
What do you wear for a lawyer headshot?
Your outfit for taking professional headshots would depend on your brand, which is usually tied to your practice area. For instance, suit and ties are viewed as a classic, formal approach, while button down, long-sleeve shirts are considered more casual.
If you and other people in your firm are going for group photos, you might need to plan a color theme to make the photos look coordinated.
How should you prepare for a photoshoot?
Some ways you can prepare for attending a photoshoot are:
Look your best – Get enough sleep, and make sure to have extra time in the morning to fix yourself, try on your outfit and make sure you feel confident with how you look when taking your portrait photo.
Communicate – Before the photoshoot, you should already have talked to the photography team and taken their instructions on what to expect on the day of the photoshoot.
Practice – Practice poses and facial expressions in front of the mirror. Take note of those that you like and remember to do them during the shoot.
What are the best backgrounds for clicking headshots?
There's no one background that is perfect for lawyer portraits, but here are the commonly used ones:
Neutral, solid background colors – Light gray, white, and black backgrounds are great for a minimalist aesthetic.
Studio – this can be anything that is used inside a studio, usually plain or printed fabric.
Chroma key – A chroma key is a green background. This is used for graphic designers to be able to edit and change the background.
Office – an office background is also widely used to give off a corporate vibe to professional headshots, an example of which are business people sitting behind an office desk.
Nature – this is usually achieved when shooting outdoors, ideally in a park or garden.
How should you pose for headshots?
When taking professional portraits, it's best to pose naturally. If you are unsure, photographers usually give suggestions and even direct their subjects until the best pose is achieved.
What if you aren't photogenic?
Here are some tips to feel comfortable and confident during portrait photography.
Have several shots taken and check which ones you are confident in.
Try to find your "best" angle.
Let the photographer know your concerns so he can work with you towards getting the perfect shot.
Try to use a prop like a pen or a smart phone.
Get Professional Headshots for Your Law Firm Today!
Taking a business portrait of yourself requires planning and good judgment. It's even more challenging if you're taking headshots for all or most people in your firm.
Some other crucial aspects of getting professional headshots done are using the right equipment, hiring qualified photographers, choosing a venue, and scheduling.
To ensure your legal portrait session is done with expertise and efficiency, you can reach out to us and inquire about our lawyer photography services.