LinkedIn for Lawyers: 11 Tips to Power Up Your Personal Brand
If there's one social media platform that is a good fit for lawyers, it's LinkedIn. With over 800 million members worldwide, LinkedIn is a great place for connecting with people across industries and areas of expertise.
LinkedIn is also the most preferred social media site of lawyers (76%) according to a 2020 ABA study.
In addition to building a professional network, adding LinkedIn to your law firm digital marketing strategy can help find your target audience, establish credibility, and generate leads.
Here are some tips on how to successfully do LinkedIn for lawyers:
Establish a social media strategy for your LinkedIn profile
LinkedIn's network is a bit different from other social media platforms like Facebook or Instagram, as it caters to making professional connections rather than personal ones.
This is why LinkedIn for lawyers is great for lawyers for lead generation in social media marketing.
Being a business-oriented network, you'll need to have a unique social media marketing strategy for LinkedIn.
To start a LinkedIn for lawyers strategy, you want to ask yourself the following questions:
What do I want to achieve from my LinkedIn lawyer profile?
Who is my target audience?
What does my firm represent? (Branding, Mission-Vision)
How often do I publish content?
What kind of content do I want to share?
How do I measure results?
Once you have the answers to these questions, it's best to write them down and discuss it with everyone in your team so you are all on the same page.
Use a quality headshot photo
A 2018 LinkedIn survey revealed that 93% of recruiters look at profile photos before deciding to contact a candidate. Despite this fact, not many lawyers pay much attention to their Linkedin profile photo.
Ideally, you should hire a professional photographer to take a headshot for your LinkedIn profile for you to appear likable, competent, and trust-worthy to anyone who looks at your lawyer profile for the first time.
Use a professional headshot photo LinkedIn recommends. Avoid photos that were taken as a group (only zooming in on your face), informal selfies, distracting backgrounds, and photos of you not looking at the camera.
Remember to upload a professional headshot photo LinkedIn allows. This means that the following are not allowed:
Company Logos
Landscapes
Animals
Words or phrases
Stock images or photos
This profile photo of lawyer Mitchell Hefter of Kantor & Kantor is a great example, where he smiles, wears business attire, with the photo taken against a plain gray background.
Write short but specific headline and summary
Your headline should be a succinct description of what you do, so this is where you need to mention your practice area, such as criminal law, personal injury, or family law.
Don't know how to summarize your legal expertise? Take a look at LinkedIn profiles of other lawyers in your practice area and see how you can improve on them.
In this example, lawyer Ryan Kalamaya effectively summarizes his specializations as well as mentioning his podcast and company, using the | symbol to separate them.
Take note of the hashtags that match his legal services under the headline.
If you want to stand out in a sea of similar-looking headlines, we recommend using emojis (albeit sparingly) with your headlines, such as the one below:
Studies suggest that emoticons and emojis can "influence the cognition and behavior of consumers in marketing activities," mostly in a positive way.
Fill out complete information for every section of your lawyer profile
Your LinkedIn profile has several sections. Let's take a look at every section of a LinkedIn lawyer profile.
This is the topmost section of your LinkedIn lawyer profile. It includes your headline, description, summary, location, contact information, number of followers, number of connections, and companies you are connected with.
Your headline should be more than just a job title. Being descriptive and creative can help people understand the practice areas you cover.
Take note of the gray box that highlights your services. This section tells an audience right away that you are offering legal services.
With the example above, lawyer Jonathan Merel also uses hashtags to target relevant keywords that his target audience might be using to search for lawyers on LinkedIn.
Ideally, you should have a customized LinkedIn background banner photo for your profile. This can be a logo of your law firm and your law firm website, like the ones below:
Compared to using the default background, a custom LinkedIn background photo lets you stand out among other LinkedIn lawyer profiles.
The Featured section is any content you want to appear in this area. It can be valuable longer form content that you wrote for a target audience, or some of the legal processes interviews you've done with a media outlet.
Any notable content that helps establish your personal brand as a thought leader in your field should be in this section.
The About section is where you can write about yourself, but if you're trying to win new clients, you'll need to speak to the needs of your audience.
Although you can briefly talk about your experience and professional credentials, it should lead to what you can do for a prospective client.
In the example below, the author opens with an unusual opening sentence, which makes people read the next sentence, and the next, until they've read until the end.
This section shows your most recent posts and other activities on LinkedIn. Once you have a regular stream of posts, you can activate this section.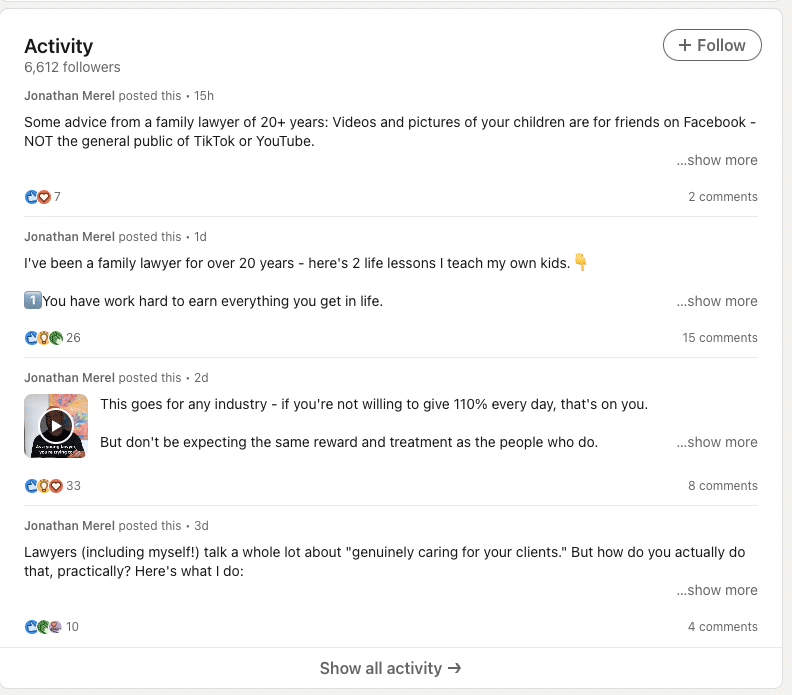 This is where you can write about your professional experience in length in your LinkedIn profile page. Write about how you got started with your law firm and the achievements and milestones you've accomplished along the way.
This should only include College and Post-Graduate studies.
Choose skills that are applicable to your legal practice and encourage those in your network to endorse you.
You can give and receive recommendations in LinkedIn and they appear in this section. This is similar to a review, so it can help gain people's trust in your capabilities as a lawyer.
Awards establish authority and credibility with your audience, so it's important to put them in this section.
Don't forget to mention any additional languages, which can be a deciding factor for potential clients.
These can be other LinkedIn members, companies, and groups that you follow.
Be sure to fill out every field that applies to you and be thorough with the information you share, especially when talking about your legal experiences and specialization.
Optimize your profile for LinkedIn search
There are many ways to optimize your LinkedIn profile for search, but the best way is to start with your headline and summary.
In the example below, lawyer Shana De Caro listed her specializations, brain injury, personal injury, and medical malpractice and included "New York Super Lawyer" to indicate that she's a legitimate attorney based in New York.
This is a great strategy because it targets people searching for these keywords in LinkedIn.
When writing your headline and summary, think what keywords potential clients might use and tie them organically into your copy. LinkedIn users who look at the search results only see your headline and summary, so be sure to make each word count.
Link to your law firm website and other social media pages
If you're trying to get more traffic to your law firm website, then include it in your LinkedIn profile.
Here's an example from lawyer Steve Charles, where he puts his website in his profile.
You can also link to your LinkedIn company page if you have one. LinkedIn company pages are different from personal profiles, because they represent a company or organization.
If you don't have a company page yet, then it's pretty simple to create one. Below is an example of a company page:
Post regularly
Plan, create, and schedule your content for LinkedIn, according to your LinkedIn marketing strategy.
Here are some posting tips according to a recent LinkedIn study:
Create content specifically for LinkedIn
LinkedIn has written about linking to external links in LinkedIn posts, and said that they don't recommend it. This is primarily because it drives the reader away from LinkedIn's platform. So linking to the company page of your law firm website may not be advisable.
Instead, create your posts so that readers can read it in full within that space. You can use image or video posts to make the content easier to digest.
For articles, a maximum of 1,000 words should be followed. This can be in the form of a how-to, or expert insights on a specific issue that is related to your practice area.
If you don't have the time or resources to create content, you can hire a law firm digital marketing agency that has past experience with Linkedin for lawyers.
Learn the most popular post types
According to the study, these are LinkedIn content types that get the most reach:
Document posts: Document posts get 2.2 – 3.4x more reach. You can use this to share helpful documents such as a guide, research paper, template and people can download it as a PDF file.
Polls: These types of posts get 2.1 – 2.9x more reach.
Carousel Post: This is a document with several pages and can be displayed like a slideshow within the LinkedIn post. They get 1.8 – 2.3x reach.
Text + Multiple images: Adding several images to a text post can get 1.2 – 1.6x more reach.

Be aware of ideal posting times

Research showed that the ideal times to post in LinkedIn are:

10 AM (Monday – Thursday)
1 PM (Friday – Sunday)
Connect with people in your industry/practice area
LinkedIn is the ideal platform for connecting with other lawyers within or even outside your practice area. These relationships can be beneficial in the future, as it's not uncommon for lawyers to refer people to other lawyers.
Law firms that execute LinkedIn for lawyers outreach often find success outside the legal industry. Lawyers find potential clients from connecting with non-legal professionals, such as counselors (health, education, family) whose clients might require legal help.
Consider LinkedIn Premium and LinkedIn ads
If you want to invest in building a lawyer profile in LinkedIn, then you'll need the extra features that come with LinkedIn Premium.
Subscribing to LinkedIn Premium gives you more InMail credits, which allows you to message and connect with other members in the network. You can also view companies and people that viewed your profile and send them a message.
Additionally, you can use LinkedIn Ads to boost your visibility on the platform. LinkedIn Ads have three types:
Sidebar ads – Appears on the right side with text and a small image/photo
Sponsored content – Appears on your LinkedIn feed and looks like a normal LinkedIn post
Sponsored InMail – Paid messages to your target audience
You can learn more about how to post law firm promotional content related to your practice using LinkedIn ads with this resource. This approach can help get faster results from LinkedIn for lawyers campaign.
Repurpose your blog posts, podcasts, YouTube videos on LinkedIn
Just because LinkedIn doesn't recommend external links, it doesn't mean you can't use your existing content in the platform.
It's still possible to create a LinkedIn for lawyers campaign with the content you already have. You can take blog posts, podcasts, YouTube videos (or any videos you have created) and upload them in LinkedIn as a standalone post. In this way, you take advantage of content that's already there and you don't need to start from scratch.
The Florida Probate & Family Law Firm does a great job of uploading a video in their LinkedIn post, which immediately plays when the post is viewed.
Participate in discussions related to your niche
Publishing content on LinkedIn is not the end of the process to achieve visibility in the network. To get the best out of your LinkedIn for lawyers strategy, you'll need to be actively interacting with others.
Here are some things you can do to add to your professional networking in LinkedIn:
Join relevant groups – Your network will grow faster by joining Linkedin groups that is connect with your industry or practice areas
Below are groups related to divorce lawyers.
Comment, like, and share content that reflect your beliefs, even if it is outside your profession
Follow companies, organizations, or leaders that are not necessarily in your industry, but speaks to you in a professional or personal level
When you join important conversations and weigh in on certain topics, you show your passion as well as your expertise. This can get attention and can lead to connections that benefit you and your practice in the future.
Final thoughts
Growing your law firm can be a gargantuan task, and most law firms can run out of resources or ideas. Understandably, no firm is perfect, and that's why On The Map can help lawyers with LinkedIn and other digital marketing strategies. Contact us and we'll work with you in implementing LinkedIn for lawyers in a way that works with your firm.
Kim Barloso writes different types of content that helps businesses and brands establish their online presence. Before venturing into writing ten years ago, she was a communications trainer for customer support companies. These days, she keeps herself busy with writing and catching up on true crime documentaries.