A law firm needs a consistent pipeline of leads and clients to grow at a sustainable pace. But if you're promoting yourself without knowing lawyer advertising rules for your area is not just unethical — you may have to face dire consequences if you land in troubled waters.
Such advertising regulations are simply put: guidelines and best practices that every lawyer or law firm needs to know before starting a lawyer digital marketing campaign.
Where to Start Learning Lawyer Advertising Rules?
The ABA Model Rules of Professional Conduct were adopted by the ABA House of Delegates in 1983. As a basic requirement, lawyers should review and understand Rule 7.2 of the American Bar Association, titled "Communications Concerning a Lawyer's Services: Specific Rules." These basic lawyer advertising rules are the benchmark of every lawyer promoting your legal services to the public.
These rules were created in 1977 after the Supreme Court ruled, in the case of Bates v. State Bar of Arizona, that attorney advertising bans are unconstitutional, citing commercial free speech under the First Amendment.
Based on them, we've come up with best practices and guidelines to ensure your firm abides by the professional ethics set by the ABA while running an effective lawyer advertising campaign.
Below are the nine important guidelines for advertising valuable legal services fairly and ethically. You should top these with your own jurisdiction rules as much as possible. Before we begin, here's the answer to the first basic question.
Is Attorney Advertising Allowed?
In general, attorney advertising is allowed as long as you follow the ethical rules prescribed by the ABA. Their guidelines generally revolve around protecting the consumer from misinformation and false advertising.
Note that different states follow different rules, so always check your state's laws regarding advertising guidelines to confirm.
For reference, the ABA elaborates on how lawyer advertising should be conducted, stating that:
"[3] Paragraph (b)(1) allows a lawyer to pay for advertising and communications permitted by this Rule, including the costs of print directory listings, on-line directory listings, newspaper ads, television and radio airtime, domain-name registrations, sponsorship fees, Internet-based advertisements, and group advertising. A lawyer may compensate employees, agents and vendors who are engaged to provide marketing or client development services, such as publicists, public-relations personnel, business-development staff, television and radio station employees or spokespersons and website designers."
So if you're a personal injury lawyer that wants to run PPC ads in Los Angeles. All of the Google Ads you see at the top of SEPRs well within the law:
But Attorney Solicitation is Prohibited…
While there's only a subtle difference, a solicitation is an advertisement made by an attorney to a specific person they know or reasonably should know who may need their legal services.
Here's Rule 7.3 on Solicitation of Clients that you can read to better understand the limitations. This includes contact in person, phone, or any other communication.
Types of Advertising For Law Firms
As mentioned above, there are two major forms of lawyer advertising that law firms can carry out.
Traditional advertising
Traditional lawyer advertising involves promoting your legal services in traditional media, which includes direct mail, billboards, television, yellow pages, radio, and print advertising.
While they may be effective, all of these strategies may be costly. They are also difficult to tie back to the ROI you generate from your budget.
Digital advertising
Digital or online advertising covers several strategies for promoting your law firm on the internet, including content marketing, Search engine optimization (SEO), website design, pay-per-click (PPC) ads, and social media marketing on platforms like LinkedIn, Twitter, etc.
You can consider guidelines for social networking to ensure you stay compliant while using them.
No matter what kind of law firm advertising you choose to do, these same guidelines apply. You always need to be mindful of what you publish in your attorney advertising content and have the customer's best interest as a priority.
Never Claim to Be an Expert — Unless You Have Proof
As an attorney you have a specialization and certain areas of practice. But you may not be able to claim to be an expert in them.
The ABA Rule 7.2 legal advertising provision states that:
"A lawyer shall not state or imply that a lawyer is certified as a specialist in a particular field of law, unless:
The lawyer has been certified as a specialist by an organization that has been approved by an appropriate authority of the state or the District of Columbia or a U.S. Territory or that has been accredited by the American Bar Association; and
The name of the certifying organization is clearly identified in the communication."
The main point of this guideline is to avoid misleading the consumer. You need to be transparent with your qualifications, so if you are not a certified expert, you should not claim to be one. You need a seal of proof by attorney and judges in your area of law to be able to do so.
If you don't have certifications yet, you can highlight your tenure, experience, awards won, and major accomplishments.
The McLellan Law Firm is a great example of attorney advertising that is not claiming to be an expert but letting their experience and successful cases speak for their firm.
For certain states, for instance — the rules regulating the Florida bar — will offer board certification. While you may include your practice in your ads, you can't state you're an expert. Board certified attorneys receive special benefits.
Don't Use False Advertising
While generating leads and growing your business with new cases is great, it shouldn't be at the cost of misinforming your prospective clients. Always refrain from making false or misleading statements anywhere in your lawyer's advertising and written communications.
Here are some ways you can avoid misleading your audience:
Avoid using superlatives like "best", "lowest", "most" in your advertisements

Claiming to be "The best divorce lawyer," "most cases won," or "world's leading provider" can do more harm than good for your law firm as these are considered deceptive. These claims can not be quantified and, therefore, can't be proven.
Don't make promises (to win cases, for instance) to your audience
Every case is unique, and it is impossible to guarantee a definite outcome. This falls under misleading information and can damage your client relationship if you cannot deliver the promise.
Don't make true statements but leave out important details

Always state all the terms and conditions of your offer. Some law firms often mention having free consultations but don't disclose that it's for a limited time only, after which a fee would apply. This falls under false or deceptive advertising and will likely drive potential clients away.
Proof of a lawyer being true to offering free consultation in his legal advertising comes from a customer review for one of our clients, Atty. Richard Hochhauser, who specializes in DUI and criminal cases.
Some States Require That Law Firms Have a Physical Office Address For Pursuing Lawyer Advertising
Some states, like Florida, require you to state a physical office address in your legal advertising content. Whether you're using Google ads or TV ads, there should be a complete physical address where your law firm is located.
Rule 4.712(a)(2) of the Florida State Bar states:
"All advertisements must give at least one bona fide office location by city, town, or county of the lawyer who will perform the legal services advertised."
When advertising your legal services, check your state bar's guidelines regarding physical office location. Please include your address on your law firm's website if this is the case.
You can put your office location along with your other contact information. Our client, Atty. Robert J. Lee puts his office location in his Contact Us section along with business hours and phone number.
Don't Pay or Solicit Testimonials For Your Legal Services
According to the ABA Rule 7.2, law firms and lawyers should not pay or offer gifts in exchange for customer testimonials to be used in attorney advertising.
It has two parts which state:
" A lawyer shall not compensate, give or promise anything of value to a person for recommending the lawyer's services,"
and that…
"A lawyer shall not give nominal gifts as an expression of appreciation that are neither intended nor reasonably expected to be a form of compensation for recommending a lawyer's services."
Most law firms have a review generation strategy, but they ensure that it adheres to the ABA guidelines.
Generally, a lawyer or law firm puts a link on their website where former clients can leave a review. If the firm has a Google Business Profile, previous or current clients can leave a review anytime. Either way, these are acceptable means of getting reviews in digital advertising, as it is expected that people would leave a review of their own accord.
To ensure that reviews are authentic, law firm websites would embed reviews from Google, Yelp, or Facebook to their pages, such as what our client, West Coast Trial Lawyers, did with their site:
Don't Promise the Same Results as Previous Winning Cases to New Clients
In line with not misleading consumers, the California Bar's Rule 7.1 states that testimonials should not lead potential clients to believe they will get the same results as the person giving the testimonial.
As a best practice, it's good to apply this concept in testimonials and with all communications in your ads and digital marketing strategies. Rather than promising results, focus on highlighting your qualifications and how it can help your potential clients with their cases.
Our client, Staver Accident Injury Lawyers, does a great job on their legal advertising page. They described how they would help a potential client without making any definite promises.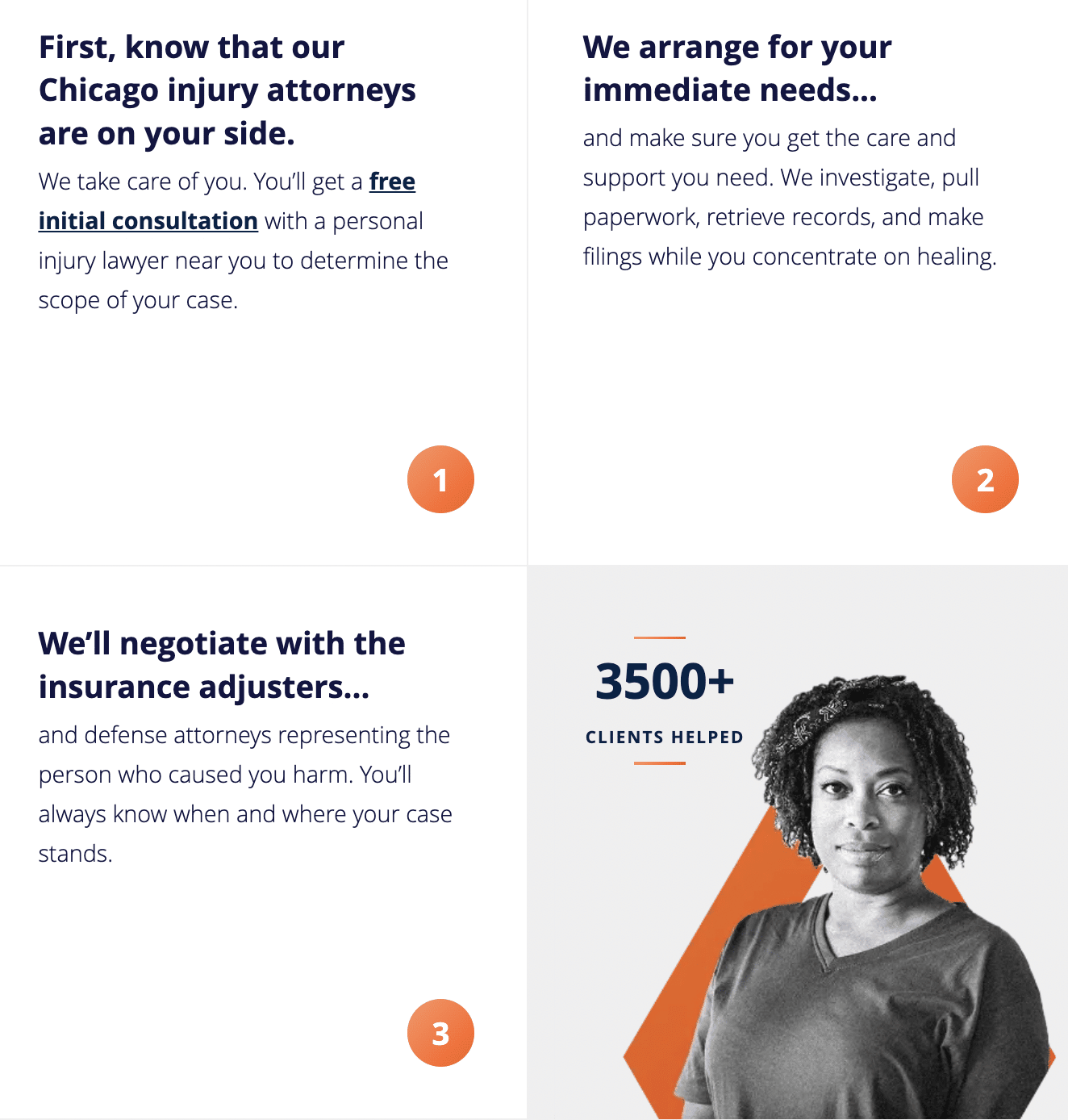 Paying For Lead Generation Services is Allowed
ABA mentions that third-party lawyer marketing services like lawyer directories and pay-per-lead companies are acceptable.
The section states that:
"A lawyer shall not compensate, give or promise anything of value to a person for recommending the lawyer's services except that a lawyer may:
(1) pay the reasonable costs of advertisements or communications permitted by this Rule;
(2) pay the usual charges of a legal service plan or a not-for-profit or qualified lawyer referral service"
Law firms may pay for lawyer marketing agencies, lead generation services, and lawyer directory subscriptions.
Always Put a Lawyer Bio on Published Articles
Another provision in the ABA Rule 7.2 says that:
"Any communication made under this Rule must include the name and contact information of at least one lawyer or law firm responsible for its content."
If you have a lawyer blog where you regularly publish content, ensure that you have the lawyer's bio at the end of each blog post. This should include the lawyer's name and contact information.
In addition to complying with the ABA guidelines, it also increases your chances of ranking in organic search, as Google considers author bios a factor for a website's trustworthiness. It's important to note that it is not a ranking factor.
Here's a great lawyer profile example of Agruss Law Firm that follows the ABA guidelines within their legal advertising content:
Such author bio pages are also great for SEO because they help your E-E-A-T.
Know What You Can And Can't Include in Your Law Firm Ads
To ensure you abide by attorney advertising rules, here's a basic list of information you can and can not have in your ads.
You can include the following:
Recognitions and awards from reputable organizations are welcome to be included in your legal advertising and other marketing content (like a law firm website).
Our client, The Goldberg Legal Group, features award badges on their homepage:

Lawyers under the law firm

The ABA Rule 7.2. lawyer advertising rules say that advertisements should have at least one name of the lawyer from the firm who is responsible for the contents of the ad. This is valid even for advertisements that are exempt from the filing requirement.
Most law firms go the extra mile and create a profile page for each lawyer and put it on their law firm's website. Each lawyer's biography includes their name, credentials, cases won, and other qualifications.
Rates

You can include your rates in your ads as long as the information is complete and does not omit important details about payment and fees for your legal services.
You may also want to mention whether you charge hourly or fixed rates and if you accept flexible payment plans.
State bar associations

Most lawyers include their state bar associations to strengthen their credibility and qualifications. Here's one of our clients, Atty. Michael J. Goldstein, including his current bar association in his lawyer profile:
Languages spoken

Our client, Atty. Mehdi Cherkaoui mentions languages he is fluent in within his lawyer profile:


Disclaimer

For advertising in certain states you may need to put a disclaimers around your designation. For TV advertisements, you may need to disclose that you're using actors — not actual clients in your law firm's commercial.
You can not include the following:
Pending cases

A legal case is confidential, so mentioning this in an advertisement is a definite no-no in lawyer advertising rules.
Fake lawyer names
This is another form of deceptive advertising and might mislead viewers into wrong or inaccurate information.
Made-up or fake legal documents created to illustrate or simulate a case are not allowed and fall under false advertising practices. Avoid using these images at all costs.
Find How Long You Need to Retain Advertising Records
Most jurisdictions will want you to keep copies of both your physical and digital records on file — for the complete year or may be multiple years.
In the State of California, for instance, you have to keep a copy for four years. Here's an excerpt from the State Bar of California, "Providers must keep all records, including the records of attendance, agendas, copies of written materials and promotional materials (if any) for four years from the date the program is held."
Know if You Can Use Your Trade Name
Sure you can register a trade name. But certain jurisdictions may not allow you to use them in your ad. For example, The New York State Bar's Ethics Opinion 1017, states that:
"A lawyer in private practice shall not practice under a trade name, a name that is misleading as to the identity of the lawyer or lawyers practicing under such name, or a firm name containing names other than those of one or more of the lawyers in the firm, except that by the name of a professional corporation shall contain "PC" or such symbols permitted by law, the name of a limited liability company or partnership shall contain "LLC," "LLP" or such symbols permitted by law…"
Conclusion
Understanding the basic guidelines and lawyer advertising rules that the American Bar Association has set is essential to the integrity of your legal profession. These guidelines help you deliver fair and honest lawyer advertising and earn the trust and confidence of potential clients along the way. In essence, the goal is to be fair and honest in your lawyer's advertisement to always be on the right side of the ABA's guidelines.
Continue With Reading Bar Rules For specific States Below: