Google Screened
Google Screened Ads: Guaranteed Leads for Qualified Service Providers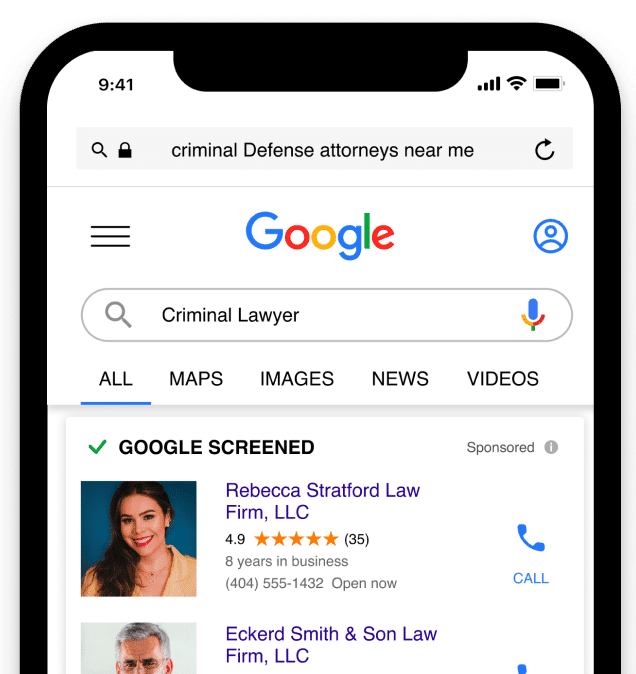 How the New Google Local Service Ads Works
Be Found at the TOP of Google
Build Trust by earning the Google Screened Badge
You only pay for real qualified phone leads NOT fake clicks
When a potential client searches for your service in your geographic market, your business appears at the top of their browser with:

The name of your business
A photo
A "Google Screened" badge
Your hours of operation
And a call button so the potential client can phone your business
Industries we can work with
Criminal Lawyer
Estate Lawyer
DUI Lawyer
Personal Injury
Tax Specialist
Family Lawyer
Contract Lawyer
Disability Lawyer
Real Estate Agents
Immigrant Lawyer
Bankruptcy
Labor Lawyer
How much does it cost?
With Local Service, you set your budget.
You're only charged when the call lasts for more than 30 seconds.
You can set a weekly budget that caps the leads you receive.
While your daily leads may vary, you will never exceed the weekly budget.
You also have the ability to dispute invalid leads and to receive a refund for those calls
How do I qualify my business for Local Service Ads?
Currently, Local Service is only available to law firms, financial planning businesses, and realtors. In order to earn the badge, your business has to pass business-level and business-owner background checks.
Your business must have a Google business star rating of at least 3.0. Professionals in the business must pass a license check and in some categories, the professionals must also pass a background check.
How do I qualify my business for Local Service Ads?
As Google begins to implement this system, PPC and organic search ads are going to be pushed down the SERP. Based on the previews we've seen, the new Local Service format could take up as much as a quarter of the top of the page. While it's too early to discern the impact that this new platform will have on the effectiveness of PPC and SEO, we believe the upside of being an early adapter of Local Service Ads has enormous potential.
To find out more about Local Service Ads or Google Guarantee and what you need to do to earn your badge, contact the global internet marketing experts at On The Map Marketing today!