Magento Web Design & Development Company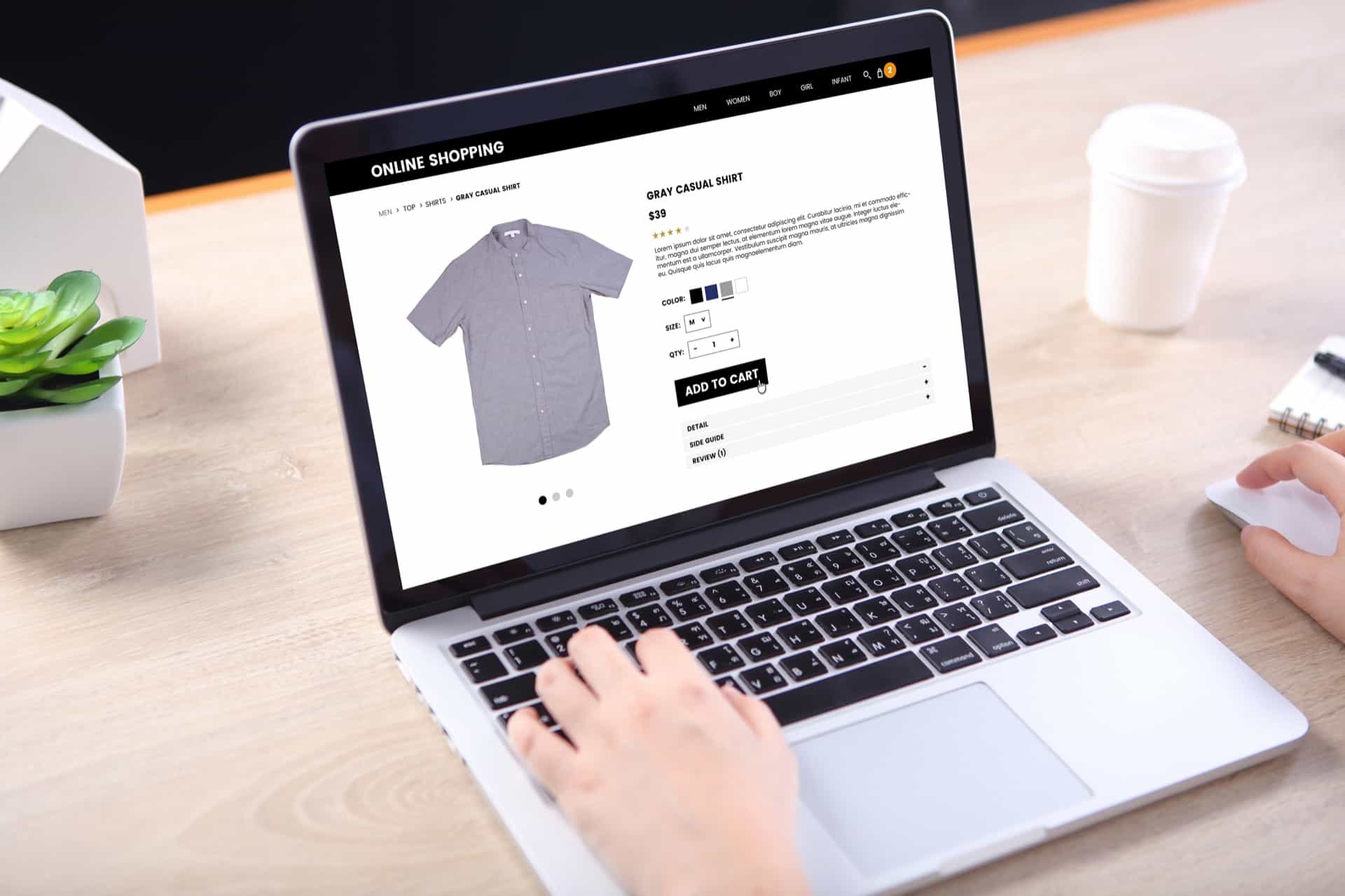 If you run an e-commerce website, chances are that you have at least heard about Magento as a powerful platform, but how much do you know about how it can help you bring your online product or service sales to the next level? The team at On The Map Marketing has been helping customers build new Magento websites for years, and our history of success with a range of clients should be a great indication that you have picked the right Magento web design company for your needs. However, we understand that deciding who to hire for a Magento site happens after someone has realized that they will benefit from this option, so we have taken some time below to give you a better idea of the benefits of using the Magento e-commerce platform.
A new website can be the key to "leveling up" your online presence, and your business. If you know that you are ready to take this next step in growing a thriving online commerce site, contact us as soon as possible to speak with one of our representatives about how we can help. Our developers, designers, and writers are all ready to help you drive new business to an attractive site that converts.
If you are uncertain of whether or not a Magento-powered site is a good fit for you and your business needs, read more below. 100,000 websites—who did $155 billion of business in 2019—can't be wrong. The key to leveraging the power of this tool is to work with a team who understands the platform inside and out and can help you bridge the gap between your business and the benefits of this e-commerce solution.
What Is Magento?
Simply put, Magento is an e-commerce platform that was first launched in 2008 by Varien In 2018, Adobe Inc. acquired the platform from Amazon for $1.38 billion after the technology had been bought and sold a handful of times over the previous decade. The Magento Commerce platform empowers business owners to not only build a website on top of a powerful framework, but it also allows them to capture mobile and tablet traffic by creating seamless and stunning responsive design sites.
What Is Responsive Design?
Responsive design may sound like a buzzword to the uninitiated, but the reality is that this type of design is absolutely essential in the modern economy in order to capture the estimated 40% (and growing) of web transactions that take place from a mobile device. When you build a website that is designed for standard browsing on a desktop or laptop, all of the elements of the site are scaled for maximum browsability without cluttering the visitor's browser and ultimately driving them away from the site. However, the cleanest and best-organized website on a standard computer screen needs to be able to be visited on iPads, Kindle tablets, and smartphones.
On a well-executed responsive design website, a user can seamlessly jump from their laptop to their smartphone without losing key features or usability. Since there is such a large number of people who use their smartphones for nearly everything, this ability to jump between screen sizes and resolutions is essential to keep your visitors returning to your site, and ultimately transacting.
Is Magento the Best E-Commerce Solution?
The answer to this question is more complicated than a simple "yes" or "no," and truly depends on how much customization and control you want over your website. There are plenty of Platforms As A Service (PAAS) out there that operate on a simple "plug and play" basis, which can get you up and running in a short time. However, if you want to have total control over your appearance, your users' web experience, and more, then a fully-customizable option like Magento may be your best option.
However, with full customization comes extensive work in order to get a website that you are proud to share with the world.
When you work directly with a company that provides you with an e-commerce platform to launch your business on, you will have limited options of things like layout, site structure, design, and even whether or not you can remove their logo from your header. Each special request or change that you need on the platform will cost you additional money, and you may ultimately find that customizing a plug and play e-commerce platform will cost much more than hiring a developer to build you a site from scratch.
When you use an open-source platform like Magento, you will be able to start with a rock-solid foundation and then move forward with every customization that you are willing to put the resources into. In addition, you will be able to design your user experience EXACTLY the way that your users want to interact with your site, instead of being shoehorned into a generic UX provided by the third-party e-commerce platform. The drawback here is that there is a lot more legwork that needs to go into the building, launching, and updating a custom site built on the Magento framework, which is why it is so important to find a reputable and professional Magento developer to take on this project with you.
Why Use Magento as your Content Management System?
As an online merchant, one of the best ways to stay on top of changing trends in the market and providing your customers with the best possible experience is by having robust insight tools into user behavior, as well as the ability to adjust your platform according to your findings. If these sound like benefits that you would like to provide your business (and your customers) with, then Magento might be for you. While insight and customization are two major selling points for the platform, there are many other advantages that may sound extremely appealing to you, especially if you have dealt with the pain points that Magento is so good at solving.
The following are just a few of the many additional benefits you get with such a highly customizable platform.
Mobile Commerce
As mentioned, a significant percentage of online transactions take place from smartphones or other mobile browser, which means that if you are unable to capture this traffic you are automatically reducing your sales reach by 40%.
No Subscription or Licensing Costs
As an open-source platform, you can take the PHP source code and do with it what you like. This means that you will not need to pay any fees to Adobe, and will not need to lose a portion of your income to a transaction fee like many other e-commerce platforms institute.
Flexible Sales Pricing
With many plug and play e-commerce platforms, you will find it difficult to integrate things like coupons, discount codes, and other types of flexible pricing structures. No matter how unique of a sales structure you would like to implement, you can make it happen with the right Magento development team.
Multiple Storefronts
A growing trend in e-commerce is inviting multiple vendors to operate individual storefronts under the main page, similar to Etsy. There are a variety of platforms that allow for multiple storefronts but will give you little to no lateral decisionmaking about how you interact with these storefronts, how they are served to customers, or how you control the vendors who are operating on your page. With Magento, you have the ability to retain complete control over all of these decisions and more.
One-Page Checkout
Simplicity is one of the essential factors of a well-performing e-commerce site, and for good reason: with so many options for transacting on the internet these days, a visitor often finds it easier to completely back out of a website and find another vendor with a similar or identical product or service instead of trying to navigate a complicated checkout page. "Gotcha" checkout pages that require extensive and unnecessary information is a turnoff for discerning online shoppers, and with full control over your checkout experience you will be able to optimize for what your customers expect.
Our Magento Design and Development Process
No two web design projects are ever truly the same, whether or not they are built on the same platform or are in the same industry. Approaching every project without pre-existing assumptions is one of the core tenets of our work, and one of the many ways that we are able to deliver consistent, high-performing results to satisfied clients for over a decade. However, consistency in our approach is essential so that we are able to leverage our experience & continue to improve on our work.
Research and Analysis
The first step of any successful project is to do extensive research into our client's industry, and a comprehensive analysis of any previous web performance from our client's existing website. By taking a deep-dive approach to the industry that we are building the site for, we can learn more about your target audience and their online behaviors so that we can design a site best-suited for their needs.
In addition to our research, we will be able to analyze your website's historical performance to identify any best practices to bring into your new design, as well as any poor performers that we will need to either correct or avoid entirely. We use a data-based approach to analyzing past performance so that we can provide you with unbiased and objective suggestions on how to maximize your website's performance.
Design
Once we have completed our research on your target audience and analyzed your existing site performance, we can move on to the design phase. During this phase, our designers will take a User-centric approach to design so that your users can arrive to your home page and have a simple, seamless, and enjoyable experience as they move towards converting on your site. This experience is known as a "user funnel," and we design these funnels specifically towards your target conversions. When we are designing for Magento, there are some additional considerations that we will need to make to ensure that everything works as expected on launch day.
Throughout the design process, you will be able to provide feedback for the mockups and wireframes that our designers will present. At the end of the day, it is equally important that you are proud to share your website with the world as it is that your customers enjoy their experience and keep coming back for more.
SEO
One of the major benefits that you will get as a client of On The Map Marketing is our extensive history with Search Engine Optimization (SEO). Much of our research and analysis in the first step will inform the marketing strategies that we will help you implement, including SEO practices that will help put your new website high in the Google rankings and in front of your target audience.
Our in-house SEO writers are some of the best in the industry, and will be able to provide your audience with useful, engaging content that will improve your search rankings and drive conversions. The most beautiful website on earth doesn't mean much if it doesn't have the content your audience needs.
Development
Although we are beginning our work on top of the Magento source code, let's not forget that we are using this platform because of the customization abilities. Our developers will get to work building a robust backend that provides you and your visitors with the exact tools and customizations necessary to provide an exceptional user experience with all of the bells and whistles that make the site yours.
Once we have your site running in a test environment, you will be able to interact with your website in its final design form so that you can provide us with additional input so that launch day is exactly what you want it to be. Once development is finished and your approved designs are live, the next step is to launch!
Launch Day
After all of the work that we have done together, launching is an exciting day where you can share your new website and improved user experience with the world. Unfortunately, launching a new site isn't as simple as cutting a ribbon—we will make sure that all of your existing connections, such as your URL, email, Google dashboard, and everything else is ready to go so that you don't have to.
Tracking
Once we have launched, tracking performance is absolutely essential to ensure that your business is taking advantage of all of the new and powerful tools that you have access to through Magento. We will work with you to help you identify any dropoffs in your conversion funnels, optimize your SEO strategy to drive new traffic, and ultimately ensure that you are providing your users with the best possible experience.
We will provide you with in-depth analysis and custom reporting so that you can follow along with your website's performance in the way that best suits you. Our analysts excel at creating custom reporting so that you can get a high-level view of your results, along with the option of going deep into the reports if you so choose.
Contact On The Map Marketing To Discuss Your Magento Project Today
On The Map Marketing is comprised of some of the best developers, designers, and writers in the industry today, and Magento-based websites are a significant part of our repertoire. We understand that approaching this type of project is daunting, even for an experienced and seasoned e-commerce vendor, but we pride ourselves on our collaborative approach and the impressive results in our portfolio
We understand that taking the step to a CRM as robust as Magento can be overwhelming or intimidating, which is why we are happy to work through this process with you and explore the many benefits that your business will experience. We will be happy to share our portfolio with you in order to give you a clearer understanding of our capabilities across industries, and how our specific approach to our clients results in highly successful websites and improved conversion metrics.
If you are ready to take the next step in your e-commerce journey, contact On The Map Marketing as soon as possible. We will be able to discuss your needs in specific detail, get to know more about your budget, and then return to you with a quote and options for the work that we will be able to do together.