HVAC Website Design: 11 Stand Out Examples For 2023
Want to create a new HVAC website design for your business? The first thing you'll need to do is look at successful HVAC company websites. Analyze what works for their branding, how they persuade prospects, if their design also facilitates their user engagement and helps their SEO, and their balance of creativity and functionality.
Lucky for you, I have compiled eleven of the best HVAC websites with our website expert: Janis Rubuls. So you don't need to go around looking on the web. Before we look at the websites though, let's first address why you need a website in the first place.
Why You Need an HVAC Website
Creating a company website for your HVAC business ensures you establish an online presence and attract more customers, which can greatly contribute to growing your revenue. Customers who need HVAC services are now more inclined to search for these services online using search engines like Google.
When you have an HVAC website that was built with search engine optimization (SEO) in mind, you'll appear on those search queries and get more potential customers visiting your site.
Most HVAC companies hire a digital marketing agency to create a website for them, ensuring that they get a quality website that is optimized for SEO.
6 Qualities of a Great HVAC Website Design
Before you create your website, you need to learn the basics of what makes a website great. Here are the main characteristics of a well-designed HVAC website.
User-friendly Design
The best HVAC websites are designed for optimal user experience. It should have a color scheme that is easy on the eyes, and fonts should be easy to read. There should be a high-quality HVAC company logo on the header and navigation menus on the homepage should be labeled clearly and visitors should be able to find their way in and out of a page without difficulty.
Complete Company Information
Website visitors would want to be assured that they are looking at a website of legitimate providers of HVAC services. This is why it's important to put in your company's contact information, including address or service area, phone number, and social media profiles in your website. These pieces of information are usually placed on the website's footer found on the bottom of the page.
Customer Testimonials
Some of the best HVAC websites always have customer testimonials and reviews on its homepages. Not only does it make your company trustworthy, it assures potential customers that their problems can be solved using your HVAC services, as seen from positive customer reviews.
List of HVAC Services
Not all customers know what HVAC services entail. Be sure to list all specific services on your website so your visitors know what HVAC system you offer. Most HVAC sites have a drop-down menu that lists each HVAC service available. The example below separates air conditioning from heating, plumbing, refrigeration, and other home services.

If you offer 24/7 emergency services, be sure to put that on a prominent area of your website, like the header.
Pricing & Payment Options
Providing pricing and payment details on your website can save the visitor's time since he doesn't have to call or email to request a quote. However, all charges should be explicitly stated so as not to mislead potential customers and maintain trust and transparency.
If you're not comfortable stating your pricing, you can mention financing options or special offers to win over potential clients.
Parker & Sons placed coupons on their website to help with conversions:
Optimized for Search Engines
As mentioned earlier, an effective HVAC website design goes beyond aesthetics and functionality. It also needs its content to be optimized so the site appears on top of search engine results pages (SERPs), making it more visible to potential customers and website visitors. Your website should have relevant keywords that people use to look for HVAC contractors online.
Top 11 Examples of the Best HVAC Websites
In addition to the qualities of a great HVAC website mentioned above, you would also need to consider your brand, and how you want your web design to look and feel. To help you envision the perfect website for your business, here are 11 of the best HVAC websites we've found online:
Houston-based Mission AC & Plumbing's HVAC website stands out with its effective use of CTAs, attractive decorations, and a personalized video hero section, providing users with a compelling overall experience. While some text blocks may appear overly large, the site is generally considered to be of the right size for readability.
Brody Pennell designed an HVAC website that has well-placed call-to-action buttons right at the top, making it easy for visitors to navigate and learn about their local services. They used clear and readable fonts, with an overall theme that is visually appealing. The photo of the service van against a background of a neighborhood fits the brand well.
Air Pro's HVAC website design makes great use of entertaining video integrations, which add an engaging and interactive element. It successfully captures visitors' attention and makes the site more memorable. The clean aesthetic helps visitors read and navigate through the site with ease, and call-to-action buttons are kept to a minimum to ensure the site achieves its goal.
Miami-based HVAC company Air Solution & Repair takes a few seconds to load, but it showcases a professional design with well-implemented call-to-action buttons. The presence of hover effects, personalized photos, animations, and a cohesive color scheme contribute to an engaging and visually appealing experience.
Based in Nashville, Green Trucks' website manages to look classic yet modern at the same time. This combination creates an entertaining experience for visitors. Despite giving off a professional impression, it manages to retain its own unique personality. Buttons and menus are kept to a minimum which helps visitors with easy navigation.
Although the hero video on the website takes a while to load, resulting in an initially blank hero section, the overall site is an excellent example of showcasing personality that makes a great first impression. This site also used thoughtful color choices, and a compelling narrative to engage visitors and enhance user experience.
While the site is simple and solid, the hero section feels a bit abrupt, possibly due to the choice of background color. Some adjustments in this area could enhance the overall user experience. Nevertheless, the site achieves its purpose and presents its call-to-action buttons effectively.
Although West Coast's HVAC web design has overall likeability, the content could benefit from better styling to enhance readability and visual appeal. There's room for improvement when it comes to fonts, spacing, and formatting, which can make the information more engaging for visitors. The use of video above the fold is a great choice, which elevates the feel of the home page.
Although font optimization is needed, the site's design demonstrates great personalization and effectively integrates the company's symbol. It creates a unique identity for the brand and showcases a professional touch. The group photo of the company's employees establishes customer trust, which can help with conversions.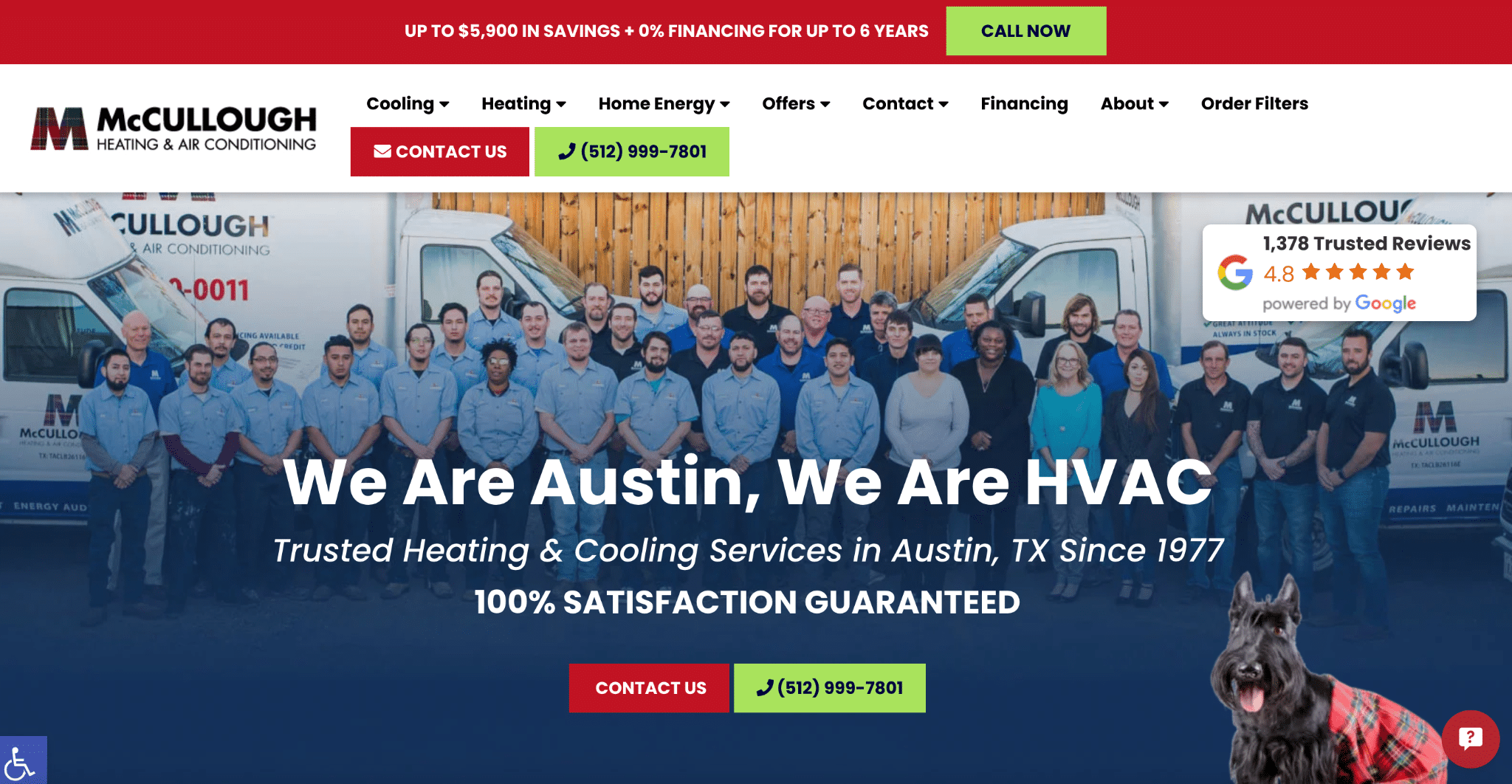 The website incorporates good personalization, but certain areas of the design seem slightly off in terms of style. Refining these elements would result in a more cohesive and visually pleasing experience for website visitors of this particular HVAC company. The company photo showcases HVAC technicians who can deliver quality home services, which is great for attracting homeowners and turning them into customers.
We built House Pro's website as part of their HVAC marketing strategy. We used quality photos for the slider and a minimal color scheme for a clean design. There are two call-to-action buttons, with one included in the contact form. We also highlighted the company's 4.8-star reviews on the header to ensure site visitors of quality HVAC services.
Build Your HVAC Website Today!
If you're opting to build your website on your own, you can check out WordPress and use website templates that are easy to customize without having web development skills. Take note, however, that creating a good-looking website is not enough to attract potential customers. You need to apply search engine optimization (SEO) so people can find you online.
On The Map marketing has created websites for hundreds of local HVAC businesses. We specialize in unlocking local organic growth for local businesses, and can bake "SEO" into your new HVAC website's foundation.
If you're short of time and want website design experts on our team to create a professional HVAC site for you, then contact us with your business requirements.