Best Roofing Website Design Examples For 2023
A well-designed site is the foundation to establish a credible roofing brand in the eyes of your prospects. But what does a great roofing website design look like?
In this article, I've compiled the ten best roofing websites on the internet. Our designer, Janis Rubuls, helped with evaluating them based on their appearance, functionality, and a bunch of other web design best practices — that we discuss in detail later in the article.
Are you ready to get inspired by fellow roofers and put their best practices to use?
Let's go!
Related: Roofing Marketing: 12 Ideas to Get More Clients
10 Best Roofing Websites in 2023
Out of the many roofing websites we evaluated, only ten stand out from the rest. Here's the first one:
1. Chet's Roofing
There's nothing better than browsing a website with a logical content flow. First, Chet's Roofing offers potential customers a free quote. Scrolling down the site, the company shares more information about its roofing services. It also details its roofing process to show prospects they know what it's doing.
Finally, the website features pictures of completed projects and 5-star customer reviews. There's also a FAQ section and contact page for good measure.
The way Chet's Roofing lays out the information on its homepage helps build trust with its audience. Its site gives visitors all the details they need to choose the company for their roofing needs.
2. Moss Roofing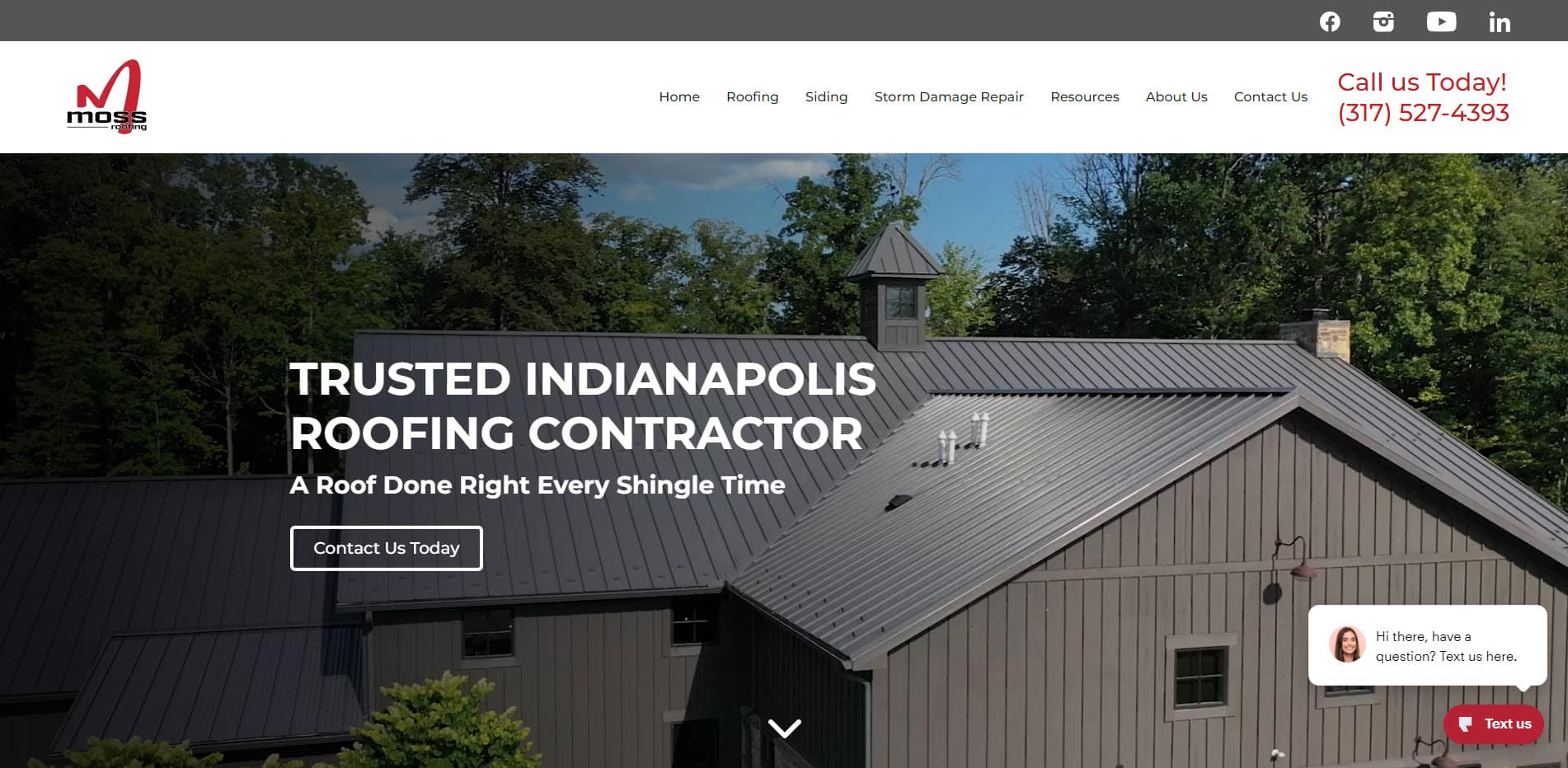 Moss Roofing proves that a simple approach to website design is more than good enough. The page loads with a smooth and engaging hero video. From here, there are three CTAs visitors can act on. These are the header phone number, the contact button, and the chat widget. These help connect people with the company immediately with their concerns.
The page also features details about its services and process. The company features financing options for people who need funds for their projects.
Finally, the roofing company website shares customer testimonials and awards it received. These are testaments of their accomplishments for their clients and the industry. All these help foster trust with their prospects in the process.
3. Cloud Roofing
The first thing evident with Cloud Roofing is its dynamic video background. It helps bring attention to CTAs linking to its different services. There are also badges of accreditations and client statistics. They encourage visitors to learn more about the company, if not click on the CTAs.
The rest of the page uses a sharp and contrast-based design. The yellow and black color scheme helps emphasize the most important page elements. The site also uses animation in its design elements to draw the visitors' attention.
Not to mention, instead of a sticky header, the page features a sticky bar at the bottom. It has buttons for its free quote form and phone number. Taking a different approach helps the site to stand out even more.
4. Champion Roofing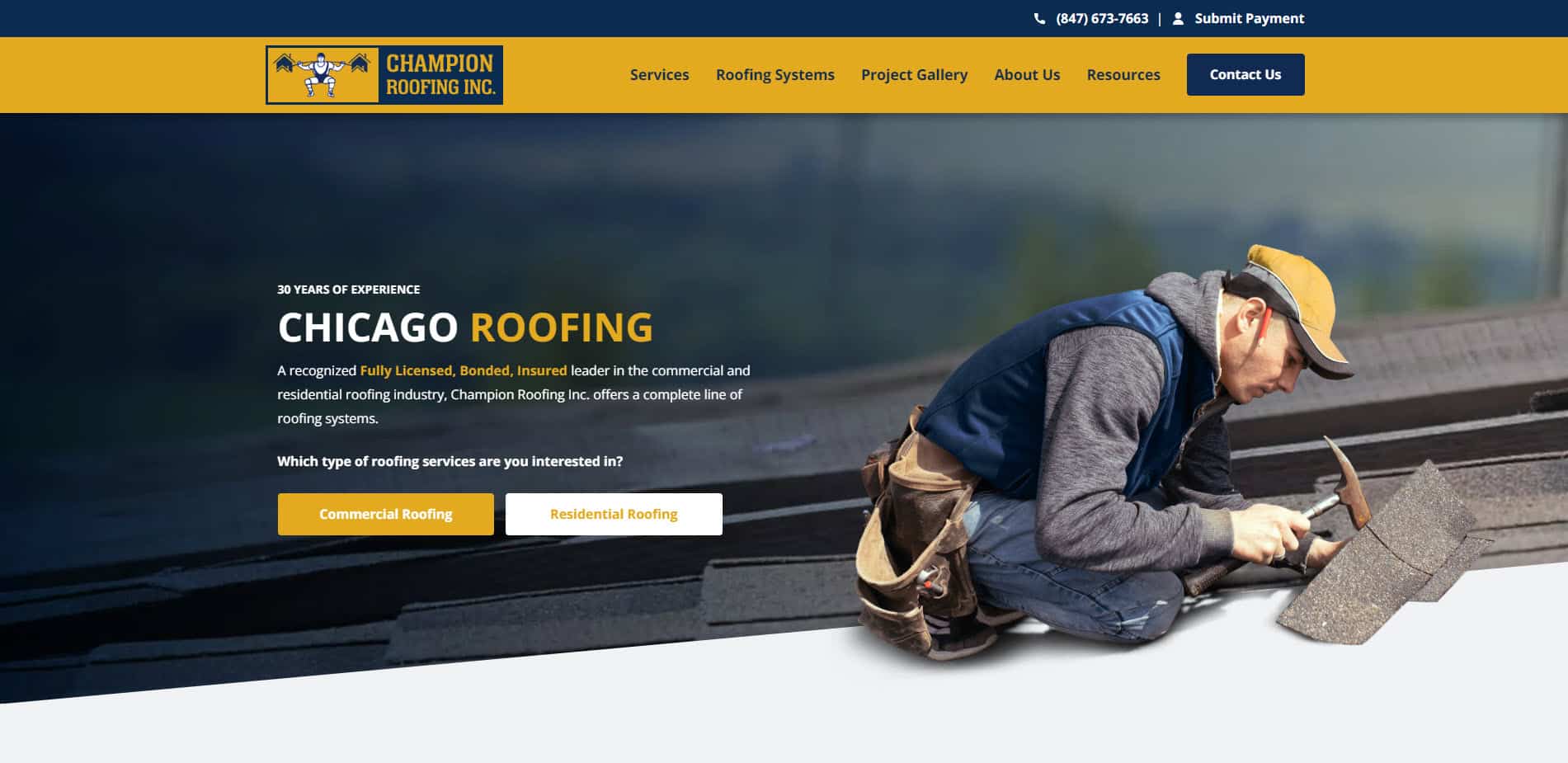 Champion Roofing is as solid as roofing contractor websites get. First, it boasts impressive hero visuals that convey professionalism and a personalized touch. There are two CTA buttons to its services to click on to learn more about each.
Everything else feels well put together and thought out as well. Each section has a different color, making them distinct from one another. It also has a CTA button unique to the section's topic.
Finally, there are testimonials, awards, and roofing project galleries on the page. These trust signals help convince website visitors to reach out to the company's services.
5. Retro Roofers
Retro Roofers embraces the playful drawing style design that is an ongoing trend. But it does so by paying homage to the past with its monochromatic blue color scheme.
The site also uses a unique font, which fits perfectly with its retro theme and gives it more character. Additionally, it utilizes huge headers and white space to create a sense of balance.
The modern design trends featured in this throwback website give it a dynamic and fresh feel. For instance, the sticky narrow header doesn't intrude on your browsing of its content. Also, the company went with the "show, don't tell" approach by featuring just as many videos as there are images.
6. A Better Roofing Company
A Better Roofing Company's design seamlessly directs what visitors should do next. For instance, there's a "LEARN MORE" button for more details about its services. A "GET QUOTE" button is on the header if people want to contact the company. Even better, they can reach out to the company using the phone number on top of the page.
The key to its calls-to-action (CTAs) in red standing out is its light color scheme. It adds a sense of clarity and cleanliness to the overall aesthetic. This makes the design elements easier to understand.
The use of good stock photos further enhances the visual appeal. However, the roofing company's project images hit the mark. The client roofs' appearances help sell the effectiveness of the services offered.
7. CFL Roofing
One thing that stands out with CFL Roofing is its eye-catching above-the-fold section. It's the only site in the list with a price tag attached to its CTA.
The company's initial transparency with its pricing immediately sets customer expectations. This is good as it could encourage visitors to request a free estimate. Also, its beautiful hero video showcasing roofs adds a nice touch to its offers.
In fact, the use of visuals is on point throughout the site. The high-quality images and videos feature more roofs, aligning with the site's theme. Additionally, the green and orange color scheme creates a vibrant and playful atmosphere. All these factors result in a positive user experience for its target audience.
8. Bumble Roofing
Bumble Roofing showcases an excellent approach to branding. As the name suggests, the site uses color and images associated with bees. That includes the yellow and orange scheme and hexagon shapes of the bee's honeycombs.
It also utilizes visually captivating elements to create a well-designed flow. Broken lines and bees with arrows for their head serve as visual cues. They help direct your eyes to where your attention should be.
Upon scrolling the page, visitors can find fixed chat widgets on both sides. This allows visitors to reach its customer support for their immediate concerns.
9. Roofing Done Wright
Roofing Done Wright adopts a simple and light design approach, making it easy to navigate. The large images, clear fonts, and sharp fonts help communicate its message. The site uses white space and distinct colors to divide each section clearly.
It also showcases the awards and testimonials the company has received through the years. There are photos of successful client roofing projects as well. All of these aim at convincing people to hire the company for its expertise.
Finally, the site uses a sticky 12-month financing offer contact form as its main CTA. But there's also a free video roof inspection button at the bottom of the page. This gives prospects different options for reaching out to the company.
10. D & L Roofing
D & L Roofing uses modern and contemporary design trends to great effect. First, the above-the-fold section features a slideshow of high-quality images and various CTAs. The sleek dark background allows the bright CTA buttons to pop even more. The site uses a more vibrant color scheme for the rest of the page.
To help compartmentalize the information, each section is enumerated. It also uses the accordion menu to show text people want to see. To view the other details, users can click on its subheader to expand it. By doing so, it hides the previous text. This helps make the information less overwhelming and easier to digest.
Roofing Web Design Best Practices Top Roofing Contractors Follow
The above roofing websites exhibit web design practices that make them not only pleasing to the eye but also convenient to browse. Below are the main tactics these websites implemented that you should also apply in yours.
Provide a Stellar User Experience
Ensure that your site loads fast. To know how efficiently your website runs, enter its URL on GTMetrix. Here, you'll see how fast it loads and suggestions to improve its performance.
It should also have a responsive design so mobile users can view your site without issues. Google Mobile-Friendly Test is another tool you can use for knowing if your site works well on mobile devices.
After that, set up a contact form or a chat widget on your site pages so potential customers can reach out to you. You can also share your contact information on your site so people can call you instead.
Communicate The Unique Value Proposition of Your Roofing Services
Let visitors know what makes your roofing business special. To do this, use visuals like photos of finished projects, video testimonials from happy clients, and more.
Your UVP should also be evident in your web copy too. A way to do this is by building a story that addresses the pain points of homeowners and how you can be their solution. Be creative in how you want to convey it through words. From here, you can build a brand people will turn to for their home improvement needs.
Showcase Social Proof to Earn the Trust of Your Visitors
After completing their projects, send customers emails asking for an honest review of your services. You can also reach out to them in person. Once you receive the reviews, feature them on your site.
Aside from photos of finished projects, feature certifications and accreditations you received through the years. Plus points if it's from notable award-giving bodies in the industry. They help bring more legitimacy to your business and convert more prospects into customers.
Use Clear and Compelling CTAs
Be specific and purposeful with the language you use in your CTA. Instead of "Click Here" or "Learn More," for example, use "Get Free Inspection." Also, make your CTAs visible on the page. Use big buttons with contrasting color so they stand out from everything else. This helps visitors know which elements to click and fill out on your page.
Finally, place them strategically on the page. Aside from featuring your main CTA above the fold, show it as part of a sticky bar. By getting more people to see it anywhere on your site, you increase its conversion rates.
Optimize Your Website for Search Engines
There are many search engine optimization (SEO) practices to observe concerning web design. Aside from a fast-loading website, another important factor is by conducting proper keyword research. You can then use the keywords in your on-page optimization efforts. You can do this by mentioning the terms in the title and meta tags of their respective pages.
You also need to take care of off page SEO practices such as building links and citations for your roofing company. From here, expect to rank your roofing site higher on Google and generate more leads in the process.
Create Location-Specific Content
Roofing companies offering their services to different cities and states must create content for each one. For starters, optimize new and existing pages for their respective local keywords. This includes writing great content unique to the service area or areas you cater to.
You can also follow this approach when writing informative content. Answer questions people in the city or state ask about roof repair and maintenance. When done correctly, your prospects will find your content on Google and convince them to become your next clients.
5 Best Roofing Website Design Agencies
Implementing the best web design practices yourself can be difficult and time-consuming. So, to make the design process easier, you can consider hiring an agency. Here's a shortlist of the five best roofing website design agencies with their expertise in double quotes as quoted by the companies themselves:
1. On The Map Marketing
We at On The Map Marketing provide end-to-end digital marketing solutions to local business owners. Our dedicated team can design fully-functional WordPress sites guaranteed to convert visitors into customers. We also design custom themes built from scratch to help roofers achieve the design and appearance they want on their websites.
Once we get your website up and running, consider getting our PPC services if you're looking for instant traction. We do PPC marketing end-to-end for roofers: from designing a landing page, crafting ad copy, and placing CTAs optimized for conversions. And finally bidding for relevant keywords to help increase your online visibility and get you more qualified leads.
Additionally we also offer SEO services to roofers. Unlike paid ads, SEO will help your website rank organically over a longer period of time (can take a few months) and get high intent traffic from search engines.
2. Hook Agency
Hook Agency has developed a simple and proven web design process called the "Winning Website Formula." It's responsible for helping the company build professional-looking websites for 100+ contractors. The agency also constantly conducts A/B tests on these sites to help it refine its process and continue to provide "interactive, modern, and dynamic" websites to clients.
3. Roofing Webmasters
Roofing Webmasters prides itself on having "designed thousands of websites over the past decade." The agency ensures that the custom sites they build for roofing contractors contain visual elements that strike the balance of "appealing user experience while properly reflecting your brand's local authority."
4. Black Storm Design
Among its roofing marketing services, Black Storm Design's web design stands out the most. It creates beautifully-designed websites containing the "necessary information and conversion factors" to help roofers generate more leads than ever.
The agency also provides customers with training materials to help improve their web design knowledge and skills via its "member course" platform. This way, they can turn their site's lead generation potential into reality.
5. Roofer Marketing Pros
Roofer Marketing Pros helps create a new website or work on an existing site. It ensures that every design detail (from color to font) is "meticulously chosen to produce more leads and appointments." The agency also acknowledges the importance of mobile traffic nowadays. That's why it focuses on creating "fast websites with easy to use forms" for clients so they can turn mobile users into leads as well.
How to Hire a Roofing Website Design Agency
From the choices above, you want to pick one that can help achieve your business goals. That said, consider these factors for choosing the best agency offering website design services:
Check for experience and expertise in the roofing industry. See if the agency received awards and certifications from notable organizations. The goal is to work with people knowledgeable about how the roofing business works.
Look at their portfolio and past work. Check the websites it has designed for other clients. The sites shouldn't only be pleasing to the eye. They should also boast design elements like social proof, contact forms, and CTAs that'll turn visitors into customers.
Read client reviews and testimonials. Narrow down your choice of agencies that received lots of positive reviews. The fact that customers gave them high scores gives you more reason to hire them. Also, consider how they addressed negative reviews. The agency's attitude and demeanor here should also factor into your decision.
Request for a free audit. The audit should share your current web design issues and how the agency can solve them. It should walk you through each problem and why it must be fixed. How the agency presents the information here is indicative of its expertise.
Evaluate their answers to your questions – Reach out to them for questions about their services and your website. Like the free audit, the scope and depth of their answers show how knowledgeable they are. Also, factor in how soon they reply to your queries.
Frequently Asked Questions About Roofing Website Design
Should You Use Roofing Website Templates For Designing Your Site?
Using templates can save you time and money. Since they are pre-made, just choose one that matches your brand. Then replace the existing design elements with your content.
However, templates are not ideal if you have unique requirements or want a more customized design for your roofing company. Also, there's a chance that other roofers are using the same template as you, risking your website to look familiar or generic.
How Much Does a Roofing Website Cost?
If you want someone else to set up the site and make design changes for you, you need to hire a roofing website design agency. Their services cost between $2,000 to $10,000.
If you plan on building the site yourself, expect to spend over $250 with monthly fees between $30-50. The costs include the domain name, web hosting, and custom theme. You can decrease the fees if you create your site using a website builder instead since it takes care of the hosting and theme for you.
How Do Commercial Roofing Companies Get Clients?
Roofing businesses initially generate customers through paid ads. They also use roofing SEO tactics to create sustained online visibility. Social media is another channel for them to spread the word about their business and build a vibrant following. Finally, customer referrals enable roofing companies to get even more clients.
How Many Pages Must a Roofing Website Have?
A roofing website must have at least five pages: Home, About, Services, Blog, and Contact. However, companies offering their services to different locations would need to publish more pages. In this case, they must create unique service pages for each location. This helps increase your organic search visibility for these cities and states.
Contact On The Map Marketing to Design a Digital Home for Your Roofing Business
If you're looking to close more roofing projects, we at On The Map Marketing can help. Our website design services cater to HVAC businesses such as yourself looking for a beautiful and functional website to showcase your target audience. We can later also chip in with our digital marketing services (when you need them to help you grow your business!)
To get the ball rolling, get a custom website design audit.