13 Best Plastic Surgery Websites (Designer Approved!)
Designing a website for your plastic surgery practice is not just about appearance. It's also about form, function, and usability. When combined seamlessly, these factors present your brand in a positive light and help you generate new patients for your clinic.
If you feel your website isn't achieving your planned marketing goals or want to build one from scratch, this post is for you. We'll look at some of the best plastic surgery sites, what makes each one great, and the best practices they all share. Designer and web development expert, Janis Rubuls, has personally helped vet and find these plastic surgery websites.
Use the websites and context about them here for inspiration in creating a VIP plastic surgery site of your own. If you're short of time, you can have On The Map Marketing do website design for your surgery website. Contact us to get a quote.
13 Best Plastic Surgery Websites
Here are plastic surgery sites that are notches above other cosmetic treatment providers.
John E. Sherman MD, FACS
At the onset, visitors will immediately notice the before and after gallery on the left side of the above-the-fold section. Showing the results early into the visitor journey helps position John E. Sherman as an expert in his craft. Showing the publications where he was featured also helps establish Dr. Sherman as a board-certified plastic surgeon. The site also uses dynamic animations to emphasize the most important page elements and get visitors' attention.
Adam R. Kolker MD, FACS
Adam R. Kolker embraces a captivating light theme while using high-quality photos and meticulously chosen fonts to effectively showcase its content.
The layout's logical structuring of sections, from services to testimonials, ensures a seamless navigation experience. The site's social proof is the standout here, however. It features tons of awards the doctor won from prestigious medical organizations and publications.
New York Group for Plastic Surgery
The homepage compels visitors with a combination of top-notch hero and stock photos that effortlessly convey its message. The New York Group for Plastic Surgery's light theme provides a clean canvas for these visuals, allowing them to shine and draw the viewer in. The footer contains links and information that ensure users leave with a comprehensive understanding of the website's offerings.
740 Park Plastic Surgery
In the services section of 740 Park Plastic Surgery, the image flips when visitors hover their cursor on it to show the different cosmetic enhancements for each type (rejuvenation, tummy tuck, botox). The virtual consultation CTA is fixed on the lower right side of the screen. These design approaches highlight the content and establish better usability to help visitors find what they're looking for.
Nip & Tuck Plastic Surgery
Nip & Tuck Plastic Surgery delivers beautiful, high-resolution images showcasing the doctors' works. There are also logos of the shows the doctor appeared in and badges showing the awards it won. Finally, visitors can find a call to action in the menu bar and a live chat widget on the page's lower right part. They give visitors different options on how to reach out to the doctor.
Heights Plastic Surgery
The site presents a simple and clean design, with a comely color scheme that invites visitors into its practice. Heights Plastic Surgery starts with an excellent hero video on the above-the-fold that shows a person walking into the clinic and getting a consultation. Also, instead of showing all the services it offers, the site only focuses on its most popular ones as not to overwhelm users. As visitors scroll down the page, its elements scroll dynamically with it, providing a polished experience.
Stephan Baker MD, FACS
Upon visiting Stephan Baker's website, its high-quality photographs of the doctor give it a more personalized feel. The copy is also crafted to elevate Dr. Baker as one of the top plastic surgeons in Miami, if not the best, to great effect. To help make its layout more compact, the site breaks down the services into different parts (face, breasts, injectables, body). Hovering the mouse cursor over these parts shows the cosmetic procedures available for each part.
Gold Coast Plastic Surgery
The site's consistent and well-colorized images are a testament to its dedication to a cohesive visual experience. Gold Coast Plastic Surgery also uses white space to prevent the elements from overcrowding the page. There are even sections that only show a large hero image with a header and a call-to-action button. These work because they give the site breathing room to deliver information to users without bombarding them with too much detail.
The Maercks Institute
Step into elegance and luxury with The Maercks Institute's beautiful black-and-white website design. The before and after section allows users to identify which body part the doctor worked on to help visitors compare the images properly. This MedSpa also uses a lot of white space between elements and black-and-white and colored photos to help visitors identify the different page sections.
Shifrin Plastic Surgery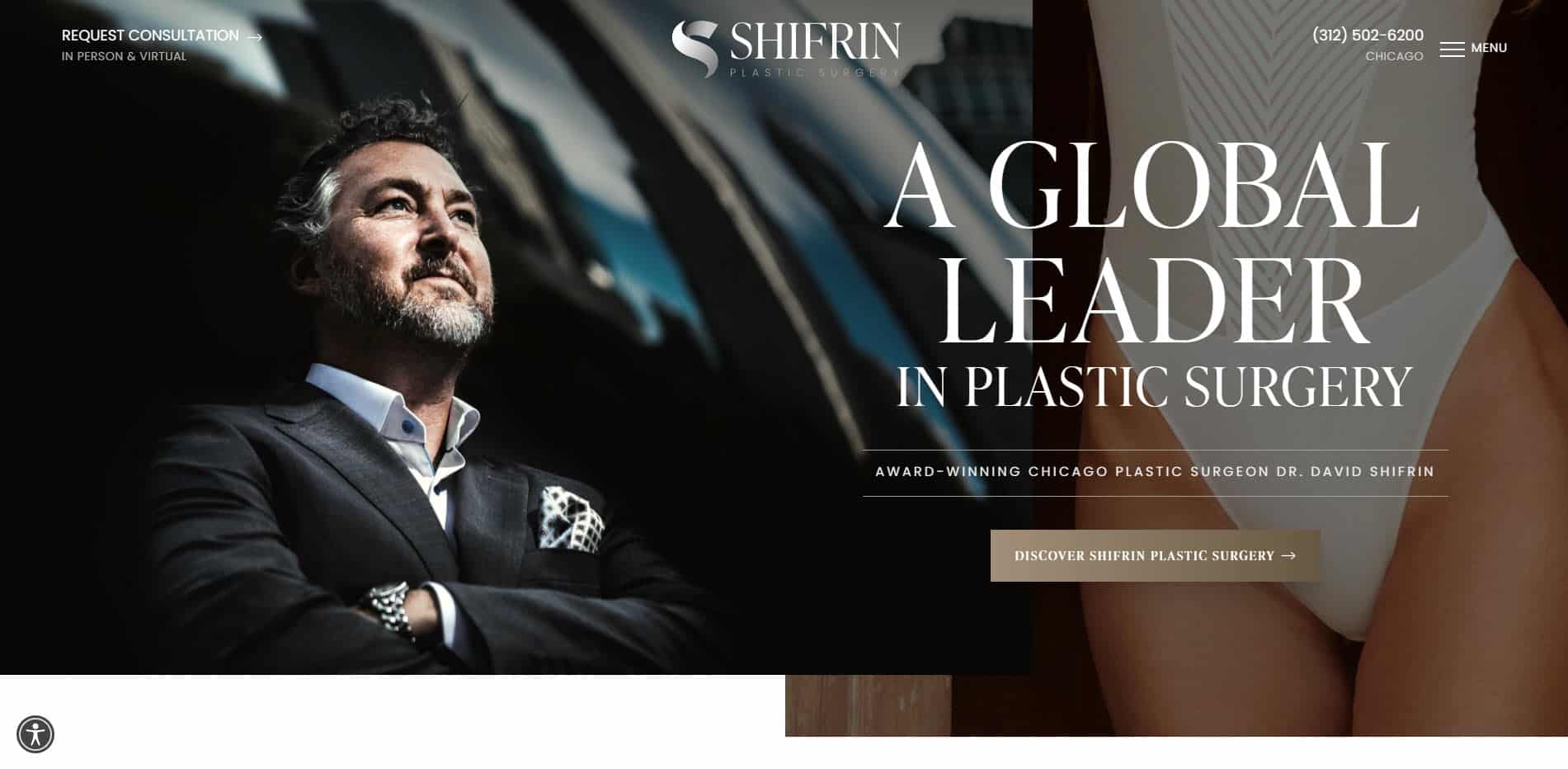 Shifrin Plastic Surgery uses stunningly large images of the clinic where the plastic surgery practice operates to make potential clients feel more welcome. The services section lets you click on the different surgical procedures it offers (body contouring, facelift, liposuction, etc.) and shows information about that specific service. This way, visitors aren't bombarded with the details of all its services at once.
Marina Plastic Surgery
The site uses its teal and white color scheme consistently, allowing its high-resolution images to make an impression on visitors. However, Marina Plastic Surgery puts a lot of stock on its social proof, helping it rise from the pack. Not only does it showcase positive client testimonials but also features the perfect star ratings it received from review sites like Google, Yelp, and others. More important, visitors can click on these sites to read more customer reviews.
Dr. Markarian
Don't be fooled by Dr. Markanian's brevity because it can communicate more with less. The site only features a slideshow of different hero images with respective call-to-action buttons in the above-the-fold section, its services (breast augmentation, rhinoplasty, reconstructive surgery), and a brief description of the doctor. Focusing on these elements makes it easier for visitors to make an informed decision.
Gawley Plastic Surgery
Gawley Plastic Surgery's multiple videos give the website a more personalized, dynamic, and modern feel than the other sites in this list. The site's before and after section uses a slider to help visitors compare both images and see the exact difference. Lastly, the fixed online consultation button on the right side of the screen makes reaching out to the doctor easy.
Best Plastic Surgery Website Design Practices
Aside from what makes each of the above great, below are things the best plastic surgery sites have in common. They help establish the foundations of your web design, making promoting your plastic surgery practice and successfully converting your visitors into customers much easier:
Define Your Brand's Guidelines
Identify your values and personality as a cosmetic surgeon that align with the type of patients you want to attract. From here, you can craft the message you wish to communicate to your patients.
All these will help dictate the brand guidelines you can use for your web design, like color scheme, image styles, and typography. For instance, learning about color psychology helps you decide the best colors to use on your website that best reflects your brand.
Use High-Quality Images
Since the industry prioritizes appearance and looks, you need to use marketing materials that radiate the same qualities. That means using high-quality, high-resolution images in plastic surgery website design is a bare minimum.
At this point, it's a matter of how you should present the images that'll separate your site from the pack. You can feature a photo gallery of your surgeons at work in your clinic to give visitors an up-and-close look at how you operate.
Showcase Patient Testimonials
Prospective clients refer to customer reviews to help them decide who is among the best plastic surgeons they should go with. To get more positive testimonials about your services, you must get clients to leave a review on sites like Google, Yelp, and others. Send them emails asking them to write how their experience with you went. Then use a tool that lets you curate the best reviews you received from customers and feature them on your site.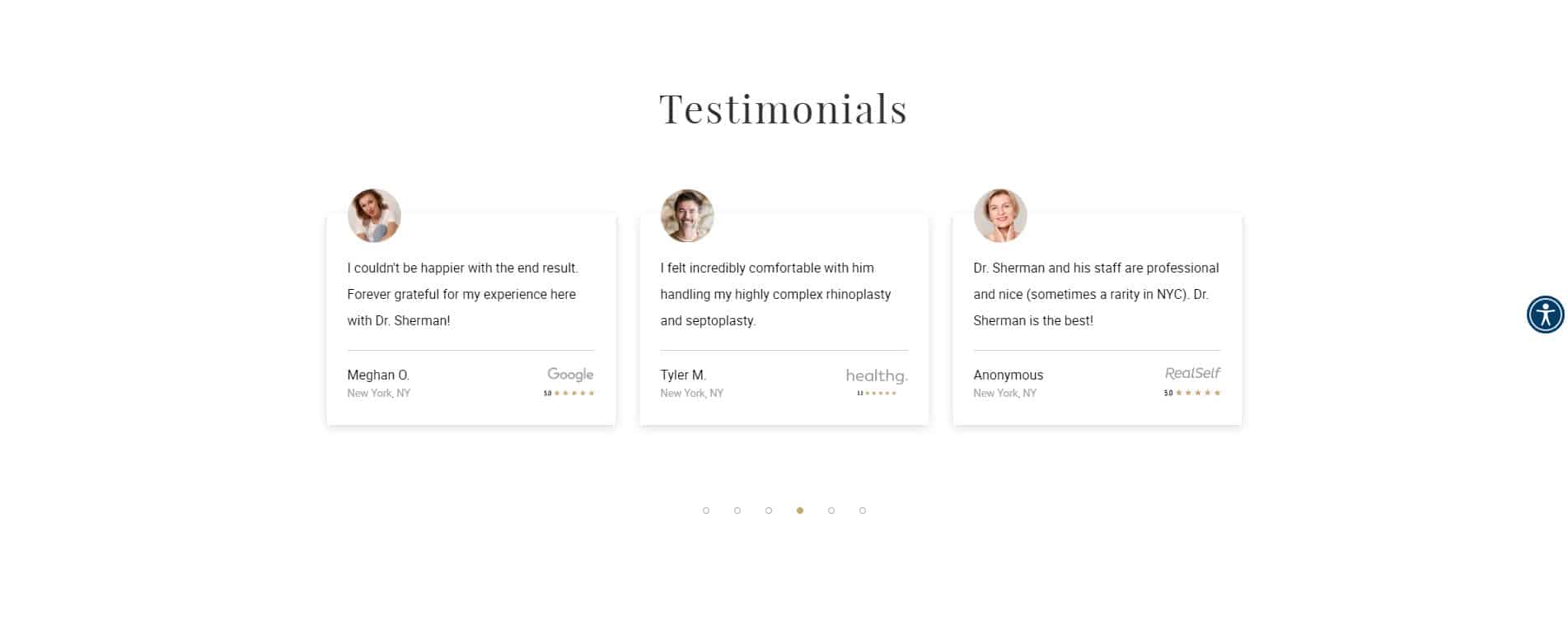 Optimize Your Website's Design for User Experience
To make browsing your site easier for visitors, you must improve its site speed. You can run your website on Google PageSpeed Insights to see how efficiently your site loads and suggestions for improving its performance.
Ensuring your site is optimized for performance also improves its SEO by increasing its visibility on search engines.
Another way to make your site more user-friendly is to include an accessibility menu. This enables visitors with disabilities to adjust the website's settings to their preferences, making your site more inclusive and increasing its chances of generating more new patients.
Prominently Display Relevant Business Details
Your contact information must appear on the prominent areas of a website. Including your phone number, email address, and social media links on the menu bar and footer makes getting in touch with you easy for customers for questions and pricing inquiries, which is vital for local SEO.
Also, consider using a fixed widget that displays your contact details and shows your call-to-action button that compels visitors to take your desired action.
Let On The Map Marketing Design Your Cosmetic Surgery Website
If you're looking for a web design agency to ensure your site contains all the important elements and observes the best practices, go with us at On The Map Marketing.
Our web development team first learns more about your company's vision and what services you need to promote. From here, they can develop a custom design that best reflects your uniqueness. If you want to engage visitors with your site design, contact us to discuss how we can help.