Fort Lauderdale SEO Agency
Dominate the Fort Lauderdale Market With
SEO Services That Deliver!
Our results speak for themselves. Our Fort Lauderdale SEO clients have RANKED Position 1 for some of their most competitive terms. We can do the same for your business! Contact our Fort Lauderdale SEO agency today to get started on a top SEO campaign today.
Dominate the Fort Lauderdale Market With SEO Services That Deliver!

Our results speak for themselves. Here are some of our Fort Lauderdale SEO Clients which we have RANKED Position 1 for some of their most competitive Phrases! We can do the same for your business!

How We Help Your Business?

Our SEO Experts will Fully Analyze your Website

We are a Fort Lauderdale SEO company with over ten years of experience helping companies rise in the search rankings of Google so that they get noticed by a wide range of people. People who could become potential clients.

Our expertise in SEO techniques, web design, website management, and content creation means that we can give your company the best shot of steadily climbing in the Google rankings. That means more people will visit your site and our top-notch Fort Lauderdale web design and the content will ensure that they stick around. That gives you a much higher chance of turning visitors into clients and more clients are always great for business. So when you are ready to kick your business into overdrive, give the Fort Lauderdale SEO experts at On The Map Marketing a call. We will be happy to work with you to give your company the boost that it needs.

Keyword Research For SEO Done By Our Specialists

The way that top-ranked websites show up first is like this; whenever you look for a search term, Google sends out bots (also called crawlers or spiders), which are really just programs, to search for websites that match what you are looking for. They then return the results that they believe are most relevant and useful to you. The search terms that people enter contain keywords that search engines look for when returning results. So naturally, the bots will find the websites with the most relevant keywords and show those results to the user. Keyword optimization means that we do research to find the most sought-after search terms related to your business and local SEO specification and then incorporate them seamlessly and organically throughout the content of your website. The more often the relevant keywords show up in your content, the more likely it is that your website will come up when people search for those keywords.

Full Website On-Site Optimizations

It doesn't matter how many keywords we put on your website if it runs like a car with half of its tires missing. Your website needs to be as smooth as silk if you want people to stick around when they visit it. That means a lot of different things, fast load speeds being one of them. Nobody wants to sit around twiddling their thumbs as they agonizingly wait for a website to load, even if that loading time is just a few seconds. Most people will simply leave that website never to return. Our Fort Lauderdale SEO company will ensure that your website's load speed is practically instantaneous, no waiting around required.

Your website must also be optimized for different devices as well. People spend a lot of time browsing the web on their phones and tablets and your website should work just as well on those devices as it does on a PC or laptop. That means fast load times on those devices of course, but also that the display and navigation should feel comfortable on them as well.

Accessibility is another important optimization factor when it comes to websites because people with visual, aural, or motor impairments should be able to access all the content of your website without any problems. That means using techniques like the ability to increase the font size, text to speech availability, and more. Your website may be the only way many people can access your business so it should be open and available to all.

Security is also a big deal of course as any of the latest hacking scandals in the news will surely remind you. That is why we ensure that the valuable data of you and your clients is protected using the latest security protocols. We can protect you against ransomware, malware, and other online threats to your security. That will give you and your clients the confidence that their precious information will not be stolen and disseminated.

Niche Specific Link Building Outreach

This is another method that helps to get your website noticed. When the search engine's bots look for relevant websites related to your search, one of the criteria they consider is the authority of that website. Think of it as getting an injury diagnosis from a qualified doctor as opposed to some random guy on the street. The bots are looking for the website equivalent of that qualified doctor because those websites are more authoritative and therefore more relevant to the user.

One way of building authority is via link building. This is done in two different ways; one of them is by having other unrelated and unaffiliated websites link back to yours. We do this by having our writers create articles with hyperlinks to your site. Those articles are then sent to other websites and when the search engine realizes that there are several websites that link back to yours, it helps to establish your site as an authoritative presence on that particular subject.

The other way to establish authority is by linking to well-known sites that are not in any competition with yours. That means government agencies, news organizations, and so on. Linking to established, authoritative sites has a halo effect where their authority reflects back on your site.

Fully Optimized Custom Content For Your Business: Content is King!

If you want people to stay on your site when they visit— and you do, then you need great content. A flashy design is fun to look at but that doesn't matter if there is no substance to back it up. That is where content comes in. Engaging meaningful content will keep visitors on your website and the longer they stay, the higher the chance that they will actually use your services.

Our content writers perform thorough research into the industry that they are writing about to make sure that the content is meaningful and interesting to the reader. No one can be an expert on everything, which is why the research is so important. Our writers find all of the most authoritative sources and go over them with a fine-toothed comb in order to extract the information that your readers will need. They then incorporate that information along with the keyword research our Fort Lauderdale SEO team conducted to create the best possible content for your site. Content that keeps visitors informed and engaged.

Customized Reporting Made Just For You

Once we start your SEO campaign, we need to know what works and what needs improving and the only way we can know that is with data and the way we get that data is by using the latest analytic and reporting tools. We use these tools to measure important factors like search engine rankings, web traffic, and bounce rates. If you don't understand some of those terms, you just need to know that they are all measurements of user engagement.

We closely monitor them to examine what works and what needs improvement so that we can quickly adjust. An SEO campaign is a constant journey of self-improvement and data is the best way to make those improvements.

Why Choose our Fort Lauderdale SEO Services?

Fort Lauderdale is well on its way to becoming one of the top business hubs in all of Florida and it's not hard to see why. The low cost of real estate relative to the rest of the state and the pleasant weather and climate make it a great location for any established business or eager, ambitious start-up. That is why several commercial and residential investors have made Fort Lauderdale their destination of choice. In fact, a little over 123 companies have either relocated to Broward or expanded into the greater Fort Lauderdale area. So anyone who wants to start, expand, or relocate their company could do a whole lot worse, and not much better than Fort Lauderdale. Likewise, anyone who wants an SEO company to help get that business noticed could do a whole lot worse, and not much better than On The Map Marketing.

SEO Experts with over 10 years
in the Industry!

You've seen the term SEO a lot so far, so we should let you know what it actually means. SEO means Search Engine Optimization and it involves a number of different techniques that help the website climb up Google's SERP (search engine results page), with the ultimate goal being to land you at the top of page one. Anytime someone searches for something on the web, they are likely to only look at the results that show up on the first page, which is why you want to get there. The method Google uses to select those results is an arcane process that no one outside of Google knows about.

However, over the years, many people have discovered techniques that have proven to be successful. On The Map Marketing Marketing has several Fort Lauderdale SEO experts who are well-versed in those effective and efficacious techniques and will use them to get more eyeballs on your website by getting it to rank higher on Google's SERP. Our Fort Lauderdale SEO experts have been doing that for over ten years for a number of different companies in a wide variety of industries. So if you think your company is too niche or exotic for a successful SEO campaign, it isn't. No matter the client, no matter the company, we can create an SEO campaign perfectly suited for them.

All Work Done In-House

Many SEO companies will outsource some of their work to outside companies in order to cut costs. However, this can complicate communication among the different departments. That means making even slight adjustments can be a complex affair as the request has to go back and forth through several channels. That can slow down the entire process and prolong the campaign.

At On The Map Marketing, all of the work is done in-house so communication is swift and efficient. If something needs to be changed, then the person making the request can just pop into the office of the one responsible for those changes, no complicated bureaucracy required. That means your SEO campaign will not get slowed down or sidetracked because of communication issues. It also means that we are flexible and agile enough to promptly nip any problems in the bud and quickly make adjustments when needed.

Tracked Data

Your SEO campaign doesn't end once your website is complete because we use data-tracking tools to learn what is working and what needs to be changed. We share those reports with you so that you can keep updated on the progress of your web site. You will know how many visitors you get, how long they stayed on your site, and how much your search engine ranking has improved. This information is useful for us and for our clients since it allows all of us to make any necessary changes and/or improvements where necessary. Once you gain a better understanding of your clientele, you can customize your approach to serve them in the best way possible.

Consistent Results!

There is (supposedly) an old Swahili proverb that states, "A good thing sells itself but a bad thing advertises." There is a 95% chance that this is probably not an actual Swahili proverb but the gist of it is true regardless of its origin. A good thing with a good reputation will become known to a wide array of people. And letting your company sell itself is what SEO is all about. It lets people find your business organically, as opposed to learning about it from constant ad saturation.

That increases user trust and engagement which increases their chances of becoming clients. And once they experience what your business has to offer, they are likely to stay loyal to you. Of course, satisfying your clients is up to you, getting you those clients is where we can help you. That is because the Fort Lauderdale SEO experts at On The Map Marketing can help you to get your company noticed by all the right people. We will work closely with you to create your SEO campaign. We will listen closely to your suggestions and offer our own expert advice honed from working with a variety of different companies for over ten years.

We will make sure that you get the website of your dreams and that people actually know about it and enjoy their experience with it. That is because your success is our success, which is why we strive for the best with all of our clients. You created your business because you wanted to make your mark in the world and with us, that mark will be more like a beacon that attracts clients far and wide.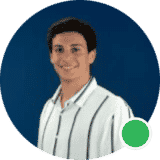 Let us prepare a FREE SEO
audit for your site!
Fernando Abello – Head of Sales Intelligence
---
"We look at every dollar companies invest in their company using our services an enormous responsibility that we take seriously."
We have been able to follow and strictly adhere to this code by building a team of some of the brightest and most talented web developers, designers and SEO consultants in the industry. Our team is driven to be the best at what we do and to never compromise. We can only grow through the work we offer to our clients.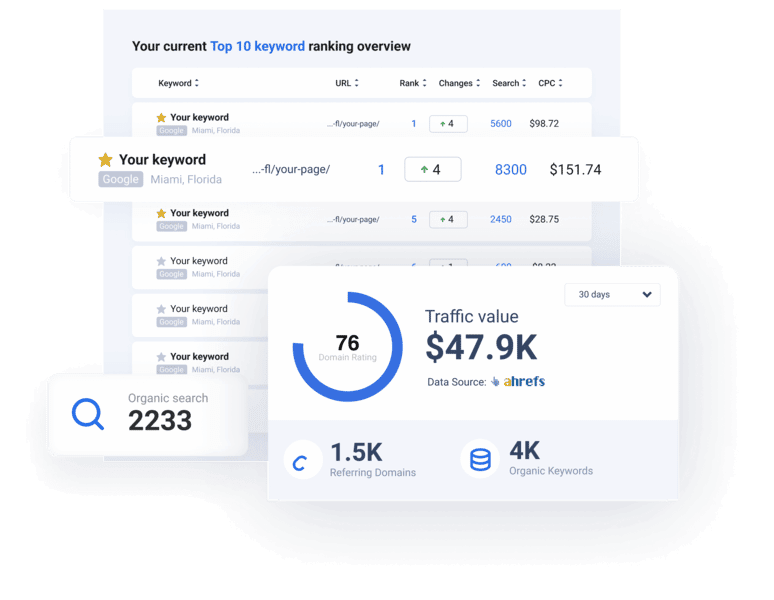 Our SEO clients get results
Increase in Generate Leads Monthly
Our clients say it best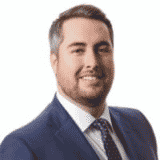 "When we first started our own practice, we lacked a natural online presence. We began our SEO Campaign with the purpose of generating leads and now we're ranking competitively in multiple cities and are receiving on average 90+ phone calls a month. I would recommend them to any Law Firm seeking to expand their online presence."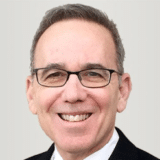 "The work is absolutely exceptional. On The Map redeveloped the whole site from an engineering standpoint. They did a great job fixing my website, which now is very user-friendly and has a modern, clean seal. They are very professional and have a passion about what they're doing."
"I started with On The Map a few months ago and am very please and impressed with the brilliant work they have performed towards my law firm's digital marketing efforts. They have put us on the first page of Google for a variety of important search terms. I now feel that my law firm is on equal footing with larger law firms in the very competitive sphere of digital marketing. I worked most often with Julian, Marcela and Bri. Thank you On The Map."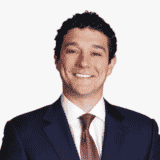 "A budget of $20,000.00 translated into a significant anticipated profit! On a budget of approximately $20,000.00, Val and her team were able to take my website from Google's back pages all the way to Page 1 (and, in some cases, Position 1) for a slew of very valuable search terms. This has translated into real money and a significant anticipated profit."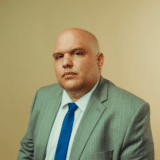 "I have been delighted with my experience at On the Map. Going solo and trying to navigate the waters of building a website and finding the right SEO company was daunting. Thankfully, I made the right choice with On the Map. My site looks better than I ever could have expected and I am quickly getting traffic and calls. I would recommend On the Map to any attorney (outside of my practice area and region) to go with On the Map."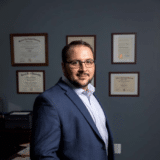 "Serrantino Law, LLC is a general litigation law firm located in the heart of Middletown, Connecticut. At Serrantino Law, we put our clients' needs first. If you've been injured in a Motor Vehicle Accident, injured on the job, charged with a crime, or even if you're being sued by a longtime business partner, we are there for you. Attorney Serrantino and his staff have years of experience representing clients in all areas of general litigation. Attorney Serrantino will ensure that ALL of your rights are protected, even those rights you may not even know you have."
What SEO services do we offer?
Award-winning SEO experts
On The Map Marketing is a truly global digital marketing agency. The team is constantly growing to meet the needs of our clients, with over 50 people filling the conference rooms, offices and sales floors.
Each person is important to us because we wouldn't be here without our clients. Each business is important because it's the passion of business owners that gives us our motivation and direction when building their online presence.
"We positively impact the world, one person,
one business, one dollar at time."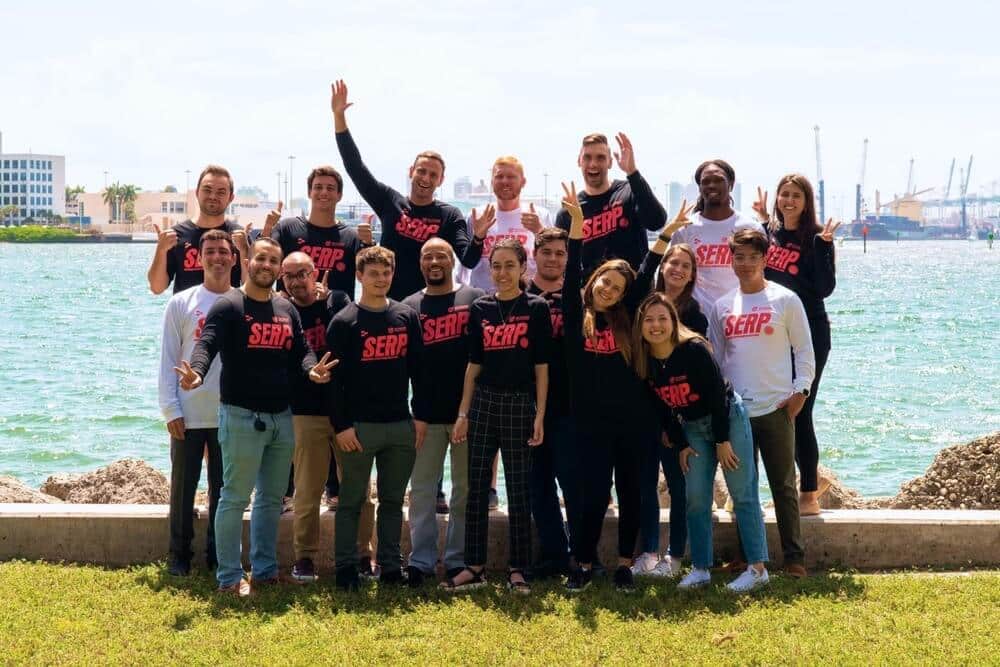 Revenue Generated for Our Clients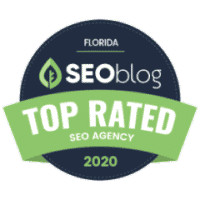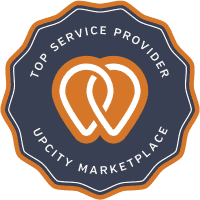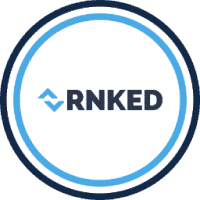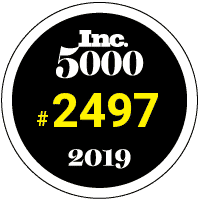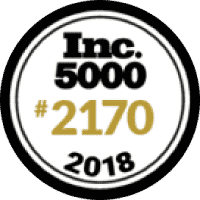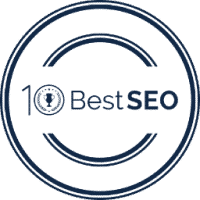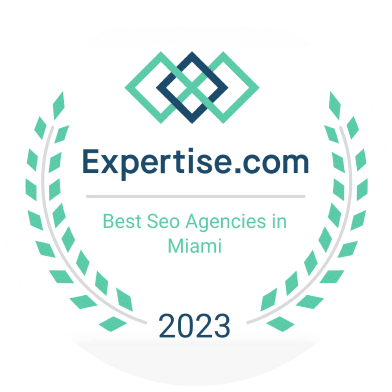 Let us do a FREE SEO audit for your site!