Customizing a Shopify Store
Whether you've already engaged in e-commerce through a popular platform like Shopify or you're considering e-commerce as a way to expand your brick and mortar business beyond your normal geographic boundaries, this is an excellent time to explore Shopify theme-customization options. At On The Map Marketing, many of our clients have been working with our Shopify customization experts to establish or enhance their e-commerce pages with astounding results.
There's a strong case to be made for embracing Shopify. If it's done well, your Shopify site will become your hardest-working employee. A Shopify store works nights, weekends, and holidays; never becomes fatigued or impatient; always healthy; etc. And with so many great options available, you can customize Shopify to give yourself the features that you need for your unique business.
Choosing a Shopify Theme
One of the first steps to customizing a Shopify store is to select a theme. In fact, after you sign up, it's one of the first things that you're going to need to do. Shopify sells a number of themes for $140-$180, but there are also several free themes. On the surface, it might seem like this gives you limited customization features, but with the various Shopify theme customization features available, you can make your store unique and tailor it to your product line. Before you select a theme, check on the functionality of the theme and read reviews from Shopify store owners who have also selected that theme.
Customizing the Shopify Code
In addition to the many features that are available in Shopify's themes, this platform is "liquid." This is a term that Shopify uses to mean that experienced coders can create customizations that go far beyond what would be available with the theme options. If you don't see a theme that comes close to what you're looking for, our developer will likely be able to match your vision.
Among the services that customized coding offers are:
Full customization of any page(s), including product pages, home pages, carts, etc.
Adding elements, such as badges, images, sliders, text, etc.
Building features unique for your site, like custom apps or elements
Search engine optimization (SEO) for your content
Tech optimization for enhanced performance
If you've seen a feature that you like on another Shopify store site, but don't see it included in the standard themes, chances are good that the site was designed by Shopify custom designer. Call On The Map Marketing to find out what's involved in recreating or improving on a design you've seen.
How to Customize a Shopify Theme
Shopify makes it easy to not only preview the theme but also to preview any customized Shopify features that you try out on your theme. If you like the look of a change you made, just hit save and it will automatically become a part of your site. On the theme dashboard, you can click the blue "Customize" button to take you to the features available for that theme.
Shopify e-Commerce Website Feature List
The available features may vary from theme to theme, but for most Shopify themes, the customization options available are similar. Here are some of the main ways you can customize Shopify: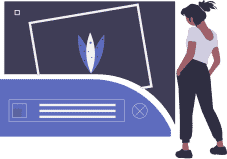 Template Customization
You can choose a page template from the Shopify theme customization window. This template will alter the look of all of the pages in your product store. Your preview will reflect this customization when you chose it.
Customizing the Page Header
You can include a logo, an image, or your company name in the header. This Shopify customization will display on every page in your store.
Customizing the Page Footer
This works in the same way as the header. Whatever you choose will be presented on all visible pages of your site.
Editing Sections
You can customize sections to display a product or products. You can change the borders, add background colors, use text overlay, et cetera.
Colors and Fonts
Like most website builders, Shopify allows you to choose colors from a palette and hundreds of fonts.
In addition to the Shopify theme customization options, there are third-party apps that allow you to make further customizations to your store.
FAQ About Shopify
People who are new to e-commerce platforms, like Shopify, often find themselves intimidated by the scores of options and customizations available to them. These are some of the frequently asked questions we receive from clients who are interested in establishing a custom Shopify store.
Can You Customize Shopify?
Yes, Shopify has a number of custom features for its e-commerce customers. All themes are customizable, so you can make your store beautiful and unique.
How Do I Preview My Customizations?
Shopify has a preview feature that updates every time that you change a feature in the theme you select. The preview feature shows you what your store will look like on a computer and on a cellphone.
Should I Hire a Shopify Store Developer?
Hiring a professional web developer to prepare your Shopify store is often a good idea. While Shopify does an excellent job of making their product accessible to individuals with a moderate level of web development knowledge, the plethora of options can be overwhelming. Having an experienced Shopify site developer can do a few things for your e-commerce business:
Shopify experts tend to know what works to make your site look attractive.
Developers are more familiar with the Shopify theme customization features.
If the developers have SEO knowledge, they can optimize the content on your site to help your store rank highly for different keywords.
Which Shopify Features Can I Customize?
You can modify your page template, headers, footers, sections within pages, colors, and fonts. Shopify also allows you to add badges, sliders, images, et cetera. You can modify product pages and checkout pages.
Let Us Build Your Site
For over ten years, On The Map Marketing has been helping businesses create and market their brands. We have been designing websites for over ten years and have extensive experience with the Shopify platform. We offer creation and support for Shopify stores. Our award-winning SEO analysts can also assist you in marketing your e-commerce store with a rankings campaign. Contact us today to learn more about how On The Map Marketing can build a fully-customized Shopify store for your business. Contact our Shopify experts today!
We help our clients to succeed
We are all about the latest technologies, but at the end of the day our main priority is our clients' success and growth
Join the Growing Shopify Business Marketplace
Whether you've been planning an e-launch for an existing business or you are just starting a new commercial venture, you're already aware of the merits of having a Shopify e-store to sell your products. Fortunately, you don't have to be a tech expert to work within the Shopify platform. As a SaaS (Software as a Service) platform, Shopify is user friendly for both customers and business owners.
On The Map Marketing has expert-level experience and training when it comes to customizing Shopify sites so that they exceed the individual expectations and marketplace requirements of our clients. We are an end-to-end, full-service Shopify development company. We can assist your business in building its first platform or expanding/customizing an existing site. Once your e-store is fully functioning and drawing revenue, we will remain with you to fine tune it for peak performance.
Shopify Development for the Success of Your Business
Most entrepreneurs know that without an online presence—an SEO-optimized website, social media, email campaigns, et cetera—they're essentially invisible.
Comparatively, if your customers are unable to buy your products or order your services from your online store, they're likely to order from competitors who do offer these services.
By developing a powerful e-commerce site that markets to your client base and makes shopping easy, On The Map Marketing gives you the competitive edge that you need to compete with the bigger internet behemoths.
Partnering with Shopify Experts to Build Your Online Store
If you're a small business owner in the business of selling tangible products—whether that's athleisure, travel accessories, jewelry, or smartwatches—finding the right Shopify experts to help develop and design your Shopify website can be a terrifying proposition. You know a well-crafted online store can help take your business to the next level. You know Shopify is generally considered one of the best e-commerce platforms money can buy. But between all the other responsibilities you have on your plate—staffing, inventory, paying the gas bill—you're not seriously considering making and managing a website yourself.
Managing a brick and mortar is hard enough. Your customers come to your store because you're an expert purveyor of auto accessories, or bespoke menswear, or pet supplies; not because you're a Shopify expert. And you don't profess to be one. Your job is to get the testimonials; not to promote them digitally.
The problem is that buying an online store from this or that Shopify expert can be a bit like buying a car from a car salesman. One moment you think you're in the market for a Porsche. You're just browsing. The next thing you know you've pulled the trigger on a beat up Chevy and completely overleveraged your budget.
So how do you avoid paying for a website that's not going to move units? Where do you find the kinds of Shopify experts that, at a reasonable price, are going to build you an online store that not only looks good on your brand, but increases your bottom line several times over?
Hiring the Right Shopify Developer
Shopify developers are a dime a dozen. It's never been easier to get your small business up and running online; and intuitive web development systems like Shopify have made the process even easier. More and more small business owners are understanding the importance of building an online presence, and that influx of demand has saturated the Shopify development market with would-be experienced professionals willing to perform substandard work to produce serviceable results.
The only problem with that? You don't want something serviceable. You want something truly exceptional. You want a website that's going to supercharge your ability to move inventory. A site that's actually worth the time, effort, and capital to develop, because it increases your bottom line.
A Full Service Approach to Shopify Development
At On The Map Marketing, our approach to Shopify development is results-driven. We work with our clients to deliver online stores that are user-friendly, profit-heavy, and above all, full service.
What exactly is full service Shopify development? As a full service agency, we understand the importance of owning and operating a website that's fully integrated with all your marketing channels. Whether that's pay-per-click, search engine optimization, or social media management—we develop our Shopify websites with inbound marketing in mind, and ensure that all our sites are fully optimized to collect and streamline inbound traffic. From site speed optimization, to tracking code implementation, to product feed creation—we're here to make sure that your Shopify website is delivered in a position to maximize results from all your most profitable channels. Unsure what those channels are? We're here to help you find them.
Shopify Website Design with Sticking Power
Your brand has sticking power. At On The Map Marketing, we think your Shopify website should too.
You'll work with our Shopify website designers to bring your brand's brightest assets out on the page. From color schemes, to custom banners, to custom copy and messaging—we work with our clients to internalize, then amplify the most compelling parts of their brand stories. We produce e-commerce websites that keep your customers coming back again and again.
Sites produced with the same attention to craft and detail that you put into your brick and mortar. Sites that reflect the care and effort you put into building your business, and that you won't hesitate to show off to your friends and family.
It's no secret: Shopify is bottom line platform. Most business owners who choose Shopify over other platforms do so because it represents the potential, plain and simple, to drive no frills, bottom line revenue. But an uptick in revenue doesn't have to come at the cost of elegant design. Too many Shopify developers build with profit in mind, and leave brand building at the door. At On The Map Marketing Marketing, we don't see profit and brand building as a mutually exclusive proposition. We think you deserve both. And when you work with us, you'll get both.
Shopify Experts with a Keen Eye for Conversion
Inbound marketing gets the glory, and it should—a beautiful, user-friendly Shopify website is far less effective if you can't get eyeballs in it. Crafting your Shopify site with an eye for the visual assets that make your brand sticky and unforgettable is crucial. But where is conversion rate optimization (CRO) in all this?
Shopify CRO is a key part of maximizing the performance of your online store. Shopify is inherently geared to drive conversions—we've established as much—but the way you structure your page, and the phrases you utilize in your calls-to-action, and the ability of your copy to motivate prospects to ultimately become customers are all massive growth levers. The smallest CRO tweaks can yield the biggest returns. At On The Map Marketing, we're here to help you discover what those tweaks are (and make them!).
The goal of our Shopify development team is to provide all our clients with Shopify websites that make inbound marketing a more cost-effective process. Your paid search campaigns will get far less expensive when, upon hitting your landing page, your prospects stop neglecting that lackluster form field intro, or skimming over that uninspired product description. From pageview to checkout—you'll work with our Shopify experts to develop a user experience that ensures you're not hemorrhaging prospects after paying to get them into your online store.
Custom Shopify Themes That Shine
Any Shopify development service worth its weight in gold is going to provide its clients with the an abundance of custom Shopify themes to choose from; but only the best Shopify experts are going to help you find the custom Shopify theme that's right for your specific business. That's where, at On The Map Marketing, we separate ourselves from our competitors. We're not interested in telling you which which custom Shopify theme is right for your business. We don't pretend to know. What we are interested in is hearing about your brand's unique story, your brand's unique image, and how you see that image manifesting itself in a compelling online store that drives sales. You will always hold the design reigns to your site; we'll help you select the vessel that gets you where you want to go.
From the ultra minimalist, to the ultra responsive, to the information-rich: we work with you to determine a custom Shopify theme that works for your Shopify store, then use our open source coding chops to open up a wealth of customization options for you to choose from. Shopify development starts with a template; it doesn't have to end there. Your brand is anything but templated. Your customer's buyer journey shouldn't be either.
From tiered pricing, to customized checkout, to personalized payment systems: our Shopify development team tailors your customer's buyer journey to your meet your business's unique specifications.
Always, Always Mobile-Optimized
We know, you've heard it before. The mobile-first generation of buyers is upon us. But it's true. Whereas online shoppers used to do their browsing on mobile, then make their major purchase decisions on desktop, they're now making more and more major purchase decisions on mobile. By 2021, mobile ecommerce sales are expected to account for 54% of total ecommerce sales. That means that, if they're not already, mobile sales will soon make up over half of the revenue generated by your online store. It's never been more important to optimize your user experience for full screen, vertical browsing, tapping, mobile speed, and the like.
Shopify mobile optimization at On The Map Marketing means working back to front—we want to first make sure the checkout process runs just as smoothly on mobile as it does on desktop. The goal is to make the desktop version of your online store responsive on mobile; not to compromise it in any way for the sake of mobile optimization. Full responsiveness means that your customers and prospects experience the same brand power on mobile as they do on desktop – no cutting off portions of vital copy, no removal of images and other creative assets.
Our Shopify experts ensure all your tap targets are clearly defined, spacing is optimal, grids and are balanced, and navigation menus open and collapse when they're meant to. All this is done with the end goal in mind—getting buyers to that mobile-streamlined checkout and payment process, and moving units.
Shopify SEO and Google Local Listings
At On The Map Marketing, we like to think we know a thing or two about search engine optimization (SEO). It's one of our core offerings. But we have been in the game long enough to know that Shopify SEO is it's own animal; and as such, we don't take it lightly.
Our Shopify developers build every Shopify site with an eye for the SERP (Search Engine Results Page). What does that mean? It means putting your product pages in a position to rank for terms that will yield meaningful traffic. It means building you a blog that will give you the ability to fill the top of your marketing funnel with net-new prospects. It means structuring your Shopify website in a way that is simple, scalable, and will allow it to accrue authority in your niche as quickly as possible. Our team has spent years working and re-working sites to meet the standards of Google's ever-changing search algorithm . We understand the ranking factors that go into putting your Shopify site where it belongs: at the top of the SERP. Every time.
What exactly is Google local listings? It's a lot what it sounds like: if you're a local business, and you cater to customers in specific zip codes, Google local listings give you the opportunity to put your business on Google Maps, and at the top of the SERP when customers make local search queries. At On The Map Marketing, we ensure all our customers interested in local SEO are among the top search results when their prospects search for local queries related to their niches. For our Shopify customers, that means ensuring any physical locations you may own and operate achieve the same search visibility as your new online store; so whether prospects in your area are looking for a quick online buying experience or an in-store visit, yours is the business they go with.
Work with the Best Shopify Experts
Is your brand is new to e-commerce? Or do you already have an online store, and you're just looking to gussy up what you've got, or reap the benefits of developing on Shopify? Whatever the case: the Shopify development team here at On The Map Marketing Marketing is here to help you build an online store that, bottom line, drives more profit for your business.
From Shopify theme customization and mobile optimization, to Shopify SEO and CRO—developing your Shopify website with us means making an investment that your online brand deserves; an investment that will yield you the kind of ROI that made you wonder why it took you so long to develop on Shopify in the first place.
For more information on our Shopify development plans and pricing, please don't hesitate to check out our website pricing calculator. On The Map Marketing offers extremely competitive pricing options, with no hidden fees and a wealth of other service options that can help take your Shopify website from good to great. You'll get an instant quote to determine the cost of working with our Shopify website designers and developers to craft you an online store that will amplify your brand and increase your bottom line.
If you're interested in generating new leads, new business, and more online revenue, don't hesitate to check out any of our other service offerings—from SEO, to Amazon PPC, to non-Shopify-specific website design. We work with a variety of niches on a variety of new and existing projects, and we're eager to hear about your marketing needs and work to generate solutions. If you're just in the mode for learning, take a second to browse through the On The Map Marketing Blog , where we write constantly about the kinds of tactics and strategies that can help you get more out of your online marketing campaigns.