Contractor Web Design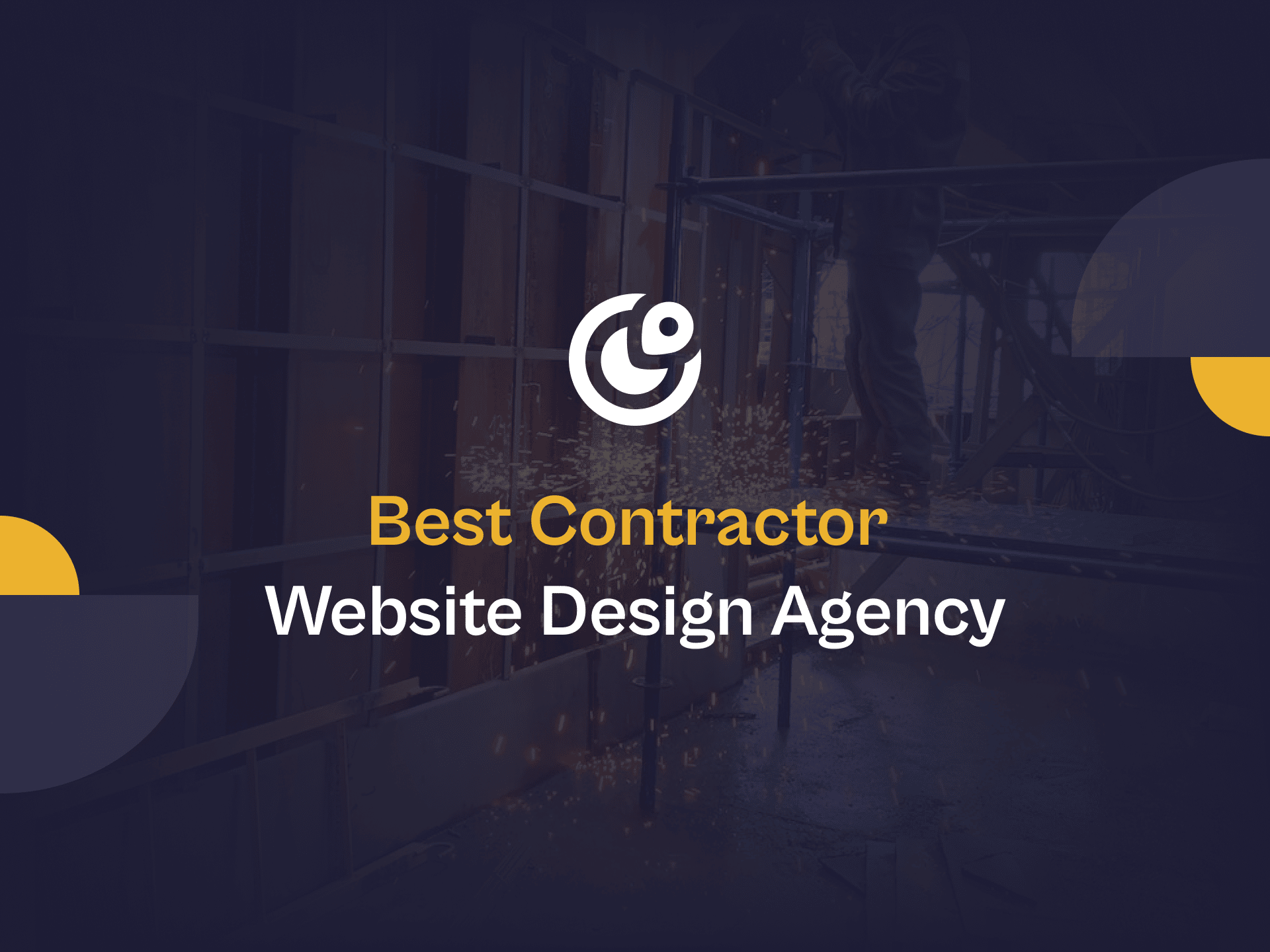 Construction website design is a central part of a contractor's marketing strategy and can be likened to a "digital office" where new potential clients visit and get a sense of what it will be like to work with your company. The best contractor in the world will have trouble converting website traffic to clients with outdated web designs clunky interface, lacking user experience, and confusing information on the page. The same can be said for a construction contractor who has a dirty office with smelly trashcans, stained carpets, and broken lights — most discerning people looking for construction companies to bid on their project will turn around and head right back to their car. Digitally, this is known as a "bounce rate," and if you have a high bounce rate, it's one of many indications that your construction website needs an update to the designs and marketing.
This is why working with a marketing and design company is one of the best investments you can make for your construction company. The team at On The Map Marketing has over a decade of results designing and launching construction websites, and we will be happy to discuss your needs for your own project as soon as possible during an initial consultation. Your construction company deserves a modern contractor website design treatment, and you can be assured that your website traffic will benefit from this effort.
Contact us as soon as possible for an initial consultation about what our design company can do for your construction company and site.
Website Design for Contractors
As a contracting business owner, you know that positive first impressions are the key to building a successful customer base and business. In the digital age, your contractor website is a conduit for you to make your first impression when a potential customer is searching for a contracting company. That customer is not just searching to determine what type of work your contracting company does, but rather, what type of work you can do for them.
Our Contractor Website Designs
However, the key to making sure you have the ability to make that positive first impression is creating a website that is easy to find (meaning that it ranks well with search engines) and gives your customers information about the services your company offers and how it operates.
This is accomplished by designing a website for your contracting company that is easy for customers to use, informative, formatted to rank well with search engines, and most importantly, designed to convert traffic into new leads.
On The Map Marketing (OTM) specializes in contractor web design services for any kind of construction company you can imagine, including builders, commercial construction companies, residential construction companies, plumbers, roofers, HVAC companies, and more. Our websites are designed to communicate a message that resonates with and entices your potential customers to contact your business, so you can focus on growing your company and serving your clients.
A contractor website with great CTAs (Calls to Action), intuitive user experience, and a focus on roofing SEO marketing can improve your construction business by providing visitors with valuable information, an easy-to-find phone number and contact information, as well as a simple process, to take a look at the services you offer and your past projects. Well-designed construction websites climb the Google search engine results pages, meaning that more people who need your services can look at your business with ease. 
The Best Contractor Website Design Services Available
68% of all active internet users in the U.S. perform at least one search with a search engine per month. They use search engines like Google to look at reviews, purchase services, and hire construction professionals of all types. This online segment of your customer base is simply too important to ignore. In fact, building and maintaining a website is now a necessity, not a luxury, for all contractors. In addition to keeping up with current web designs, a high-quality SEO campaign will help to improve your visibility so that more people can see you when they search for contractors using Google and other search engines.
Don't believe us? Surveys of small business owners in 2017 showed that 71% of respondents already had a website, and 92% of all respondents that stated they didn't have a website indicated they would have one by the end of 2018. However, not all contractor websites are the same, and in order to reach search engine users and use your website as a tool to generate leads, your contracting company's website needs to be formatted for SEO, incorporate web designs to convert traffic into leads, and structured to engage potential customers.
At On The Map Marketing, our goal is to meet all of your contracting company's website design needs in one place. Is your business on a strict budget? Don't worry. On The Map Marketing Marketing offers a host of affordable contractor web designs that can turn your company's website into a fine-tuned lead-generating machine and the best part is, every website we build is SEO formatted and designed to improve your website's ranking on Google.
Single-Page Websites: Are you launching a lead campaign? OTM designs single-page contractor websites that are structured to maximize your contracting company's conversion rate by turning qualified traffic into good quality leads. Single-page contractor websites, which are commonly referred to as landing pages, are an excellent option for paid-ad campaigns, small-service launches, and lead generation campaigns.
WordPress Websites: At OTM, we build entire contractor website designs from the ground up using a platform that is utilized by over 100 million website owners around the world. WordPress is the go-to hosting platform for construction business owners, because after your website is built, you can manage and improve contractor websites with any easy-to-use platform boasting an unmatched number of add-ons, plugins, and extras. Moreover, WordPress allows our team of website designers to create a website with responsive web design techniques, so your contractor website can accommodate both desktop and mobile device users.
Responsive Website Designs for Contracting Companies
If you want one website for both desktop and mobile users, On The Map Marketing has you covered. Websites with responsive programming sense what type of device the user is viewing the website with and adapts the website's pages and structure to fit the user's device screen. Responsive website design acts as a hybrid between mobile websites and normal websites. Responsive design reduces the bounce rate for your contractor website by retaining traffic from mobile sites that would have otherwise backed out if they were required to navigate a desktop website design.
Most importantly, Google ranks mobile-friendly websites that load quickly more favorably than websites designed for desktop users only, and as a result, load slowly for mobile users. As such, the website design specialists at On The Map Marketing often recommend that your construction company invest in a website with responsive coding in order to accommodate the devices of any user that visits your company's website. This type of website design is just one of the many details that we prioritize for your contractor website to ensure that you are capturing and retaining as much valuable traffic as possible.
Our Approach to Contractor Web Design
At On The Map Marketing, our team of web design specialists consistently strives to make your contractor website as successful as possible. Our goal is simple. We want to create a website that increases website traffic, effectively converts qualified traffic into leads, and communicates a lasting message that leaves your customers with a positive first impression. To accomplish this goal, we use a multi-tiered approach to our web design strategy.
Initial Discovery Phase: Your website should reflect both the finer points of the services your contracting company offers and the mission your company seeks to accomplish through offering high-quality services. To communicate this information properly, our web design team will gather information for your company, the services you offer, etc.
Generating a Mock-Up Page: After our team has gathered all of the information, our web design specialists will generate a "mock-up" page to show you what your website will look like after it is built. This will also allow you to indicate any additional content you want us to create for your site, such as social media buttons, phone numbers, forms submission areas, call buttons, etc.
Site Coding: After you have approved all of the elements of your new website, our team will begin coding and creating your new website.
A contractor website design should account for usability above all, and then focus on search engine optimization to drive valuable traffic to the optimized website in order to maximize conversions. This is why our construction website design services incorporate search engine optimization into our site design process, as well as social media and other marketing tools intended to point new traffic and potential clients to your site once launched.
Frequently Asked Questions About Construction Web Design
The following are just a few of the many questions that we are happy to answer during our initial consultation and throughout the work we are doing together to drive new and meaningful traffic to your site. Keep in mind that the answers provided below are general, meant to give you a sense of how we will answer them specifically about your own contractor web design needs.
How do I know if it's time for a new business site?
There are a lot of indications that it's time for a new site design, but one of the most obvious is that your site just simply looks outdated. If you find yourself checking in on your site and you see that the design looks boring or old when compared to your competitors or other websites in general, you are probably picking up on new design principles that are integrated into cycles on the internet. Trust us, visitors to your business site notice the differences, too. In addition to aesthetics, if you are starting to notice that traffic to your business site is starting to drop then this could be a sign that your site design is not facilitating a high-quality user experience that is encouraging conversions. Visitors need to feel comfortable with your site, and a big part of your traffic drops can be that there is a major friction point in the user journey. We will create an optimized user experience that people on your site will feel comfortable following.
Why not just use sites like Fiverr or Upwork to find a contractor for SEO content or site design?
There is nothing wrong with plenty of independent contractors who advertise their work on sites like Fiverr, but be warned that there are many people who will use shady tactics for a quick traffic bump before taking your money and disappearing.
When you are working with a reputable company like On The Map Marketing instead of an independent contractor without much experience or a significant website design portfolio, you are rolling the dice on getting a lower quality product or a limited scope of expertise.
On The Map Marketing has teams of specialists who will address every need, from your web design to your digital marketing and everything in between while dealing with one point of contact. We've helped contractors of all kinds — including with roofing SEO, plumbing SEO, and others.
Why Should I Choose On The Map Marketing?
On The Map Marketing has helped hundreds of contracting companies design websites that effectively reach and convert customers from their target market and we have accomplished this by:
Collaborating with contractors and construction business owners to design a website that meets their budget and performance requirements
Analyzing each customer's business model to determine how to best design a website that will generate and convert traffic into leads
Utilizing top of the line marketing and website design software to analyze and understand the behaviors, tendencies, and preferences of website users for contractors
Creating trackable increases in organic search engine rankings and visit-to-lead conversions
Are you a contractor who is ready to see what On The Map Marketing can do for your contracting company website design? Check out our extensive portfolio to see if there are designs you like or give our office call today!