WooCommerce Vs Shopify: Where Should You Build your Ecommerce Store?
Get to Know the Two e-Commerce Platforms
WooCommerce vs Shopify isn't exactly an age-old debate, but for small and mid-sized business owners looking to get up and running with an online store, it's one of the most pressing issues that presents itself.
Questions like "how much is WooCommerce?" and "should I run my new business on WooCommerce or Shopify?" are some of the most common questions that we help prospective online business owners understand during our consultations as we discuss the type of support that an e-commerce authority like On The Map Marketing can provide.Shopify development and WooCommerce are two of the most popular, most effective, and most straightforward e-commerce platforms on the market today. If you're wondering which platform is best for your business, we'd like to first congratulate you: You've already come to the conclusion that your business deserves to reap the benefits of selling online, and that decision is critical in and of itself!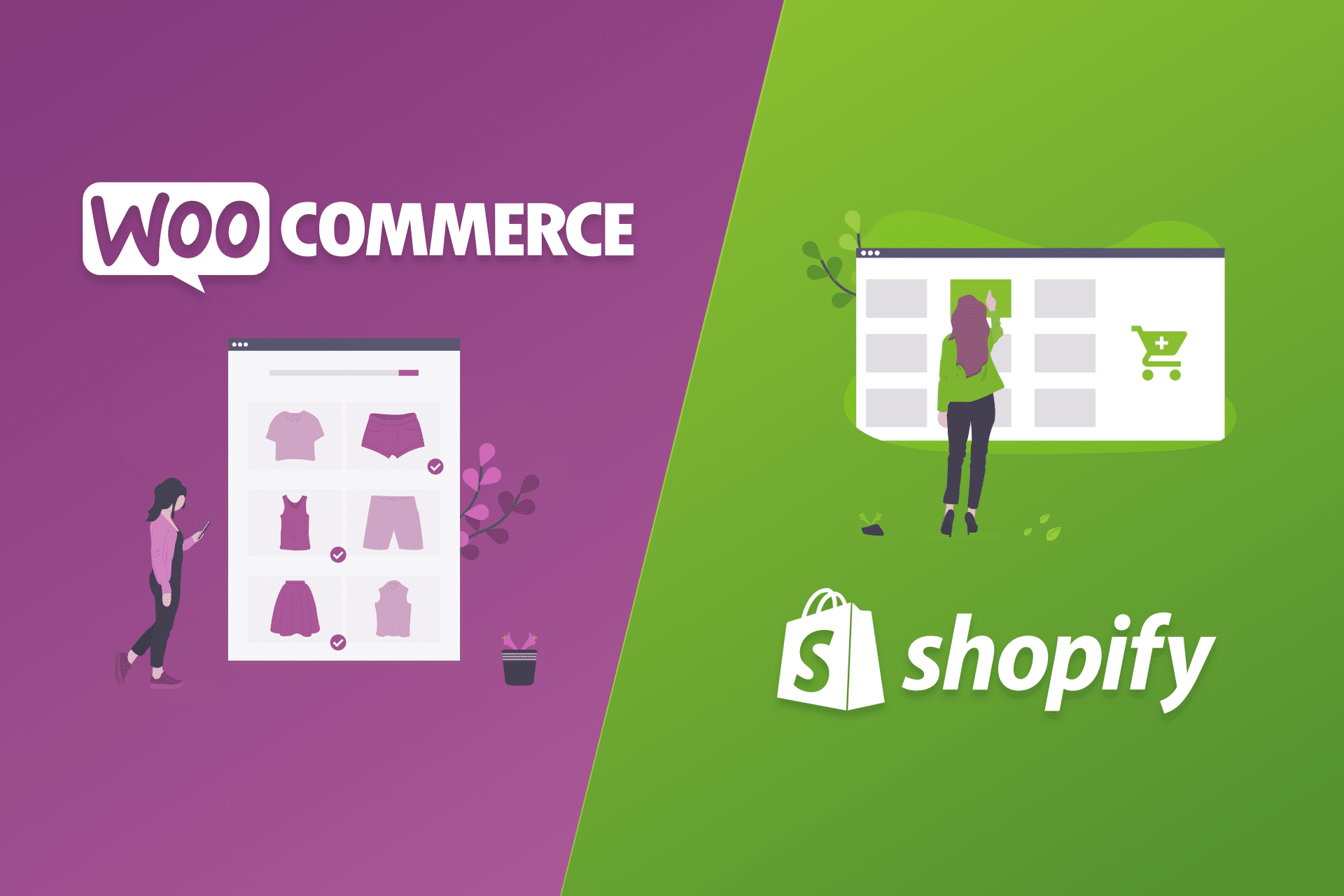 E-commerce will soon account for over 15 percent of all specialty retail sales in the United States. An investment in an online store is not just an investment in direct sales: It's an investment in all aspects of your business—from brand building, to lead generation, to the revenue driven by your trusty brick-and-mortars.
Now, back to the question at hand. WooCommerce vs Shopify: Which is better? Or, better phrased, which is better for you? Well, what does popular opinion tell us?
Shopify is a self-hosted, dynamic e-commerce solution that allows do-it-yourselfers and web dev professionals alike to make fast, secure, search-friendly websites that don't require a whole lot in the way of upkeep. The creation process is templated, yet customizable, and Shopify has hundreds of sleek themes (including 10+ free ones!) to choose from. It comes "out of the box" with myriad features that allow site owners to optimize for performance and sales on the cheap. However, it's not open source, meaning that you will not be able to take your storefront with you to new hosting or download the source code. So, if you're looking for truly limitless customization, you won't find it using Shopify.
WooCommerce Summary
WooCommerce, on the other hand, is open source. WooCommerce developers in need of advice on how to implement a fix can't simply live chat support (as they might in Shopify for less advanced queries). Instead, they have to rely on a vast community of WordPress-specific developers who work daily on the platform and discuss unique fixes to problems in online forums. For the small business owner immersed in the day-to-day activities of maintaining his or her own business, this is naturally going to be a deterrent. But for those who don't mind outsourcing the development of their online store to third-party consultants and agencies, and who want to pay a premium for a site that has near unlimited customization and expansion options, WooCommerce is a fine solution.
Some Introductory Facts About Choosing Shopify or WooCommerce
Here are some fast facts about the WooCommerce vs Shopify debate: Of the top 1 million websites in the world, 31% are built on WooCommerce, while just 20% are built on Shopify. That said, if we look at the top 100k sites in the world, the story begins to favor Shopify. 20% of those sites are built on Shopify, while just 13% are built on WooCommerce. So, it would seem as if website developers who build higher authority websites prefer Shopify, or that the way Shopify sites are built allows these web developers and owners to establish authority inherently better, either due to functionality or simply as the preference of more-authoritative developers.
Of course, popular opinion never tells the full story. In terms of choosing the best platform for your specific business (not just the best platform overall), there are a number of questions you're probably wondering. Which is cheaper? Which is going to give you greater customization flexibility? Which has better design features? Which is going to give your customers the most streamlined checkout version possible? Which converts to sales the best? What about to leads?
Finding the Right E-Commerce
Platform For Your Business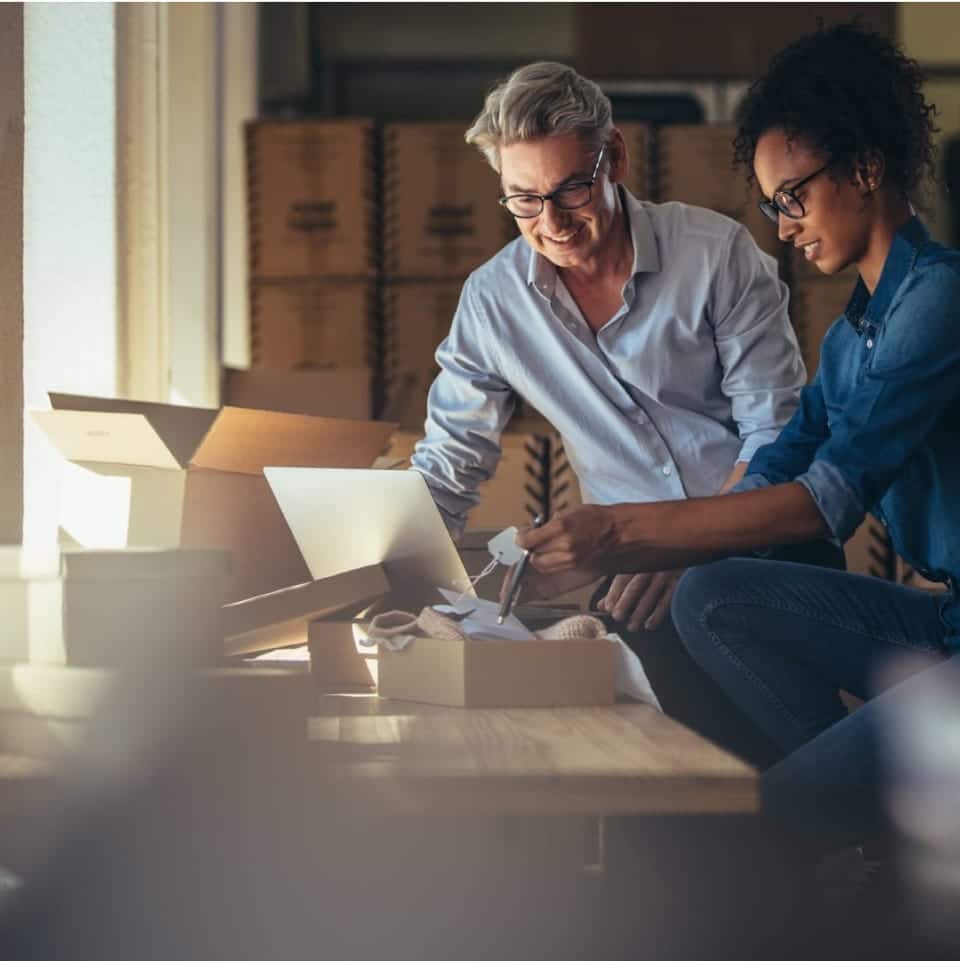 You may not know which e-commerce platform works best for you, which is why we're going to take an in-depth look at both Shopify and WooCommerce. We'll discuss why, depending on the strengths and weaknesses of each platform, and depending on the unique makeup of your business, you might choose one or the other.
Let's start by first diving into the strengths of each platform (we'll get into weaknesses and direct comparisons a little further on down the page). We will discuss things like WooCommerce fees, WooCommerce pricing, Shopify benefits and drawbacks, and more in the following article.
Keep the following in mind: While we have worked to provide you with ample general information below, every business model is different, and no two e-commerce storefronts are the same, meaning that your specific needs will vary even when compared to a seemingly identical business. This means that you may encounter roadblocks that require unique solutions that can be extremely frustrating, especially for someone who is looking for a "plug and play" solution like Shopify, vs WooCommerce with the benefit of a free platform that requires additional coding.
What Is Shopify?
Let's start with the basics. What is Shopify, and why is it such a popular option for e-commerce businesses? Shopify powers over 600,000 e-commerce businesses (or e-commerce components of brick and mortar businesses), and drove more than $1 billion in revenue in (2018). It is, quite simply, an insanely popular and insanely profitable platform, and it owns these distinctions for several reasons that we will discuss in greater detail below. Simply put, Shopify is an appealing option for people looking for a simple plug and play solution for their e-commerce business that simply requires dragging and dropping content blocks, filling in your own copy, uploading your products, setting prices in a pre-built inventory, and taking other simplified steps for launch.
Self-Hosting
Shopify is self-hosted, which means that whoever creates your Shopify online store, whether it's you, your employee, or an outside agency, will not have to go through the trouble of setting up your domain on a third-party hosting service. That means no HostGator, no GoDaddy, No Weebly. Your domain is live and ready to go when you say it is. Working with third-party hosting sites often just means another set of login credentials to keep track of, additional billing cycles, and a whole slew of technical issues that you or your site manager will need to keep track of, adding to the "whack-a-mole" tech support that comes with running a comprehensive online platform such as a website, blog, and e-commerce storefront all at once.
One of the essential services that we provide our customers at On The Map Marketing is taking care of all hosting issues before launch day, and while many clients do not realize the value of this service at the start, one afternoon of trying to connect a platform to an existing domain (or, worse, setting up a new domain to connect with an existing platform) is enough to drive an inexperienced businessperson to tears. Luckily, we are here to take care of all of these details so that we simply hand you the keys (login credentials) on launch day so that you can get to work!
Simplicity
Like Squarespace, Shopify is a templated creation experience. That means that much of the interface is drag-and-drop. For those looking to start selling online without too much overhead, and who want to build their website themselves, this is a huge plus.Still, we've seen dozens of these self-projects end in disaster, So, if you're not confident, or are too inundated with other tasks to create an entire website, by all means, trust the creation of your Shopify site to a Shopify development professional. This simplicity is a significant plus to many people, but be warned: with simplicity comes a lack of customization options that can be frustrating, especially as traffic to your storefront increases and you may begin to notice some glaring pain points for your visitors that could be solved with a custom solution. When choosing your option in the WooCommerce vs Shopify debate, it is important that you come to terms with the lack of customization in comparison to the exceptional level of simplicity that this platform offers.
If simplicity is attractive to you, but you know that you want to be able to deliver a customized and seamless shopping experience for your clients, then the question of "WooCommerce vs Shopify?" may actually need to turn into "Am I willing to factor in a consultant to my WooCommerce cost?" At On The Map Marketing, we understand how budgetary constraints can affect your decisions. We recognize that you'd probably prefer a simplified, fee-based solution as opposed to a more complicated WooCommerce platform that will require support from a consultant.
Customizability
For all of its templated goodness, Shopify still allows for a bundle of customization options. From custom Shopify themes to custom checkout pages to custom discounts and pricing models—if you have a handle on Liquid, Shopify's unique coding language, there's a lot you can do to make your site design uniquely yours. A custom Shopify theme can go a long way in creating a Shopify site that's utterly distinct from competitor sites. Again, take that statement with a grain of salt—learning Liquid can be as difficult as learning Lithuanian if you're unfamiliar with coding, and even the most custom solutions with Shopify are still limited, and can ultimately feel cumbersome if you must rely on a combination of non-specific solutions to solve a single unique problem.
To take advantage of Shopify's full range of customization options, don't hesitate to outsource the creation of your site to a Shopify expert. At On The Map Marketing, will be happy to talk with you during our first conversations about your vision for your e-commerce platform and storefront, the level of customization that you find important or necessary, and help you understand the range of options available to you, both with Shopify or WooCommerce depending on the level of customization and granularity that you are looking for. The first step of deciding on WooCommerce vs Shopify can feel overwhelming – and rightfully so. Once you have funneled a significant amount of energy or budget into launching on a platform, you may feel like you are locked into the platform, even if you start to realize that you may have benefitted from the alternative. We are here to help.
Customer Service
Shopify's customer service is truly unique and worth mentioning here. Because the platform caters to small business owners who want to create their website on their own terms, and with their own hands, all its pricing plans come with dedicated personal support (via phone, email, and 24-hour live chat).For the do-it-yourself small business owner, that's an awesome asset to have in the toolkit; but, even advanced web developers and designers need the occasional chat with the people who work on the platform daily. So, if you build on Shopify, and you find yourself in need of a solution to a specific quandary, that information is never far away. So long, bottomless forums!
And for those who choose to trust the development of their Shopify site to a third-party agency or consultant, you can rest assured that they have the support of an entire team of Shopify aficionados throughout the site creation process.
Security
Self-hosting doesn't just mean web developers don't have to go through the trouble of hosting their Shopify e-commerce store on a third-party hosting service. It also means that if there are any security issues, Shopify detects them immediately and takes care of them internally. Security is essentially an out of sight, out of mind experience when you develop on Shopify. All sites are inherently created on HTTPS (a faster, more secure protocol than HTTP), and the site's structure is built such that it is able to withstand growth without leaving itself exposed to any glaring security holes. We'll dive into more of the other side of this coin when we talk about WooCommerce security in our head-to-head section.
Upkeep
Speaking of growth—there's nothing like scaling without having to worry about making sure what you have isn't falling apart. That's exactly what Shopify allows you to do. From dynamic sitemaps to automatic updates—living with your Shopify site once it's been built is very much a set it and forget it experience. Your biggest expenses, once the site's already been built, will come courtesy of aesthetic updates, marketing, product updates, and potentially some performance streamlining down the line when the site gets bigger. In terms of retaining someone to continuously make sure the back end of the site is up to date and working, however, you're just not going to have to do it when you build on Shopify.
Performance
Of course, the most important outcome here is profit! Shopify sites come replete with a number of features that help developers and business owners alike maximize the amount of revenue they're driving through their online stores.
Shopify has a number of vital features baked in. No need to install plugins or code.
Want to create a buy-one, get-one promotion for Memorial Day weekend? Custom discount code creation is just a few clicks away in the Shopify backend. Want to import a list of products from your old site? You can easily do so with a CSV import. What about customer accounts and profiles—want to give your customers incentive to buy by offering membership to an exclusive rewards program? Again—Shopify gives you the power. And whether you're implementing these customizations yourself or outsourcing the work to a third-party consultancy or agency, you're saving yourself time and money by using a platform that bakes all these features in—and in an easily accessible way.
A Summary of Shopify
So, what's the bottom line, here? Shopify is an intuitive, trusted e-commerce platform with a bevy of features that allows developers to create user-friendly, profitable online stores. Because Shopify is a self-hosted platform, it gives developers and small business owners alike the ability to forget about time-consuming tasks like security fixes, site updates, custom code implementation, and the like, and focus on front-end customizations that impact performance. It also allows site owners the ability to scale without having to worry about their sites breaking in the process.
What Is WooCommerce?
Now, let's take a look at the other side of the WooCommerce vs Shopify debate. Unlike Shopify, WooCommerce is not a standalone product. It's a WordPress plugin that allows business owners to sell products and services from their WordPress sites. The biggest fundamental difference between WooCommerce and Shopify is that WooCommerce is an open-source product. That means that the website developers using it have complete access to the product's source code and modifying that source code is an encouraged part of using the product. Basically, if you or your third-party website design company are developing a WooCommerce storefront, you'll be expected to have some coding chops.
If you are not sure where to begin, or you are not confident in your coding abilities, one of the best ways to get your WooCommerce platform up and running is to work with an e-commerce coding and design team like the one at On The Map Marketing. We understand that the WooCommerce price is going to be one of your top concerns and that hiring a team to install your otherwise free platform will require some budgetary questions to be answered, but the reality is that you want to get your e-commerce platform up and running as quickly as possible, and as cleanly as possible. We are here to help.
Customization
We just touched on the array of customization options WooCommerce provides, but let's fully dive into just what those are. Because WooCommerce is open source, there are at any given time a bunch of developers creating custom themes designed for e-commerce. Most of the themes are for sale. The developer who then buys that theme has the opportunity to use their coding chops to customize it according to their client's unique business needs. That includes custom plugins that can help take your store from baseline to max performance in a hurry. The only catch? There's typically a cost associated with each of these customizations. And that cost is not always altogether affordable
Adaptability
What if you already own a WordPress site, and you simply want to add some e-commerce functionality? There are myriad WordPress themes on the market today, and luckily, WooCommerce is compatible with nearly all of them. So, fret not that you or a third-party developer won't be able to add the plugin to an existing site. WooCommerce also connects to all major payment gateways and gives you the two most recognizable gateways on the market—PayPal and Stripe—as defaults.
Expandability
This one is along the same lines as our first WooCommerce strength—customization—but it differs importantly. Customization means being able to meaningfully alter what you already have. Expandability means being able to build on what you have with an embarrassment of options. WooCommerce accomplishes the expandability piece with plugins. Not only does it offer thousands of innovative themes built by a vast community of developers, but it supports over 50,000 WordPress plugins, including more than a few that have been specifically designed for WooCommerce. These range from marketing and analytics platforms like Metrilo, which helps site owners monitor their stores' performance and optimize their marketing spend, to WPML, which easily helps those same site owners translate their pages into multiple languages for multilingual audiences.
There's no limit to the number of handy plugins on WooCommerce. Shopify also offers quite a few plugins, so we don't mean to say that WooCommerce is alone in this regard. But the sheer breadth of add-ons WooCommerce supports is astounding; and if you have the time and the inclination to make the most of them, it can definitely be an asset.
WooCommerce Development
WooCommerce developers have the ability to take advantage of the platform's extreme breadth of plugins and unlimited customization options to create online stores that are utterly unique from anything else on the market. Business owners who choose to develop their online stores using WooCommerce are typically either fluent in open source coding or are willing to spend the time and money required to pay a third-party developer who is fluent in open-source coding.
WooCommerce is a powerful platform, to be certain. But it's not for the faint of heart. Business owners who choose to leverage WooCommerce to develop their online stores should have at least a cursory understanding of digital marketing, website development, and website design, and would do well to understand exactly how their brick and mortars translate to a digital landscape. Either that or they should be willing to hire a third-party website consultant that really has an in-depth understanding of the intricacies of the platform. Because there are many!
WooCommerce vs Shopify: The Tale of the Tape
WooCommerce
Summary
WooCommerce requires a significant learning curve to get your e-commerce website up and running; however, it gives you full control over all aspects of your website's functionality – a major benefit for many users.
Costs
Is WooCommerce free? Well, the open-source code is, but there are many additional costs to consider.
Setting up your site has costs that add up and may be more expensive than Shopify: a domain, hosting, SSL certificate, payment gateway, premium themes
Transactions are never charged with a percentage fee.
Set-up Time
Before anything, you must learn WordPress, after which you'll go through steps to set a domain name, sign up for a hosting account, install WooCommerce, find and install a theme, and install the WooCommerce plugin. From there, it is a matter of how long it will take you to build your custom platform before launching.
Ease of Use
WooCommerce requires you to host your store yourself, so you'll need to be hands-on with managing updates, keeping backups, and managing website security.
If you want to edit your theme, you may have to learn the programming language or hire a developer.
Addons
Access to more than 50,000+ free WordPress plugins
Full customization means that you can build your own add-ons as you see fit (and as you are able).
Security
WordPress won't handle security for you; you'll be responsible for it. This is a benefit for many discerning Web Security professionals but can be overwhelming for the uninitiated.
Shopify
Summary
Shopify is easy to use and great for beginners who don't exactly have technical prowess. It's a great all-in-one package to start your e-commerce website quickly and with tons of options for customization.
Costs
3 payment plans:
$29/mo, $79/mo, or $299/mo
Transactions are charged with a percentage fee, although it's less than 3%. However, these transaction fees can add up over time, and in the WooCommerce – Shopify debate, this may lead many to decide upon WooCommerce to have more control over their revenue.
Set-up Time
Your store can be up and running in a matter of minutes with a signup button. Of course, the more customized you would like your Shopify storefront to be, the more time it will take to launch.
Ease of Use
Shopify is fully hosted, so you'll never need to install, manage, or update any software.
Highly intuitive interface for making changes to your storefront or managing your backend.
No site-building or technical skills required.
Addons
App store of hundreds of free and paid apps.
Over 180 themes, which are all mobile responsive, and many are free.
You can add custom HTML, but only to your homepage.
Security
Shopify takes care of security issues.
Although your live copy is on Shopify's servers, there are many ways to access and export your data.
The graph above should give you a decent idea of the pros and cons of these two platforms while choosing your own side on the WooCommerce vs Shopify debate, but they may simply create new questions that you need to have answered, as well! We are happy to discuss any of your questions about WooCommerce vs Shopify during our initial calls– it is extremely important that we have a clear understanding of your expectations as we begin to discuss the work we can do together. Launching an e-commerce site can be overwhelming no matter what your level of understanding or technical prowess may be, and trying to choose between two robust and attractive platforms can feel like a major hurdle before you even put your business name on the header of your storefront!
Depending on your needs and wants, there is no clear "winner" in the WooCommerce vs Shopify debate without laying out all of your specific needs, your vision for your e-commerce platform, and determining the level of involvement vs customization and control that you require. If you are comfortable with using premade plugins to solve all of your solutions, then Shopify may be your best bet, although there are plenty of well-vetted and established plugins available for WooCommerce as well. If granular customization and control are your top priorities, then working with either an in-house developer or a WooCommerce consultant may be your better bet.
WooCommerce vs Shopify: What's the Answer?
If you came here looking for a definitive, one-size-fits-all answer for the ongoing question of choosing WooCommerce vs Shopify for your digital storefront, we are sorry to tell you that there is not. As you can see by the range of comparisons, benefits, pros and cons, and considerations that you will need to make at this early step in your e-commerce journey, choosing the right platform for your specific needs will require that you take a close look at your options and weigh the alternatives. With that disclaimer in mind, we have found a great deal of success with Shopify for most e-commerce businesses. If after a careful examination of your needs you still aren't sure which way you should go, contact an e-commerce expert for a consultation.
Contact On The Map Marketing now so that we can go through your specific use case and compare WooCommerce vs Shopify against your needs. The following questions are some of the many that you may want to consider, both independently and during our conversations as we discuss our work together as your e-commerce developers:
How complicated is your transaction structure?
Many specifics can lead you in one direction or the other when choosing WooCommerce vs Shopify, including the number of steps or complications along your users' purchasing journeys. If you have multiple storefronts—or a range of individuals managing their own storefronts under your parent storefront as a multi-vendor marketplace — you may want to consider WooCommerce that will allow you to create specific hierarchies, approval processes, and more. To be fair, Shopify does offer a number of multi-vendor marketplace options, but depending on the structure that you have designed for your business, these plug-and-play options may not cover all of your needs sufficiently.In order to set yourself apart from the competition, it may be necessary to use a unique solution for your storefront that might not be available as an add-on in either the WooCommerce or Shopify ecosystem, meaning that you will need to develop your own or work with a developer to build the tool that suits your needs. The team at On The Map Marketing is well-versed in a range of solutions no matter which side you choose in the decision between WooCommerce vs Shopify and will be happy to discuss these options with you during our conversations about how we can best work together to provide you with the e-commerce platform that works best for you.
Do you prioritize control or convenience in the digital aspects of your business?
When deciding on WooCommerce vs Shopify, you will quickly recognize that there are many pre-packaged solutions available for both your front-end and back-end of your storefront with both options, although, with Shopify, these options are hard-coded into the framework. There are a number of plugins and add-ons available for WooCommerce that will give you a ready-made solution for the same needs, but you will have the additional option to create your own.If you have a specific vision for how you control or allocate your inventory, offer location-based solutions, or manage vendors operating under your main storefront, you will need to determine whether or not a pre-built tool with little customization options will work for you, or if you want complete control over the tools and features that your site boasts, both for your own management needs as well as your customers' interactions with your site.
What are the transaction fee structures of WooCommerce vs Shopify?
Basic Shopify costs $29 per month, the standard Shopify plan is $79 per month, and Advanced Shopify is $299 per month. The credit card rates decrease as you move up to a more expensive plan. For online transactions, there is a 30-cent flat fee and a 2.9% surcharge with Basic, 2.6 % with Shopify (standard), and 2.4% with Advanced. For in-person transactions, there is no flat fee and the surcharge is 2.7%, 2.5%, and 2.4% respectively. All plans include a domain name, SSL certificate, and web hosting.WooCommerce does not have a similar fee structure. You have to pay for a domain name, an SSL certificate, and web hosting. This can cost around $80 upfront and $10 per month. While this may appear less expensive on paper, Shopify plans tend to be more inclusive, so many online store owners find that they are saving additional costs in the long run.
What is the return on investment for hiring a developer vs paying a 3% (pre-tax) transaction fee on each of your sales?
The answer to this question in the WooCommerce vs Shopify debate is highly specific to your business, but is an important one to ask: Will 3% of your yearly sales amount to more than the cost of hosting, security, and custom development? How about over the course of 3 years, or 5 years? While a 3% transaction fee may not seem like a big deal in the first months that you are launching a new business, it can quickly become a major issue as traffic and transactions continue to increase.Another issue to keep in mind when considering WooCommerce vs Shopify in terms of the transaction fees is that if you ultimately decide—a month, a year, or a decade down the road—that you no longer want to pay these fees, that you will not be able to take the source code of your marketplace with you to a new platform. This means that you will need to build a new site in order to get away from losing this not-insignificant amount of money off of the top of each sale that you make. This is one of the major drawbacks of a plug-and-play solution, known in economics as "lock-in."
Contact On The Map Marketing Now To Discuss All Of These Options and Considerations For WooCommerce Vs Shopify Today
We understand that the debate of WooCommerce vs Shopify is an overwhelming one, and no matter how many opinions you gather on the internet, it is likely that none will directly address your unique needs and concerns when it comes to choosing the right e-commerce platform for you. Contact our team as soon as possible so that we can discuss your unique situation and go through the pros and cons for your own business needs, as well as all of the ways that we can help you as your e-commerce consultants and developers.
Regardless of the benefits and detractors that lead you towards either WooCommerce or Shopify, rest assured that there is a member of the On The Map Marketing team ready to have an in-depth conversation with you about how to best move forward and to get your platform launched and transacting as soon as possible. We have a history of launching robust e-commerce storefronts for a range of businesses and industries, and we will be happy to bring out expertise to your own project so that you can start sharing your product with the world.
I started as a project manager at On The Map Marketing in 2015 and now run the day-to-day operations as the company's chief executive officer. In the last few years, I have overseen thousands of successful SEO campaigns in numerous industries, including lawyers, contractors, E-commerce, and other markets. I am also a proud dad of three divas and take a keen interest in running and calisthenics.