My Experience at the Women in Tech SEO Festival – 2020 London
Hello! My name is Anete and I am the SEO Project Manager at On The Map Marketing. On March 6th, I had an amazing opportunity to attend the Women in Tech SEO Festival in London. Women in Tech SEO is a first-year festival with the goal of gathering experienced and curious women in the tech SEO industry to exchange experience, knowledge, and guidance in the already complicated SEO industry.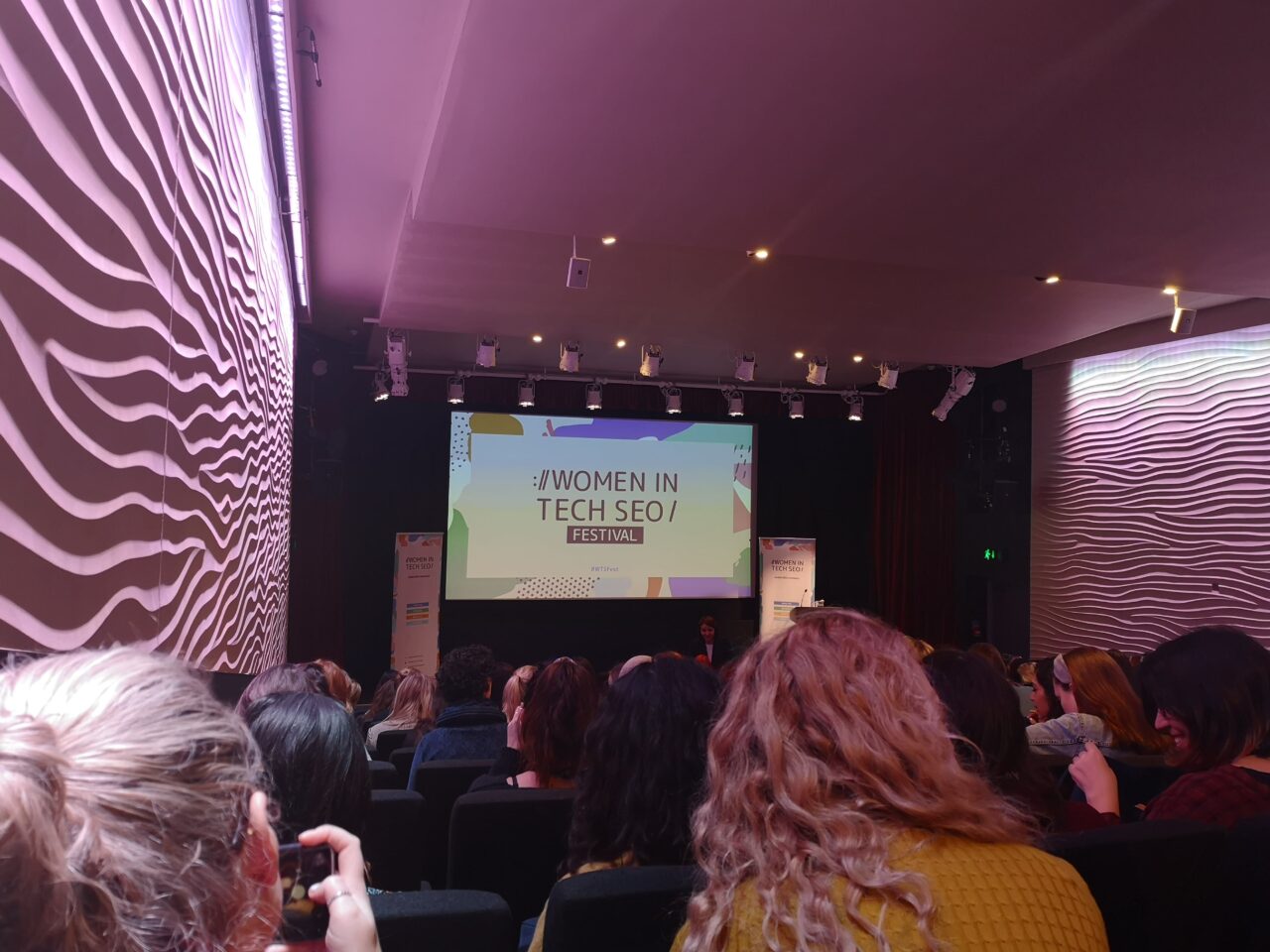 This will be my personal reflections and key takeaways, and for the speakers who shared their presentations on LinkedIn, I will also try to share links. The Women in Tech SEO conference was divided into four main sections: Analyze, Advance, Innovate, and Empower. Each section was divided between two or three speakers and focused on some of the main challenges in the sector. Let's go deeper in and see what each section represented and what my key takeaways and findings are.

Part 1 – Analyze
Roxana Stingu: Is Your TTFB Slowing You Down?

The conference started with Roxana Stingu, who was talking about TTFB. What is TTFB? TTFB is time to first byte, which is a measurement that indicates the responsiveness of a web server or other network resources. TTFB is not a ranking factor at this moment, however, but page speed is. It is always a good idea to look for a solution that can improve website speed. One of the great concepts that I gleaned from Roxana's presentation is to localize hosting, which might be hard to do for an international website, but for small businesses, it's a viable option. Another thing to consider are tools that are used to measure website speed because they're normally divided between synthetic and natural, which can affect data quality and accuracy.
Kristina Azarenko: How to Create High-Quality eCommerce Categories?
Another hot topic is the proper management of eCommerce websites. It's not an easy task to do, especially when the website has thousands and thousand products that all need to be categorized and structured. Kristina gave an on-point example of a T-shirt company and how someone can categorize products when you have one product (e.g. a t-shirt) with many different sizes, patterns, and colors. My key takeaway from Kristina is to look deeper and see how your specific niche can be categorized. You need to analyze consumer buying patterns and find out which criteria they used to select one product over the other. For instance, is your customer into a white shirt or red shirt, or maybe t-shirt with a print?
Learn more and see Kristina's presentation here.
Miracle Inameti: Providing Your Worth: Demonstrating the Value of SEO campaigns
Miracle was discussing the same old struggle of the SEO expert: campaign measurement milestones vs. client expectations. It is truly one of the biggest challenges because when you spend hours and hours with your beautiful keyword rankings and traffic reports, it might be frustrating when the client doesn't care about it at all. And in the end, the main question will always be ROI. Here, Google Analytics can help you a lot. Miracle discussed the importance of the proper Google Analytics set up and the ability to determine which data sets are most important.
As an aside, something that I personally like to look at is Google Tag Manager, which might provide significant value for your SEO reports.
Learn more here.

Part 2 – Advance
Aleyda Solis: SEO for Marketplaces: Overcoming Technical Challenges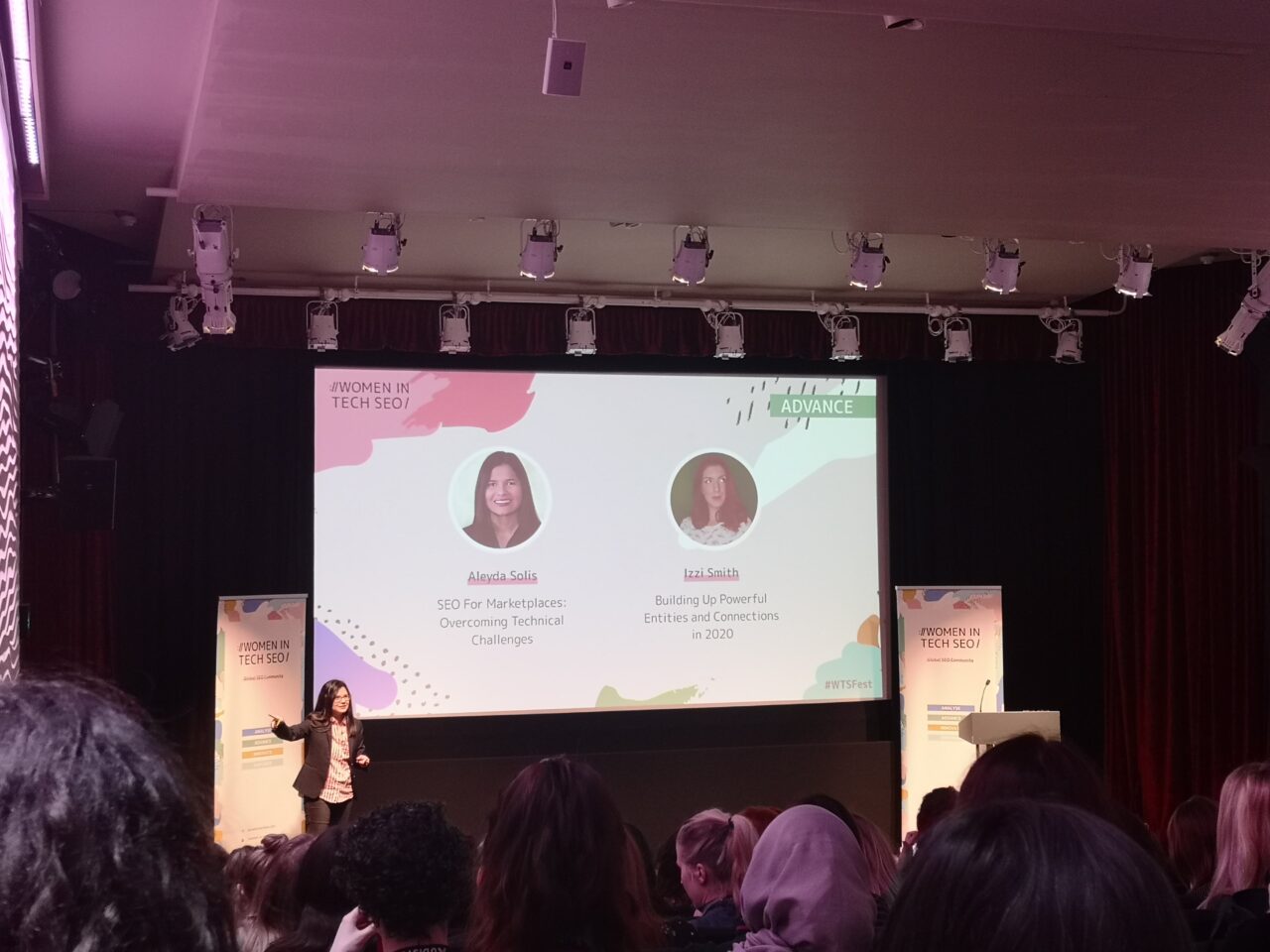 If you really want to learn a thing or two about SEO, you should definitely start following Aleyda. She is my all-time pick for most-inspiring SEO expert and speaker. It is impossible not to learn from her blog articles or Youtube channel. Check her out!
This time, she discussed the challenges of maintaining a marketplace website, such as eBay, Etsy, etc. OMG! If you think that eCommerce management is difficult, then try to figure out what to do SEO-wise with marketplaces. Marketplaces add extra difficulty because a third party is involved. Not only do you need to be able to manage the website and make sure that customers are satisfied, but you also need to ensure that the sellers get what they want, add proper information, etc. In the end, you need to figure out how to put this all together and maintain your SEO campaign. Find more about it here.

Izzi Smith: Building Up Powerful Entities and Connections in 2020
Izzie Smith spoke about entities and how your SEO efforts can benefit from a greater understanding of the nature of those entities. But what are entities in the SEO world? Entities are the way that Google trains robots to understand language in the way humans use it. In other words, following language naturally. An entity is "a thing or concept that is singular, unique, well-defined, and distinguishable." It is interesting how this entity approach can affect the way we create content and how we can use multiple entities to further involve them into one text.
Find more here.

Part 3 – Innovate
Hannah Rampton: Delimit Your Data: Formulas For Success
Hannah Rampton held yet another amazing presentation where she discussed the opportunities of using Google sheet formulas to improve your SEO efforts. I mean there's nothing to add, really. It's an endless sea of hacks that can make all our lives easier. Not only the basic formulas that we use in our daily lives, but also functions such as VLOOKUP, IF functions, and many others. Visit her Linkedin Profile and find her presentation.

Ruth Everett: Tackling Python: How It Can Help With Technical SEO
Ruth talked about Python and its utility for SEO. According to Ruth, there are endless options for using Python to help you with technical SEO. Ruth mentioned that you can create a 404 checker, interlinking analysis, image optimization, and more. For more information, visit LinkedIn and find her presentation there.

Emily Potter: On-Page Best Practices That Harm Your Traffic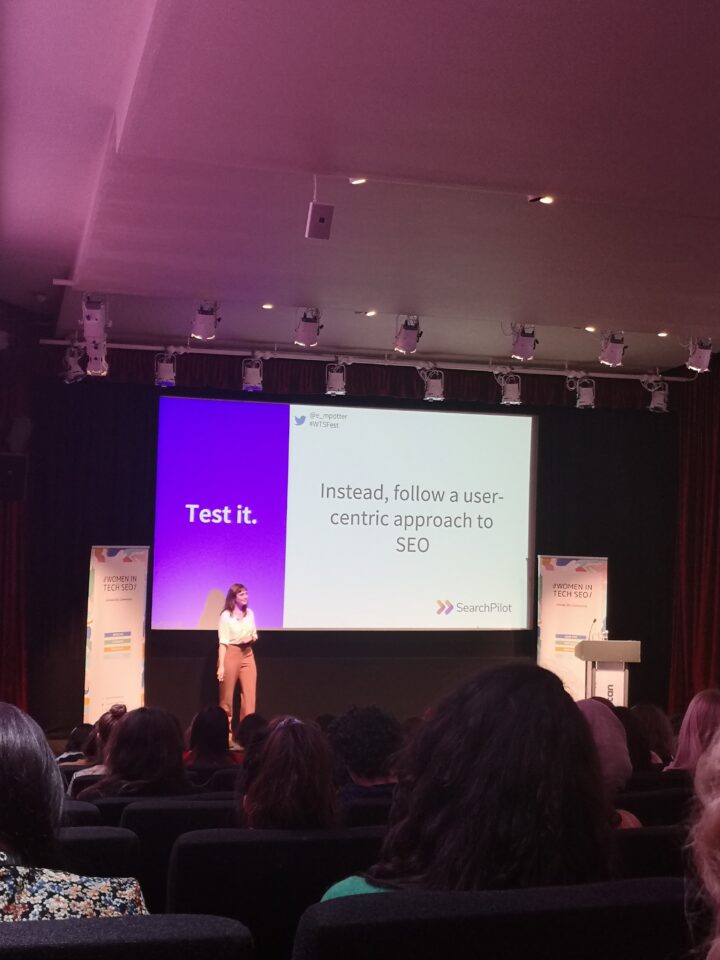 Part 4 – Empower
Last but definitely not the least was the Empower part where three impressive women shared their experiences:
Stacey MacNaught: In Pursuit of Work/Life Synergy
Hannah Smith: Feckless Freelancing & Facing Down the Fraud Police
Kristy Hulse: Working It; Practical Tips To Be Heard in Meetings, Get Paid More & Shine Like The Badass You Are.
These absolutely extraordinary, inspiring, and frankly, badass women divulge their personal challenges in both work and personal growth. Not only did they speak about the way they deal with adversity, but they also discuss what they've struggled with the most, and how they've overcome the greatest challenges of their lives. It was a fantastic way to end because it gave us hope and highlighted the main lesson for all of us: be kind to yourselves in today's demanding world.
There is, of course, much more learning and takeaways that I could mention, but I want to keep this short … because of the bounce rate. 😀
I am excited to see what's next for this group of women. Also, I want to thank Areej AbuAli, who is at the core of this initiative. See you next year!