Magento vs Shopify: Which is Better?
If you are in the market for a new, effective, and robust ecommerce platform, then it is very likely that you have already stumbled across a number of pros and cons for both Shopify and Magento. Trying to determine the best ecommerce platform for your own needs can be overwhelming for even the most experienced users, which is why the team at On The Map Marketing thinks that it is so important to deep-dive each option with our clients before determining the correct choice and moving forward with building out the final product.
The Shopify vs Magento conversation has been going on since the advent of these two popular ecommerce solutions, and the answer has always been — and will always be — the same: it depends. We know that this is probably not the simple answer that you were hoping for, but if you are preparing to build an ecommerce platform then answering this question specifically for yourself is all part of the due diligence required to launch a successful online business. Working with a partner like On The Map Marketing in order to launch your online business is one of the best steps that you can take early into the process so that on the day you welcome your customers to your new storefront, you can be confident that you left no stone unturned, and that each need that your users have has been considered, optimized, and included in your platform.
Partner With an Experienced Storefront Design Firm
To Identify and Implement the Best Ecommerce Solutions
The following information is meant to give you an overview when you are trying to answer the question of Shopify vs Magento, but the best way to get the specific answer to your own questions – along with things like cost breakdowns and more — is to contact our team directly and work with us in order to answer these questions specifically for your own business needs. The sooner you contact us, the sooner we will be able to take a close look at your business model and structure in order to determine the best approach to take in order to get you the ecommerce platform that works best for your needs.
Whether you are looking for a turnkey solution, or if you want to work closely with our designers and developers in order to build a fully-custom solution, we have the experience and knowledge that will benefit you and your customers. Take a look at the information provided below to get a sense of which option may be best for you, and let's start working together immediately to get your site built, branded, and live as soon as possible.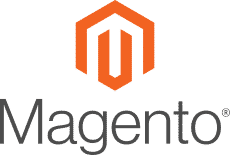 What Is Magento?
Magento is an open-source ecommerce platform that grants a user complete control over their storefront — with a catch: due to its open-source nature, Magento requires significant programming in order to have your storefront up and running. This can be a significant deterrent to many people who simply want a plug-and-play solution so that they can have their storefront running on the same day, with minimal technical know-how. That said, Magento and Magento 2 both offer powerful tools and options that you will not get in a more user-friendly solution such as Shopify.
Magento (and the new update, Magento 2, launched in June 2020) uses PHP in its code, so you will need to either have a practical understanding of PHP or will need to partner with a PHP developer so that you can implement the tools and solutions that you need most for your platform. Since it is an open-source platform, it is free to use, meaning that you will own the code of your business when you have completed your development. Other plug-and-play solutions, such as Shopify, have proprietary code that you do not, and can not, own, meaning that if you were to port your business to another platform, you will need to start from scratch. In some instances, you may be able to buy the code from the host company, but this is often very expensive and can cause many additional problems while launching your platform on a new host.
Since Magento is an open code, you will need to find your own hosting for your platform. Choosing the right host for your needs is essential to ensure that your site loads rapidly and provides your visitors with the experience that they expect. Slow loading speeds are an easy way to have your site rankings drop, and can increase your bounce rate as users become frustrated and move on to the next search result to find the product that they are looking for.
What Is Shopify?
Shopify offers user-friendly startup options for building online stores. If your idea of the best ecommerce platform is one that requires little startup effort, this may be the option for you. Shopify offers a free trial before you need to choose the right Shopify plan for you, so you will be able to play with the platform and experiment with a range of options while deciding if this is the correct decision for you. While using the trial, make sure to explore the features and functions such as the abandoned cart customization, your payment gateway design, the ability to use gift cards, and more.
When users are planning to launch an online store but are not interested in doing their own development work.
Needs To Consider While Choosing
Between Magento and Shopify
The following are a few different key issues that you will want to think about when deciding where you stand on Magento vs Shopify. Even with the following information, though, it can be difficult and overwhelming to make such a big decision on your own. Contact the team at On The Map Marketing as soon as possible so that you can talk about the pros and cons of each of these platforms in specific detail so that we can help you reach a decision. We have worked with many clients with Magento, Shopify, WooCommerce, Commerce Cloud, and a number of other ecommerce stores, and will be happy to share our own professional insights with you about what may be the best fit for your vision.
Is Magento Right For You?
Flly-customized solution
When you choose to use Magento or Magento 2 for your ecommerce solution, you will save money in a number of ways: for starters, you will not need to pay for the source code (remember that Magento is open source). In addition to the fact that the source code for this powerful tool is free, you will not need to pay a transaction fee to the parent company as you will with Spotify. For some users, this 3% fee may not be a significant factor in determining which platform to use, but it is important that you consider your target revenue over one, three, or five years and calculate 3% of that target. In many cases, these transaction fees will exceed the cost of a programmer who can help you build a fully-customized solution with Magento. Remember, as well, that if at some point down the road you decide that the 3% transaction fees )as well as the subscription costs for either basic Shopify or advanced Shopify, themes, add-ons, and more) are too much, you will need to completely rebuild your store from scratch since you will be unable to port your source code once you leave the Shopify environment.
Environment Control
If you like to have complete control of your online environment, then a Magento store is likely the best option for you. The tradeoff, of course, is that it will require custom development, but you will be able to have full control over every aspect of your Magento store without having to search for pre-made Shopify apps or plugins that may only partially meet your needs. There are a variety of possible ways to add custom functionality to Shopify through add-ons and plugins, but you will run into an issue of compatibility between them, and will always be at the mercy of the developer in hopes that they continue to support their app into the future. However, Magento also offers the Magento Marketplace that is full of apps that can make your build process much easier by simply installing a premade tool into your custom code.
Full-control
Too often, Shopify (and other plug-and-play web solutions) users lose major blocks of functionality to their websites when the hosted solution rolls out a core update and their add-ons have been abandoned. When you develop all of your own tools on your site, the only person that you need to worry about abandoning the work is you and the developer that you work with. You will need to support Magento updates, but you will never need to worry about having a dead tool on your store that you are unable to update yourself.
Is Shopify The Best Ecommerce Solution For You?
Self-Hosting
Managing a hosting solution is just one more thing that an ecommerce business owner needs to keep track of when they are operating a custom storefront such as Magento, but when you are using a plug-and-play solution like Shopify, you will simply build your storefront and flip the switch to turn it on. Shopify has self-hosting, meaning that once you pay for the platform you are able to run on their hosting services instead of needing to take care of operating your own. Many people run into problems with things like expired domains, broken connections, and a number of other issues that come along with managing your own hosting with hosting sites like GoDaddy, HostGator, Weebly, and others. Connect your third-party platforms directly to Shopify and forget about it.
Transaction Fees
Shopify is a hosted simplified, drag-and-drop solution that can get you up and running with much less work than Magento, Magento 2, or any other open-source platform that requires you to put in significant development work; however, this comes at a cost: Shopify implements 3% transaction fees from your Shopify payments, meaning that you will pay this amount for the duration of your use of this platform. In addition to these transaction fees, you will need to pay a monthly fee for the different add-ons and options that you want to run from third-party developers. As with Magento, you will want to consider your goals with Shopify and determine whether or not you think that a 3% transaction fee for the lifetime of your Shopify use is an issue. Consider your 1-year, 3-year, and 5-year sales goals for your Shopify store, and then consider the cost of a developer to build and operate a Magento store in comparison over this time.
Simplicity
If you are not concerned about the 3% transaction fee, you will then want to ask yourself if you are concerned about absolute customization and control over your store environment. If you want to be able to get a store up and running with minimal effort, and are happy to choose preset themes and options for your business, then Shopify may be a great option for you to choose when deciding Magento vs Shopify. Shopify focuses on ease of use and ease of launching and provides payment processors and payment gateways built into the platform, is self-hosted, and essentially will allow you to launch a single storefront as quickly as possible with minimal technical requirements. When comparing this to Magento, or SalesForce's Commerce Cloud, you are getting significant benefits if ease of use and time to launch is at the top of your priorities.
Security
Security is essential to operate a successful storefront to ensure the privacy of your customers, protect your payment processors information, and more. Shopify takes care of all of their security on the backend, and there is a team that is continuously monitoring any possible security flaws or issues so that you don't need to worry about it. When you are using a Magento or another similar platform, you will need to take care of your own security. For some, they may want to take these matters into their own hands and apply custom security solutions, but if you are not interested in learning about the wide world of web security, then Shopify might be the solution for you.
Customization
The Shopify App Store provides users with a wide range of third-party plugins and options to get the most out of their store and offer unique and specific solutions for their users. These add-ons and plugins are offered in addition to the wide range of customization offered in the core Shopify product that you will be able to go through during your initial build and continue to tweak as you have more customers visiting your site and you get a deeper understanding of the experience that they are looking for. Keep in mind, though, that this customization is markedly different from the level of customization and control that you have when you (or your developer) is the one writing every line and building each tool specifically for your site. Consider the fact that each of these add-ons has taken many hours to build, and require continuous maintenance when considering how many tools you would want to build custom on an open platform like Magento.
Customer Service
Shopify has world-class customer service geared specifically towards small businesses, and are available through 24-hour live chat, as well as phone and email. If you want to be sure that you have the attention of a large customer support team at any hour of the day or night to keep your store running like it needs to, then Shopify has what you need in this sense. Magento offers customer service, but since your storefront is custom-built you will likely need to work directly with your developer unless your issue is a Magento-specific problem.
Even if you work with a developer with your Shopify build, they will likely benefit from being able to connect directly with a Shopify team member who works in the platform daily, since there are many tips, tricks, and best practices that may go completely unnoticed or unrecognized by someone who does not spend their entire workweek in the environment. When your storefront goes down and you are struggling to figure out what is broken, it can be really helpful to have a customer support agent working closely with you.
Choosing to run a store that requires a lot more hands-on work to keep everything running smoothly can be a daunting decision to make, which is why we think that one of the best ways to decide on Magento vs Shopify is to talk with an expert about your needs, goals, and constraints. Magento and Shopify offer a lot to their users, but because of the range of differences, it is important that you know exactly what you want for the future before committing to a store option.
Magento vs Shopify: Which Is Better?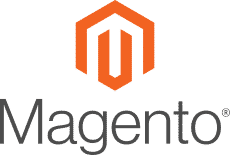 Magento
Summary
Magento is a free, open-source, highly flexible, extensive, scalable platform with limitless options for optimization. It's best for users with high web development and programming skills who are willing to take more time to set up their site.
Costs
Magento itself is free for everyone, but costs can add up for hosting, security, and domain registration.
The enterprise version is costly but only meant for large enterprises with a high website budget.
Transactions are never charged with a percentage fee.
Set-up Time
You'll need to provide your own hosting, installation, and setup, which will require a significant learning curve if you're a beginner.
Ease of Use
Magento is self-hosted, so you'll need to sift through third-party hosting options to find the one that's best for your business and budget.
Users make ready-made extensions, which are great if you have low coding skills.
Themes and Add-ons
5000+ free and paid apps/add-ons
If you have developer knowledge, you can endlessly customize your theme. If you don't, then you have 16 themes to choose from, and 10 are mobile responsive.
With open-source coding, the add-on possibilities are endless. Anyone with developer skills can create their own add-on extensions.
More customization options for front-end features for customers such as coupon codes, customer dashboards, related products, wish lists, etc.
Security
You'll be responsible for your own cybersecurity.
Inventory Management
You can sell unlimited products in your store, but hosting performance and site loading speeds can become concerns to take care of on your own (since Magento is self-hosted).
Shopify
Summary
Shopify is easy to use and great for beginners who don't exactly have technical prowess. It's a great all-in-one package to start your ecommerce website quickly and with tons of options for customization.
Costs
3 payment plans:
$29/mo, $79/mo, or $299/mo
Transactions are charged with a percentage fee, although it's less than 3%.
Set-up Time
Your store can be up and running in a matter of minutes with a signup button.
Ease of Use
Shopify is fully hosted, so you'll never need to install, manage, or update any software.
Highly intuitive interface
No site-building or technical skills required
Themes and Add-ons
App store of hundreds of free and paid apps/add-ons.
Over 180 themes, which are all mobile responsive, and many are free.
You can add custom HTML, but only to your homepage.
Security
Shopify takes care of security issues.
Although your live copy is on Shopify's servers, there are many ways to access and export your data.
Inventory Management
You can sell unlimited products in your store without concerns for hosting performance and site loading speed (since Shopify is fully hosted and managed).
Frequently Asked Questions About Magento vs Shopify
The following are some general questions and answers regarding Magento and Shopify but keep in mind that the answers to some of the following questions may vary depending on your unique situation. The best way to get specific answers to your own questions about each platform and which is the right solution for you is by contacting the team at On The Map Marketing, Inc. as soon as possible and speaking with someone from our team.
What does open-source mean?
The term "open source" means that the code that a piece of software is built on is freely available to anyone who wishes to download it, and is then fully customizable. However, there is a common misconception that open source platforms are less stable because anyone can make changes to it, but this is only true for the unique code that you own – not the available code that is shared by Adobe (or any other open-source company). The source code that is available for you to download from the official site goes through the same revisions and updates that any closed source software. Open-source software is appealing to those who like to have full control over their environments but do not want to "reinvent the wheel" by needing to build the entire platform from scratch.
How much does Magento cost to run for a year?
The costs associated with operating a Magento storefront depends on the way that you operate it. Magento itself is free to download and use, meaning that your costs will come from things like hosting, security, payment processing, and other third-party charges. Unlike Shopify, Magento does not take a transaction fee for any payments that you make on the site, meaning that you will save 3% with each transaction. However, depending on the payment platform that you use for your Magento store, you will need to pay a percentage to the payment processors who are handling each transaction. For example, Braintree Payments charges 2.9% + a $0.30 fee for each transaction
Can I migrate Shopify to Magento if I decide to change platforms?
There are parts of your backend that you will be able to migrate, such as your customer, product, and transaction data, but you will not be able to simply run your existing front-end Shopify store on another platform. Remember that Shopify is a closed-source platform that provides users with a simple way to build their own storefront, but Shopify owns all of the source code – you are not able to bring any of that with you when you go. If, after a time, you decide that you have changed your mind on the Magento vs Shopify debate and would like to use Magento, you will need to develop your store from scratch.
Can I offer gift cards on my Magento site?
You can offer gift cards on Magento just as with nearly all other ecommerce sites — it is simply a matter of either using an existing gift certificate system in the Magento Marketplace or developing your own.
How much does a Magento developer cost?
In order to determine how much it will cost to work with a developer in order to build and launch your own Magento store, you will need to speak directly with the team at On The Map Marketing about your goals for this project, the level of customization that you are interested in, the complexity of your store structure, and more. During our initial conversations, we will be able to provide you with insight about your goals and vision to give you a better sense of which things may be more cost-prohibitive than others, and ultimately return to you with a quote about what it will take to have your dream site up and running.
How much does Shopify cost to run each year?
Shopify offers a number of packages for you to choose from depending on your specific needs, ranging from Basic Shopify at $29/month, Shopify (standard) for $79/month, and Advanced Shopify for $299/month. Basic Shopify will cost you $348 each year, Shopify will cost $948 each year, and Advanced Shopify will cost $3,588 each year. You may also need to pay licensing or one-time fees for any premium add-ons that you choose to use on your site.In addition to these set subscription costs, you will need to also consider the fact that Shopify takes a 3% transaction fee from each transaction that is made on your platform. This number depends on your sales each year and will have to be taken into consideration when you are discussing long-term operating costs and determining the most cost-effective platform to launch on.
Can I take my Shopify store to another platform if I decide to?
If you decide that Shopify is no longer the best solution for you, you will be able to migrate your data such as customer lists, transaction history, product lists, and other information on a .csv file. However, Shopify's source code is proprietary and closed, meaning that you will not be able to simply take the code and install it into Magento to run the exact same storefront. If you decide that you prefer Magento, you will need to build a new storefront from scratch before you can launch.
Is it possible to create custom solutions for my Shopify storefront?
There are a seemingly endless number of add-ons available in the Shopify app store, each of which offers a unique and specific solution to any number of problems that you may be trying to solve on your own storefront. In addition, you may be able to create your own custom solutions in the Shopify ecosystem through the Shopify Developers program. This is a great opportunity to create custom tools and add-ons for your customers, and you may even be able to diversify your revenue streams by selling your tool on the app store once you have implemented it and tested it on your own site!
Is Shopify's customer service available 24/7?
Shopify boasts a 24/7 customer service channel that includes phone, email, and live chat. If you are having an issue in the middle of the night, over a holiday, or any other time, you can be confident that there will be a Shopify agent available to help you with your issues and get your storefront back online. They understand the work that goes into operating a small business and want to get you back running as soon as possible so that you can continue to provide your customers with the products and services listed in your marketplace.
Do I need to know how to code to use Shopify?
One of the major advantages of Shopify is that you will not need to write a single line of code to launch a professional, functional, and attractive storefront. Shopify is a drag-and-drop solution that will provide you with a wide range of add-ons and modules that you can select and arrange however you see fit. There are certain instances when a site owner requires a specific solution that they are unable to find on the Shopify app store when they may determine that the best solution is to work in the Shopify developers ecosystem to create their own custom solution. The team at On The Map Marketing will be happy to discuss your custom needs and work with you to roll out a solution that meets your needs.
Do I need to work with a developer to open a Shopify storefront?
Shopify is designed to be a user-friendly solution for people who are not interested in doing their own development. However, this does not mean that the process is 100% simple, and working with a Shopify designer or consultant like the team at On The Map Marketing is one of the best ways to ensure that you launch the exact site that you have in mind regardless of which platform you choose to use. We will be happy to discuss this with you specifically and will be able to give you plenty of examples of our previous work with this platform that can give you a general sense of the quality of work that you will get as one of our valued Shopify clients.
So, What Should You Choose? Magento vs Shopify
As you may have noticed with the range of options, pros, cons, benefits, and drawbacks of each of these robust solutions, it can be difficult to provide you with an exact answer without having an in-depth conversation with you about your unique storefront goals. Magento will give you the greatest range of customization when it comes to developing a fully-unique solution but will come with much more labor and work on the front (as well as ongoing upkeep that you will need to maintain). Shopify, on the other hand, will give you peace-of-mind about things like security, hosting, payment platforms, and custom coding, since all of these things are included in the package that you will pay a monthly subscription for.
Ultimately, the answer will depend on your business plan, your level of comfort with custom coding, and the scalability of the storefront that you are hoping to build. If you plan to build a highly-complex multi-vendor marketplace tailoring to a range of products and services that each requires a unique tool to help users navigate, then you may want to opt for Magento so that you can have complete control over your environment. If, however, you are planning to build a straightforward storefront that you do not believe will require extensive customization, then the ease and control that you get with Shopify might help to answer this question for you.
Contact On The Map Marketing Now To Discuss All Of These Options and Considerations For Magento Vs Shopify Today
If you want to speak with a professional about your options before committing to a platform, contact the team at On The Map as soon as possible. We have been working with each of these platforms for years, and have helped a variety of clients reach their unique goals and custom solutions. This experience has given us a unique perspective, and can be of significant help to you when you are both trying to make the decision and as you are working to build out a platform that truly meets your needs and fulfills your vision. Working with experienced professionals is one of the best ways to get what you want when you want it, and how you want it, and we are happy to take on your unique ecommerce project to get you and your customers the best buying experience possible.
I started as a project manager at On The Map Marketing in 2015 and now run the day-to-day operations as the company's chief executive officer. In the last few years, I have overseen thousands of successful SEO campaigns in numerous industries, including lawyers, contractors, E-commerce, and other markets. I am also a proud dad of three divas and take a keen interest in running and calisthenics.