How to Do a Professional Local SEO Audit: A Simple Guide
Ranking higher, reaching more customers, or boosting your business's online visibility doesn't come easy. I get it. In fact, the majority of businesses often miss out on valuable opportunities due to inadequate local SEO practices.
Half of these problems can be tackled by addressing and fixing the SEO issues you might be facing. But to address these issues you first need to know what they are. One surefire way to acknowledge them is by conducting a local SEO audit.
Let's find out how to do it for your business.
What is a Local SEO Audit
Local SEO Audit is the evaluation of your online presence and first-page organic search ranking. It helps you discover your SEO strengths, weaknesses, and areas for improvement. It examines every aspect of your local strategy and local pack ranking to enhance your online visibility and performance.
Why Should You Do a Local Search Audit
It's important to conduct a local search audit so you can avoid wasting time and effort on ineffective Search Engine Optimization strategies.
By assessing your business website's ranking and performance, you can pinpoint reasons for any decline in rankings. This analysis is invaluable and helps you optimize local SEO. Instead of blindly spending money in the wrong areas, the audit provides insights, allowing you to invest wisely and avoid futile SEO attempts.
Plus, with a well-conducted audit, you can make informed decisions, save resources, and ensure your SEO efforts lead to tangible results, enhancing your online visibility and success in the long run.
When to Consider a Local SEO Audit
Some of the situations when you should consider conducting a local SEO audit are:
While starting a new business to build a strong foundation.
Observing a drop in rankings, organic traffic, or leads.
Changing business locations, necessitating listing updates.
Launching a new website to ensure local optimization elements are in place.
Addressing insufficient local traffic and leads.
Facing new competitors, requiring staying ahead in search results.
Preparing your overall marketing strategy and campaigns to align with your SEO efforts.
Recovering from penalties or algorithm updates by identification and rectification.
Conducting periodic reviews to adapt to changing search trends.
How to Perform a Quality Local SEO Audit: 9-Point Checklist
Conducting a top-notch local SEO audit is paramount. Here are the key steps to ensure your business stands out in local searches.
Check local search rankings for target keywords.
Assess the completeness and accuracy of the Google Business profile.
Identify any penalties or violations affecting your Google presence.
Research relevant keywords for local search optimization.
Analyze website authority, internal links, and backlinks.
Review local content for relevance and optimization.
Audit business citations for consistency across the web.
Monitor and respond to customer ratings and reviews.
Analyze competitors' local SEO strategies and performance.
Let's delve into the details of each of them and set the stage for your SEO success
Check Your Local SEO Rankings
To gauge your website's performance in SERP, it's vital to know what's its current ranking for the keywords you're targeting.
Since local pack results vary by location, conduct searches from specific areas you aim to be found in. You can also employ a ranking tool like TrackRight to automate tracking and stay updated on your keyword rankings. It'll make the whole process more efficient.
Evaluate Your Google Business Profile
Your Google Business, formerly known as Google My Business, Profile is one of the most important online assets for your local business.
To optimize your Google Business listing's impact, considering you've already claimed and updated your GMB account with accurate information, thoroughly assess each aspect of it to ensure that you follow the best practices.
Plus, review the Insights to gain valuable performance data and check whether the metrics are met.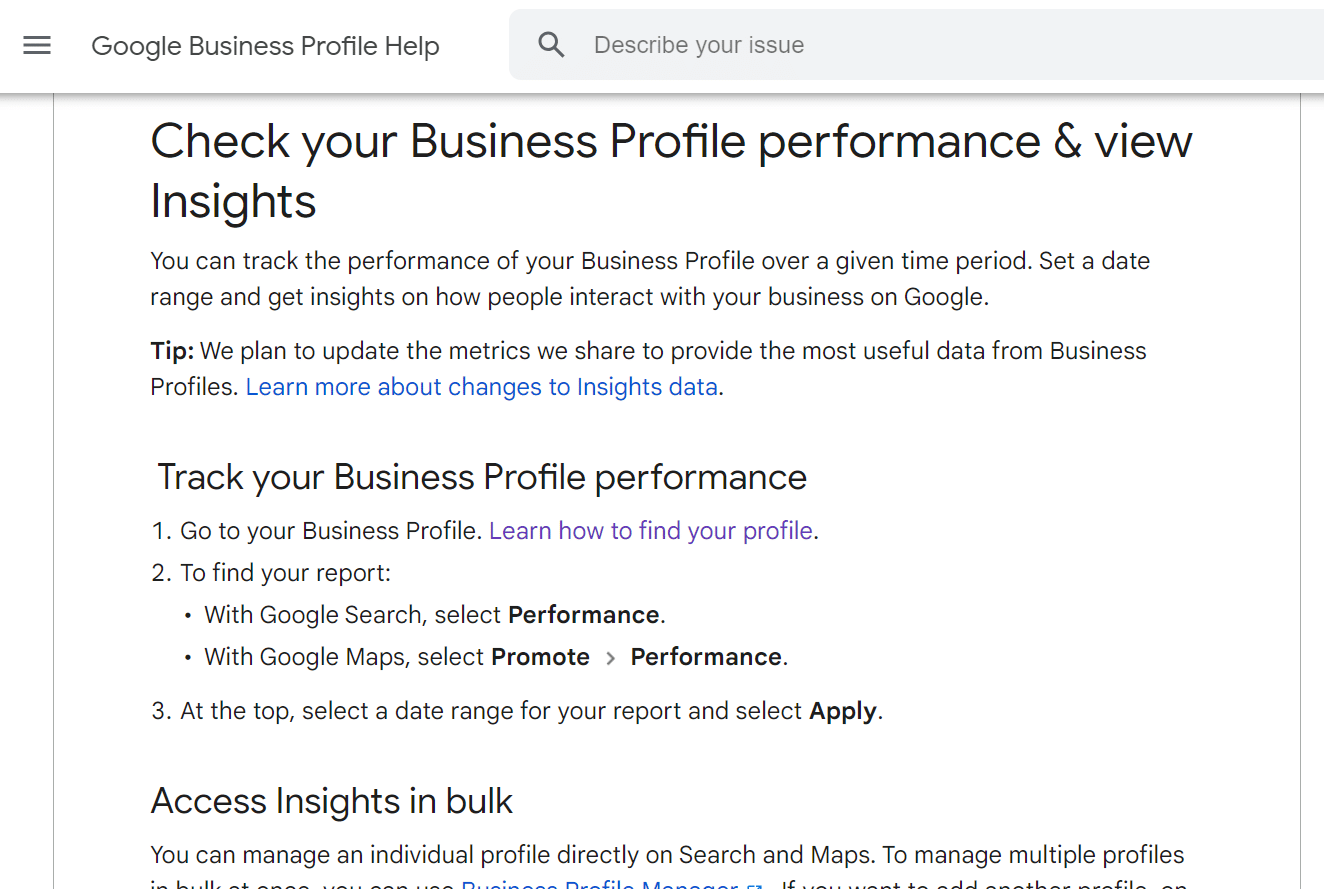 Verify and maintain correct contact info, address on Google map, opening hours, images, videos, services offered, and other business information.
Plus, make sure that everything that's mentioned here correctly represents what you offer.
Finally, benchmark against competitors to identify areas for improvement and stand out in your market.
Take Stock of Your Google Penalties
During a local SEO audit, checking for Google penalties should be a crucial step to make informed decisions.
Many sites often fail to send a reconsideration request after a penalty. But it's important to know that even though these penalties can undermine your SEO efforts, a ranking drop isn't the sole signal of it. Failing to update your Google profile after algorithm changes can also affect your ranking.
So, you need to examine penalties in Google Search Console. You receive notifications with the penalty causes and required fixes there.
Here's the complete process for how to do it.
Manual Actions Report in Search Console – Google Search Console Training
Some of the common penalty causes are usually thin content, sneaky redirects, user-generated spam, and unnatural link structures. Address these issues, submit a reconsideration request, and enhance your website's performance.
Conduct Local Keyword Research
To effectively optimize your SEO strategy, assess if you're ranking for location-based keywords targeting your specific area.
If you don't already have keywords like "personal injury attorney in Chicago," "dentist near me," or other similar keywords in your local content strategy, add them at the right places—like URLs, headings, title tags, meta description, anchor text, on multiple web pages to enhance local visibility.
While SEO is a long-term approach, incorporating diverse keywords can help. For short-term gains, you can also consider paid searches or PPC ads for specific keywords, social media, and other digital marketing techniques to boost brand awareness.
By combining SEO and PPC — organic and paid efforts — you can maximize your online presence and reach a broader audience, improving overall search rankings and driving relevant traffic to your website.
.
Audit Your Website's Authority, Internal Links, and Backlinks
Google's Andrey Lipattsev confirmed that backlinks are a strong ranking factor. They not only play a crucial role in SEO but define your website's overall authority.
To check website authority, use tools like Ubbersuggest or Moz to find your site's domain authority (DA).
Your DA increases when more unique domains link to your website as it signals trust to search engines like Google, Yahoo, and Bing.
While conducting this audit, focus on the link-profile and check all your inbound links for quality, relevance, and potential for organic growth. You can use tools like Ahrefs and SEMrush for comprehensive link analysis.
Besides that, repeat this process for top competitors to identify areas of improvement and their strategies that you can practice to fill the gaps to outrank them.
Additionally, you need to address misdirected or broken internal links, as they may lead to an underwhelming user experience.
Your internal links showcase your website flow to search engines and improve user experience by directing them to relevant pages. So, besides identifying the broken links while auditing, look for opportunities to crosslink prominent pages.
Evaluate Your Site's Local Content
High-quality and authoritative content is original, not duplicated.
With your website audit, ensure that you don't have any duplicate content, as search engines view it as deceptive, which can harm your ranking.
Here's how Google asks you to address duplicate content.
So, for a quick check, examine each page on your site to confirm there's no repetition. Plus, inspect your Google Business listing to ensure no duplicate entries exist there either.
If it turns out to be the case, you can raise a request to Google to merge those two accounts.
Audit Your Citations
Local business listings and local citations establish a business's local presence and credibility in a specific area.
It's a no-brainer that being listed on directories like Yelp, review sites under specific business categories, or local partner sites is beneficial. But you need to ensure that your Name, Address, Phone Number (NAP), and other essential details remain consistent across all local listings.
That's when a citation audit comes into play.
You can either do it manually by conducting a simple Google search for your business name and clicking on each link to check the info or use citation management tools for updates.
Review Your Customer Ratings
Online reviews and ratings are a powerful tool to build trust and credibility with customers.
The best practice to foster customer trust is promptly responding to those reviews—whether they're positive or negative.
But it's more important to respond to the negative ones as they can harm your business if not addressed, as potential customers rely heavily on user reviews.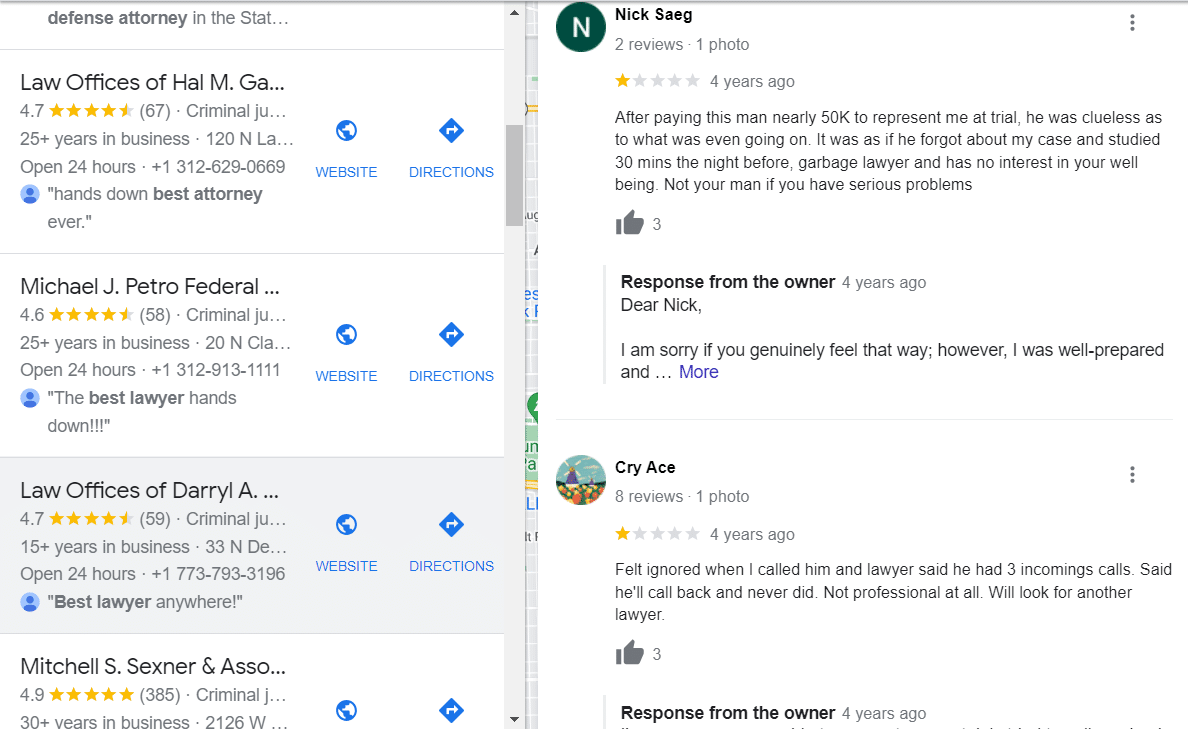 The problem is due to time constraints, you may overlook these responses. Conducting customer rating and review audit can help you address this issue.
Begin by locating all reviews to which you haven't responded to and take necessary actions to engage with customers effectively.
A quick way to perform the audit is by searching for "your company name's reviews," revealing all listings with received reviews and unaddressed ones.
This audit ensures a better online reputation management and fosters stronger connections with customers.
Conduct a Competitor Analysis
In 2021, Google implemented an algorithm update favoring local businesses close to search locations, even if they're less popular than industry giants.
In this case, proximity plays a significant role. So, you need to analyze your top three closest competitors in your physical location that are outranking you.
Create a local SEO audit checklist based on their strategies and conduct a comprehensive audit to identify areas for improvement.
Still, prioritizing enhancing clients' online and offline experiences remains the best way to surpass the competition successfully.
6 Best Local SEO Audit Tools
This can be a quick 300-word section with one paragraph each about how to use these tools to conduct a local SEO audit.
TrackRight is an affordable local SEO tool providing in-depth insights, lead and keyword tracking, Google Business account management, and crucial analytics. It gives businesses a competitive edge by optimizing their local online presence and delivering comprehensive reports for effective local SEO strategies.
It's Google's free tool that offers detailed website traffic reports, integrating with websites for centralized ad and traffic data. It enables tracking marketing efforts and adjusting strategies to achieve goals effectively.
GBP displays your business's information like contact details, location, operating hours, and customer reviews. Optimizing and maintaining this profile helps businesses appear prominently in local search results, attracting potential customers and enhancing their online visibility.
This tool automates review requests with custom QR codes, allowing monitoring of reviews across multiple sites from a single dashboard. It also facilitates autopilot engagement with customers through automated replies, ensuring no reviews go unnoticed, streamlining feedback management.
Brightlocal SEO auditing tool offers citation tracking, local search, and Google Business profile audits. Plus, it's scalable and delivers fast reports and audits, streamlining your tasks and making SEO management simpler.
Ahrefs is a top-notch SEO tool with a comprehensive suite of features. Its SEO audit tool provides a thorough website analysis, covering over 140 pre-defined SEO issues, including mobile website checks, ensuring no critical issues are overlooked.
Get a Complimentary Local SEO Audit
Conducting a Local SEO Audit is crucial for businesses looking to thrive in the digital landscape. At OTM, we offer a complimentary local SEO audit for businesses who want to grow their local presence and are a mutual fit for us.
If you're eager to optimize your online visibility and attract more local customers, reach out to us today with your local SEO needs. Let's work together to channel the full potential of your local business into achieving outstanding results in your target market.
Sadaf Tanzeem is a B2B SaaS and Marketing writer. She collaborates with overwhelmed content marketers and business owners to take the burden of content development off your shoulders.