Google Page Experience : UX to become a New Google Ranking Factor
If there's one thing that defines internet marketing firms, it's their ability to keep up with Google's never-ending upgrades. Google expends tremendous resources trying to determine what users prefer when they search for information in their engine, which may be why Google enjoys such a substantial portion of all internet search activity.
With this in mind, Google just announced a ranking algorithm designed to measure the quality of webpages based on user experience (UX). If the algorithm deems that users are having a bad experience on your page, Google will downgrade its ranking. There is time to get your pages in order, however. The new algorithm, named Google Page Experience, doesn't go fully live until sometime in 2021. So, you have a little breathing room, but don't take too long.
Core Web Vitals Announced by the Chrome Team
When it comes to the performance of a website, Google has identified several key factors that determine the quality of user experience on a site, like page load speeds and mobile-friendliness. These two criteria are essential to the user experience. Most users have no patience for slow-loading pages, and because they are searching on their phones, sites appearing at the top of the search results must have to look and operate well on mobile devices.
Just yesterday, they announced Core Web Vitals to give web designers and webmasters better guidance on what makes a responsive and user-friendly site. This tool gives three possible scores for three vital metrics: loading, interactivity, and visual stability. Each of these criteria has three possible scores: "Good," "Needs Improvement," and "Poor." Here's an explanation of how each criterion works:
Largest Contentful Paint (LCP) – A "Good" score for LCP means that your page has a fast load time. The LCP marks the point where the content has likely loaded.
First Input Delay (FID) – This metric refers to the responsiveness of the page or its interactivity. If the user attempts to interact with your page and it's responsive, your page will receive a "Good" score for First Input Delay.
Cumulative Layout Shift (CLS) – This "measures visual stability and quantifies the amount of unexpected layout shift of visible page content."
How to Measure Core Web Vitals
Chrome is making their user experience report available to all webmasters and has authorized open-source coding to achieve this aim. This by no means that it's intuitive or easy to use. The open-source coding can be found at the JavaScript library, but it requires a little more than a rudimentary knowledge of web design to implement it.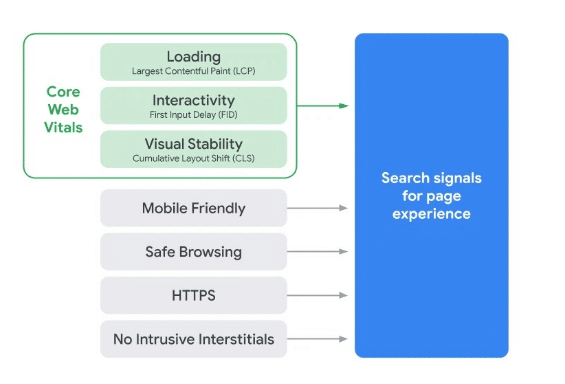 If you aren't a web designer, you may find it difficult to run these types of reports, but On The Map Marketing has extensive experience working with this type of code and can give your site a full evaluation. We are not only familiar with the latest Chrome team tools, but we have our own performance tests, as well.
On The Map Marketing Web Design
Whether you have concerns that your existing site will fail under Chrome's new criteria or you want to design a new, responsive, mobile-friendly website, our award winning marketing agency can help. Contact us today for a next-generation website.

I graduated in international business and marketing from Florida international university before starting as a CSM and SEO account manager at On The Map Marketing in 2017. Now I'm the client strategy director, leading a team of eight customer success managers — and have overseen hundreds of successful SEO campaigns for our clients. Outside of marketing, I love playing Tennis, watching sports, traveling, and meeting new people.