Google Search Statistics for 2023
Let's be honest:
Google is the only search engine you mean about when you mention you want to do SEO for your website. Indeed, getting your website to the top of Google searches by your customers could be sufficient to build a sustainable business.
Here are some Google search statistics to uncover their effectiveness, how consumers search, and some ideas for getting to the top of the search results. Let's start with some basic stats.
Related: 47 SEO Statistics for 2023 (Updated and Verified)
General Google Search Stats
To begin with, let's try to answer questions like:
how big Google's market is,
what is most popularly searched for,
how many google searches are performed per day,
and other general questions like that.
These will help you gain perspective on Google's search landscape. Here we go:
1. 77% of people use Google 3+ times a day to search for things online. (Moz)
2. Google has about 87.97% search engine market share in North America and is the No.1 search engine. Among other search engines, Bing comes in at No.2 with a market share of about 4%. (StatCounter)
3. Google now processes over 40,000 search queries every second on average. That is a google search traffic of about 1.2 trillion per year. (InternetLiveStats)
4. 80% of 13–21-year-olds use Google more than three times per day, while only 60% of respondents over 60 searches with the same frequency. (Moz)
5. 72% of respondents said they either click only on organic results or on organic results most of the time. (Moz)
6. 68% of respondents said they feel the quality of Google's results has improved over time. (Moz)
7. When performing a search online,
55.1% preferred written content,
followed by 29.1% preferred images,
13.8% preferred video,
and just 2% preferred audio content. (Ignite Visibility)
8 Here is a list of the top google searches, and it seems Facebook is the most searched on Google. (Semrush)
9. There were 87 billion visits to google in October 2022. (Similarweb)
10. 60% of Google searches come from men, while 40% come from women. (Similarweb)
11. The market size of the global search engine market industry is expected to increase by 6.1% in 2022. (IBISWorld)
12. 90.63% of all pages in our index get zero traffic from Google, and 5.29% get ten visits per month or less. (Ahrefs)
Google Search User Behavior Stats
To make it big on Google search results, you must understand the user's search behaviors. To help you with just that, we have curated a list of the latest Google search statistics that help you understand user behavior.
1. 75% of respondents either click on the first one or two results, scan page one looking for the most relevant answer to their query, or visit multiple results from page one. (Moz)
2. Only 7% of respondents indicated that they browse past the first results page to see as many results as possible. (Moz)
3. When it comes to the trustworthiness of featured snippets, only 44.5% of users consider the information "semi-trustworthy" and continue searching for answers to their questions. (Moz)
4. Sixty-eight% responded that Google adding more ads to the search results would make them want to use the search engine less. (Ignite Visibility)
5. When asked if they preferred to click on ads or organic results, the majority (85.2%) chose to click on an organic result. (Ignite Visibility)
6. When asked why they clicked a result, 62.9% of respondents said it was the description, followed by 24.2% who said the brand name, and 13% said the title. (Ignite Visibility)
7. 75.78% of desktop searches in the US are performed through Google. (Statista)
Statistics On The Rise of Google Voice Search
Searches on google take place not only via text but also via voice search, which is increasingly popular with users. As such, you need to know a little about where the industry is in searching with voice and where it is headed.
1. Almost 70% of requests to the Google Assistant are expressed in natural language, not the typical keywords people type in a web search. (Think With Google)
2. 20% of searches in the Google App are now done by voice. (Think With Google)
3. 27% of the global online population uses voice search on mobile. (Think With Google)
4. 58% of online adults have used voice search, and 33% used it monthly in early 2019. (Voicebot.ai)
Statistics on Google Revenue and Paid Google Searches
To promote your business, you might be thinking of using Google ads to get your search results on the top. If yes, you might want to know the kinds of returns you can expect and wonder how big the entire Google ads sector is.
To answer your burning questions, here is a list of stats on Google paid searches and much more.
1. Google had revenue of $256.7 Bn in 2021. (Statista)
2. In 2021, Google's ad revenue amounted to 209.49 billion U.S. dollars. (Statista)
3. In the second quarter of 2022, California-based web company Google had an operating income of around 22.91 billion U.S. dollars. (Statista)
4. Google websites (including search and YouTube) generated advertising revenue of 177.79 billion U.S. dollars in 2021.
5. Google estimates that for every $1 a business spends on Google Ads, they receive $8 in profit through Google Search and Ads. (Google Economic Impact)
6. The market size, measured by revenue, of the search engine industry, is $114.7bn in 2022. (IBISWorld)
7. The search engine industry generates most of its revenue from advertisements. (IBISWorld)
Google Mobile Search Statistics
With the prevalence of smartphones, mobile searches are increasingly a big deal. As an entrepreneur, you would want to be increasingly mindful of your mobile user base. Here are stats to give you an idea of what people search on mobile:
1. 96% of search results on mobile take place on Google. (Statista)
2. The survey also revealed that 60% of mobile users were "very likely" to click on the "first two to three search results they saw. (Search Engine Land)
3. In terms of local retail search performed on their devices, mobile consumers were looking for:
Specific store/retailer — 48%.
Product category nearby — 29%.
Specific brand nearby — 23%. (Search Engine Land)
4. Google has said that "local intent" search constitutes 30% of mobile queries. (Search Engine Land)
5. According to a recent survey, 69% of smartphone owners use their devices to help them shop, and of this, 82% had done "near me" searches. (Search Engine Land)
6. Also, according to the same to the survey, this was the hierarchy of "near me" query categories:
Food — 84%.
Entertainment — 56%.
Banking — 50%.
Apparel — 41%.
Persona care — 38%. (Search Engine Land)
Search Engine Optimization and Digital Marketing Stats
We finally come to SEO, which will help you get your results to the top of Google and garner thousands of new customers and users. One of the components of SEO is putting the hottest keywords into your content.
How do you really do that on Google?
To answer that, let's take a look at some Google keywords search statistics and other digital marketing stats.
1. Only 0.78% of Google searches went to the second page and clicked on something. (Backlinko)
2. SEO for mobile sites on mobile devices is considered an effective investment by 48% of SEO marketers. (HubSpot)
3. Using strategic keywords is the number one SEO marketing strategy, according to 71% of marketers. (HubSpot)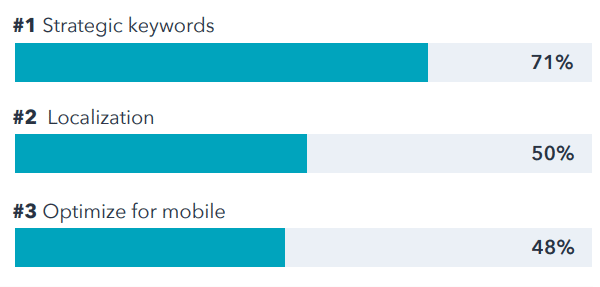 4. After social media, website is the second most popular marketing channel. (HubSpot)
5. In 2021, 69% of marketers spent money on SEO. (HubSpot)
6. CTR increases by 2.8% on average when you move up one slot in the search results. (Backlinko)
7. CTR increased by about 4% in titles with positive or negative sentiment. (Backlinko)
8. On-page elements seem to be the most crucial factor for SEO worldwide. (Statista)
8. 62.1% had no idea why Google targeted them for specific ads, while 37.9% felt that they understood. (Ignite Visibility)
Final Thoughts
Cracking top spots for relevant Google searches for your business is the holy grail of online marketing. Whether you're a law firm or a SaaS, you can get leads for your business and build a business on top of SEO alone.
You saw a few relevant stats in this article that establish the importance of Google. And numbers that can help you craft a persuasive search strategy. Up next, read our post on Google maps statistics and digital marketing statistics to create a holistic strategy for your business.
Need help with creating and executing your SEO strategy? Then don't hesitate to contact us — we provide a free audit to firms we have a mutual fit with.