29 Google Maps Statistics: Verified and Updated For 2023
At On The Map Marketing, we help many local businesses with Google Business Profile SEO as a part of their local SEO campaigns.
Why?
Well, Google Maps, relying on satellite imagery, is the most popular digital maps service on the planet. If you're a local business owner, you have to optimize your Google Business Profile. That's where most of your customers will find your business, form an opinion based on your reviews, and buy from you.
To understand the true scale of Google Maps services, the user expectations from a local listing, and the like, here are some Google Maps statistics for 2022.
Related Reading: Google My Business for Lawyers: A Simple Guide
Google Maps General Stats
To begin, we will take an overview of Google Maps, which will help you understand its true scale and reach. Let's dive right in.
1. Google Maps is offered in more than 220 countries and territories. (The Keyword 2019)
2. Google Maps has added 39 new languages and now supports 40 languages. (The Keyword 2018)
3. Street View car and trekker operations have collected more than 170 billion images from 87 countries by 2019 for Google street view. (The Keyword 2019)
4. From the time when Google maps offered Google My Business integration, customers can find detailed information about local companies far more easily. (AlphaBeta)
6. According to Ting, however, Google Maps uses about 5MB per hour. (Ting)
7. Google Maps had over 25 million downloads in the US in 2021, discarding the fact that it comes pre-installed on most android devices as the default mapping app. (Statista)
8. Google Maps has over 10 billion downloads on Google Play Store, with an average rating of 4.2. (Google Play Store)
9. Every day, over 1 billion kilometers are driven with Google Maps. (The Keyword 2020)
10. Google Maps has a community of 120 million Local Guides to help you while traveling. (The Keyword 2020)
11. Google Maps users contribute more than 20 million pieces of information daily, which amounts to 200 contributions every second. (Google Cloud)
Related Reading: Google My Business Ranking Factors
Google Maps Usage Statistics
We just looked at the prevalence of Google Maps, but now let's come to the usage statistics of the platform.
This data will help you understand the audience you can reach by being present on the platform and being found by customers who look for you directly or via Google search.
1. More than a billion people use Google Maps every month. (Google Cloud)
2. 5 million active apps and websites use Google Maps Platform core products weekly. (Google Cloud)
3. As per data from SimilarTech, this is the usage breakdown of Google Maps by category. (SimilarTech)
4. Samsung seems to be the top website using Google Maps integration, as per data by SimilarTech. (SimilarTech)
5. The United States had the most websites that integrated Google maps into their sites. (SimilarTech)
6. Google Maps had a 56% smartphone penetration in the US, coming in at no. 4 among all smartphone apps. (Statista)
7. 72% of all map users used Google Maps. (Statista 2018)
8. 67% of smartphone owners say they use Google Maps regularly, as compared to only 12% who use Waze, the next most used navigation app, an app that Google acquired in 2013. (The Manifest 2018)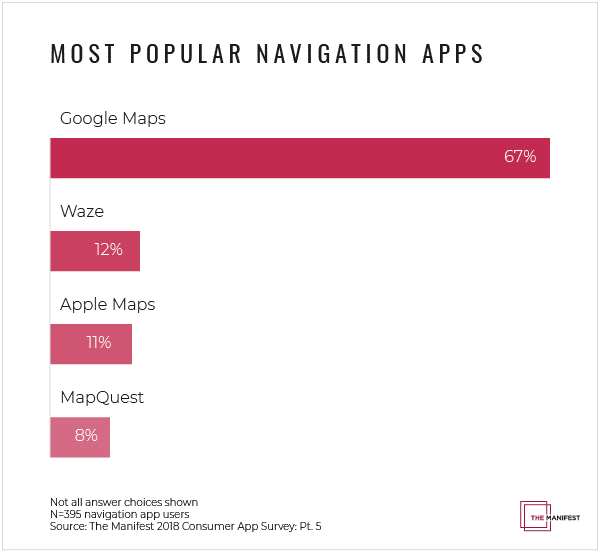 Google Maps Platform For Businesses
Google maps platform lets you embed google maps into your business using API.
1. For qualifying Google Maps Platform accounts, a $200 Google Maps Platform credit is available each month. (Google Maps Platform)
Apple Maps vs. Google Maps
Having just looked at usage data for Google Maps, let's look at some of Google Maps' competitors, like Apple Maps. While iOS users use both Google Maps and Apple Maps, iOS users often prefer Apple maps for privacy reasons. They don't want their data on Google servers or the Google cloud, which are notorious for storing user data.
So Apple Maps SEO should ideally also be a part of your local SEO strategy. These stats will help you understand if you want to use the other platforms to list your business.
1. As per data by Vetro Analytics, via Insider Intelligence, however, Google Maps has only about 126 unique monthly users (please note that this is different from what Google reported), which is still way more than what Apple Maps has at an estimated 29 million unique monthly users. (Insider Intelligence)
2. Google Maps uses an average of 0.73MB per 20 minutes (or about 2.2MB per hour), while Apple Maps uses more than double of 1.83MB per 20 minutes. (Statista)
3. The average monthly time spent on Google Maps seems to be 152 minutes, compared to 12 minutes on Apple Maps, while Waze has the highest time spent on it at 269 minutes. (Insider Intelligence)
4. People seem to be using Google Maps about 50 times a month for roughly 3 minutes per session, while people seem to be using Apple Maps only five times a month for 2.3 minutes per session. (Insider Intelligence)
How Good is Google Maps and What Users Think of It
Having looked at the usage stats on Google Maps and compared it to Apple Maps and other navigation apps, it is important to understand how good of a platform it truly is in terms of accuracy and what users expect from a good navigation app.
This will help us get a truly comprehensive idea about the platform.
1. Google Maps estimated time of arrival is accurate for 97% of cases. (The Keyword 2020)
2. According to research by Ancoris, Google Maps ETA was accurate 23% of the time. In addition, 38% of the time, it overestimated the ETA, and 39% of the time, it underestimated the ETA. (Ancoris)
3. On average, Google Maps ETA differed from the real journey time by 1.8 minutes. (Ancoris)
4. One-quarter (25%) of smartphone owners say they use their preferred navigation app because they believe it offers better directions. (The Manifest 2018)
5. Google Maps is the preferred navigation app for nearly 6x more people compared to the second-most popular app Waze. (The Manifest 2018)
Final Thoughts
Google Maps is important if you want people to find your business online.
Hope the Google Maps statistics today help you:
understand the reach of the platform,
what users expect out of a good navigation app,
the number of users who use various other navigation apps like Apple Maps, etc.
Info on free credits on Google Maps Platform.
Next, I recommend you check out Local SEO Statistics and Local Business Stats to make an informed local marketing strategy. If you want help with improving your local business' presence on the maps, contact us today.