How to Get More Google Reviews for Your Law Firm
When potential clients search for legal services, they turn to Google reviews for insights into your law firm's credibility and reputation. They are like referrals—and provide unbiased glimpse into the experiences of your past clients and influence their decision-making process.
So, in this article, we'll discuss how to get online reviews for your law firm on Google Maps without breaking a sweat. But before that, let's discuss why Google reviews are important in a bit more detail.
Why are Google Reviews Important for Your Law Firm
Whether you're a small or large law firm, cultivating a strong online presence is the need of the hour. Because among tons of lawyers in the Google search results, who your prospects decide to engage with depends mostly on who is trustworthy and offers the most value. Further as per Google, "More reviews and positive ratings can improve your business's local ranking."
Your Google reviews can enhance your firm's search visibility, CTR, and local relevance. They improve the prominence of your law firm to improve your ranking in local search results. It potentially leads to your GMB account showing up in Google's local pack and "near me" searches by your prospects.
But that's not all, positive online reviews can also attract backlinks and online citations, which helps build your reputation within the industry and among customers.
How Many Reviews Does Your Law Firm Need
The answer to this question ultimately depends on your specific goals, the size of your firm, and the range of legal services you offer. For example, the following personal injury law firms have online reviews from 11 to 265.
To get a better idea of the benchmark, start by searching for law firms that offer similar services in your local area. Pay attention to the number of reviews and the ratings of the top three competitors. This will give you an idea of the standard in your market.
Next, assess your position in relation to these competitors. Take note of the average review statistics and aim to generate the highest review rating among them for your Google business profile.
This will help you stand out and build a strong online reputation. Remember, the more positive reviews you have, the greater your chances of attracting potential clients and gaining their trust are.
How to Get More Google Reviews for Your Law Firm
The key to getting more reviews is simple: ask for them. Get more exposure on your Google reviews page—but from the clients that have had a positive experience working with you.
Although it may sometimes feel awkward, requesting online reviews is the only way as clients don't typically think of leaving feedback on their own. Here are some methods that bring transformative results for your law firm:
1. Encourage Your Happy Clients to Share Their Experiences
There's no better way to get many good online reviews quickly than tapping into your former happy clients. But it can be challenging to get them to write customer-centric reviews about your law firm on their own. The key is to provide them with guidance.
So, reach out personally to all your past clients and ask them to share their experiences. And make it super easy for them to structure their reviews by sharing specific questions for them to answer.
Here's a set of questions that you can consider.
What specific legal issue did you face that led you to choose our law firm as your legal representation?
How would you describe your overall experience working with our team throughout the entire legal process?
How satisfied were you with the level of communication and responsiveness from our attorneys and staff?
In what ways did our law firm demonstrate a deep understanding of your legal needs and goals?
How would you describe the effectiveness of our law firm's strategies and approaches in resolving your legal issue?
That way, they can share their experience while covering various aspects of your services such as communication, expertise, results, personalized atterention, and overall satisfaction.
Plus, this approach ensures that your GMB account covers important keywords as well, which ultimately helps to rank better.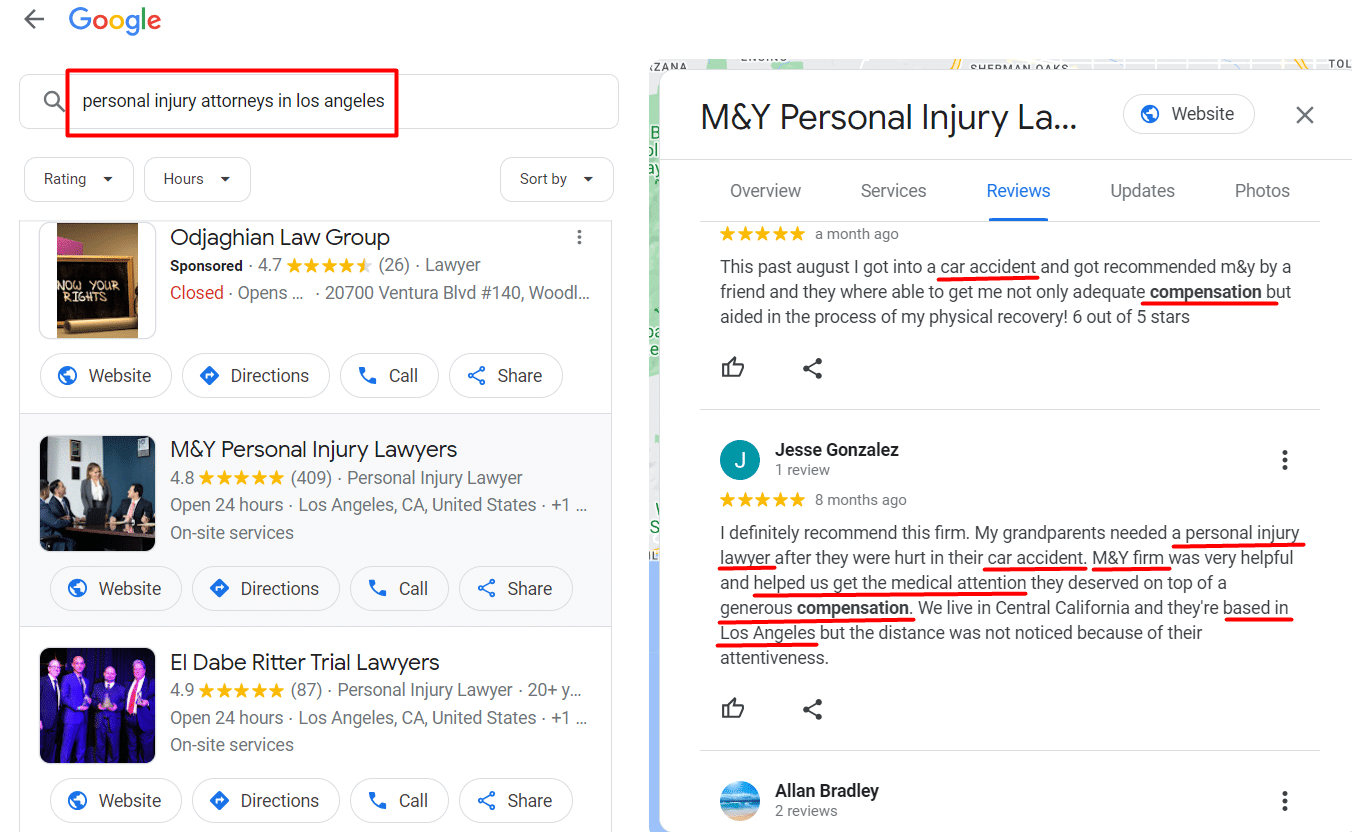 2. Have a Review Collection System in Place
Having a review collection system can be a game changer if you want to increase the number of reviews on your GMB account.
Fortunately, setting up such a system is not a challenging task. It can be as simple as requesting a review at the conclusion of each case or transaction. You can seamlessly integrate this review request into your parting document or final invoice, making it convenient for your happy customers to leave a review.
But, not every client may immediately do it for you, even if they had a positive experience. Hence, your next step is to follow up with a friendly email reminder to request a review.
You can tailor your approach to your specific local business needs and legal clients and experiment with different methods and channels, such as social media or in-person requests, to find the most effective approach for your law firm.
3. Add a Review Link to Your Website and Email
Another effective strategy to get more Google customer reviews is creating and adding a Google review link to your website or email. This simple step can greatly increase the likelihood of receiving valuable feedback from your customers.
To make it as convenient as possible for them, consider creating a direct link or QR code that leads them directly to the review page of your Google My Business account. When you incorporate one such link on your website or include it in your emails, you provide a seamless pathway for customers to share their experiences, removing any potential hurdles.
4. Implement a Reward System for Clients to Share Their Feedback
It's a fantastic way to motivate your clients to share their valuable feedback. By offering freebies or establishing a proper reward system, you create a win-win situation. That way, not only do you get more Google reviews, but your clients also benefit from the rewards they receive.
This approach can even encourage those clients who may not typically write reviews to take the time to share their thoughts.
Once you have the reward system in place, it's a great idea to reach out to all happy clients who are still to leave a review for your law firm.
5. Respond to All Positive and Negative Reviews Professionally
Every positive review represents a potential opportunity to attract new clients, but your response to each review can shape their perception of your business.
Google itself emphasizes the importance of engaging with them whether it's a positive or a negative review, as it demonstrates your appreciation for customers and their input.
But, while positive reviews may bring more business, negative reviews can take some of it away. And that's the reason you need to handle them professionally in a courteous and empathetic manner to showcase your commitment to customer satisfaction.
Besides, this approach also helps clarify any issue that unhappy clients may have exaggerated, deal with fake Google reviews, and showcase your dedication to resolving issues.
3 Specialized Platforms to Automate Review Collection
What can be better than generating good reviews consistently on autopilot?
Certain specialized platforms in the market can help you with it. You just have to integrate them with your CRM and they'll handle everything for you — from sending review requests to your clients to customizing the content based on your preferences.
You can even include personalized tags in your CRM to identify satisfied or dissatisfied customers to safeguard your reputation while sending automated review requests.
Here are three software options for you to explore.
Clio Case Management System offers seamless Google review integration to automate the process of review collection. They send automated follow-up reminders, SMS, WhatsApp messages to increase your collection rate.
Podium enables you to automate review invites, swiftly respond to customers using AI-powered suggestions, and effortlessly manage your reputation across various websites. They also provide a user-friendly dashboard, which you can use to send straightforward message requests to customers, prompting them to leave Google reviews.
This platform automates your review requests using custom QR codes and monitor reviews on multiple sites from a single dashboard. It enables you to engage with customers on autopilot using automated replies, ensuring no review goes unanswered.
Start Gathering Positive Google Reviews to Level up Your Firm's Reputation
In the legal industry, trust is paramount, and positive Google reviews instill confidence in potential clients. In fact, online reviews and ratings are often the first things potential clients consider while searching for a law firm in their area.
So begin with a few simple strategies to gather impressive reviews that showcase your firm's expertise and trustworthiness.
With the growth of your law firm and customer base, automate the whole review collection process using the right tools while maintaining a personalized touch. Take the first step today to amplify your firm's online presence by encouraging satisfied existing clients to share their experiences through Google reviews.
Sadaf Tanzeem is a B2B SaaS and Marketing writer. She collaborates with overwhelmed content marketers and business owners to take the burden of content development off your shoulders.