6 Best Legal Podcasts in 2023
The modern rhythm of life, the dynamic development of jurisprudence and legal practices across all fields of law dictate their rules: information appears with such speed that it is necessary to consume it in whichever format not to stand still, keep a hand on the pulse of changes and stay updated on anything important happening both inside and outside the legal industry.
Podcasts about the law system and legal career are important because they provide an invaluable source of information and insight into the intricate workings of the legal world.
Not only do they cover current cases and laws, but they also provide a detailed analysis of their implications. Through listening to these podcasts, individuals can gain a deeper understanding of how the law applies to their lives.
Such legal podcasts are also a great source of information for those working in the field. After a working day spent writing and reading documents, it might be better to pick a format that goes easy on the eyes. And if you are a law student, legal podcasts are a great source to provide you with the legal toolkit necessary for growing your law firm.
What is a legal podcast?
Best legal podcasts will include lectures on legal theory but also interviews with prominent human rights defenders, legal scholars, stories of high-profile trials, and law practice management. Some things about law are simple, clear, and for everyone, others not so much. These kinds of shows are aimed at delivering the basics as well as the intricacies of the legal field in an accessible format.
In addition to the strictly legal, there are podcasts that are of great interest to the public, including non-lawyers. One such popular genre of legal podcasts is true crime, where the author shares stories about real crimes.
These podcasts talk about real crimes: methods, psychology, motivation of criminals, the investigation process, the mistakes and breakthroughs on both sides, and so on. Sometimes hosts interview witnesses, survivors, and investigators.
And, of course, by educating yourself through entertaining podcasts, you get the best of both worlds. In case you are not tempted yet, here are a few more points why you might want to start listening to a legal podcast:
1. To stay up-to-date on current events affecting the legal profession – Most of the best legal podcasts cover current events happening within the law profession. By listening to these podcasts regularly, you can stay up-to-date on the latest legal news and important developments that may affect your work as a lawyer or your business dealings as a professional.
Fellow successful lawyers' expertise and the curated flow of legal discussions will further develop your critical thinking and problem-solving skills, giving you a comprehensive and informed foundation of knowledge to draw from during your legal practice.
2. To learn about new technology tools and trends – As legal technology evolves at an ever-increasing pace, it is important for lawyers to stay abreast of new technology tools & trends that can help them be more efficient in their work.
Many of these podcasts discuss new technological advancements relevant to the legal profession so that listeners can advance their legal careers accordingly.
3. To be informed on laws and your rights as a citizen – Do you live on this planet? Then it is in your best interest to have basic legal knowledge.
Staying on top of the latest legal news is essential for all citizens. Many people aren't aware of their fundamental rights, which makes it easier for them to get violated or vice versa, sometimes even unknowingly violating others' rights.
This easily digestible format allows the listeners to equip themselves with the knowledge necessary to understand the laws that affect them on a daily basis. Even while listening to a legal podcast on the go, you, as a regular citizen, can make better-informed decisions.
Start your own legal podcast
Do you have the expertise to share? Why not start your own legal podcast?
Nowadays, starting your legal podcast is as easy as it gets. There is a plethora of audio and video content creation platforms that require minimum effort and technical knowledge.
Podcastle is one good example. This software allows you to record audio and video, edit your episode with various AI-powered tools, and get a publication-ready podcast show – online and all in one place. You can also record remote interviews, which is one way to diversify your episodes along with Q&A sessions.
6 Best Legal Podcasts to Begin With
When it comes to legal podcasts, there is no shortage of options for listeners. Here are the five best legal podcasts to listen to that cover various niches and areas of the legal system.
Join these remarkable experts as they discuss how technological advancements are transforming traditional structures and giving rise to new opportunities within the legal industry.
On The Map Marketing's Podcast: Law Firms On The Map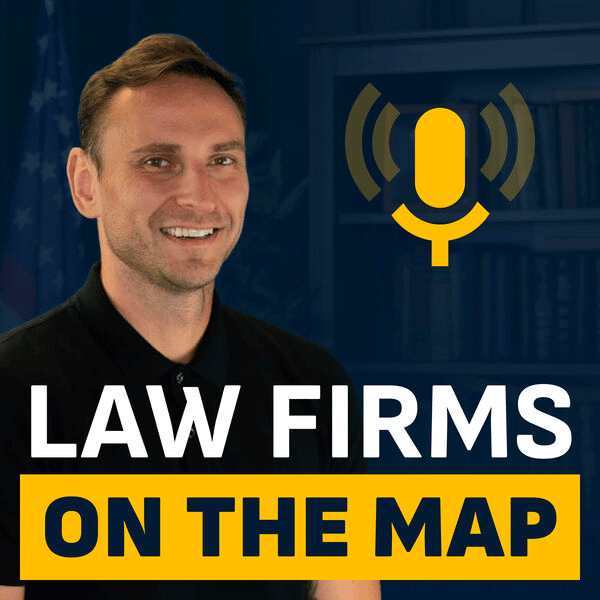 On The Map Marketing's own law podcast, Law Firms On The Map, recently started. Here the founder, Kristaps Brencans, who has overseen thousands of successful lawyer SEO campaigns, gets together with Chintan Zalani, who leads their inbound marketing.
They get into the nitty gritty of law firm SEO services, dissect personal injury lawyer SEO of attorney websites, and lots more. Tune in on Mondays to learn about law firm marketing and related stuff to grow your law firm.
Best legal podcast for news and updates: Lawyer 2 Lawyer
One of the longest-running and best legal podcasts out there, Lawyer 2 Lawyer is an award-winning podcast highlighting legal news and relevant events. J. Craig Williams, who hosts the show, is a lawyer himself, which allows him to deliver the information from a unique perspective.
Considering the nearly infinite amount of news sources, the host, and the industry professionals that he invites, this legal podcast can be an essential part of your news search. Williams and his guests don't always agree, which is a telltale sign of intellectually stimulating discourse.
The show will be of interest both to law students and established professionals looking to successfully navigate their careers in the legal space. Court rulings, financial management, policy change —you are sure to find answers to your questions.
Best legal diversity, equity, and inclusion podcast: Legally Speaking Podcast
Robert Hanna's Legally Speaking Podcast is a great source of information regarding topics such as mental health, diversity, legal ethics, and tech in the field.
Mental health and diversity are becoming increasingly important topics of discussion in the field, particularly as technology continues to shape legal practice. With the rise of remote work and digital courtrooms, attorneys must be more aware of their mental health and the implications of diverse perspectives when handling cases.
A recent survey revealed that over half of lawyers reported having symptoms associated with anxiety or depression. Additionally, many individuals in the legal field suffer from burnout due to long hours and increased pressure to take on more cases. In addition to improving workplace conditions for mental health concerns, law firms must also be proactive about promoting diversity within their teams.
By creating an environment where different backgrounds can collaborate without fear of discrimination or bias, law firms can access a broader pool of knowledge and insights, which could be beneficial when preparing cases or addressing client needs.
Small law firms can foster this inclusivity through support structures such as designated mentorship programs for diverse students or creating affinity networks for individuals who may not otherwise feel supported in traditional professional settings.
All this and other tips on successful law practice management are explored in the Legally Speaking Podcast. Hanna's genuine interest and extensive experience in legal recruitment show through lively discussions and his choice of guests from across the world. Regardless of your background, there is an episode for everyone.
This legal mastermind podcast is quite entertaining and not just educational; from the Carole Basking interview to controversial discussions on cannabis legalization and other legal issues, the Legally Speaking Podcast is sure to please even the most skeptical of its listeners.
Best legal podcast for technology and innovation: LawNext
LawNext is here to cover your weekly load of legal tech and innovation. Legal technology also referred to as legal tech, is the use of technology to improve the delivery of legal services.
It encompasses a range of activities, from streamlining processes such as document production, research, and client communication, to leveraging data and analytics for insights into case outcomes.
The legal tech landscape has grown rapidly in recent years alongside advances in information technology. New tools are being developed daily to help legal professionals achieve more efficient workflows, improve accuracy and save time.
Examples include document automation software that can generate customized contracts with just a few clicks, AI-powered search engines that enable faster access to relevant case law, and expert systems that allow attorneys to quickly identify potential risks in their documents.
Overall this presents an opportunity for lawyers of all backgrounds – whether it's solo practitioners looking for better workflow management tools or larger firms seeking big data insights – to remain competitive in today's market by utilizing advancements in technology.
By embracing legal tech solutions, attorneys can drive more efficient operations, reduce costs and increase their profits while still delivering high-quality services that meet their clients' expectations.
In this podcast, internationally known writer and speaker Bob Ambrogi invites innovators, entrepreneurs, and legal industry experts to discuss law firm business models and practices that improve access to justice.
The people you hear on this podcast are the driving force behind the changes in the legal industry. Products, services, small firms, startups — exploring everything new in legal tech, Ambrogi and his guests provide unique yet comprehensible insights into the present and the future of law practices.
Best legal podcast for small firms: Maximum Lawyer
Initially, Maximum Lawyer was a podcast around best practices for solo law firms, but now, it has grown into The Maximum Lawyer movement that united into a global community of legal professionals. They even have a private Facebook group and yearly conferences to further exchange experiences, the best legal resources, and solutions.
In contrast to other podcasts that explore the theory behind different legal concepts, LawNext focuses on providing practical insights from experienced legal professionals.
In each episode, attorneys Jim Hacking and Tyson Mutrux delve into real-life scenarios that attorneys may encounter in their businesses and legal technology startups, such as how to navigate client acquisition strategies or research a winning case.
Some episodes still focus on solo lawyers and attorneys and the professional mental challenges they encounter by working independently.
Maximum Lawyer doesn't just provide valuable insight for experienced lawyers; it is also an ideal resource for those who are just starting out in the legal world.
Recent graduates can benefit from its tips on navigating law school and developing their own niche practice area, while established legal professionals can use it as a platform to gain fresh ideas and knowledge on how to maximize their profitability.
Best law school and professional development podcast: The Digital Edge
To conclude our list of the five best legal podcasts, let's talk about The Digital Edge. This podcast offers something unique to its listeners – not only do they get access to top legal minds discussing current court cases and laws, but they also have the opportunity to gain insight into how those at the forefront of the legal profession think and operate.
Featuring a range of relevant legal issues and topics, including constitutional law, civil rights issues, criminal justice matters, and more, this podcast has become essential listening for any lawyer or enthusiast seeking a deeper knowledge of legal news.
Hosted by recognized experts on legal marketing, tech, ethics, and law office management Sharon D. Nelson and Jim Calloway have remarkable expertise and guidance to share.
In addition to providing a platform where the best legal professionals can discuss their latest findings with each other, The Digital Edge Podcast has also become a valuable source of primary legal education for individuals who are new to the field.
Alongside this knowledge is an appreciation for the diverse perspectives that exist within our legal system, making it easier for people to develop critical thinking skills and problem-solving techniques necessary for a successful legal career.
Besides its regular episodes featuring guest speakers from both inside and outside the legal world, The Digital Edge Podcast also regularly releases interviews with authors who have written books on legal topics.
This additional content provides further context and more insight into why certain decisions have been made by courts or governments across different countries or jurisdictions.
For anyone wanting an engaging look into some of today's most pressing legal issues, The Digital Edge Podcast is essential listening that must not be missed.
As technological advancements continue to revolutionize the legal industry, researching topics and curating content for your podcast will also help you stay ahead of new developments.
Whether you're the creator or the listener, legal podcasts are one great way to ensure that your understanding and interpretations of the law and legal industry remain current.
Final thoughts
Those were few of the best legal podcasts you can listen to in 2023. Did I miss any podcast that you love listening to?
About the Author: Starting to explore writing and persuasion techniques in her letters to Santa, Yeva Karapetyan has come to pursue education and a career in writing. Starting out in IT education and science, her focus has switched to tech and entertainment. Currently a Senior Content Writer/Editor at Podcastle Inc, she is penning updates from the midst of it all.