In terms of professionalism, design, and SEO performance, they may not mesh well with every law firm's branding, but in terms of driving traffic, these sites are pretty damn successful. SEO marketing is a highly competitive universe, and while the uniqueness of your law firm web design may not get you onto page one of Google search engine results, it can have its usefulness when it comes to certain coveted metrics.
Interesting and Unique Lawyer Websites
Again, we aren't as much recommending that all lawyers who are aspiring to climb the Google rankings replicate these somewhat outlandish techniques, but we did find these approaches interesting enough to document for our readership.
First Up: In a Wreck, Need a Check?
This personal injury lawyer combines words, videos, and interesting catch phrases to capture the attention of would-be clients. It's a prime example of a website that uses character as the main marketing object. Without a doubt, the next time you hear the name Glen, you'll be thinking about Glen Lerner, the P.I. attorney.
What We Like About the Site
The content is top shelf
The catch phrases are memorable
The videos are professional and credible
Our Pet Peeve
The header is uncharacteristically big—too damn big
Also, "In a Wreck? Need a Check?" needed to be trademarked. It's good, but get over yourself, Glen.
Lindsay Lohan (Yes, that Lindsay Lohan) Endorsing Lawyer.com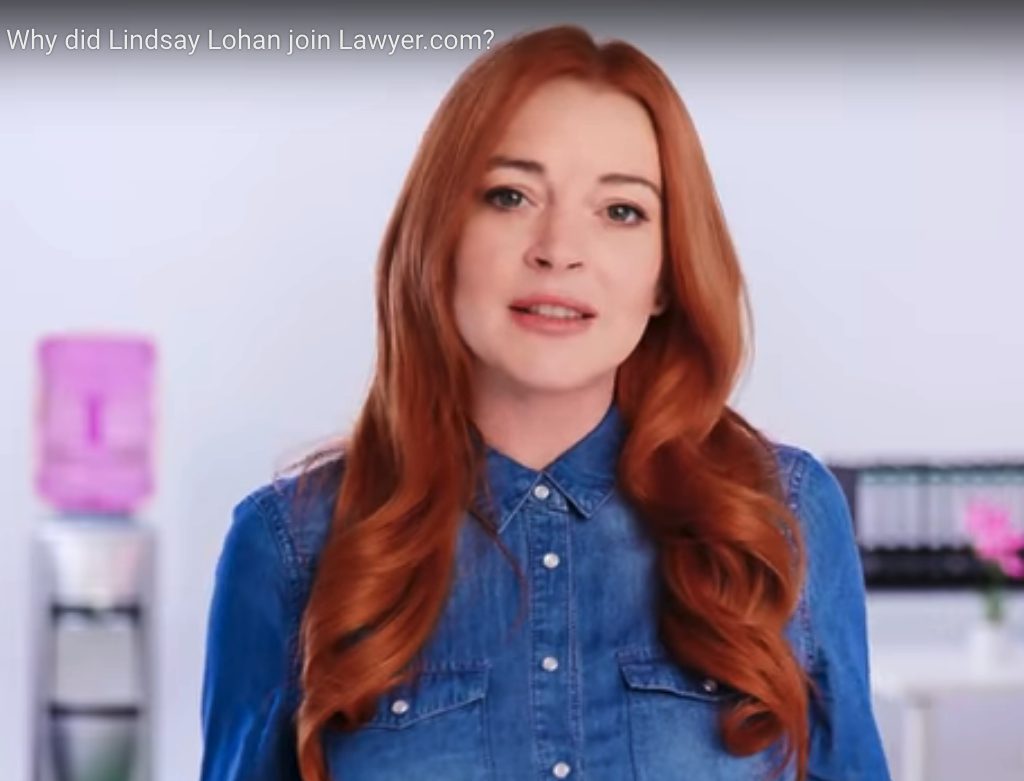 When you open Lawyer.com's homepage, you almost ask yourself, "Is that Lindsay Lohan?" But before you can even form the question, you realize that yes, yes it is. Not everyone who's racked up a dozen or so criminal charges has the option to become a celebrity endorser for an attorney referral service, but if you've had a meteoric rise and fall, it might be an option.

What we like about this site is that they allow Lohan to relay her checkered pass with humor and an astonishing amount of dignity to potential clients who can relate to her because they're going through the exact same thing.
What We're Keen On
Great eye-catching image of Lohan leading to video interface
Self-deprecating humor makes her relatable to viewers and potential clients
Lohan's celebrity cachet guarantees a high volume of visitors coming to the page
The Downside
A high percentage of visitors are there just to see the video for the novelty, and not because they need an attorney
Texas Law Hawk
If you think that attorney Bryan Wilson is a forgettable name, try adding "Texas Law Hawk" to the end of it. Bryan Wilson, Texas Law Hawk is clearly enjoying being an attorney. In addition to a viral YouTube marketing campaign, his site is cleverly designed to caricaturize the commonly-held Texas values, like strength, individualism, and justice. It really is an ingenious campaign and his site is something that you can get lost in for hours (i.e. low bounce rate).

What Strikes Our Fancy
The videos are a blast
The site is comprehensive and uses SEO content, images, and video
Guaranteed viewer retention
Our Hesitation
Does a site like this really sell criminal defense?
The videos are largely viewed via YouTube, which doesn't necessarily bring viewers to the site or the practice.
Adam King Blackwell Reposa: The Bad Ass Lawyer

You read that right. Like Bryan Wilson, Adam Reposa is a Texas criminal defense attorney who uses his humor and over-the-top style to promote his practice. We both like and dislike his site and campaign for the same reasons that we do the Texas Law Hawk's: it's a fun, gritty style that's bound to get plenty of page clicks, but is this really the kind of thing that inspires confidence in a criminal defense lawyer? In other words, is all of the bluster making Reposa any money?
Positives
See Texas Law Hawk. We applaud this site for the exact same reason.
Negatives
See Texas Law Hawk. Our criticisms are the same.
Hutson & Harris: Don't Eat Your Weed
Is Texas just the place where the law enjoys dancing with the strange? Hutson & Harris is the latest in what is hopefully a long and illustrious line of Lone Star law firms attempting to shuffle off the mortal coil of the mundane.

Will Hutson and Chris Harris are reasonably good singer-songwriter-guitarists who also happen to practice criminal defense and personal injury law in Waco, TX. While most of their website is dedicated to describing their legal team and services, they do assign a discrete space to music videos with names like What Part of "Any" Don't You Understand?; Please Shut Up; and Don't Eat Your Weed. (And we tip our hat to any lawyer who can work the lyrics "49.01 of the Texas Penal Code, defines 'intoxicated' when you're on Texas roads" into a song.)
The Hook
Professional-looking website
The videos will absolutely drive traffic to the sites and keep users on the page (i.e. lower bounce rates)
The Letdown
Written content is a little sparse: few words, light on impact
Site is pretty dull (other than the videos)
Blog hasn't been updated in years and has all the same featured images
We will be posting more unique lawyer websites as we discover them, so check in with us from time to time.